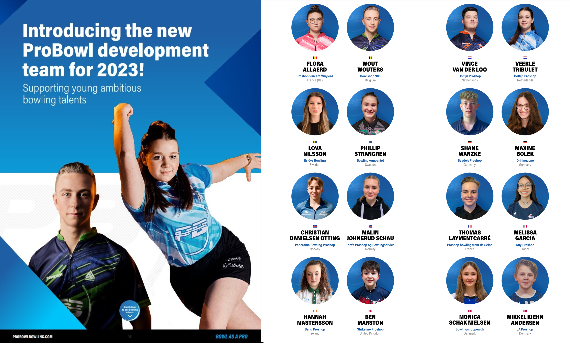 Supporting young ambitious bowling talents
At ProBowl we aim to support young ambitious bowling talents to realize their bowling potential. We believe support is vital for bowling talents to develop their bowling skills. Every year we select several bowling talents who will be supported for one year in their journey to become the professional bowling stars of tomorrow.
We believe the initial trial year of 2022 in the Benelux was a great success and will therefore expand this program throughout Europe this year.
Today we introduce you to our newest ProBowl development staff players. The new team consists of 8 boys and 8 girls that will represent the upcoming ProBowl brand for the 2023 season.
| | | |
| --- | --- | --- |
|   | Boy | Girl |
| Belgium | Wout Wouters | Flora Allaerd |
| Denmark | Mikkel Kiehn Andersen | Monica Schak Nielsen |
| France | Thomas Layment-Carré | Melissa Garcia |
| Germany | Shane Wanzke | Maxine Bolek |
| Netherlands | Vince van der Loo | Veerle Tribulet |
| Norway | Christian Danielsen Otting | Malin Johnerud Schau |
| Sweden | Philip Strandgren | Lova Nilsson |
| UK/Ireland | Ben Marston | Hannah Masterson |
With the best ProBowl bowling gear and guided by their local ProBowl distributor we can help them in the start of becoming the professional bowling stars of tomorrow. On our website you can find more information about all ProBowl staff players.
—
PROBOWL VISION AND MISSION
The motivation and drive of the developing bowler is similar to our goal to create the best bowling gear. That's why we highly value our young bowlers, such as our ProBowl development team members. Their experiences and feedback are valuable to our research and development department. Together with the skills of our design department, we aim to create the best bowling gear possible for developing, as well as experienced bowlers.