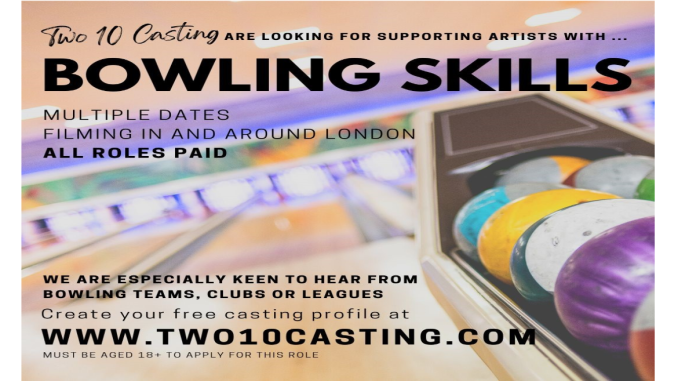 We are currently looking for ten-pin bowlers for paid 'extra'/'supporting artist' work on a new TV series filming in and around London.
Are you or anyone you know interested in getting your skills seen on camera as part of a major new show?
Filming will take place in early April – If selected by the Director, it is likely that you will only be needed for a few days within this period (making working as an 'extra' easy to fit in alongside other commitments).
Experience as an extra/supporting artist not essential but bowling experience is key.
To be considered for a role you must first make a profile on our website – www.two10casting.com. The process is free and only takes a couple of minutes. Once you have created your profile we will be in touch with further information and will be able to check your availability for specific roles/dates. Please make sure you mark "BOWLING" as a skill, or even post a photo of you bowling on your profile!
All applicants must have the right to work un the UK and be aged 18+.