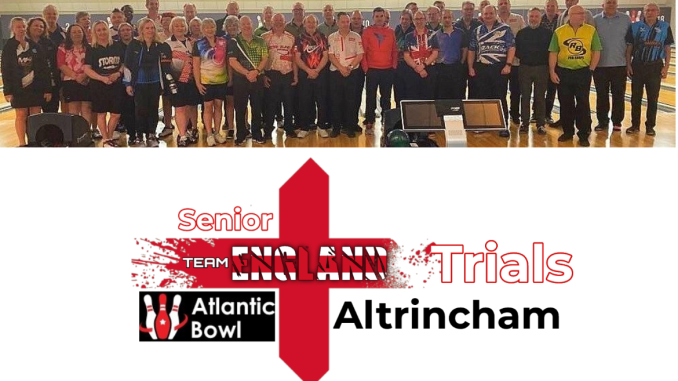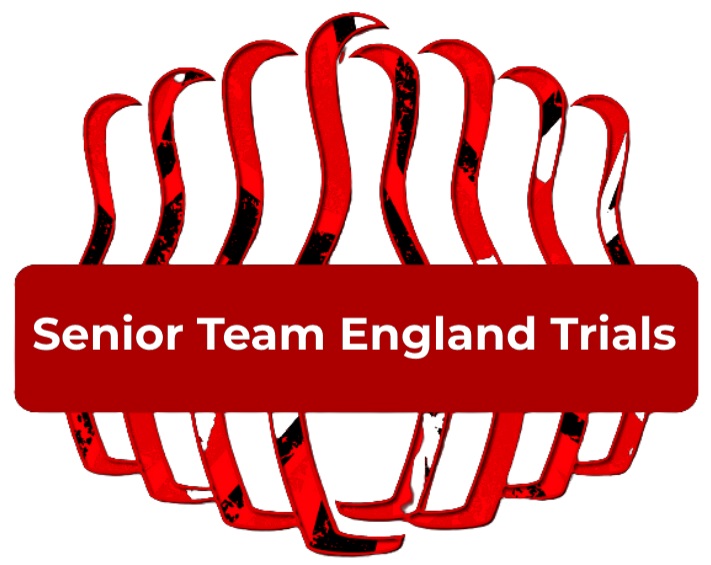 The weekend started off with 21 of the current Senior Team England squad meeting up for a training session run by Team England coach Natalie Hart and James Fitzpatrick. A couple of hours in the "classroom" followed by 3 hours on the lanes to practice what had been learned, and a team challenge to finish – won by the trio of Kimberley Oakley, Ian Hollands and Paul Loberman.
Early Sunday morning, 44 Bowlers rolled up at Atlantic Bowl, Altrincham to begin the qualification process for the 2024 Senior Team England squad.
Having used a few different formats for qualifying in recent years, this year reverts back to a series of trials events, with bowlers looking to take their best 4 results from 7 events. There will be three weekends of trials – playing 5 games each on 2 different patterns – and the Senior Nationals, with 20 points for highest series, down to 1 point for 20th place.
Playing the first five games on the short PBA Viper pattern, brand new Hall of Fame inductee, Angie Brown, led the women's field, bowling the high game in 4 out of the 5 games on the way to a series of exactly 1000 (200 average). Teresa McCarthy finished second with 930 and Sandra Simmonds third with 919.
In the men's section, Steve Thornton pulled into an early lead with games of 228, 226, 227, 227, finishing with a 254 for 1162. Steve was 67 pins ahead of second place, Neil Highgate on 1095, followed by Mike Sykes on 1084 – who rolled 297 in game 3. Nine of the 33 men averaged over 210 and 977 was the cut to make the points. The average game across all the men was 195.7
All the bowlers spent some time together over lunch before the Hall of Fame induction of Angie Brown and Nick Froggatt. Nick hasn't bowled since 2010, and there were several bowlers there today trying to entice him back.
In the afternoon, the bowlers took to the lanes again to tackle the 45 foot PBA Dragon pattern. Expectations were that this would be a lower scoring pace than the short pattern in the morning, but that proved to be very wrong with the women averaging a couple of pins higher, and the men averaging nearly 8 pins more at 203.6 and many high games bowled.
In the men's section, Steve Thornton (drawn on the same lane with his European teammates, Gordon Humphries and Colin Grose) started as he'd finished the morning with games of 246 & 247, but it was Gordon who lit up the lanes – starting his block with 255 & 267. Ian Hollands found a line early on rolling 258 & 257 and Mark Secker rolled a 278 in Game 2 to keep himself in the Top 3.
Heading into the final stretch of a long day, and Gordon continued to strike with games of 223, 258, Steve 228 & 231, but Matt Trotter made a run up the leaderboard closing with 228, 279 and 224 to roll a massive 1189 (237.8 average) and just pip Gordon by 2 pins for the maximum points, with Stevie T finishing third, just in front of Alan Meades who rolled 723 over his last three games to gain some more valuable points to the 15 he had earned in the morning.
In the women's section this afternoon, Angie bowled steadily throughout her five games again (a 971 series), but a late run from Kimberley Oakley shooting 223 & 254 claimed maximum points finishing with exactly 1000 pins for her set. Carole Orange was third with 932 closely followed by Teresa McCarthy with another 930 series.
Over the whole day, Angie amassed 39 points, Teresa 36, with Kim and Carole gaining 34 points.
It's clear already that competition is going to be tough, particularly in the mens section this year, with so many new bowlers and plenty of "youngsters" – the Top 3 points scorers over the whole day are all in their first year as a senior.
Many thanks to Dan & Matt at Atlantic Bowl for their hospitality and for having several lane marshalls on hand to sort out any issues really quickly. It was the first time many of the bowlers had visited this centre and we were made to feel very welcome. Thanks also to Senior Team England Manager, Mike Bergquist for running the event with the assistance of Lynn Humphries, and BTBA National Tournament Manager, Paul Loberman.
Men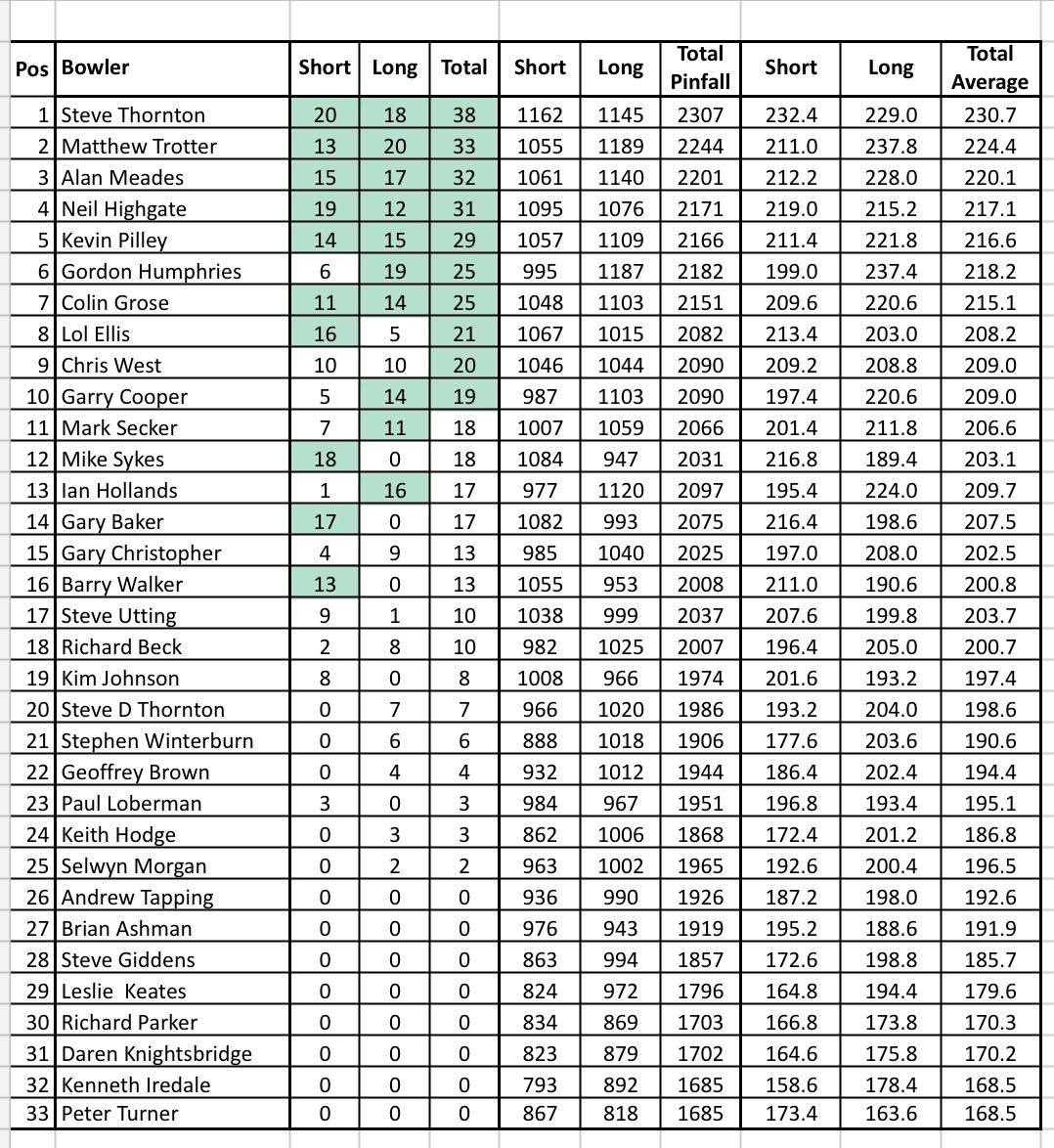 Ladies