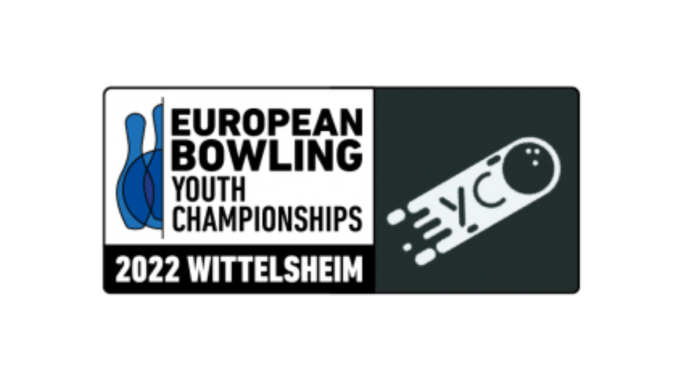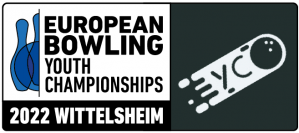 The European Youth Championships 2022 will be held in Wittelsheim, France in September 2022
Twenty seven federations will compete in the 2022 edition incuding 62 female athletes and 95 male athletes supported by 52 officials. Going through the history of the event you see a pattern of youth players becoming adult stars in later years and Medalists going on to amazing careers in our sport. The first edition of the European Youth Championships was conducted in 1972 in London, England with 7 federations taking part. Until 2008 each team consisted of 6 young athletes, while each team have consisted of 4 young athletes since 2009. The big winners in the event over the years have been Sweden with a massive 252 medals including 105 Gold. England with 36 Gold and 108 medals someway behind with Finland on 30 Gold and 112 medals.
Live Scoring here. Live Streaming available here. Visit the Official website here
---
Reports
Sweden are the team to beat, the historical stats say so and in the last few championships at all levels they have been amazing and winning lots of Gold. They will again be ones to watch out for as will England, Finland and countries who have always had strong youth programs and international teams. But other countries have built up also and Slovenia, Lithuania, Slovakia and others will make this edition way more open. The event has always seen young athletes announce their name to Europe and the World and as always will be an exciting tournament for those players and the rest of us watching.
BOYS DOUBLES

The first squad saw a few teams quick out of the blocks as Italy fired 527 and England 491. By the midlle of the block Denmark were coming through to lead with England, Finland and the Czech Republic all chasing those important top four placings. At the end it was Denmark leading with 2633 and a fine 1362 from Nicolas Carter. Finland in second with 2553 and England third with 2457. After a slower start Sweden came through to grab the last top four placing early on with 2424 and 1383 of those pins by Robin Noberg.

Sweden again slow off the grid in the second squad but they soon made up for it in game two by smashing in 519 and following up with 444 and 457 to lead after four games and chasing down the first squad scores. Italy in second and France third and both close to the pace needed. Sweden completed the job with further games of 456 and 479 to lead into the finals with 2724. Denmark down to second with 2633 then Italy through into third with 2604 and finally Finland in 4th with 2553.
BOYS DOUBLES FINALS
Sweden vs Finland and Italy vs Denmark to find the doubles champions and both semi finals eventful in different ways. A super close match saw Italy beat Denmark by just 10 pins but the other was a one sided affair that saw Sweden break the boys European record as Carl Eklund shot 246 and Robin Ilhammar a perfect game to log 546 in the record books. Finland could only watch with 406.

Italy are the Boys doubles European Champions in a win that will be remembered for years to come. Going into the match, Mario Del Gaudio and Giorgio Gragnaniello had watched in awe as Sweden broke the European record. They did it in some style too as Mario hit a fine 279 and Giorgio adding 193 for 472 and Gold. Carl Eklund with 214 and Robin Ilhammar with 198 and 412 to take the Silver medal.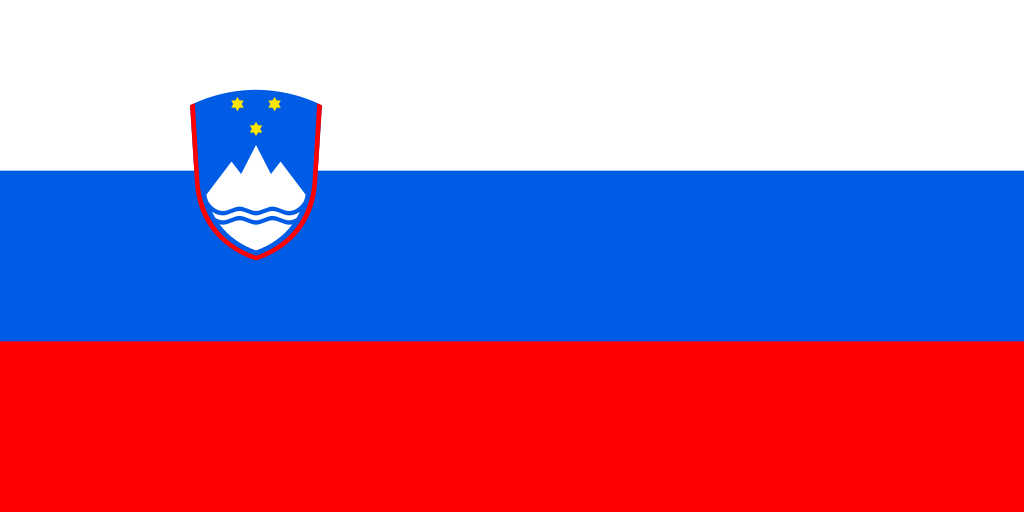 GIRLS DOUBLES
Finland, Slovenia and Sweden made the early running in the first of two girls doubles blocks, just 30 pins between the three countries and all with a fair share of games over 400. Ireland up into fourth as we headed towards the least two games.
Slovenia then making a race for the top spot in game five with 443 and Ireland holding with a 405 and Finland with 404. At the end it was Finland back on top with a 436 err finish and 2451, Slovenia in second with 2450, Sweden third with 2344 and Ireland fourth with 2242.
Squad two saw Sweden fly into the lead after three games ahead of the Czech Republic, Norway and Finland but the scoring pace a little lower than the first squad. At the end it was all change as the Czech Republic came through to lead the block with 2318 and take fourth finals spot in the combined. Sweden missing out in second on 2269. Finland 1, Slovenia 1 and Sweden 1 also making the finals.
GIRLS DOUBLES FINALS

Sweden vs Slovenia and Finland vs the Czech Republic in t semi finals and it was Finland cheering loud as they beat the Czechs 402-372 and a fine 233 from Pepi Konsteri. Sweden also through as they defeated Slovenia 411-357.
On to the final and Finland made short work of it by smashing in a 444 and 246 from Peppi Konsteri as Sweden could only managed 332 in reply and Gold to Finland.

BOYS TEAM
Slovakia made a break for it in the first game for the boys team and the first of two days of qualifying. 856 leading the way by just a pin from Denmark with 855 then Sweden and the Czech Republic hovering. Game two saw Sweden jump into the lead with an 892 but Slovakia now a pin behind the new leaders and the Netherlands up into 3rd and challenging with Finland. At the end of the three games it was Sweden on top with 2492, Slovakia second with 2485, Finland third with 2480 and Czech Republic fourth with 2468.
Day two for the boys and all change at the top as Finland lead after a 911 and Malta coming from nowhere into second with 900 and just 50 pins behind the Finns. Italy up to third and Czech Republic fourth as Sweden dropped to sixth and Denmark fifth. With a Game to go Finland were still top but now it was Slovakia second, Italy third and Malta fourth and this was going to the wire. It did and Finland top with 5016, Sweden through with 4986, Malta in third with 4972 and Slovakia fourth with 4936.

BOYS TEAM FINALS
Finland vs Slovakia and Sweden vs Malta and two smaller bowling nations looking to improve on a guaranteed Bronze. Sadly neither could do it as Finland smashed in 1004 to destroy Slovakia with 745 and Sweden brushed past the Maltese 857-781 but Malta happy with a first ever EYC boys medal.
Not the first time these two countries have met over the years at EYC finals and always an entertaining battle between these two close nations. Finland cheering this time as they take team Gold with 831-807 and Lenni Juutilainen top scorer with 238.

GIRLS TEAM
No shock in the first game of the girls team event to see Sweden on top after a 781 starter and 223 from Alice Lindquist. Norway in second with 745 and Denmark and Finland making it a nordic and scandinavian four early on. After two Sweden still lead but France up to second after a 780 with Norway and Finland still in the places. At the end it was Sweden top with 789 added and 2316, Finland up to second with 2250, France in third with 2230 and Norway in fourth with 2200.
Into day two and the second three game block and Finand were flying with games of 795 and 751 to pull away from Sweden in second and Norway in third with a game to go.  France in a battle with the Czech Republic for the fourth spot. The final four after six were Finland on 4575, Sweden with 4419, Norway with 4303 and France with 4295.

GIRLS TEAM FINALS
France vs Finland and Sweden vs Norway and it was joy for the French as they defeated Finland 750-692 and Julie Perrier top with 217. Sweden would join in the final as they beat Norway 692-636 and Alice Lindquist high with 207.
France vs Sweden and an instant classic final and super close at the end saw the French dancing tonight and claiming Gold with 751-743. Julie Perrier leading the charge with 221. Silver this time for Sweden.

BOYS SINGLES
Three games in of the first of two squads and Roni Leskinen from Finland was leading with 684 with Ondřej Prekop from the Czech Republic second with 681 and Vince van der loo from the Ntherlands in third with 678. Fourth early on was Ireland's Sean Staines with 663. AT the end of the six games there was a new leader and it was Robin Noberg from Sweden with 1337 followed by Nicolas Carter from Denmark with 1316 then Vince van der loo from the Netherlands in third with 1309 and making up the top four was Norway's Sander Kastås-Lindstad with 1295.
Into the second block and after three games it was Finland's Jani Soukka leading the field with 716 and Sweden's Robin Ilhammar second on 700. Third was Valentin Caumont from France with 675 and Poland's Mikolaj Czarnecki in fourth with 673. The final scores at the end of the two blocks saw Robin Ilhammar fly into the overall top spot with 1378 with Finland's Jani Soukka second on 1339, Sweden's Robin Noberg third with 1337 tied with Poland's Mikolaj Czarnecki.

BOYS SINGLES FINALS
Sweden vs Finland and Sweden vs Poland, two chances for Sweden but Finland's Jani Soukka beat Sweden's Robin Noberg 234-191 to put a stop to that but then Sweden's Robin Ilhammar defeated Poland's Mikolaj Czarnecki 204-176.
The final going to all the way to the end but Sweden's Robin Ilhammar grabbing Gold with 236-202 from Finland's Jani Soukka.

GIRLS SINGLES
Friday saw the Girls back on the lanes for the singles and two blocks of six games. FInland's Tiiamari Laukkanen leading the way after the first three games with 649 followed by Hannah Masterson from Ireland in second with 628 and Anais Crouzat from France in third with 603. As we hit the six game mark it was Ireland's Hannah Masterson leading the way with 1280 followed by Finland's Tiiamari Laukkanen in second with 1235, Anais Crouzat from France in third with 1139 and Denmark's Mia Madsen in fourth with 1100.
Squad two and after three games in it was Germany Leading with Lea Teschner on top with 615 and Yvanna Lerevenu in second with 613. then a jump to third and Norway's Jenny Mathieson with 589 and Romania's Nikolett Toth in fourth with 584. Fast forward three games and the final four through to the finals were Ireland's Hannah Masterson, Finland's Tiiamari Laukkanen, Germany's Lea Teschner and Norway's Jenny Mathiesen.

GIRLS SINGLES FINALS
In a low scoring semi final Ireland's Hannah Masterson eased past Norway's Jenny Mathiesen 155-151 to meet Finland's Tiiamari Laukkanen who just brushed past Germany's Lea Teschner 199-190.
Gold again for Finland as Laukkanen then beat Ireland's Masterson in the final 191-170 to claim the Gold and SIlver to Ireland.

BOYS ALL EVENTS
Gold for Sweden as Robin Ilhammar was streets ahead with a 231 average 4163 as team mate Robin Noberg took Silver with 3934 and Bronze to Malta's Nicolas Muscat with 3879.

GIRLS ALL EVENTS
Gold for Finland and Peppi Konsteri with 3581 as Norway's Jenny Mathiesen took Silver with 3562 and Bronze to SLovenia's Eva Krafogel with 3505.
MASTERS
Jenny Mathiesen from Norway and Robin Ilhammar from Sweden were crowned Masters champions after tough day on the lanes over five finals steps. Mathiesen defeating The Czech Republics Lucie Hrazdirova in the second round 2-0 then beating Sweden's Nicole Layrisse in the third round 2-0 and then Finland's Pinja Laukkanen from Finland 2-0 in th fourth and finally bettering Eliška Krummerová from the Czech Republic again 2-0 with games of 216 and 243.
Robin sent home Malta's Kayden Lagan over three games 2-1 in the second round then despatching Lituania's Laurynas Narusis 2-0 and then Denmark's Nicolas Carter 2-1 to reach the final where he then turned on the style with games of 244 and 253 to win 2-0 and take Gold.
Home Nation Reports
England, Scotland and Ireland will compete in 2022 for the Home Nations and the English looking to add to the 108 medals won in previous years, Ireland with 10 medals including one Gold and the Scottish looking for their very first EYC medal although some Scottish bowlers have won medals as part of the Great Britain team.
ENGLAND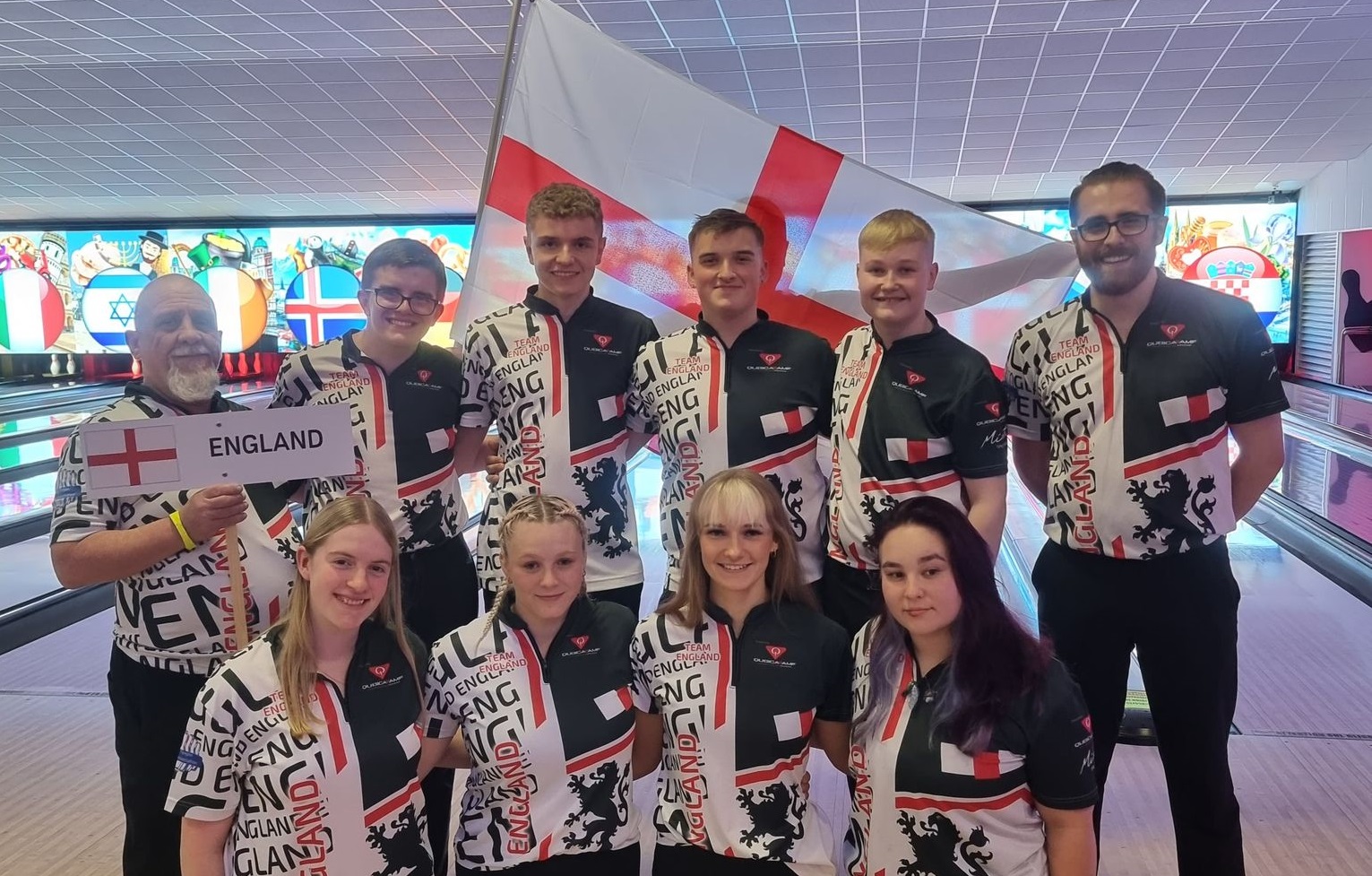 BOYS DOUBLES
The boys doubles saw England's first duo of Ben Robinson and Dan Harding race close to the lead after game one with 491 behind Italy's 527 then further games of 429,380,418 and 387 kept them in the top three as we closed in on the last game. A 352 final game with Dan on 1255 and Ben with 1202 for an overall  of 2457 and nervous wait to see it would be enough after the two squads. Sadly it was not to be and a good 7th place after the two squads.
Next up to complete the doubles were Charlie Upton and Jack Blyth. A slower start this time and both struggling to string the strikes and avoid the splits. Charlie unlucky in each game with splits and Jack finding something in the second half of the block. Charlie with 947 and Jack with 1158 for an overall of 2105.
GIRLS DOUBLES
Kara Zucca and Jessica Sillis first up for England in the girls doubles and a tough block for both bowlers as Kara struggled to avoid the splits and open frames but Jessica better and close to finding something helpful later in the tournament. One to learn from for Kara at the end with 860 and Jessica on 997 for a team total of 1857.
England finals double pair of Izzy Fletcher and Millie Upton saw Izzy starting well with 197 but slightly dropping each game with 186 and 179 as Millie was the other way and 142 up to 154 then 169 and still finding a groove in the block. Into the next three the pair started great with 391 before dropping a little to 377 and a tough last game of 275 with Izzy on 1121, Millie with 949 and an overall of 2070.
BOYS TEAM
England started brightly and three of the four players over 200 for a 772 but a drop in the second game to 722, another slight drop in game three saw a 700 and total of 2194 in 13th.
Into the second day of team qualifying for the boys and England opening with 774 and Ben Robinson leading the charge with 209.  An 852 was next and great bowling from all four and 232 for both Ben and Charlie. Final game and 824 with Dan the man on 247 and 4644 overall for 10th place. Ben with 1123, Charlie with 1203, Jack with 1100 and Dan with 1218.
GIRLS TEAM
A mixed start for the England girls with 577 but Jessica Sillis on a high with 180, Game two up to 655 and Jessica adding 184 and matched by Izzy and a great comeback for Kara after a low first game. A much better 738 to end the block with and Millie in particular showing strength after a low middle game for a 193 finish and the team with 1970.
A much better start to day 2 and the second block of three games and Millie Upton continuing to improve with 190 and 214. Games of 684 and 692 saw England in 8th with a game to go. A 659 to finish and 4005 for 9th place, Kara with 901, Jessica with 1068, Millie with 1023 and Izzy with 1013.
BOYS SINGLES
Charlie Upton and Dan Harding were first up for England and Dan going well after the first three games with 225,187 and 232 for 644 in 8th and Charlie with 192,168 and 214 for 25th with three to go.
Charlie then went on a run that saw him hit 257, 171 and 245 to end with a good 1247 in 7th and close to the top 24 in the all events. Dan ending with 225,232 and 171 for 1278 and 5th place and also 5th in the all events with a squad to go.
In the second singles block Ben Robinson on the lanes and Jack Blyth withdrawn from the singles. Ben looking bright in the first three games with 202,207,198 for 607 at the halfway point. Further games saw a drop to 163,166 and ending with a better last game of 198 for 1134. Great news though for England as Dan Harding was confirmed in the masters after 10th in the all events.
GIRLS SINGLES
Millie Upton and Jessica SIllis were first up for England in the singles and a mixed start as Millie's scores dropping in the first three games but Jessica starting slow but finding 210 by game three. At the end Jessica made a small run at a placing and landed in 8th with 1053 and Millie improved in the second three with 929 in 21st.
The final pairing for England in the singles was Izzy Fletcher and Kara Zucca. Izzy with games of 178,180 and 155 and Kara with 175,186 and 173 at the halfway point. Izzy looking more comfortable in the second three games with 182,189 and 189 for 1073 Kara adding 147, 161 and 143 for 989.
BOYS ALL EVENTS
Dan Harding finished 10th in the All Events and qualified for the Masters. Dan ending with 3752, Ben Robinson placed 36th with 3459, Charlie Upton in 45th with 3397 and Jack Blyth in 93rd with 2258.
GIRLS ALL EVENTS
Joy for England as Izzy Fletcher makes the Masters in 19th place with 3207. Jessica SIllis in 31st with 3118, Millie Upton in 42nd with 2901 and Kara Zucca in 52nd with 2746.
MASTERS
Joy and pain in the Final Step 1 of the Masters featuring Izzy Fletcher and Dan Harding as Dan sadly goes out to Malta's Kayden Lagana 1-2 but Izzy blasts through 2-1 against Anais Crouzat from France.
Izzy Fletcher advanced to the final Step two in the Masters and faced the top seed Peppi Konsteri from Finland. It was never going to be an easy match and the Finn hitting 257 in game one to Izzy's 165. Game two a different story as Izzy raced back with a string of strikes early on and putting pressure on Peppi. Frame seven the Finn started to pull away and took the tie 256-202 and 2-0.
SCOTLAND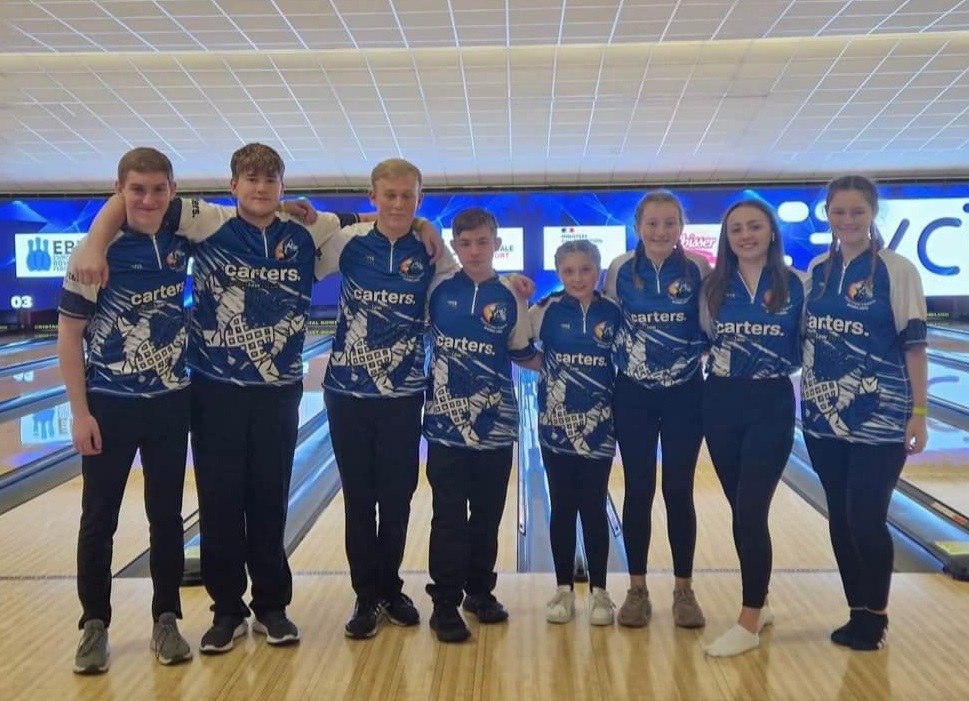 BOYS DOUBLES
Scotland's first pair of Jack McDermott and Calum Robertson started with mixed fortunes and games of 339,258,277 then a fine 413 with a 257 from Jack. Dropping at the end though with 277 and 301 to end with 1865 in 23rd.
Next up for Scotland were Lee Rigby and Campbell Gribben and a pretty good start with 353 but dropping to 325, 274 and 288 before finding lines and a higher 360 then 341 and a 21st place 1941.
GIRLS DOUBLES
Amy Addison and Melissa Ainslie on the lanes for Scotland early on Monday and a slow start for Melissa with 117 but much improved in later games, Amy not too far from bigger scores over the first four games. After six it was 321 and 352 games for 1940 in 13th and ahead of the English in 14th.
Next up for Scotland was Sarah Scott and Isla Claxton. 296 for starters then an improved 327 before falling back to 281 after the first three games. 314,321 then the best game of the block at the end with 352 and 1940 overall for 22nd in the combined list.
BOYS TEAM
A mixed start for the Scottish boys with two close to the pace and teo behind for a first game of 668 but slightly improved in the second with 712 and a 213 from Lee Rigby. Game three saw a 695 for 2075 overal and in 20th place.
Onto the second day of team qualifying and games 4-6 and Scotland with 668 and a 184 high from Lee Rigby. Up to 739 in game five and 217 from Campbell Gribben. 611 to end with and a 20th place 4093.
GIRLS TEAM
610 and 636 for Scotland in the first two games of the team event but Amy Addison going great with 211 and 224 as she chased down a masters placing. Amy with 596 at the end in a 1883 10th place.
Into the next day and Scotland started better with 646 and a 188 from Sarah Scott, then game two adding 673 and a 191 from Melissa Ainslie. Sitting in 12th with a game to go. That game was a 643 and 3845 overall for 12th place.
BOYS SINGLES
Callum Robertson and Jack Mcdermot first up for Scotland in the boys singles and both not really getting going and Callum with 463 aand Jack with 439 early on. At the end Callum had 962 for 42nd and Jack with 908 in 44th.
Campbell Gribben and Lee Riby were next up for the Scots and Campbell fairing better with 549 after three games and Lee with 527. At the end it was Campbell with 1090 and Lee with 1000.
GIRLS SINGLES
Isla Claxton and Sarah Scott first up for the Scottish girls in the singles and Isla going well after three games in 10th with 530 and Abby in 15th with 503. At the end Isla in 17th with 1012 and a 191 to finnish then Sarah in 26th with 859.
Completing the singles for the Scottish were Melissa Ainslie and Amy Addison. Melissa with games of 161,160 and 155 and 157,135 and 136 for Amy with three to go. The girls ended and Melissa in 26th with 939 and Amy in 28th with 939.
BOYS ALL EVENTS
Campbell Gribben was the top boy for Scotland in the all events in 76th as Lee Rigby place 78th, Calum Robertson in 87th and Jack Mcdermott in 91st.
GIRLS ALL EVENTS
A great 33rd place for Amy Addison at the end and total of 3063 as Isla Claxton was 46th with 2841, Sarah Scott in 53rd with 2711 and Melissa AInslie in 54th with 2707.
IRELAND
BOYS DOUBLES
Dillon McKeown and Andrew Grant on the lanes in the first squad for Irealand and a slow start with 249 and improved with 321,260 and better game in the fourth game with 393 and a 215 high for Dillon. Ending the block with 319 and 330 and ending in 22nd with 1872.
Much better in the second boys block as Taylor WIlliams and Sean Staines raced into an early lead with 443 before tailing away a little with 335,369,333 nbut improved with 393 then ending with 414 and 2286 in 9th in the block and 16th overall.
GIRLS DOUBLES
Ireland saw hopes raised in the Girls doubles as Abby McKeever and Hannah Masterson fired games of 383,354,379 and 392 in the first four games to be challenging a top four place in 4th with two games to go then holding the place in game five with an improved 405. Sadly a drop at the end with 329 but still fourth with 2242 and an outside chance of advancing.
Ireland were again challenging the top spots in the second squad after three games as Anna Farren and Laura Grant shot 350,389 and 352 and fifth with three games to go. Thing slooking good with a 392 in game five and 405 in game six but 329 at the end dropped the pair to 9th with 2242.
BOYS TEAM
A 634 first game for Ireland as all struggled to find the pace but did so and fired in a second game of 793 including a 244 from Taylor Williams and 212 from Sean Staines. A 657 to complete the three games with 2084 in 19th.
Day two for the boys and a bright start with 760, Taylor ith 210 and Sean with 211 helping the cause. 666 next and down to 19th with a game to go. A final game of 777 and a 226 from Taylor rounded out a 17th place 4287.
GIRLS TEAM
The Irish Girls opened with 627 with Hannah Masterson leading the way with 175 and a second game of 648 and a 185 from Abby McKeever gave Ireland an 8th place with one to go in the first block. 8th is where the team ended after the three game block with a 723 and 1998.
Into the second block the Irish girls added 668 and 670 in the first two games and a high of 209 from Hannah Masterson in game four. At the end it was 708 and 4044 for 8th place.
BOYS SINGLES
Fourth early on was Ireland's Sean Staines with 663 and in the top four. Games of of 209,196 then a fine 258. Taylor Williams with 184,160 and 200 then in the next three adding 206,183 and 189 for 1122 in 28th. Sean however higher in the field after further games of 234,148 and 171 for 1216 in 11th.
Next up for the Irish were Andrew Grant and Dillon McKeown and both not having the best of starts with Andrew on 504 in 37th and Dillon with 454 in 44th. At the end Andrew finished with 1075 and Dillon with 929.
GIRLS SINGLES
An awesome start to the single for Hannah Masterson as she raced into second place after three games with 628 and games of 199,226 and 203. Abby McKeever in 15th early on with 503. Maybe time to start getting excited for Ireland as Hannah ended the block with 246,164 and 242 for 1280 and leading the Girls Singles. Abby ending in 16th with 1019.
Completing the singles for Ireland were Anna Farren and Laura Grant and both struggling to get going and sitting in 23rd and 28th with three games to go. Three games later we had the six game total and Anna in 22nd with 976 and Laura in 25th with 952.
BOYS ALL EVENTS
Top irish was Taylor Williams on a 194 average in 33rd as Sean Stains placed 42, Andrew Grant in 82nd and Dillon McKeown in 85th.
GIRLS ALL EVENTS
Irish jig time as Hannah Masterson makes the masters in a fantastic 5th place with 3500 as Abby McKeever placed 22nd with 3186, Anna Farren in 38th on 2945 and Laura Grant in 41st with 2921.
GIRLS MASTERS
Final step 1 saw Abby McKeever go up against Slovenia's Alja Bergauer and sadly the Slovenian was too strong taking the first game 216-164 and the second game 188-144.
Into Step 2 and Irish medalist Hannah Masterson was up against 13th seed Nicole Layisse from Sweden and unlucky as she lost the first game 192-202 and then the second game 176-194 and out of the event. Still a great championship overall though for the Irish.
Results
Results will appear on the Official website first during the championships
Schedule
Weekday
Date
From
To
Activity
Thursday
01.09.2022
14.00
20.00
Unofficial Practice
14.00
20.00
Ball registration
Weekday
Date
From
To
Activity
Friday
02.09.2022
–
–
Last day of arrivals
10.00
20.00
Unofficial Practice
10.00
20.00
Ball Registration
Weekday
Date
From
To
Activity
Saturday
03.09.2022
09.00
19.00
Ball Registration
09.00
10.00
Lane Maintenance
09.00
10.00
Team Managers Meeting
10.00
11.30
Official Practice Squad 1
11.30
12.30
Lane Maintenance
12.30
14.00
Official Practice Squad 2
14.00
15.00
Lane Maintenance
15.00
16.30
Official Practice Squad 3
17.00
17.30
Break and line up for Opening Ceremony
17.30
18.30
Opening Ceremony
Weekday
Date
From
To
Activity
Sunday
04.09.2022
08.00
09.00
Lane Maintenance
09.00
12.15
Boys Doubles Squad 1
12.15
13.15
Lane Maintenance
13.15
16.30
Boys Doubles Squad 2
16.30
17.30
Lane Maintenance
17.30
18:15
Boys Doubles semi final
18:15
19:00
Boys Doubles final
19.00
19.15
Medal Ceremony Boys Doubles
Weekday
Date
From
To
Activity
Monday
05.09.2022
08.00
09.00
Lane Maintenance
09.00
12.15
Girls Doubles Squad 1
12.15
13.15
Lane Maintenance
13.15
16.30
Girls Doubles Squad 2
16.30
17.30
Lane Maintenance
17.30
18:15
Girls Doubles semi final
18:15
19:00
Girls Doubles final
19.00
19.15
Medal Ceremony Girls Doubles
Weekday
Date
From
To
Activity
Tuesday
06.09.2022
08.00
09.00
Lane Maintenance
09.00
12.15
Boys Team, Block 1, G1-3
12.15
13.15
Lane Maintenance
13.15
16.30
Girls Team, Block 1, G1-3
Weekday
Date
From
To
Activity
Wednesday
07.09.2022
08.00
09.00
Lane Maintenance
09.00
12.15
Girls Team, Block 2, G4-6
12.15
13.15
Lane Maintenance
13.15
16.30
Boys Team, Block 2, G4-6
16.30
17.30
Lane Maintenance
17.30
18:45
Girls & Boys Team, Semi finals
18:45
19:30
Girls & Boys Team, Finals
19.30
20.00
Medal Ceremony Girls & Boys Team

Weekday
Date
From
To
Activity
Thursday
08.09.2022
08.00
09.00
Lane Maintenance
09.00
12.15
Boys Singles Squad 1
12.15
13.15
Lane Maintenance
13.15
16.30
Boys Singles Squad 2
16.30
17.30
Lane Maintenance
17.30
18:00
Boys Singles Semi final
18:00
18:30
Boys Singles Final
18.30
19.00
Medal Ceremony Boys Singles
Weekday
Date
From
To
Activity
Friday
09.09.2022
08.00
09.00
Lane Maintenance
09.00
12.15
Girls Singles Squad 1
12.15
13.15
Lane Maintenance
13.15
16.30
Girls Singles Squad 2
16.30
17.30
Lane Maintenance
17.30
18:00
Girls Singles Semi final
18:00
18:30
Girls Singles Final
18.30
19.00
Medal Ceremony Girls Singles
Medal Ceremony Girls+Boys All Events

19.00
20.00
Lane Maintenance
20.00
21.15
Boys Masters, Step 1 (8 matches)
21.15
22.30
Boys Masters, Step 2 (8 matches)
Weekday
Date
From
To
Activity
Saturday

10.09.2022

08.00
09.00
Lane Maintenance
09.00
10.15
Girls Masters, Step 1 (8 matches)
10.15
11.30
Girls Masters, Step 2 (8 matches)
11.30
12.30
Lane Maintenance
12.30
13.45
Girls & Boys Masters, Step 3 (2 x 4 Matches)
13.45
14:45
Lane Maintenance
14:45
16:00
Girls & Boys Masters, Step 4 (2 x 2 Matches)
16.00
17.15
Girls & Boys Masters, Step 5

17.15
18.00
Medal Ceremonies Girls & Boys Masters
20.00
00.00
Banquet

| Weekday | Date | From | To | Activity |
| --- | --- | --- | --- | --- |
| Sunday | 11.09.2022 | – | – | Departure |