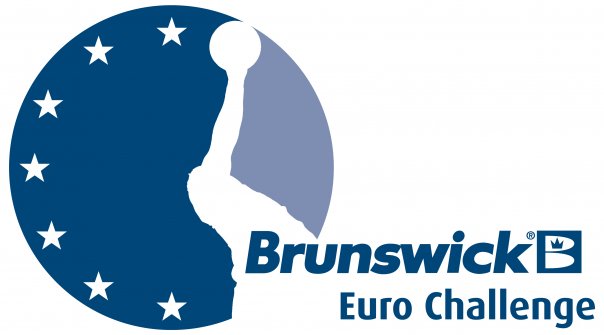 The amazing Dream Bowl Palace in Unterföhring near Munich hosts the popular Brunswick Euro Challenge from the 25th of June to the 3rd of July. The fourth stop of the European Bowling Tour is a Gold level event with a top prize of 11.000Euro and total prize fund of 88.200Euro based on entries of 1050.
Reports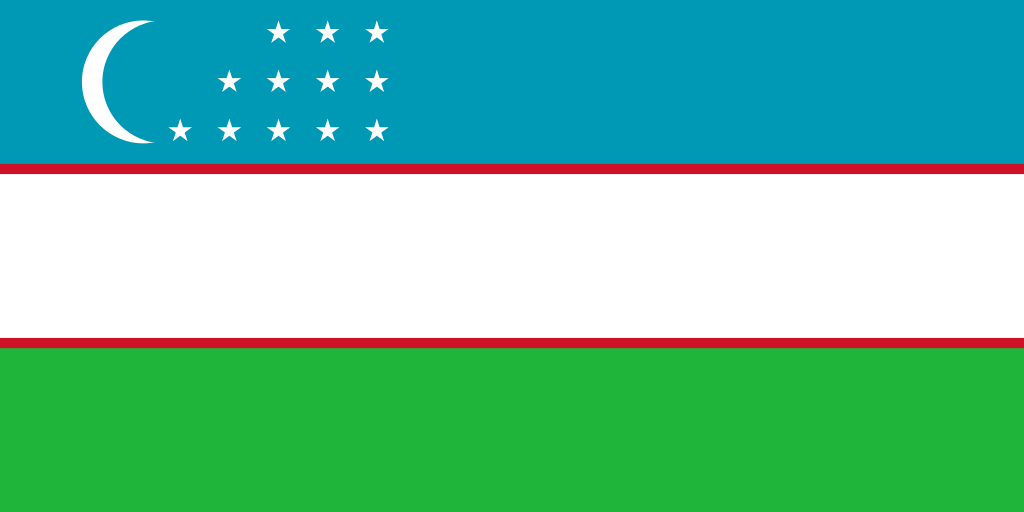 Look at Uz at the top
The biggest event on the EBT tour completed qualifying and Uzbekistan leading the global field. Ravshan Abdusamadov with the only 1500 with 1501 in squad 15. Second was Singapore legend Cherie Tan with 1488 followed by Scotland/Germany's Jamie McDermott with 1470 in the very first squad. Safe inside the top 12 to advance to final step 2 were Jessie Kallio (FIN), Kim Bolleby (SWE), New Hui Fen (SGP), Walter Alessandro Santu (ITA), Marcel Kraft (GER), Marcel Obst (GER), Rasmus Edvall (SWE), Carsten Hansen (DEN) and Mikkel Sørensen (DEN).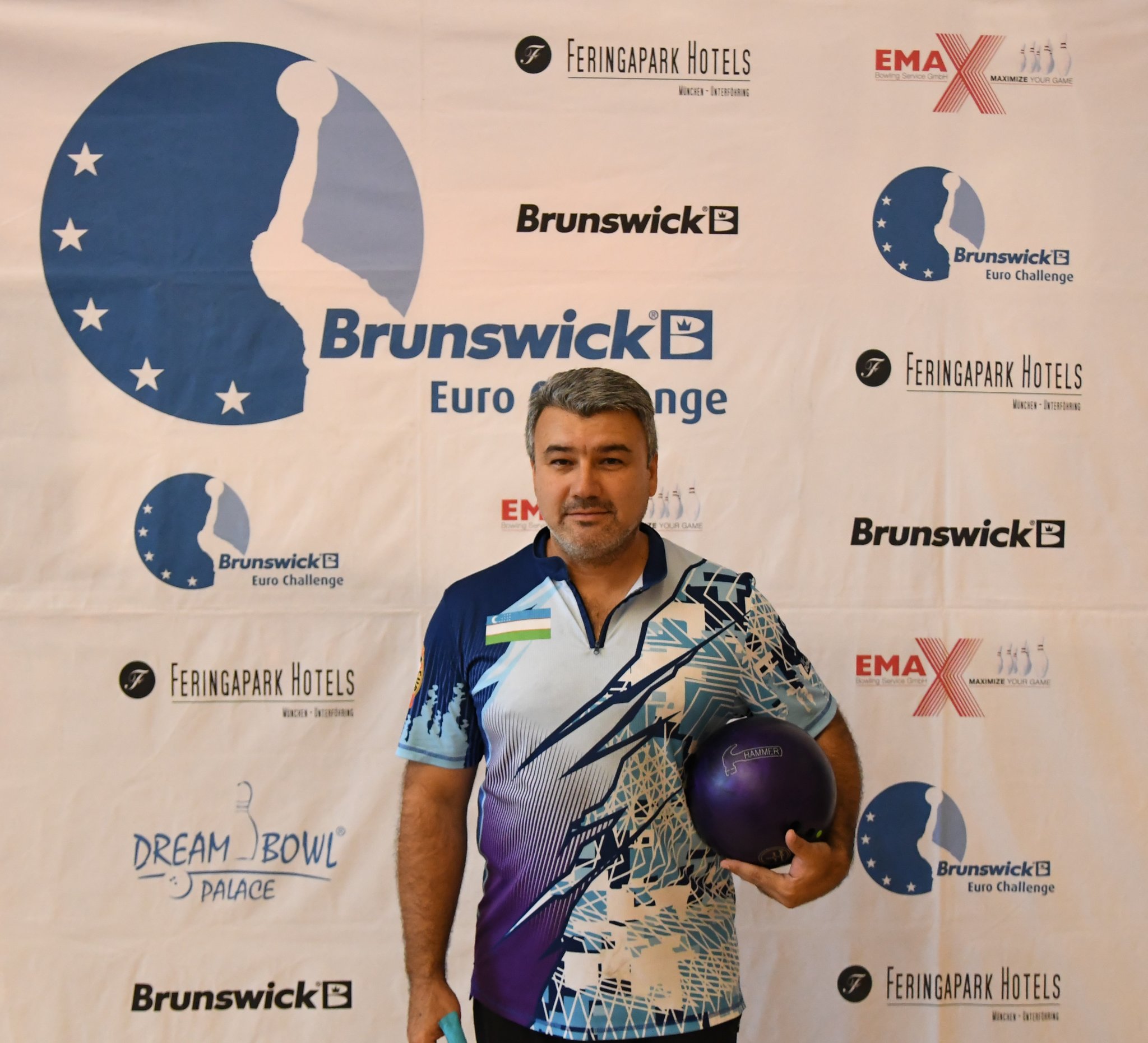 Top 50 cut and qualifying for the final step one landed on Denmark's Tim Stampe with 1355. Desperado saw Ingar Gabrielson top with 262 and also through went Alvin Kvarnström 247, Antonino Fiorentino 234 and Frank Wiemken 224.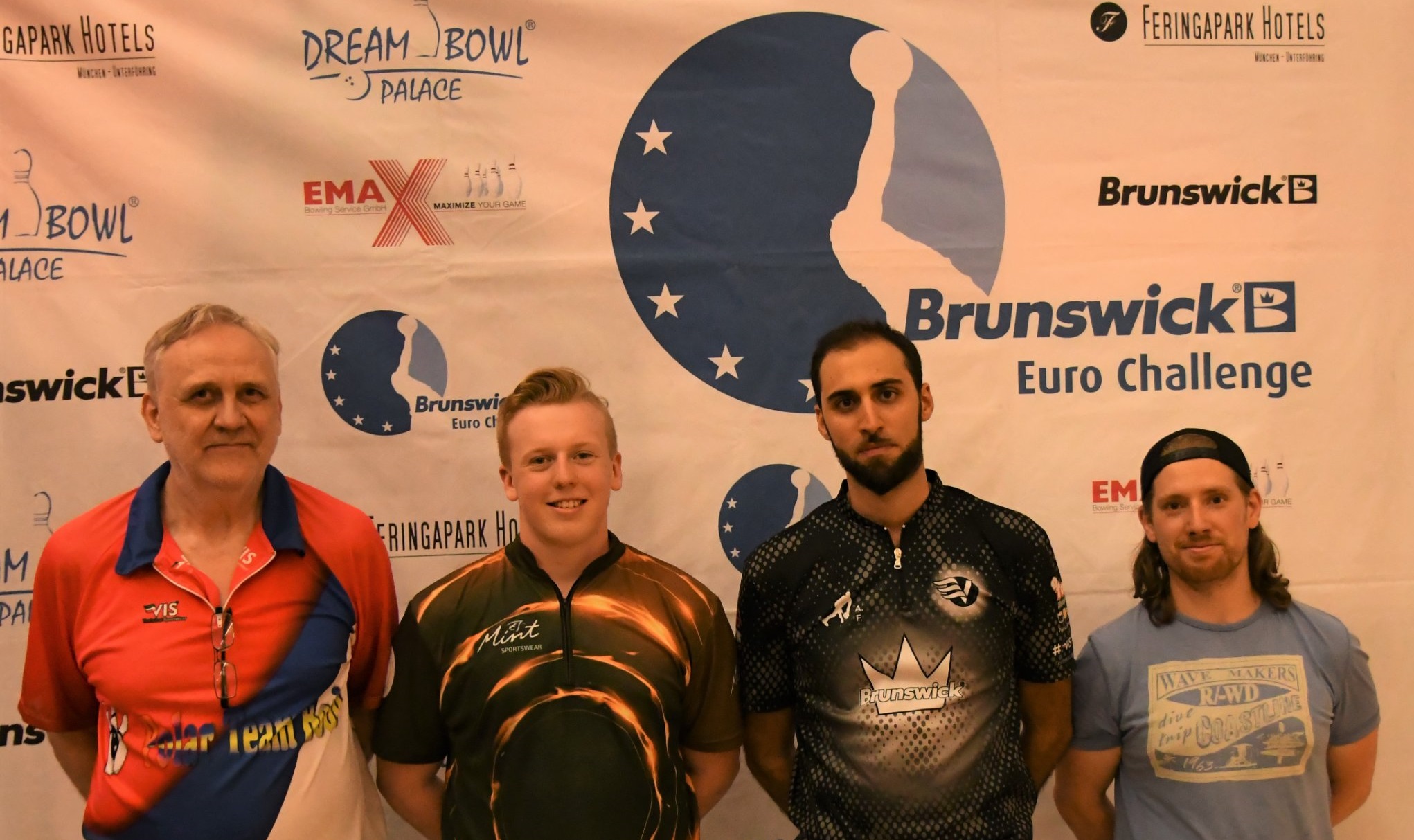 Final Step 1
Top 16 from 52 players saw Sweden' WIlliam Svensson out on top with a fine 1522 including a 298. Second was Finland's Tomas Käyhkö with 1488 and third was Sweden's Desperado star Alvin Kvarnström with 1457. Other notable qualifiers included Danish legend Mai Ginge Jensen in 6th, Thomas Larsen in 9th and one Dominic Barrett from England on the cut for 16 with 1339 and one to watch out for.

Final Step 2
Sure enough England's PBA star Dominic Barrett was one to watch for and in 3rd with 1371 behind Finland's Jessie Kallio with 1460 and Scotland's Jamie McDermott with 1382. Making the top 8 also was Tomas Käyhkö, Cherie Tan, Mai Ginge Jensen, Edvall Rasmus and Kim Bolleby.
Final Step 3
Just three places up for grabs and eight players went to battle over seven games. Top seed for the final went to Sweden's KIm Bolleby with 3132 followed by England's Dominic Barrett with 3115 and grabbing the final spot in the stepladder was Sweden's Rasmus Edvall with 3062.
Final Step 4
An easy win for Dominic Barrett in the first stepladder match as he defeated Sweden's Rasmus Edvall 209 to 169 but Sweden sould get a shot at revenge in the final as The Englishman took on Sweden's Kim Bolleby.
The final saw England's Dom Barrett race into a lead with the front five as Bolleby hit a turkey spare and strike. A nine pin would stop the run for the Englishman with Bolleby unable to double and a good lead going into the final frames. Both players striking in the seventh frame then Barrett hitting what could be a match winning double and forcing Bolleby to strike to stay in the match. Bolleby duly struck and again in the ninth to heap the pressure back to Barrett. A flush pocket almost 7-10 and seven pin left standing then missed by the Englishman and the tie is turned on it's head. Barrett ending first with a spare and strike for 236. Bolleby looking odds on throws a wild wide seven count and spare and strike and loses by a pin with 235.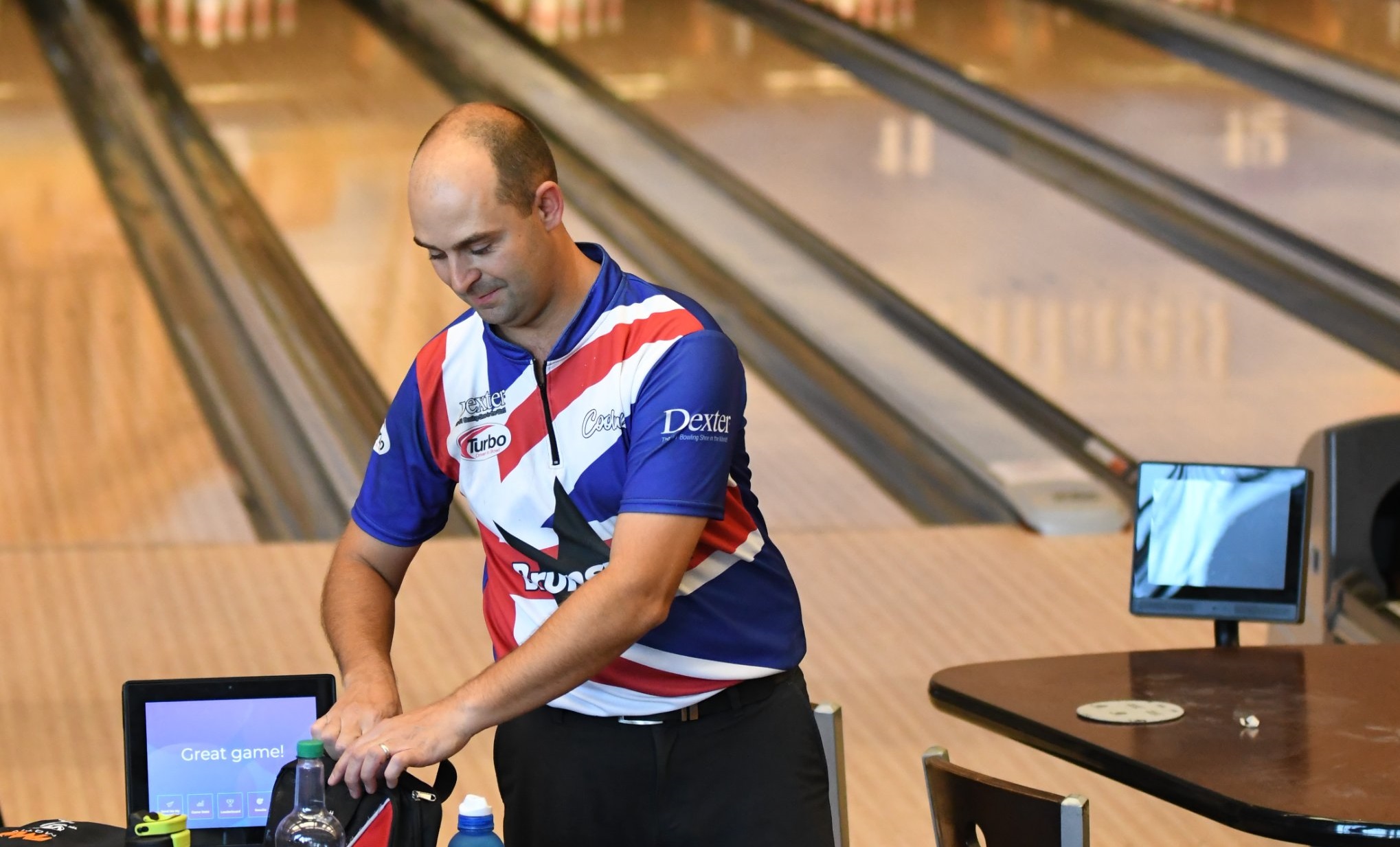 Results
Qualified directly to final step 2 (Position 1 – 12)

RANK
NAME
NAT
GEN
BEST
PINS
SQUAD #
SQUAD
COUNT
HAND
1
Abdusamadov, Ravshan
UZB
M
1501
15
7
R
2
Tan, Cherie
SGP
F
1488
07
4
L
3
Mcdermott, Jamie
GER
M
1470
01
1
L
4
Kallio, Jesse
FIN
M
1460
05
1
L
5
Bolleby, Kim
SWE
M
1453
13
3
L
6
Hui Fen, New
SGP
F
1436
06
4
R
7
Santu, Walter Alessandro
ITA
M
1430
16
3
R
8
Kraft, Marcel
GER
M
1423
01
2
R
9
Obst, Marcel
GER
M
1422
01
1
R
10
Edvall, Rasmus
SWE
M
1422
13
2
R
11
Hansen, Carsten
DEN
M
1419
15
4
R
12
Sørensen, Mikkel
DEN
M
1411
17
4
R
Qualified to final step 1 (Position 13 – 50)

RANK
NAME
NAT
GEN
BEST
PINS
SQUAD #
SQUAD
COUNT
HAND
13
Muaz, Ahmad
MAS
M
1410
09
3
R
14
Mangiacotti, Andrea
ITA
M
1405
15
6
R
15
Chang, Charmaine
SGP
F
1402
07
5
R
16
Kelight, Nerosha
MAS
F
1400
06
3
L
17
Ng, Shayna
SGP
F
1398
12
5
R
18
Hehnen, Patrick
GER
M
1397
14
2
L
19
Celli, Massimiliano
ITA
M
1397
04
3
R
20
Börding, Tobias
GER
M
1397
08
2
R
21
Sahar, Syazwani
MAS
F
1396
09
4
R
22
Lyana, Nora
MAS
F
1395
08
5
R
23
Pongolini, Nicola
ITA
M
1392
14
3
R
24
Noberg, Robin
SWE
M
1384
17
4
R
25
Laub, Sabrina
GER
F
1384
08
4
R
26
Barrett, Dominic
ENG
M
1384
17
5
R
27
Tham, Timothy
SGP
M
1383
16
8
R
28
Paulsson, Martin
SWE
M
1381
15
3
R
29
Tan, Daphne
SGP
F
1379
10
6
R
30
Eklund, Carl
SWE
M
1375
15
5
R
31
Barak, David
SVK
M
1375
03
5
R
32
Salomaa, Kaaron
FIN
M
1375
16
5
R
33
Jensen, Mai Ginge
DEN
F
1374
16
4
R
34
Bados, Vivien
FRA
M
1373
03
2
R
35
Käyhkö, Tomas
FIN
M
1373
12
3
R
36
Ridhwan, Syafiq
MAS
M
1371
07
4
R
37
Jansson, Markus
SWE
M
1370
06
3
R
38
Shamsudin, Syazirol
MAS
M
1368
08
5
R
39
Friesch, Daniel
GER
M
1366
02
4
R
40
Svensson, William
SWE
M
1365
07
3
R
41
Lim, Bernice
SGP
F
1363
12
6
R
42
Andersson, Anna
SWE
F
1362
12
3
L
43
Goh, Jaris
SGP
M
1362
07
6
R
44
Safiyah, Siti
MAS
F
1361
06
4
R
45
Najihah, Faten
MAS
F
1360
16
5
R
46
Ankerdal, Mathias
DEN
M
1359
11
6
R
47
Andersson, Pontus
SWE
M
1359
09
6
R
48
Køhler, Malene
DEN
F
1358
11
2
R
49
Netaneel, Nevern
MAS
M
1356
09
7
R
50
Stampe, Tim
DEN
M
1355
12
3
R
Players from squads conducted on 28-29/6 (Position 51 – 55)

The best 5 players from the squads conducted on 28-29/6 not already qualified for the finals are shown here. These names can change until the last qualifying squad has been played.

RANK
NAME
NAT
GEN
BEST
PINS
SQUAD #
HAND
51
Sass, Marcel
GER
M
1349
05
R
52
Larsen, Thomas
DEN
M
1346
07
R
53
Hakim, Tun
MAS
M
1346
07
R
54
Kloos, Fabian
GER
M
1341
08
R
55
Putkisto, Teemu
FIN
M
1337
05
R

Players from squads conducted on 25-26/6 (Position 56 – 60)

The best 5 players from the squads conducted on 25-26/6 not already qualified for the finals are shown here. These names can change until the last qualifying squad has been played.

RANK
NAME
NAT
GEN
BEST
PINS
SQUAD #
HAND
56
Nuckel, Nils
GER
M
1345
01
L
57
Hrusovsky, Simon
SVK
M
1341
01
R
58
Ribguth, Janin
GER
F
1339
01
R
59
Winternheimer, Pascal
GER
M
1339
04
R
60
Härtel, Daniel
GER
M
1331
02
R

Players from the Desperado (Position 61 – 64)

The best 4 players from the Desperado on Saturday night will qualify for the final step 1.

RANK
NAME
NAT
GEN
BEST
PINS
HAND
61
Gabrielsen, Ingar
NOR
M
262
L
62
Kvarnström, Alvin
SWE
M
247
L
63
Fiorentino, Antonino
ITA
M
234
R
64
Wiemken, Frank
GER
M
224
R
Oil Pattern