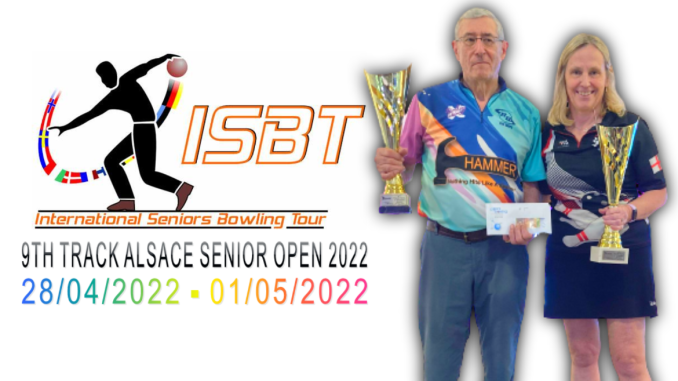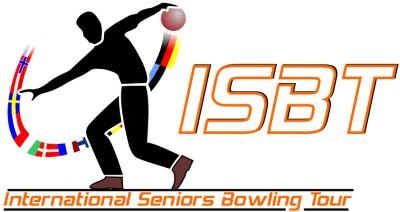 The 36 lane Cristal Bowling in Wittelsheim, France hosted the latest stop of the ISBT tour at the end of April.
Winners – Angie Brown and Lawrence Ellis
Second – Gisela Insinger and Petri Keituri
Third – Karin Lischka and Georgio Desimio
Top 3
Finalists
Results and photos thanks to Tony Brown
Report
The 9th running of the ISBT Track Alsace Senior Open in Wittelsheim, France attracted an excellent entry of 154 competitors. The format of the tournament was two blocks of 6 games qualifying, with re-entries being allowed. Turbo and Desperado qualification was also possible.
There were three 300 games in qualifying, the first for Jan Passies from the Netherlands, which helped him into top qualifying spot with 3006, a 234 scratch average. Gregor Ramsak from Switzerland also achieved a 300 game in qualifying, but unfortunately his total of 2671 just fell short of the cut, which was set at 2712. Lol Ellis also had a 300 game in the last qualifying squad to secure his place in the finals. The top eight men from qualification would miss the early morning first final round, there were two UK bowlers in this group, Lol Ellis and Steven Jeeves. In total six UK male bowlers made the final stages, with Paul Cosgrove, Keith Hodge, Steve Coates qualifying through the main standings, and Steve Carnall squeezing in through the Desperado squad.
In the ladies' section, Angie Brown led qualifying by almost 100 pins with a total of 2651 and would be the only UK representative in the ladies' final. The ladies' cut was severe, with only 6 of the 37 competitors qualifying.
The first men's final round was easily won by Celli Maurizio from Italy with 1323 over 5 games with bonus pins, a scratch total of 256. Paul Cosgrove and Steve Carnall also got through this round.
The second final round was won by Hermann Wimmer, his 214 scratch average with 29 bonus pins per game just edged it from Petri Keituri from Finland. Lol Ellis and Steve Carnall made the top 8, and a place in the 7 game round robin final.
In the men's final, Lol Ellis started with a 206 game, then shot scores over 230 in every one of his final six games, to record a scratch average over the 7 game final of 242. With his 22 pins per game age bonus, he was over 200 pins clear of the field at the end, with Petri Keituri and Georgia Desimio from Belgium taking the other medal places. This was Lol's 5th ISBT title.
The ladies' final was a much closer affair, with Angie Brown and Gisela Insinger from Germany being close throughout. With a game to go, Gisela had a 17 pin lead over Angie, but a 235 game from Angie and a 144 from a tiring Gisela turned the tables, to gain Angie Brown her 19th ISBT title.
Results
View the latest results here
Ladies
Final
Qualifying
Pos.
Name
Country
Games
Total
QA
Moy.
Bonus
Diff
1.
Brown Angie
United Kingdom
12
2651
2483
206,92
14
144
2.
JACQUES PEPITA
France
12
2558
2402
200,17
13
51
3.
valerie murat
France
12
2552
2516
209,67
3
45
4.
Lischka Karin
Germany
12
2523
2379
198,25
12
16
5.
Nadia Goron
France
12
2515
2347
195,58
14
8
6.
Insinger Gisela
Germany
12
2507
2159
179,92
29
0
7.
CHRISTIANE CLERC
France
12
2489
2345
195,42
12
-18
8.
Vissenberg Vanessa
Belgium
12
2481
2445
203,75
3
-26
9.
Muis Claribel
Netherlands
12
2479
2311
192,58
14
-28
10.
Hodge Jan
United Kingdom
12
2466
2262
188,50
17
-41
11.
Van Kerchove Linda
Belgium
12
2419
2347
195,58
6
-88
12.
FAURE JACQUELINE
France
12
2415
2139
178,25
23
-92
13.
Guigon Daniele
France
12
2397
2217
184,75
15
-110
14.
Vintens Liliane
Belgium
12
2394
2214
184,50
15
-113
15.
Morand Marie-Noelle
France
12
2362
2218
184,83
12
-145
16.
Hansen Barbara
Germany
12
2358
2190
182,50
14
-149
17.
Van Dijk-Uittenbogaard Marja
Netherlands
12
2345
2213
184,42
11
-162
18.
Grether Gaby
Germany
12
2323
2083
173,58
20
-184
19.
SUZANNE ANDRES
France
12
2322
2106
175,50
18
-185
20.
Olry Isabelle
France
12
2311
2263
188,58
4
-196
21.
Bouget Cynthia
Switzerland
12
2298
2166
180,50
11
-209
22.
PEREZ CATHERINE
France
12
2273
2129
177,42
12
-234
23.
Verhoef-van straaten Marian
Netherlands
12
2271
2067
172,25
17
-236
24.
Veaucourt Martine
France
12
2270
2162
180,17
9
-237
25.
ROBERT SYLVIE
France
12
2259
2139
178,25
10
-248
26.
Nathalie Di Martino
France
12
2255
2207
183,92
4
-252
27.
Pannen Sonja
Netherlands
12
2245
2197
183,08
4
-262
28.
Keituri Margit
Finland
12
2234
2090
174,17
12
-273
29.
Clever Ruth
Germany
12
2203
1915
159,58
24
-304
30.
Sustar Francoise
France
12
2195
1931
160,92
22
-312
31.
Diekhoff Uschi
Germany
12
2188
1936
161,33
21
-319
32.
Capponcelli Anna Maria
Italy
12
2156
2072
172,67
7
-351
33.
van der Kooij Kirsten
Netherlands
12
2134
2050
170,83
7
-373
34.
MILLET ANNIE
France
12
2094
1926
160,50
14
-413
35.
Beers Sandra
Netherlands
12
1973
1865
155,42
9
-534
36.
Deroo Sandrine
France
10
1878
1868
186,80
1
-629
37.
PROVENSAL Myriam
France
12
1862
1814
151,17
4
-645
Men
Final
| Pos. | Name | P1 | P2 | P3 | P4 | P5 | P6 | P7 | QA | Bns | Total |
| --- | --- | --- | --- | --- | --- | --- | --- | --- | --- | --- | --- |
| 1. | Ellis Lol | 206 | 258 | 233 | 268 | 245 | 247 | 237 | 1694 | 120 | 1968 |
| 2. | Keituri Petri | 233 | 214 | 204 | 220 | 210 | 238 | 278 | 1597 | 80 | 1733 |
| 3. | Desimio Giorgio | 196 | 244 | 268 | 165 | 170 | 227 | 228 | 1498 | 80 | 1732 |
| 4. | Wimmer Hermann | 178 | 226 | 206 | 194 | 193 | 200 | 223 | 1420 | 60 | 1683 |
| 5. | Roberts Ed | 185 | 255 | 201 | 172 | 191 | 229 | 184 | 1417 | 60 | 1680 |
| 6. | ROLLAND PATRICK | 185 | 175 | 225 | 236 | 226 | 204 | 215 | 1466 | 60 | 1652 |
| 7. | carnall steve | 209 | 188 | 226 | 174 | 202 | 227 | 213 | 1439 | 60 | 1611 |
| 8. | Passies Jan | 134 | 192 | 230 | 189 | 223 | 244 | 171 | 1383 | 40 | 1535 |
Semi Final
Quarterfinals
Pos.
Name
Country
Games
Total
QA
Moy.
Bonus
Diff
1.
Celli Maurizio
Italy
5
1323
1283
256,60
8
225
2.
Rost Joel
France
5
1240
1170
234,00
14
142
3.
Olsson Lennart
Sweden
5
1197
1112
222,40
17
99
4.
DJOUAD laya
France
5
1189
1074
214,80
23
91
5.
Gabrielsen Ingar
Norway
5
1170
1090
218,00
16
72
6.
Schlingensief Ralf
Germany
5
1162
1122
224,40
8
64
7.
ROLLAND PATRICK
France
5
1158
1068
213,60
18
60
8.
Desimio Giorgio
Belgium
5
1156
1046
209,20
22
58
9.
BERTHOMIERE Patrick
France
5
1152
1112
222,40
8
54
10.
cosgrove paul
Netherlands
5
1149
1124
224,80
5
51
11.
Geelen Andre
Belgium
5
1141
1011
202,20
26
43
12.
Emmerich Wolfgang
Germany
5
1135
1015
203,00
24
37
13.
Robert Vallons
Belgium
5
1133
1053
210,60
16
35
14.
Lischka Klaus
Germany
5
1118
1053
210,60
13
20
15.
carnall steve
United Kingdom
5
1111
1031
206,20
16
13
16.
VIAL PAULO
France
5
1098
1088
217,60
2
0
17.
BOUCHEREAU CLAUDE
France
5
1098
988
197,60
22
0
18.
Ulber Helmut
Germany
5
1085
970
194,00
23
-13
19.
van Baest Geert-Jan
Netherlands
5
1082
1067
213,40
3
-16
20.
Thamberger Roland
Switzerland
5
1053
973
194,60
16
-45
21.
YVAN AUGUSTIN
France
5
1051
976
195,20
15
-47
22.
Hodge keith
United Kingdom
5
1050
930
186,00
24
-48
23.
DE NOLF Dominique
Belgium
5
1049
969
193,80
16
-49
24.
Punessen Harald
Germany
5
1026
981
196,20
9
-72
25.
PROVENSAL Philippe
France
5
989
919
183,80
14
-109
26.
CoAtes Steve
United Kingdom
5
986
931
186,20
11
-112
27.
Oing Frank
Germany
5
963
933
186,60
6
-135
28.
Broekhuizen Auke
Netherlands
5
942
887
177,40
11
-156
Desperado
Pos.
Nom
Pays
Parties
Total
QA
Moy.
Diff
1.
carnall steve
United Kingdom
1
249
233
233,00
6
2.
PROVENSAL Philippe
France
1
243
229
229,00
0
3.
Ghanbar Robert
Germany
1
240
231
231,00
-3
4.
Vilaca de campos Delfim
France
1
223
214
214,00
-20
5.
Morgan Selwyn
United Kingdom
1
215
206
206,00
-28
6.
Vanderhook Carl
United Kingdom
1
209
204
204,00
-34
7.
Schmitt Bruno
France
1
208
192
192,00
-35
8.
PESSIDOUS Pascal
FrancBrunoe
1
205
192
192,00
-38
9.
CHRISTIANY Marc
France
1
203
196
196,00
-40
10.
Laermans Jurgen
Belgium
1
200
193
193,00
-43
11.
Stockl Berny
Germany
1
200
182
182,00
-43
12.
Eutin Achim
Germany
1
192
181
181,00
-51
13.
NOEL DE LAZZER
France
1
182
166
166,00
-61
14.
PEREZ Bruno
France
1
173
163
163,00
-70
Qualifying
Pos.
Name
Country
Games
Total
QA
Ave
Bonus
Diff
1.
Passies Jan
Netherlands
12
3006
2814
234,50
16
294
2.
Wimmer Hermann
Germany
12
2986
2638
219,83
29
274
3.
Keituri Petri
Finland
12
2966
2870
239,17
8
254
4.
Philippe Andre
France
12
2944
2824
235,33
10
232
5.
Fatu Valentin
Romania
12
2898
2778
231,50
10
186
6.
Ellis Lol
United Kingdom
12
2888
2624
218,67
22
176
7.
Roberts Ed
United States
12
2877
2529
210,75
29
165
8.
jeeves steven
United Kingdom
12
2872
2764
230,33
9
160
9.
Gabrielsen Ingar
Norway
12
2863
2671
222,58
16
151
10.
Rost Joel
France
12
2846
2678
223,17
14
134
11.
Robert Vallons
Belgium
12
2814
2622
218,50
16
102
12.
Celli Maurizio
Italy
12
2810
2714
226,17
8
98
13.
BOUCHEREAU CLAUDE
France
12
2804
2540
211,67
22
92
14.
YVAN AUGUSTIN
France
12
2795
2615
217,92
15
83
15.
cosgrove paul
Netherlands
12
2792
2732
227,67
5
80
16.
van Baest Geert-Jan
Netherlands
12
2775
2739
228,25
3
63
17.
DE NOLF Dominique
Belgium
12
2768
2576
214,67
16
56
18.
Hodge keith
United Kingdom
12
2766
2478
206,50
24
54
19.
ROLLAND PATRICK
France
12
2760
2544
212,00
18
48
20.
Thamberger Roland
Switzerland
12
2758
2566
213,83
16
46
21.
Olsson Lennart
Sweden
12
2757
2553
212,75
17
45
22.
Schlingensief Ralf
Germany
12
2756
2660
221,67
8
44
23.
BERTHOMIERE Patrick
France
12
2755
2659
221,58
8
43
24.
DJOUAD laya
France
12
2753
2477
206,42
23
41
25.
Desimio Giorgio
Belgium
12
2751
2487
207,25
22
39
26.
Oing Frank
Germany
12
2740
2668
222,33
6
28
27.
Geelen Andre
Belgium
12
2737
2425
202,08
26
25
28.
Ulber Helmut
Germany
12
2734
2458
204,83
23
22
29.
CoAtes Steve
United Kingdom
12
2723
2591
215,92
11
11
30.
Lischka Klaus
Germany
12
2723
2567
213,92
13
11
31.
Emmerich Wolfgang
Germany
12
2721
2433
202,75
24
9
32.
Punessen Harald
Germany
12
2712
2604
217,00
9
0
33.
zucconi claudio
Italy
12
2711
2447
203,92
22
-1
34.
Ghanbar Robert
Germany
12
2705
2597
216,42
9
-7
35.
MASETTI LORIS
Italy
12
2703
2403
200,25
25
-9
36.
van den Bogaard Ron
Netherlands
12
2686
2566
213,83
10
-26
37.
Louis Michelot
France
12
2673
2217
184,75
38
-39
38.
Ramsak Gregor
Switzerland
12
2671
2563
213,58
9
-41
39.
LEFRANCOIS Patrick
France
12
2665
2413
201,08
21
-47
40.
Fricke Dirk
Germany
12
2664
2628
219,00
3
-48
41.
carnall steve
United Kingdom
12
2660
2468
205,67
16
-52
42.
CLAUDE ESCARGUEL
France
12
2651
2387
198,92
22
-61
43.
Salvini Jean Michel
France
12
2648
2492
207,67
13
-64
44.
Grether Günther
Germany
12
2643
2367
197,25
23
-69
45.
Lassal Yvon
France
12
2629
2341
195,08
24
-83
46.
Halliwell Mike
United Kingdom
12
2622
2442
203,50
15
-90
47.
VIAL PAULO
France
12
2621
2597
216,42
2
-91
48.
Favre-Bulle Daniel
Switzerland
12
2614
2398
199,83
18
-98
49.
Ancarani Dario
Italy
12
2610
2406
200,50
17
-102
50.
Serge Orengo
France
12
2608
2452
204,33
13
-104
51.
Syrvet Pierre-Andre
Switzerland
12
2607
2487
207,25
10
-105
52.
BILLEBEAU DANIEL
France
12
2600
2396
199,67
17
-112
53.
FROLOFFE ROGER
France
12
2596
2284
190,33
26
-116
54.
Frederic Goron
France
12
2593
2341
195,08
21
-119
55.
PROVENSAL Philippe
France
12
2581
2413
201,08
14
-131
56.
Stockl Berny
Germany
12
2574
2358
196,50
18
-138
57.
Broekhuizen Auke
Netherlands
12
2561
2429
202,42
11
-151
58.
Laermans Jurgen
Belgium
12
2557
2473
206,08
7
-155
59.
GALLUZZO GIORGIO
Italy
12
2553
2325
193,75
19
-159
60.
JOGUET Michel
France
12
2544
2256
188,00
24
-168
61.
PESSIDOUS Pascal
France
12
2527
2371
197,58
13
-185
62.
Rossire Jean-Philippe
Switzerland
12
2525
2285
190,42
20
-187
63.
Quittelier Laurent
France
12
2521
2401
200,08
10
-191
64.
ZAMPIERI AVELLINO
Italy
12
2516
2372
197,67
12
-196
65.
Morgan Selwyn
United Kingdom
12
2512
2404
200,33
9
-200
66.
VICTORIANO AREVALO
France
12
2511
2319
193,25
16
-201
67.
DEMIZIEUX FRANCOIS
France
12
2509
2401
200,08
9
-203
68.
Sustar Patrice
France
12
2507
2255
187,92
21
-205
69.
PEREZ bruno
France
12
2506
2386
198,83
10
-206
70.
JOEL COHEN SOLAL
France
12
2498
2246
187,17
21
-214
71.
beers andre
Netherlands
12
2496
2340
195,00
13
-216
72.
Cuccurullo Michele
Switzerland
12
2480
2348
195,67
11
-232
73.
Hendriks Louis
Netherlands
12
2470
2386
198,83
7
-242
74.
GOTO Shigefumi
Japan
12
2461
2317
193,08
12
-251
75.
LEROY Philippe
France
12
2440
2428
202,33
1
-272
76.
Dupuy Philippe
France
12
2440
2236
186,33
17
-272
77.
Fabrice Rauzada
France
12
2435
2351
195,92
7
-277
78.
Schmitt Bruno
France
12
2432
2240
186,67
16
-280
79.
Vilaca de campos Delfim
France
12
2428
2320
193,33
9
-284
80.
Perton Michel
France
12
2427
2127
177,25
25
-285
81.
Moynot Jean jacques
France
12
2424
2208
184,00
18
-288
82.
BERGER Frederic
France
12
2421
2325
193,75
8
-291
83.
NOEL DE LAZZER
France
12
2411
2219
184,92
16
-301
84.
Eutin Achim
Germany
12
2397
2265
188,75
11
-315
85.
BENVENUTI GABRIELE
Italy
12
2387
2195
182,92
16
-325
86.
Prou Pierre
France
12
2386
2110
175,83
23
-326
87.
Louia-Kretz Jürgen
Germany
12
2362
2290
190,83
6
-350
88.
Vanderhook Carl
United Kingdom
12
2357
2297
191,42
5
-355
89.
FAURE JEAN-CHARLES
France
12
2357
2093
174,42
22
-355
90.
Diekhoff Jochen
Germany
12
2351
2075
172,92
23
-361
91.
Le Gall Stéphane
France
12
2348
2276
189,67
6
-364
92.
DEBOISSY THIERRY
France
12
2348
2132
177,67
18
-364
93.
juergen Clever Hans
Germany
12
2336
2072
172,67
22
-376
94.
BOURGEAUX jean-christian
France
12
2332
2260
188,33
6
-380
95.
Pape Jörg
Germany
12
2332
2200
183,33
11
-380
96.
Muhr Christian
France
12
2329
2221
185,08
9
-383
97.
Gilles Payet
France
12
2317
2173
181,08
12
-395
98.
Guy MEO
France
12
2314
1918
159,83
33
-398
99.
Klausmann Alfred
Germany
12
2298
2010
167,50
24
-414
100.
Anselmier Bernard
France
12
2294
2162
180,17
11
-418
101.
Vasse Christophe
France
12
2284
2248
187,33
3
-428
102.
Dominique Blaes
France
12
2275
2215
184,58
5
-437
103.
Klein Heinz
Germany
12
2269
2209
184,08
5
-443
104.
Berges Christian
Switzerland
12
2269
2077
173,08
16
-443
105.
MURA GIANFRANCO
France
12
2269
1981
165,08
24
-443
106.
LIGIER Michel
France
12
2257
2053
171,08
17
-455
107.
Mermoud Georges
Switzerland
12
2250
2046
170,50
17
-462
108.
Baars Michel
Netherlands
12
2245
2245
187,08
0
-467
109.
Karnatz Horst
Germany
12
2213
2009
167,42
17
-499
110.
CHRISTIANY Marc
France
12
2202
2118
176,50
7
-510
111.
Coppey Romain
Switzerland
12
2194
1954
162,83
20
-518
112.
Steen Jorg
Germany
12
2176
2068
172,33
9
-536
113.
EXCOFFIER Pierre-Laurent
France
12
2173
2137
178,08
3
-539
114.
GALIMARD Didier
France
12
2137
1957
163,08
15
-575
115.
Hubert Friedrich
Germany
12
2086
2002
166,83
7
-626
116.
van der Kooij Dirk
Netherlands
12
2005
1873
156,08
11
-707
117.
Hansen Heinz
Germany
12
1991
1811
150,92
15
-721