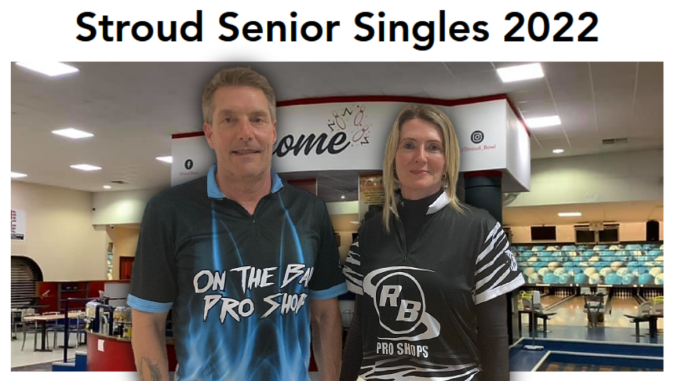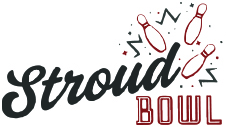 The Stroud Senior Singles was run over the weekend of 23rd and 24th April at Stroud Bowl. The format of the event was to have separate scratch and handicap divisions, with players being able to compete in one or both divisions. There was also a separate ladies' section.
This was the first time a Senior Scratch tournament with qualification and final stages had been run in England for many years, and the organisers were unsure how popular it would be. As it was, it proved a hit with Senior bowlers, with all the squads becoming almost full within a couple of days of entries being opened.
46 men and 18 ladies took part. With re-entries and the ability to bowl in both divisions, a total of 149 entries were made, creating an impressive prize fund of over £3350.
The tournament was played on a Kegel Challenge pattern, Mercury, selected by Dave Steiner. This definitely proved a challenge for many of the bowlers, but most of the top bowlers worked it out, and with the assistance of their re-entries found their way into the final.
The cut for the final was set to be at least 1/3 of the bowlers in each section. This may have caused a little confusion as to where the cuts would finally fall, but the live scoring system showed how close to making the final each bowler was. Feedback from the bowlers was that the immediate availability of scores throughout the tournament was greatly appreciated.
The final was a 4 game block, and everyone who made the final won at least £50. With 50% of their qualification score carried through, this gave the qualification leaders a little advantage over the rest of the field. In the men's scratch division, qualifying leader Steven Jeeves continued to power away, winning the Scratch section and £282.50 with an average of almost 235. Second place went to Cliff Dew, with Colin Grose in third position.
The story was the same in the men's Age Bonus section, with Steven Jeeves running away with a further £392.50 and his second title of the day. Lol Ellis finished second, with Cliff Dew in third.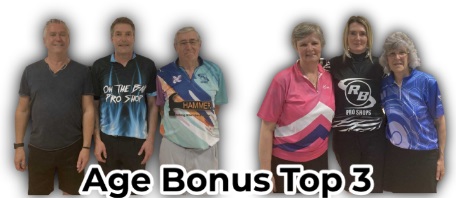 In the ladies' Scratch section, Kimberley Oakley was top qualifier, but a blistering block of 886 from Lynne Walker gave her the victory and £142.50, ahead of Kimberley Oakley and Marsha Dalley.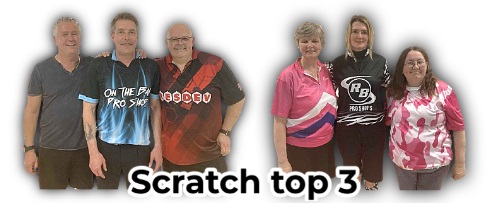 Again, the Age Bonus section told the same story, Lynne's huge block took her past qualifying leader Kimberley Oakley to win a further £240, with Sandra Simmons finishing in third place.
An enjoyable weekend for the seniors, who always play with good spirit and support for each other. Next stop for some is the ISBT tournament in Wittelsheim next weekend, which has the highest ever entry for an ISBT event with 250 senior bowlers competing for the titles.

The finalists line up – Report and Photos by Tony Brown
Results
Ladies
Final Scratch

| | | | | | | | | | |
| --- | --- | --- | --- | --- | --- | --- | --- | --- | --- |
| | Name | B/F | Game 1 | Game 2 | Game 3 | Game 4 | Total | Average | Prize |
| 1 | Lynne Walker | 459 | 201 | 254 | 237 | 194 | 1345 | 206.9 | £142.50 |
| 2 | Kimberley Oakley | 512 | 162 | 211 | 207 | 204 | 1296 | 199.4 | £80.00 |
| 3 | Marsha Dalley | 501 | 232 | 212 | 171 | 168 | 1284 | 197.5 | £60.00 |
| 4 | Angie Brown (Re) | 455 | 137 | 158 | 187 | 193 | 1130 | 173.8 | £55.00 |
Qualifying Scratch

| | | | | | | | | |
| --- | --- | --- | --- | --- | --- | --- | --- | --- |
| Pos | | | | | | | | Average |
| 1 | Kimberley Oakley | 184 | 204 | 210 | 202 | 224 | 1024 | 204.8 |
| 2 | Marsha Dalley | 218 | 169 | 214 | 211 | 191 | 1003 | 200.6 |
| 3 | Lynne Walker | 169 | 199 | 180 | 180 | 191 | 919 | 183.8 |
| 4 | Angie Brown (Re) | 186 | 168 | 180 | 170 | 206 | 910 | 182.0 |
| 5 | Anna Yang | 153 | 176 | 174 | 207 | 172 | 882 | 176.4 |
| 6 | Denise Parker (Re) | 143 | 213 | 143 | 169 | 164 | 832 | 166.4 |
| 7 | Jan Hodge | 166 | 153 | 198 | 176 | 138 | 831 | 166.2 |
| 8 | Sandra Boswell (Re) | 158 | 160 | 157 | 225 | 129 | 829 | 165.8 |
| 9 | Lynn Squibb | 135 | 194 | 140 | 144 | 200 | 813 | 162.6 |
| 10 | Diane Johnson | 168 | 181 | 176 | 141 | 123 | 789 | 157.8 |
| | Angie Brown | 191 | 162 | 172 | 152 | 185 | 862 | 172.4 |
| | Sandra Boswell | 173 | 158 | 165 | 139 | 168 | 803 | 160.6 |
| | Lynn Squibb (Re) | 134 | 134 | 167 | 187 | 164 | 786 | 157.2 |
| | Diane Johnson (Re) | 169 | 164 | 133 | 151 | 156 | 773 | 154.6 |
Final (Age Bonus)
| | | | | | | | | | | |
| --- | --- | --- | --- | --- | --- | --- | --- | --- | --- | --- |
| | Name | Bonus | B/F | Game 1 | Game 2 | Game 3 | Game 4 | Total | Average | Prize |
| 1 | Lynne Walker | 5 | 472 | 201 | 254 | 237 | 194 | 1378.0 | 212.0 | £240.00 |
| 2 | Kimberley Oakley | 9 | 534 | 162 | 211 | 207 | 204 | 1354.0 | 208.3 | £130.00 |
| 3 | Sandra Simmonds | 15 | 526 | 202 | 165 | 185 | 164 | 1302.0 | 200.3 | £85.00 |
| 4 | Anna Yang | 13 | 473 | 189 | 178 | 211 | 169 | 1272.0 | 195.7 | £65.00 |
| 5 | Angie Brown (Re) | 14 | 490 | 137 | 158 | 187 | 193 | 1221.0 | 187.8 | £55.00 |
| 6 | Sue Cobb | 19 | 469 | 153 | 180 | 169 | 142 | 1189.0 | 182.9 | £55.00 |
Qualifying (Age Bonus)
| | | | | | | | | | | |
| --- | --- | --- | --- | --- | --- | --- | --- | --- | --- | --- |
| Pos | | | | | | | | | Total | Average |
| 1 | Kimberley Oakley | 9 | 184 | 204 | 210 | 202 | 224 | 1024 | 1069 | 213.8 |
| 2 | Sandra Simmonds | 15 | 207 | 189 | 201 | 212 | 168 | 977 | 1052 | 210.4 |
| 3 | Angie Brown (Re) | 14 | 186 | 168 | 180 | 170 | 206 | 910 | 980 | 196.0 |
| 4 | Anna Yang | 13 | 153 | 176 | 174 | 207 | 172 | 882 | 947 | 189.4 |
| 5 | Lynne Walker | 5 | 169 | 199 | 180 | 180 | 191 | 919 | 944 | 188.8 |
| 6 | Sue Cobb | 19 | 160 | 188 | 170 | 161 | 165 | 844 | 939 | 187.8 |
| 7 | Jan Hodge | 17 | 166 | 153 | 198 | 176 | 138 | 831 | 916 | 183.2 |
| 8 | Sandra Boswell (Re) | 14 | 158 | 160 | 157 | 225 | 129 | 829 | 899 | 179.8 |
| 9 | Lynn Squibb | 17 | 135 | 194 | 140 | 144 | 200 | 813 | 898 | 179.6 |
| 10 | Carole Orange | 15 | 215 | 148 | 145 | 154 | 160 | 822 | 897 | 179.4 |
| 11 | Denise Parker (Re) | 11 | 143 | 213 | 143 | 169 | 164 | 832 | 887 | 177.4 |
| 12 | Hilary Cooke (Re) | 15 | 111 | 186 | 155 | 182 | 173 | 807 | 882 | 176.4 |
| 13 | Linda Pray (Re) | 20 | 168 | 155 | 141 | 136 | 164 | 764 | 864 | 172.8 |
| 14 | Diane Johnson | 15 | 168 | 181 | 176 | 141 | 123 | 789 | 864 | 172.8 |
| 15 | Julie Johanssen | 13 | 137 | 213 | 158 | 144 | 134 | 786 | 851 | 170.2 |
| 16 | Elaine Davey | 10 | 135 | 144 | 181 | 156 | 184 | 800 | 850 | 170.0 |
| 17 | Val Hopcraft | 10 | 157 | 106 | 136 | 194 | 146 | 739 | 789 | 157.8 |
| | Sandra Simmonds (Re) | 15 | 188 | 205 | 170 | 203 | 182 | 948 | 1023 | 204.6 |
| | Sue Cobb (Re) | 19 | 172 | 168 | 171 | 167 | 163 | 841 | 936 | 187.2 |
| | Angie Brown | 14 | 191 | 162 | 172 | 152 | 185 | 862 | 932 | 186.4 |
| | Carole Orange (Re) | 15 | 171 | 137 | 162 | 186 | 160 | 816 | 891 | 178.2 |
| | Sandra Boswell | 14 | 173 | 158 | 165 | 139 | 168 | 803 | 873 | 174.6 |
| | Lynn Squibb (Re) | 17 | 134 | 134 | 167 | 187 | 164 | 786 | 871 | 174.2 |
| | Diane Johnson (Re) | 15 | 169 | 164 | 133 | 151 | 156 | 773 | 848 | 169.6 |
| | Linda Pray | 20 | 130 | 159 | 152 | 156 | 147 | 744 | 844 | 168.8 |
| | Elaine Davey (Re) | 10 | 169 | 162 | 187 | 153 | 118 | 789 | 839 | 167.8 |
| | Denise Parker | 11 | 172 | 131 | 138 | 171 | 156 | 768 | 823 | 164.6 |
| | Hilary Cooke | 15 | 119 | 167 | 179 | 151 | 125 | 741 | 816 | 163.2 |
Men
Final Scratch
| | | | | | | | | | |
| --- | --- | --- | --- | --- | --- | --- | --- | --- | --- |
| | Name | B/F | Game 1 | Game 2 | Game 3 | Game 4 | Total | Average | Prize |
| 1 | Steven Jeeves (Re) | 594 | 235 | 246 | 216 | 235 | 1526 | 234.8 | £282.50 |
| 2 | Cliff Dew | 550 | 200 | 206 | 236 | 258 | 1450 | 223.1 | £175.00 |
| 3 | Colin Grose (Re) | 505 | 215 | 215 | 229 | 231 | 1395 | 214.6 | £120.00 |
| 4 | Simon Brown | 546 | 192 | 224 | 223 | 203 | 1388 | 213.5 | £90.00 |
| 5 | Lol Ellis | 501 | 225 | 195 | 216 | 236 | 1373 | 211.2 | £70.00 |
| 6 | Paul Loberman (Re) | 506 | 255 | 190 | 214 | 183 | 1348 | 207.4 | £60.00 |
| 7 | Mark Presley | 517 | 202 | 223 | 199 | 204 | 1345 | 206.9 | £55.00 |
| 8 | Gary Baker | 511 | 160 | 235 | 184 | 233 | 1323 | 203.5 | £55.00 |
| 9 | Steve D Thornton (Re) | 522 | 154 | 181 | 194 | 226 | 1277 | 196.5 | £50.00 |
| 10 | Steve Williams | 555 | 161 | 202 | 168 | 185 | 1271 | 195.5 | £50.00 |
| 11 | Kev Pilley | 504 | 205 | 192 | 171 | 177 | 1249 | 192.2 | £50.00 |
Qualifying Scratch

| | | | | | | | | |
| --- | --- | --- | --- | --- | --- | --- | --- | --- |
| Pos | | | | | | | Scratch | Average |
| 1 | Steven Jeeves (Re) | 217 | 224 | 278 | 266 | 204 | 1189 | 237.8 |
| 2 | Steve Williams | 237 | 278 | 223 | 198 | 174 | 1110 | 222 |
| 3 | Cliff Dew | 204 | 226 | 212 | 246 | 212 | 1100 | 220.0 |
| 4 | Simon Brown | 213 | 221 | 210 | 182 | 267 | 1093 | 218.6 |
| 5 | Steve D Thornton (Re) | 204 | 233 | 236 | 178 | 193 | 1044 | 208.8 |
| 6 | Mark Presley | 210 | 156 | 189 | 235 | 245 | 1035 | 207.0 |
| 7 | Gary Baker | 168 | 213 | 269 | 203 | 169 | 1022 | 204.4 |
| 8 | Paul Loberman (Re) | 179 | 228 | 177 | 183 | 246 | 1013 | 202.6 |
| 9 | Colin Grose (Re) | 162 | 205 | 214 | 204 | 225 | 1010 | 202.0 |
| 10 | Kev Pilley | 179 | 234 | 204 | 194 | 197 | 1008 | 201.6 |
| 11 | Lol Ellis | 167 | 191 | 263 | 189 | 193 | 1003 | 200.6 |
| 12 | Alan Keddie (Re) | 163 | 193 | 199 | 233 | 206 | 994 | 198.8 |
| 13 | Keith Hodge | 203 | 164 | 173 | 223 | 226 | 989 | 197.8 |
| 14 | Gary Christopher (Re) | 155 | 264 | 234 | 154 | 169 | 976 | 195.2 |
| 15 | Gordon Humphries | 193 | 163 | 225 | 224 | 164 | 969 | 193.8 |
| 16 | Stephen Bose | 176 | 235 | 203 | 156 | 194 | 964 | 192.8 |
| 17 | Kim Johnson | 183 | 224 | 148 | 195 | 199 | 949 | 189.8 |
| 18 | Robert Bruce | 167 | 173 | 191 | 239 | 168 | 938 | 187.6 |
| 19 | Brian Ashman | 190 | 209 | 199 | 176 | 164 | 938 | 187.6 |
| 20 | Phil Patrick | 159 | 187 | 221 | 181 | 188 | 936 | 187.2 |
| 21 | Bob Ockelford | 162 | 173 | 177 | 224 | 184 | 920 | 184.0 |
| 22 | Richard Parker | 243 | 161 | 167 | 172 | 168 | 911 | 182.2 |
| 23 | Adam Woodyatt | 176 | 168 | 194 | 173 | 188 | 899 | 179.8 |
| 24 | Suren Johanssen | 159 | 196 | 147 | 195 | 199 | 896 | 179.2 |
| 25 | Adrian Corbett | 145 | 156 | 174 | 182 | 234 | 891 | 178.2 |
| 26 | Roberto Luna | 160 | 161 | 194 | 162 | 212 | 889 | 177.8 |
| 27 | Butch Wofford | 162 | 179 | 164 | 162 | 214 | 881 | 176.2 |
| 28 | Selwyn Morgan | 201 | 122 | 186 | 172 | 199 | 880 | 176.0 |
| 29 | Gregg Turvey (Re) | 166 | 190 | 148 | 183 | 185 | 872 | 174.4 |
| 30 | Ken Burton | 228 | 148 | 161 | 168 | 160 | 865 | 173.0 |
| 31 | Dave North | 190 | 152 | 205 | 159 | 156 | 862 | 172.4 |
| | Cliff Dew (Re) | 233 | 224 | 196 | 212 | 197 | 1062 | 212.4 |
| | Steven Jeeves | 234 | 200 | 170 | 185 | 249 | 1038 | 207.6 |
| | Simon Brown (Re) | 192 | 176 | 200 | 237 | 182 | 987 | 197.4 |
| | Alan Keddie | 191 | 212 | 210 | 172 | 181 | 966 | 193.2 |
| | Steve D Thornton | 149 | 199 | 231 | 223 | 164 | 966 | 193.2 |
| | Gary Christopher | 201 | 190 | 157 | 164 | 183 | 895 | 179.0 |
| | Kev Pilley (Re) | 171 | 174 | 182 | 160 | 202 | 889 | 177.8 |
| | Paul Loberman | 164 | 177 | 165 | 192 | 190 | 888 | 177.6 |
| | Kim Johnson (Re) | 177 | 155 | 212 | 162 | 180 | 886 | 177.2 |
| | Colin Grose | 209 | 146 | 192 | 192 | 147 | 886 | 177.2 |
| | Bob Ockelford (Re) | 146 | 167 | 185 | 193 | 181 | 872 | 174.4 |
| | Gregg Turvey | 199 | 188 | 140 | 180 | 157 | 864 | 172.8 |
| | Butch Wofford (Re) | 153 | 136 | 187 | 230 | 149 | 855 | 171.0 |
| | Phil Patrick (Re) | 139 | 167 | 170 | 171 | 188 | 835 | 167.0 |
| | Selwyn Morgan (Re) | 143 | 169 | 148 | 133 | 157 | 750 | 150.0 |
| | Richard Parker (Re) | 146 | 139 | 128 | 149 | 173 | 735 | 147.0 |
Final (Age Bonus)

| | | | | | | | | | | |
| --- | --- | --- | --- | --- | --- | --- | --- | --- | --- | --- |
| | Name | Bonus | B/F | Game 1 | Game 2 | Game 3 | Game 4 | Total | Average | Prize |
| 1 | Steven Jeeves (Re) | 9 | 617 | 235 | 246 | 216 | 235 | 1585.0 | 243.8 | £392.50 |
| 2 | Lol Ellis | 22 | 556 | 225 | 195 | 216 | 236 | 1516.0 | 233.2 | £220.00 |
| 3 | Cliff Dew | 7 | 567 | 200 | 206 | 236 | 258 | 1495.0 | 230.0 | £135.00 |
| 4 | Alan Keddie (Re) | 11 | 524 | 246 | 231 | 176 | 234 | 1455.0 | 223.8 | £90.00 |
| 5 | Simon Brown | 9 | 569 | 192 | 224 | 223 | 203 | 1447.0 | 222.6 | £70.00 |
| 6 | Paul Morris | 13 | 548 | 172 | 207 | 184 | 278 | 1441.0 | 221.7 | £60.00 |
| 7 | Steven Coates | 11 | 526 | 206 | 223 | 226 | 191 | 1416.0 | 217.8 | £55.00 |
| 8 | Gary Baker | 13 | 543 | 160 | 235 | 184 | 233 | 1407.0 | 216.5 | £55.00 |
| 9 | Mark Presley | 6 | 532 | 202 | 223 | 199 | 204 | 1384.0 | 212.9 | £50.00 |
| 10 | Keith Hodge | 24 | 554 | 196 | 172 | 186 | 175 | 1379.0 | 212.2 | £50.00 |
| 11 | John Millen | 19 | 545 | 180 | 183 | 172 | 150 | 1306.0 | 200.9 | £50.00 |
| 12 | Phil Patrick | 22 | 523 | 133 | 159 | 200 | 200 | 1303.0 | 200.5 | £50.00 |
| 13 | Steve D Thornton (Re) | 3 | 529 | 154 | 181 | 194 | 226 | 1296.0 | 199.4 | £50.00 |
Qualifying (Age Bonus)
| | | | | | | | | | | |
| --- | --- | --- | --- | --- | --- | --- | --- | --- | --- | --- |
| Pos | | | | | | | | | Total | Average |
| 1 | Steven Jeeves (Re) | 9 | 217 | 224 | 278 | 266 | 204 | 1189 | 1234 | 246.8 |
| 2 | Simon Brown | 9 | 213 | 221 | 210 | 182 | 267 | 1093 | 1138 | 227.6 |
| 3 | Cliff Dew | 7 | 204 | 226 | 212 | 246 | 212 | 1100 | 1135 | 227.0 |
| 4 | Lol Ellis | 22 | 167 | 191 | 263 | 189 | 193 | 1003 | 1113 | 222.6 |
| 5 | Keith Hodge | 24 | 203 | 164 | 173 | 223 | 226 | 989 | 1109 | 221.8 |
| 6 | Paul Morris | 13 | 174 | 243 | 159 | 238 | 217 | 1031 | 1096 | 219.2 |
| 7 | John Millen | 19 | 198 | 184 | 216 | 193 | 204 | 995 | 1090 | 218.0 |
| 8 | Gary Baker | 13 | 168 | 213 | 269 | 203 | 169 | 1022 | 1087 | 217.4 |
| 9 | Mark Presley | 6 | 210 | 156 | 189 | 235 | 245 | 1035 | 1065 | 213.0 |
| 10 | Steve D Thornton (Re) | 3 | 204 | 233 | 236 | 178 | 193 | 1044 | 1059 | 211.8 |
| 11 | Steven Coates | 11 | 248 | 174 | 213 | 183 | 180 | 998 | 1053 | 210.6 |
| 12 | Alan Keddie (Re) | 11 | 163 | 193 | 199 | 233 | 206 | 994 | 1049 | 209.8 |
| 13 | Phil Patrick | 22 | 159 | 187 | 221 | 181 | 188 | 936 | 1046 | 209.2 |
| 14 | Chris Skudder | 23 | 144 | 254 | 159 | 202 | 158 | 917 | 1032 | 206.4 |
| 15 | Gordon Humphries | 12 | 193 | 163 | 225 | 224 | 164 | 969 | 1029 | 205.8 |
| 16 | Kim Johnson | 15 | 183 | 224 | 148 | 195 | 199 | 949 | 1024 | 204.8 |
| 17 | Paul Loberman (Re) | 1 | 179 | 228 | 177 | 183 | 246 | 1013 | 1018 | 203.6 |
| 18 | Stephen Bose | 10 | 176 | 235 | 203 | 156 | 194 | 964 | 1014 | 202.8 |
| 19 | Ian Kennedy | 23 | 171 | 163 | 178 | 178 | 200 | 890 | 1005 | 201.0 |
| 20 | Tony Imren (Re) | 22 | 157 | 213 | 174 | 176 | 169 | 889 | 999 | 199.8 |
| 21 | Gary Christopher (Re) | 3 | 155 | 264 | 234 | 154 | 169 | 976 | 991 | 198.2 |
| 22 | Bob Ockelford | 13 | 162 | 173 | 177 | 224 | 184 | 920 | 985 | 197.0 |
| 23 | Ken Burton | 24 | 228 | 148 | 161 | 168 | 160 | 865 | 985 | 197.0 |
| 24 | Gregg Turvey (Re) | 22 | 166 | 190 | 148 | 183 | 185 | 872 | 982 | 196.4 |
| 25 | Steve Donowski | 18 | 233 | 204 | 158 | 128 | 161 | 884 | 974 | 194.8 |
| 26 | Michael Pray (Re) | 23 | 127 | 178 | 185 | 189 | 168 | 847 | 962 | 192.4 |
| 27 | Robert Bruce | 4 | 167 | 173 | 191 | 239 | 168 | 938 | 958 | 191.6 |
| 28 | Ray Lay | 20 | 155 | 189 | 137 | 181 | 180 | 842 | 942 | 188.4 |
| 29 | Suren Johanssen | 9 | 159 | 196 | 147 | 195 | 199 | 896 | 941 | 188.2 |
| 30 | Butch Wofford | 11 | 162 | 179 | 164 | 162 | 214 | 881 | 936 | 187.2 |
| 31 | Dave North | 14 | 190 | 152 | 205 | 159 | 156 | 862 | 932 | 186.4 |
| 32 | Mike Bergquist | 15 | 126 | 231 | 135 | 135 | 191 | 818 | 893 | 178.6 |
| 33 | Colin Grose | 1 | 209 | 146 | 192 | 192 | 147 | 886 | 891 | 178.2 |
| 34 | Gordon Geraldo | 20 | 149 | 145 | 148 | 192 | 148 | 782 | 882 | 176.4 |
| 35 | Peter Sampson | 15 | 140 | 159 | 185 | 142 | 175 | 801 | 876 | 175.2 |
| 36 | Tom Flynn | 22 | 103 | 206 | 147 | 196 | 103 | 755 | 865 | 173.0 |
| 37 | Robert Yandell | 18 | 179 | 165 | 124 | 170 | 136 | 774 | 864 | 172.8 |
| 38 | Chris Smith | 18 | 147 | 173 | 116 | 163 | 152 | 751 | 841 | 168.2 |
| | Cliff Dew (Re) | 7 | 233 | 224 | 196 | 212 | 197 | 1062 | 1097 | 219.4 |
| | Steven Jeeves | 9 | 234 | 200 | 170 | 185 | 249 | 1038 | 1083 | 216.6 |
| | Simon Brown (Re) | 9 | 192 | 176 | 200 | 237 | 182 | 987 | 1032 | 206.4 |
| | Steven Coates (Re) | 11 | 158 | 207 | 225 | 200 | 177 | 967 | 1022 | 204.4 |
| | Alan Keddie | 11 | 191 | 212 | 210 | 172 | 181 | 966 | 1021 | 204.2 |
| | Ian Kennedy (Re) | 23 | 180 | 169 | 173 | 189 | 159 | 870 | 985 | 197.0 |
| | Steve D Thornton | 3 | 149 | 199 | 231 | 223 | 164 | 966 | 981 | 196.2 |
| | Gregg Turvey | 22 | 199 | 188 | 140 | 180 | 157 | 864 | 974 | 194.8 |
| | Kim Johnson (Re) | 15 | 177 | 155 | 212 | 162 | 180 | 886 | 961 | 192.2 |
| | Phil Patrick (Re) | 22 | 139 | 167 | 170 | 171 | 188 | 835 | 945 | 189.0 |
| | Tony Imren | 22 | 174 | 183 | 179 | 139 | 160 | 835 | 945 | 189.0 |
| | Bob Ockelford (Re) | 13 | 146 | 167 | 185 | 193 | 181 | 872 | 937 | 187.4 |
| | Ray Lay (Re) | 20 | 199 | 148 | 160 | 169 | 149 | 825 | 925 | 185.0 |
| | Gary Christopher | 3 | 201 | 190 | 157 | 164 | 183 | 895 | 910 | 182.0 |
| | Butch Wofford (Re) | 11 | 153 | 136 | 187 | 230 | 149 | 855 | 910 | 182.0 |
| | Paul Loberman | 1 | 164 | 177 | 165 | 192 | 190 | 888 | 893 | 178.6 |
| | Michael Pray | 23 | 172 | 107 | 164 | 124 | 150 | 717 | 832 | 166.4 |
| | Chris Smith (Re) | 18 | 138 | 139 | 166 | 144 | 147 | 734 | 824 | 164.8 |
| | Mike Bergquist (Re) | 15 | 146 | 147 | 154 | 126 | 174 | 747 | 822 | 164.4 |
| | Robert Yandell (Re) | 18 | 136 | 137 | 168 | 129 | 116 | 686 | 776 | 155.2 |
| | Chris Skudder (Re) | 23 | | | | | | | | |
Lane Pattern