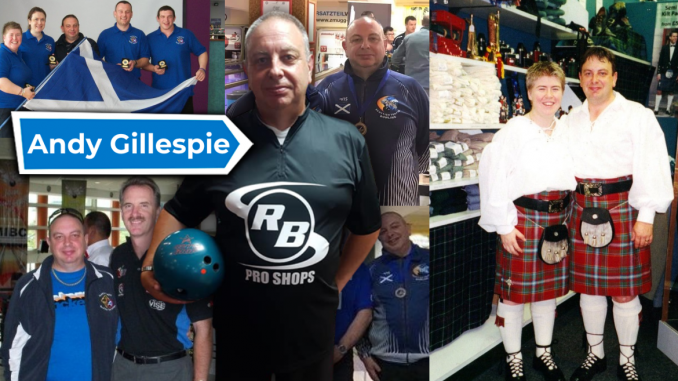 The last few years have seen Scotland rightly start winning more international medals. Another Scotsman lighting up the lanes has been Andy Gillespie. Andy claimed Bronze in doubles and bronze in the masters at the 2020 European Senior Championships in Vienna and has now been a long term feature in the Scottish national team at Adult and now Seniors.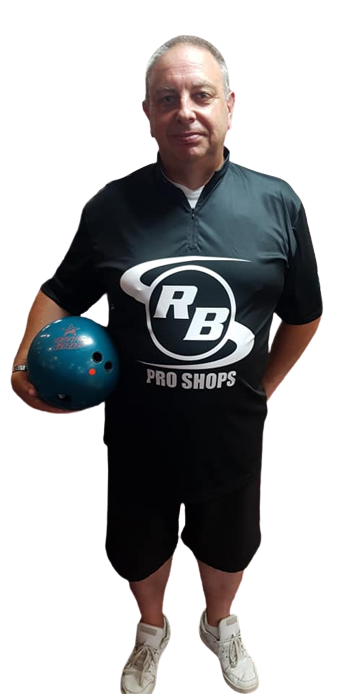 Where did it all begin for you in the sport of bowling and what made you take it up as a hobby?
My mum and dad both bowled and got me started playing at the Alma Bowl in Kirkcaldy. After that closed I moved to Fraser Bowl Glenrothes and joined my first junior league. Winning my first trophy in 1974 I got the competitive bug and the rest is history.
Did you get any help at first with coaching and who were the Scottish bowlers to learn from at that time?
The junior setup was nothing like it is today, basically not much coaching back then. After I joined my first adult league Dave Gordon started helping me with tips. After that the biggest influence on my bowling career was Robert Baird, Eddie Christie and Mark Biondi, who was my ball driller at that time.
Mark and I made a decision after the AMF World Cup in Lisbon to change my game and started working on the changes more towards how I play today. I almost gave up bowling a few years ago and I must thank Ron Griffin, Dave Steiner and Alan Carney for getting me back into playing events on the Tenpin Tour, as his wife Gloria and Gareth Reed were playing these events.
By 1999 you win the Regal Matchplay at Easy Kilbride and into the Millenium STBA win and claiming the STBA World Cup Qualifier and that trip to Lisbon, Portugal. How was your World Cup experience?
Was very nervous to be honest and pretty naive when it came to international events. After getting over the nerves the experience was fantastic I didn't play as well as I hoped but was a learning curve for me at that time.
In 2000 the Lisbon AMF World Cup broke the record for the most participants. This has been beaten now however, it made the event even better for me. I really wanted to play the World Cup again but finished runner up in the qualifier for 3 years after that.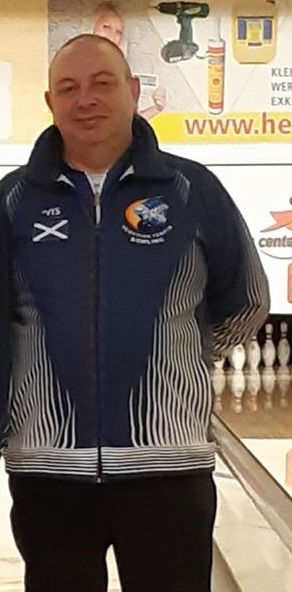 Now very competitive and a force on the Scottish lanes, How often would you practice and what were the balls back then?
Probably didn't practice as much as I should have. Every Saturday morning in Dundee Megabowl when the kids were at YBC. I also played 2 leagues in Dundee as well.
Bowling Balls I was using a lot of AMF equipment back then, Nighthawk Revenge (first 300 ball), Ti-Hawk, Angle Evolution and Brunswick Tude2 my high series ball 811.
Let's talk about wearing the national shirt and playing for Scotland. Can you remember the feeling the first time your wore the colours?
Yes it was in 1997 Adult Triple Crown at Coatbridge. I really enjoyed the experience and I won the singles, I also made the masters. Eddie Christie was the team manager which helped me a lot with the nerves.
Been lucky enough to have been selected for many other International events over the years, however the first time you pull on the national shirt is special.
You are not the only Gillespie to wear the shirt and son Brian a talent on the lanes. I guess bowling always been a family thing too for you?
Yes definitely, my parents and my brother bowled, so probably destiny that both my kids bowled. Although I always left it up to them to continue playing or not. My wife Louise has bowled for many years as well, so following her parents Bill and Jean Barnes so bowling must be in the genes.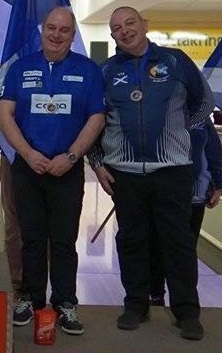 As we hit the the end of the last decade, you win the Scottish Senior Open and All events at the Triple Crown. Then comes probably the biggest result so far and Bronze in doubles and bronze in the masters at the 2020 European Senior Championships in Vienna. Proudest moment so far?
There have been a few over the years, watching both my kids play the Junior Triple Crown in Dublin has to be close, however it has to be Vienna. I had always hoped to win a medal in a major international event for Scotland but two was amazing.
That event was the best I have played in, we had a great team spirit which transferred onto the lanes making it easier to focus on just bowling. The doubles with Bernie Matthews was great I knew we were scoring well but had no idea where we were in the squad. Going into the last game we still had no idea how we doing in the squad, our last game was 511 and second in the squad and fourth overall. We played France in the semi final losing out 375 to 381 in a close game. I missed a medal in the all events by 4 pins qualifying fourth for the masters giving me a bye to round 2.
Round 2 Jarmo Sinilaakso from Finland winning 2 -1, Round 3 Kai Virtanen again from Finland winning 2 -1, Round 4 Mark Spiteri from Malta lost this game 1 -2 and Mark went on to win the Gold medal.
Also, winning the Scottish Senior Open and the all events at my first Senior Triple Crown are great memories to have.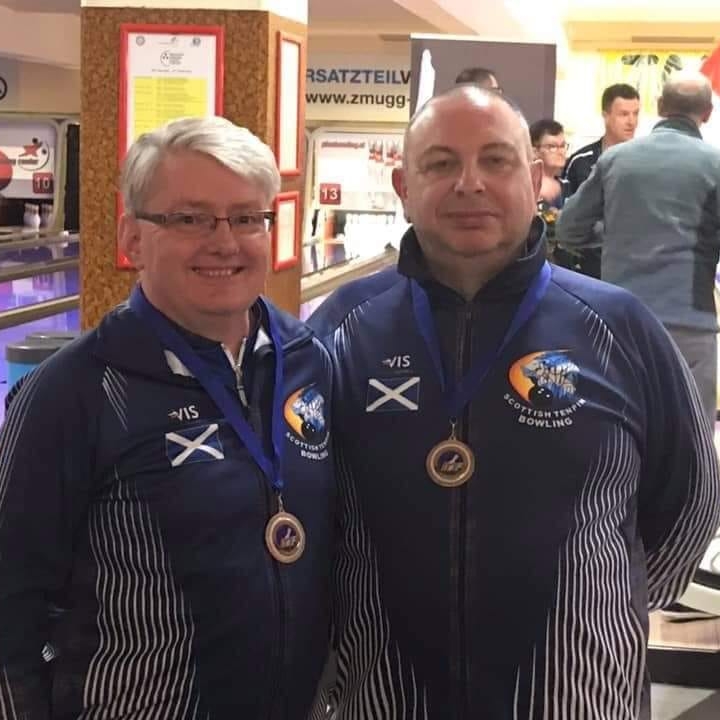 Living North of the border means a lot of time in the car if going to English events and the wider UK. What music gets played on your travels?
My music taste is wide and varied anything from Elton John, Robbie Williams to Queen. Heart 80's, 90's or any channel we can pick up on the trip. Had many a trip down south listening to my mate Big Al put his own special talents to a few classics.
When not on the lanes or involved in the sport, what things do you like to do?
During the COVID lockdown I started playing golf again and really enjoy this now and play most weekends when not away bowling.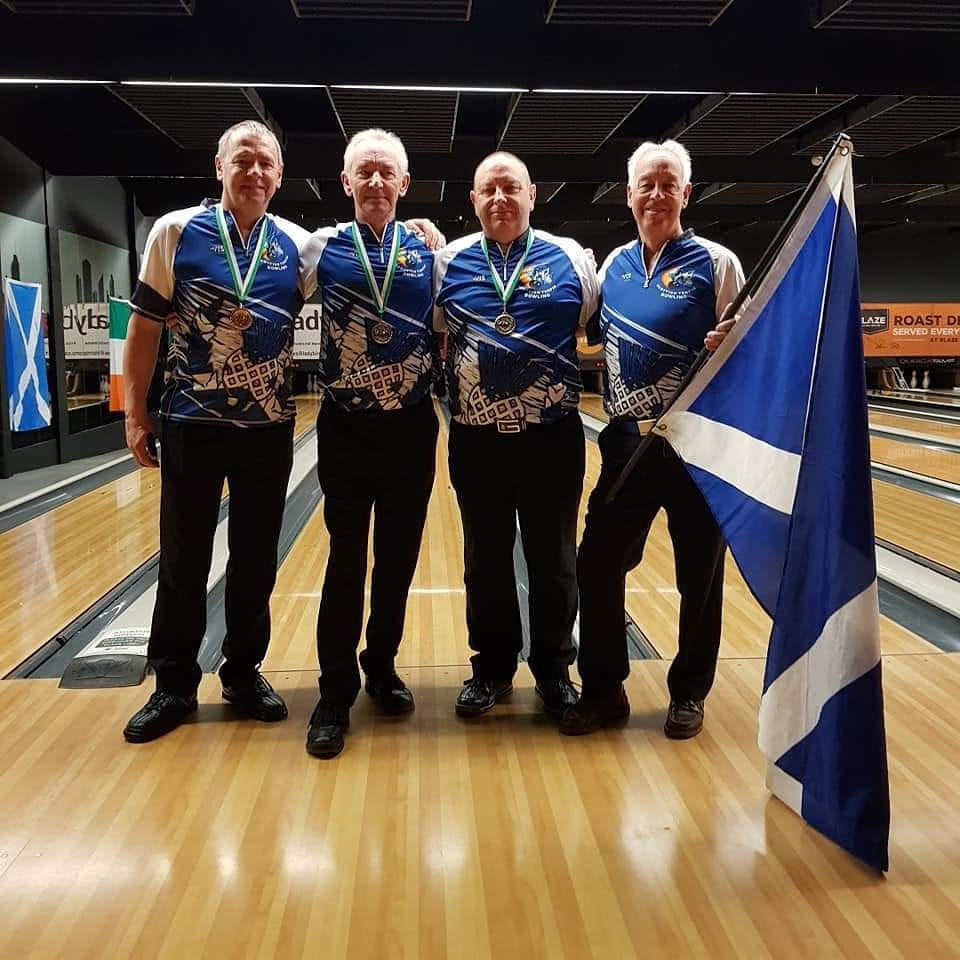 What goals to do have for yourself in the seniors?
Would really like to play the ISBT senior tour, however the cost and travel for me being North of the border makes it difficult. I do play the Resdev Tour and Scottish Senior Tenpin Club every year and look to continue playing these events.
For International events I still have the desire to play and have been selected for the Senior Triple Crown in Dublin.
I also hope to play the second European Seniors Championships in Aalborg next year.
With the addition of the super seniors into the World Championships still plenty of bowling in the future.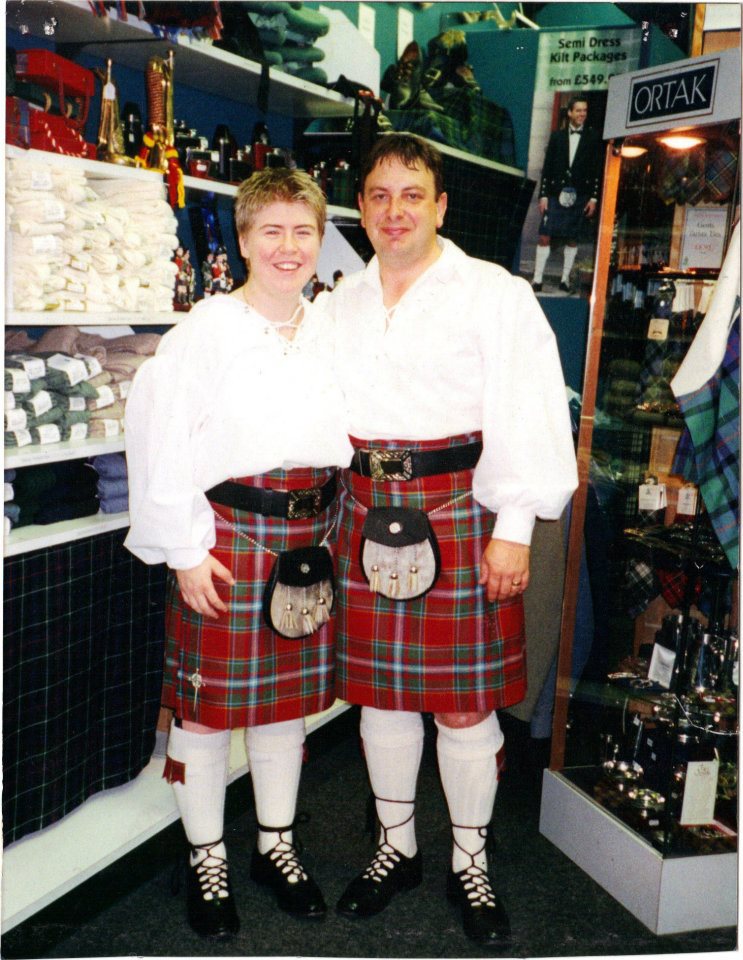 You have seen a lot of Scottish talent over the years, some that stayed in the game and other who left. Which Scottish bowlers are your best of all time?
Cannot really look past Alan Keddie, he has put Scottish bowling on the international map with all the events. He has been successful in World Championships Vegas and ESBC Vienna, just a couple on a long list.
Although we do have a few younger players who could push him, Mark McQueen, Steven Gill and Brian Gillespie.
Laura Rhoney has to be the best woman, although Tanya Yusaf is a definite talent for the future.
Robert Baird, Frank Margiotta, Andy McCracken, Carol Pirie and Loraine Mackie from the past, all had a big impact on Scottish bowling.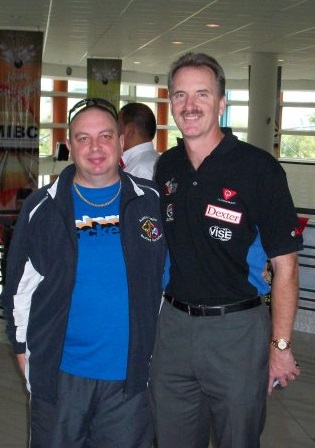 Also facing a lot of internationals over the years, which bowlers impressed you globally and if you could bowl with anyone, who would it be?
I have not met him however Ameleto Monacelli since I watched a couple videos of him, his game has always impressed me.
I was lucky enough to meet and play Tim Mack in the Tartan Tenpin in Cumbernauld, got to be him. This has been said many times over the years, he is a great bowler and ambassador for the game.
One closer to home we have played against each other many times Lol Ellis. We had a conversation recently about possibly playing doubles maybe we can make this happen.
Of all the places your have visited, which have been your favourite places and bowling centres?
Favourite country is Malaysia, been twice with some great sightseeing.
Tali in Finland has to be my favourite centre, been twice but never played yet hopefully a goal for the future. Great facilities for spectators and bowlers. Favourite centre played in is South Point Casino in Vegas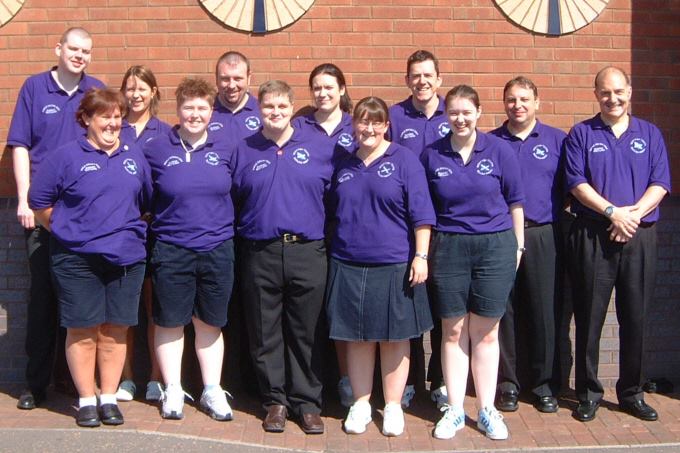 Finally Andy, For Scottish bowlers out there that have stopped playing or new ones looking for something to do, why should people bowl?
Anyone who wants to return or take it up could play seniors most weekends. Events they could play in. Resdev run by Jack Smith, BTBA Tenpin Tour run by Christopher Taafe and Scottish Senior Tenpin Club run by Louise Gillespie.
So plenty of events to play either side of the border, pick up the equipment and play again.
Bowling is an excellent way to meet new friends should you start playing socially or as competitively as a sport.
For those starting out there are Coaches available at most centres who can assist with taking up the sport. There are usually leagues available at youth and adult levels to try and get into.