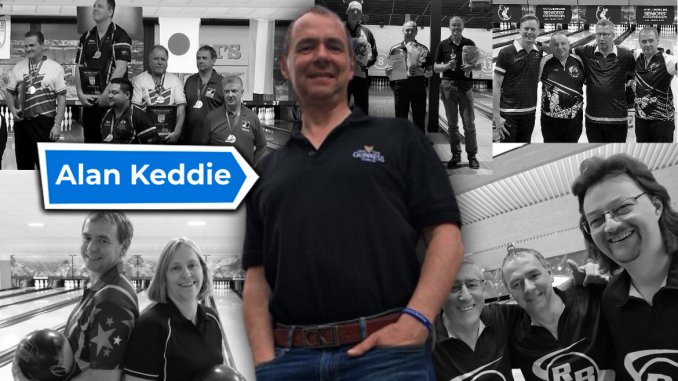 Alan Keddie has a media nickname already. The Flying Scotsman has been appropriate in many senior events in the last few years. Lots of great results and lots of points in the UK Hall of Fame has placed him the best Scottish male bowler ever. His latest win was in the Dutch National Senior Championships and the third time he had won the event. Time to meet the Flying Scotsman…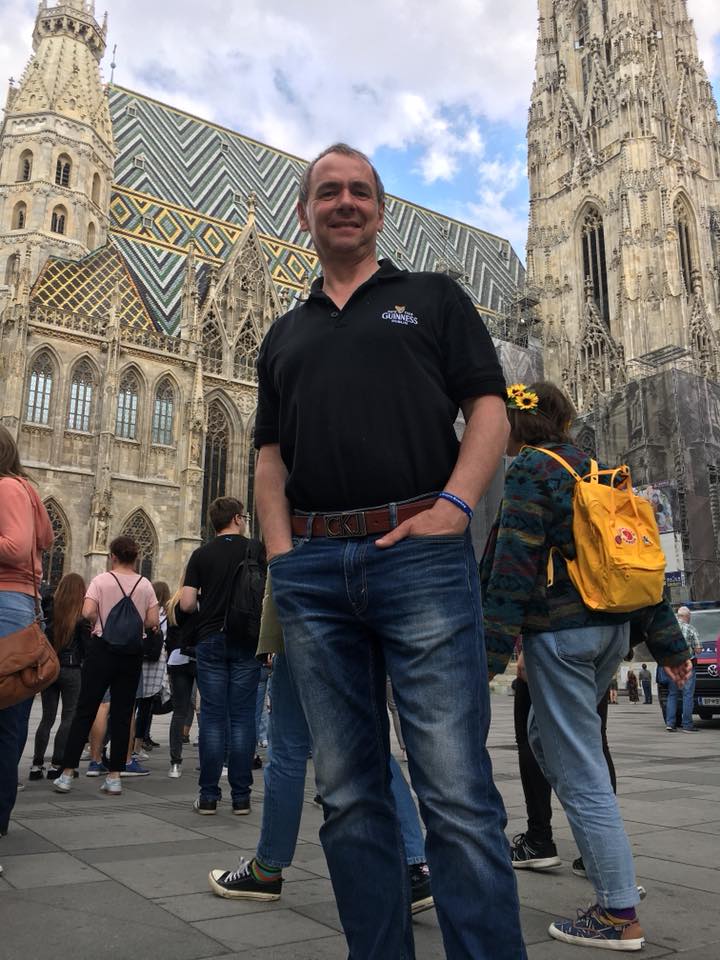 Ranked top male player in Scotland of all time yet your first entry is in 2014. Where and when did bowling start for you?
Firstly, thanks for asking me to take part in this, I'm truly flattered.
I go back much further than most people realise. I started in Stevenage in 1978 when the deputy manager of the Woolworths store I worked in after school and Saturdays told me I was bowling on Wednesday night in a league! Hardly any of us had picked up a ball before and none of us knew what we were supposed to do, other than knock down as many pins as possible. The secretary of the league told me I had joined something called the BTBA and a few weeks later gave me a round, blue cloth badge with "BTBA National Award" embroidered in silver and a smaller rectangular one with four X's. I was hooked! I mean, if they're going to give me free stuff…..
Were you self taught at first then or who helped you improve?
Yes, totally self-taught. I've never had any formal coaching at all. I heard there was a scratch league on a Thursday night, so I went down to watch how they did it. I picked out one guy in particular who I thought was great – Ian Buckland. He was my first bowling hero and I watched him play every Thursday for weeks, trying to copy what he did. I hope this doesn't embarrass him! After that I just started talking to some of the good players and picked up a few pointers from them.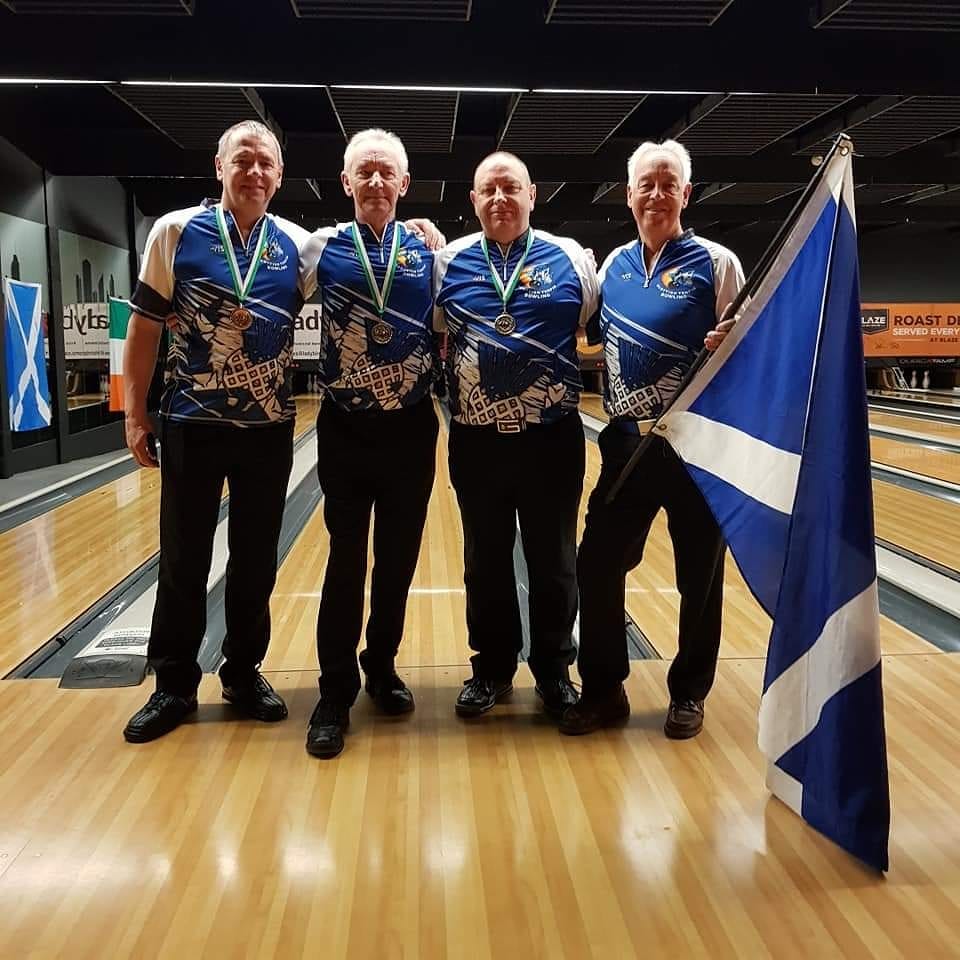 Improve you did and by the middle of the last decade you burst onto the scene with wins in the BTBA Tour Senior Masters, Team England singles at Romford then another BTBA tour masters, Scottish Open win and more. No shock to then see you wearing the National shirt. How was the first cap for you?
My first cap was actually in 1998 when I was picked for the triple -crown in Northern Ireland. To be honest, I didn't enjoy it at all. I barely knew anyone from any of the teams and I had an extreme lack of self-confidence. I played very poorly as I remember but we won bronze in the 5's.
It would be 15 years before I had the confidence to attend the trials again. This time I thoroughly enjoyed the experience as we fielded a hastily put together team for the triple- crown in Dunfermline. Singles and doubles didn't go well but Gloria Carney and Una Clark won silver in the ladies doubles that seemed to light a spark. Myself, Gareth Reed and Allan McDermott won the trios, then Bill Clark and John Draper joined us for the 5's where we got close to winning gold again. I was so proud to be a part of that team and it's a feeling that's grown over the years.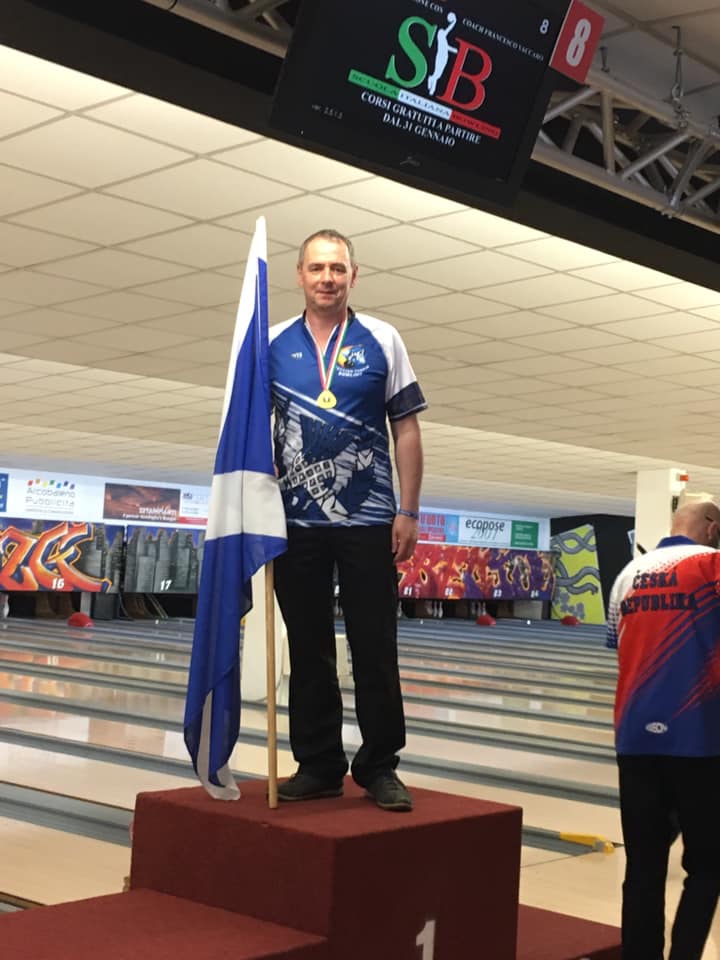 Next was an All Events at the Triple Crown then the biggest win so far and Bronze in singles at the Senior World Championships in Las Vegas. How was this experience?
The only reason I ended up in Vegas was down to my second bowling hero – Maggie Rae. She asked me did I want to play the World Championships and I just laughed and said "who wouldn't?" Next I knew she had got the ok from the STBA and we were entered. Maggie has more courage than men twice her size. Since it was an important event I thought I should take all 3 balls I had just in case. At the managers meeting they gave me the pattern sheets and topography sheets for all 60 lanes at Red Rock Bowl. I had absolutely no idea what they were.
The tournament was a baptism of fire for me, and I was awful. I had some learning to do! Maggie teamed up with a lady from Israel in the doubles and they played one of the American teams in one of their games. Maggie came away with the highest game of the four and I just remember her grin and feeling so proud for her.
Two years later it was in Sam's Town and I was a different player by then. I was totally gobsmacked when they announced I had qualified in second. I played Andrew Frawley in the semi-final and he deservedly won by a few pins and went on to win the singles and masters. I was shaking like a leaf when I got presented with my medal!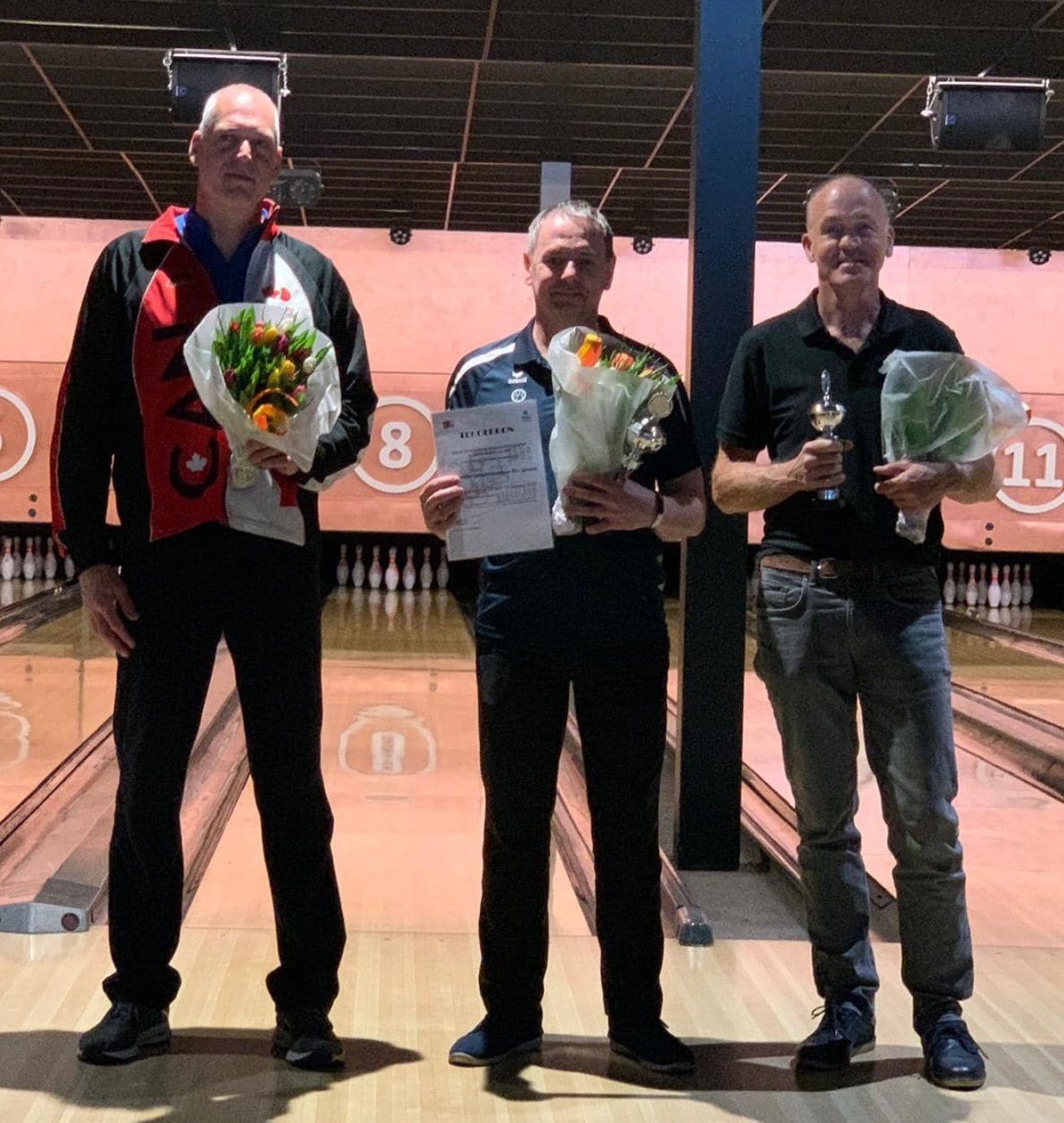 More wins follow in 2016 In Gibraltar, Team England singles and Triple Crown and a really dangerous player in the field. Did you do much additional training during this time or were you just mostly match fit from regular play?
I didn't train at all. I was playing tournaments most weekends and joined the sports scratch league that Ray Teece had organised at the Airport Bowl. I learned a lot from Ray, Richie and Matt Miller by listening and watching.
You travel North and South to events for the rest of the decade and collecting wins in the Resdev tour in England and STBA Nationals and World Cup Qualifier in Scotland. That is a lot of time in a car. What is on the music playlist for the travels?
It's a mixed bag actually. If I'm on my own it's normally Genesis, Pink Floyd and Classic FM. Anna's not so keen so it's more popular music when we're on the road together. Old country music is a favourite.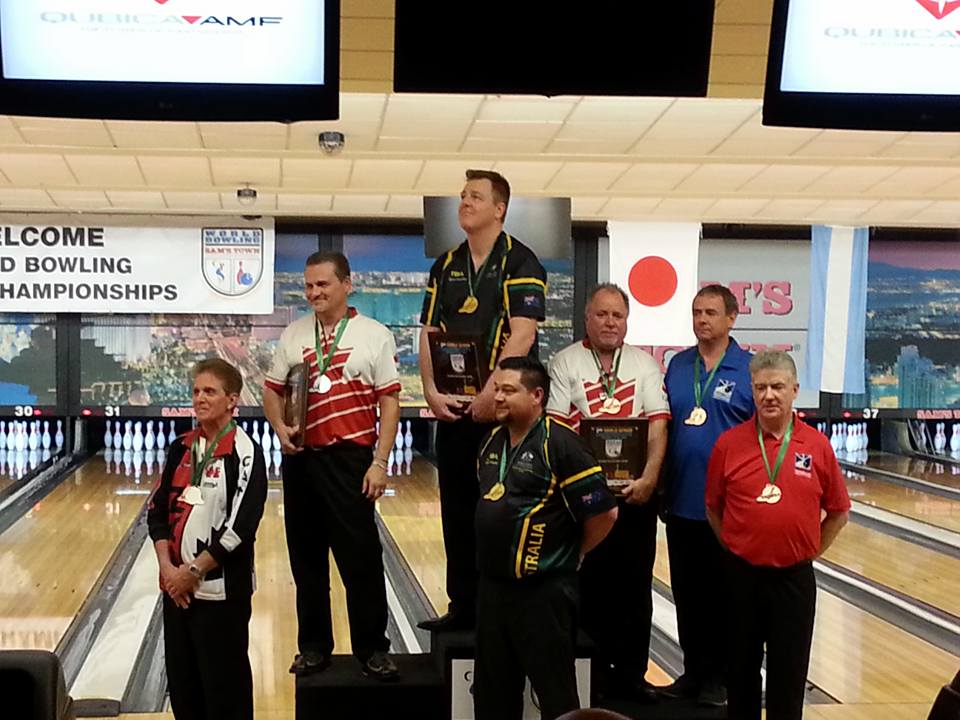 Next up was a Silver in the Vienna ESBC (European Senior Bowling Championships) in 2017 then in 2019 added two ESBC Gold medals in Bolongna in Masters and All Events. What did these medals mean to you?
They mean the world to me. It justifies all the travelling and expense. There is no better feeling than standing on a podium and hearing them play your national anthem. If that doesn't move you there's something wrong. It has always been and continues to be an honour to represent my country no matter what the event, but I don't take it for granted, you never know when it's going to be taken away.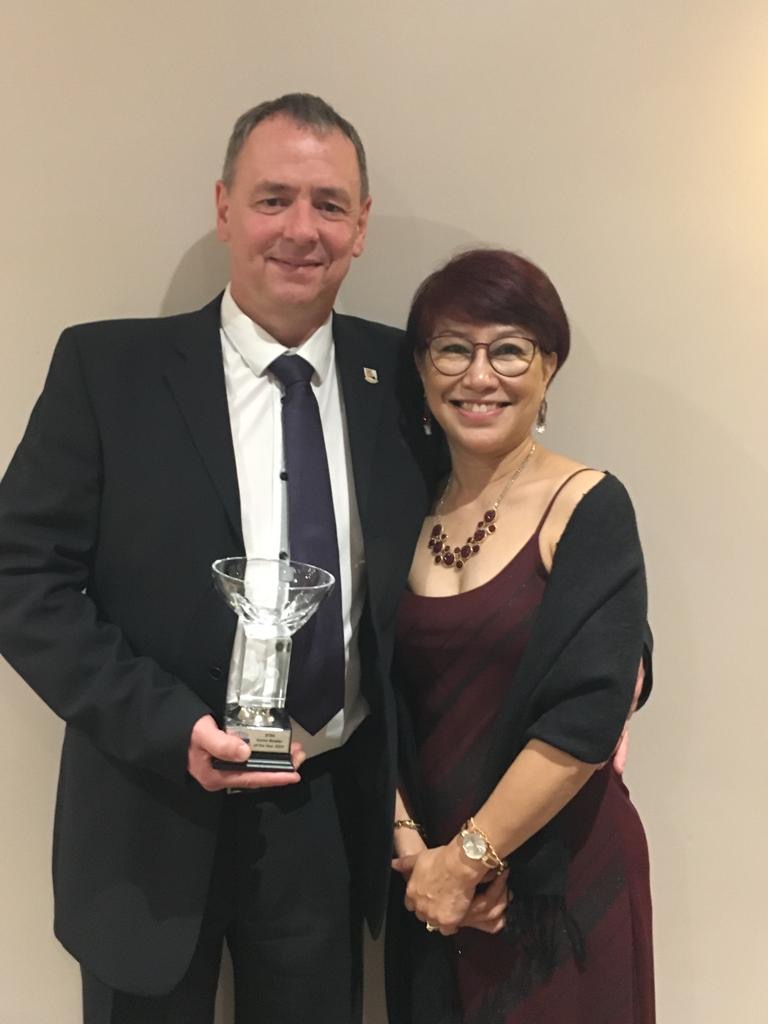 Pandemic hits and bowling stops. How did you deal with the downtime and how did you get yourself matchfit as things opened up again?
Saying goodbye to my team mates as we left the bowl and went in to lockdown was the worst feeling I've ever had. None of us knew when we would see each other again, and Anna was still living in the Netherlands. I bowled in the HUB events in Dunstable for a few weeks until leagues re-started albeit in a different format.
After a short while I managed to get over to see Anna and in a brief period between lockdowns I hired a van and went over to bring her back to the UK so we could be together. It's the best thing that could have happened . Thanks to Lia Fievet, we were granted a sports exemption to participate in tournaments in the Netherlands when possible so it turned out ok.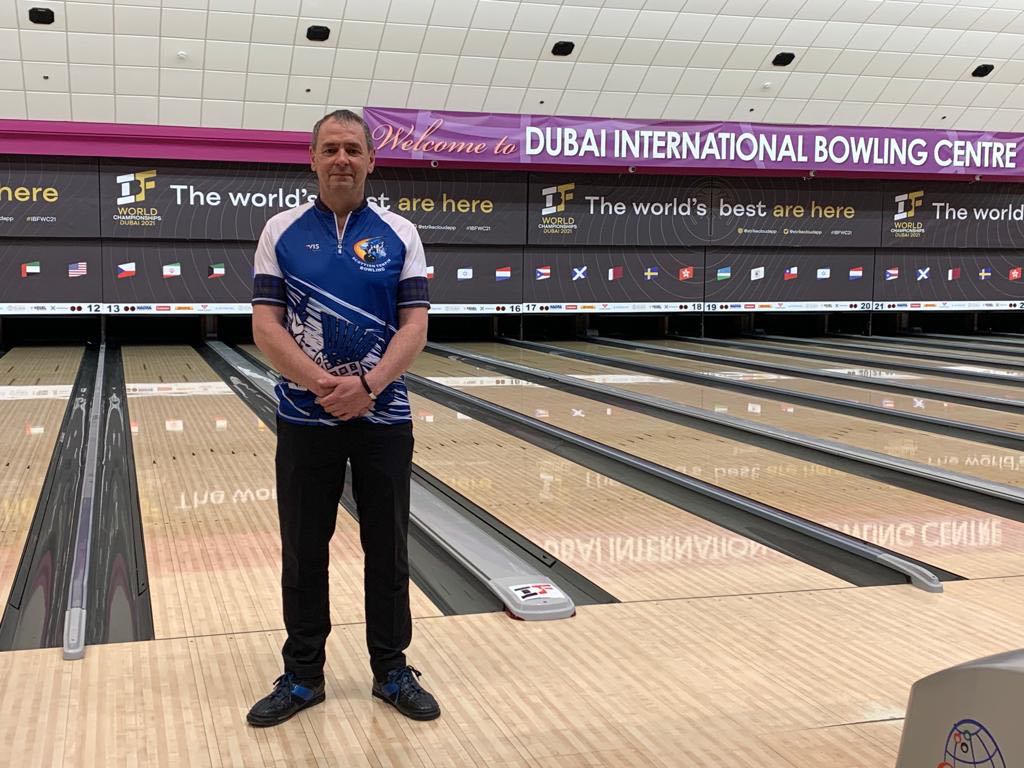 You were straight out to the Super Senior World Championships is Dubai and had a very good run in the event. Were you happy overall with your efforts and did you enjoy the trip?
Honestly it was the worst organised event I have ever played in, nobody seemed to know what was going on, and the only way to get results was to read the TalkTenpin comments on Facebook! We couldn't access anything at the bowl. I was happy in qualifying but a little disappointed in the round robin section to try to make the top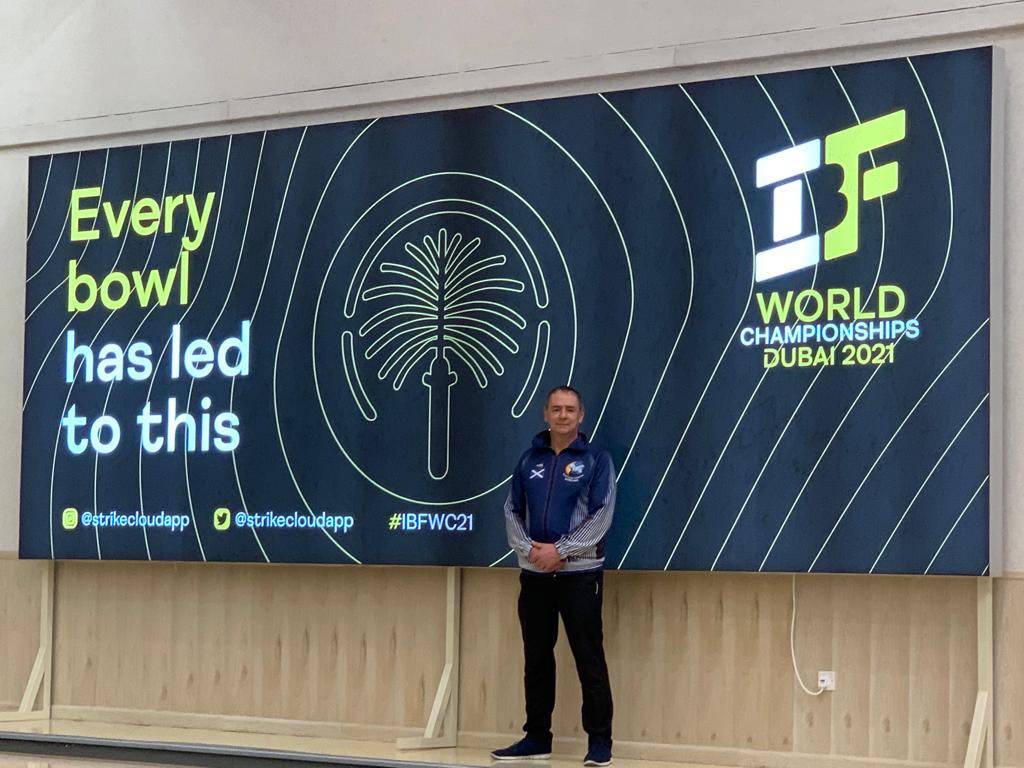 eight. I lost the first match when I was up and should have won. I beat both Swedes but lost to both the French guys so it was just going through the motions after that as I couldn't qualify.
The trip was great. Anna was playing for the Netherlands for the first time and they narrowly missed out on a mixed baker team medal. The Dutch, as always, welcomed me in to their fold and we spent our time with them. I have a great affection for the Netherlands, its people and especially our bowling cousins over there.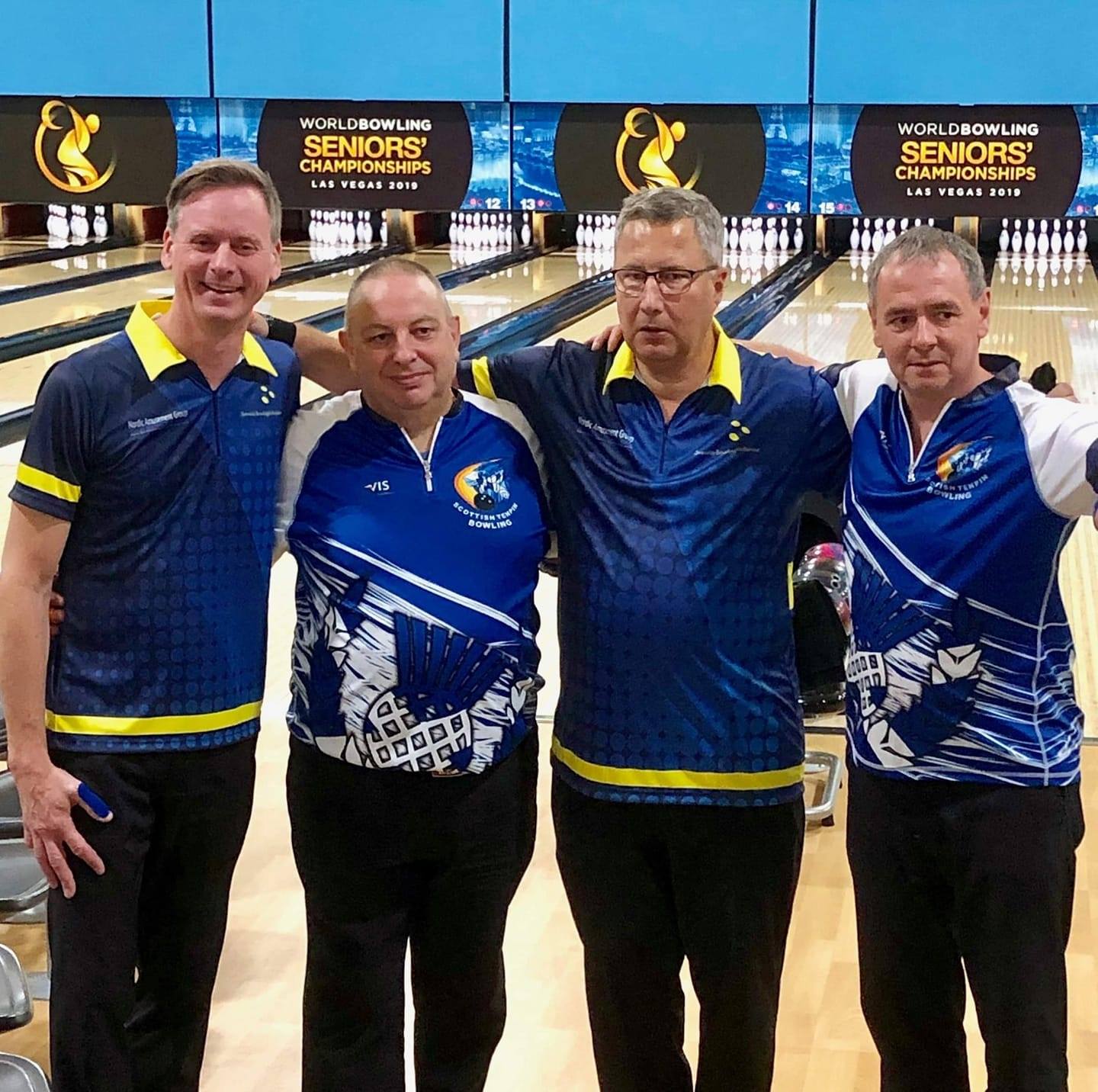 Of all the places you have visited, which are your favourite places and bowling centres?
Favourite centres have to be Tali in Helsinki and South Point in Vegas although the facilities for spectators I thought were poor. We made it in to a holiday for us and visited the Grand Canyon, Zion National Park, Death Valley, Yosemite and Lake Tahoe before a two day drive through the desert back to Vegas – a really great trip. Favourite place has to be the Netherlands, I always enjoy the centres and the company there.
Such a lot achieved in a short space of time lately, what goals do you have for yourself in the sport?
I would like to add an ESC medal and an ISBT tournament win if I can. Most of all it would be brilliant to get a team medal at the Worlds. I just really want to play for as long as my health and finances will allow.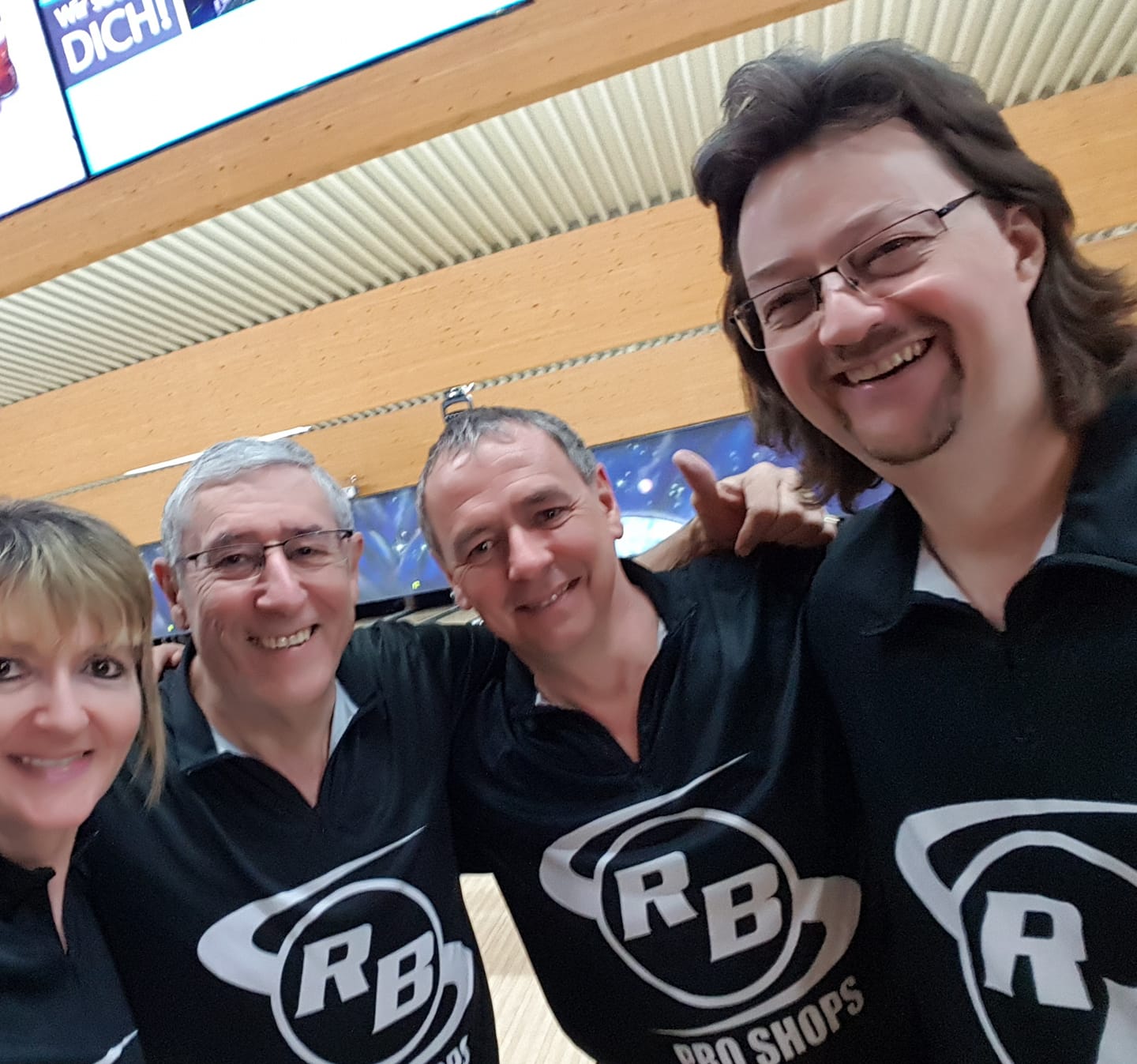 You have now faced many of the World's best in the senior division, Which have impressed you the most or prove tough to beat?'
In the major competitions everyone is hard to beat, I just concentrate on my own game and don't take any notice of reputations. Just controlling the demons in my own head is challenging enough without worrying about anyone else. At home the most impressive and the best on the circuit right now has to be Steven Jeeves. He always manages to turn on the afterburners when it really matters and is a fierce competitor always, but when the bowling's done, no matter the result, he's one of the nicest guys you could wish to meet. Always supportive and never has a bad word to say about anybody. I'm happy to call him my friend.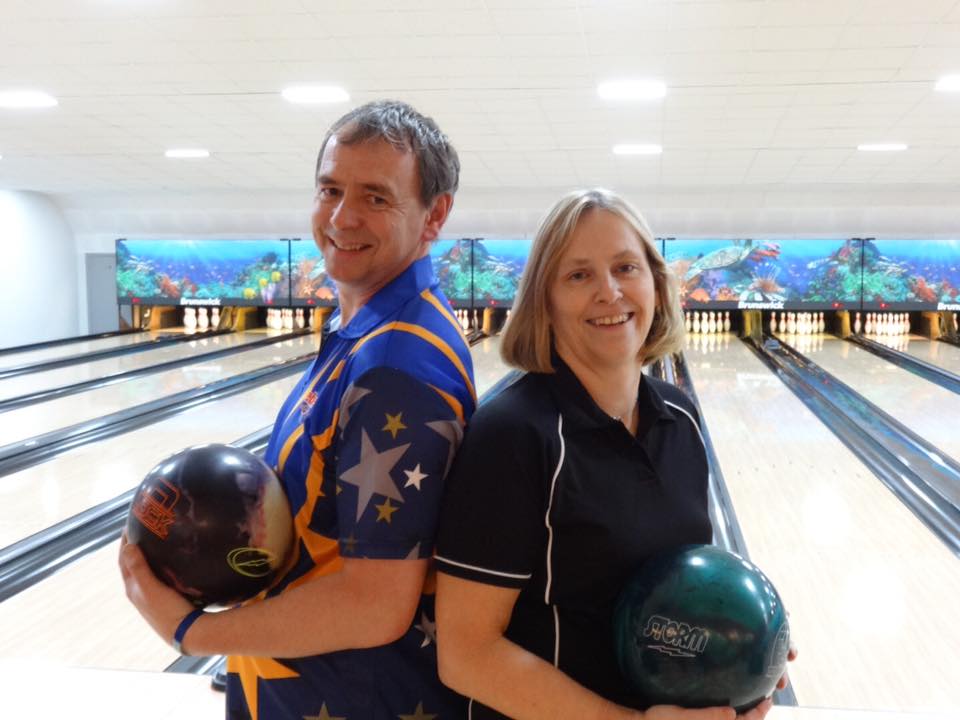 When you are not bowling, what helps fund the hobby and what keeps you occupied off the lanes?
I started a chimney sweeping business about ten years ago and that pays for the bowling, or it did until recently. Covid had a big effect as has the recent hike in energy prices. I lost my secondary job after 36 years when the owner sold the business last August and as I was self -employed, I didn't get included when the staff moved to the new company. I'm going to have to re-think if I'm to carry on bowling tournaments as often as before, but I'm confident I can get back on track.
As the number one ranked male Scottish bowler ever STV decide to make your life story in bowling, who plays you?
I can't imagine anyone wanting that role! There are plenty others more deserving than me. If I had to name someone I will just mention that a police inspector once asked me for my autograph as he had mistaken me for Paul Whitehouse! Ha ha.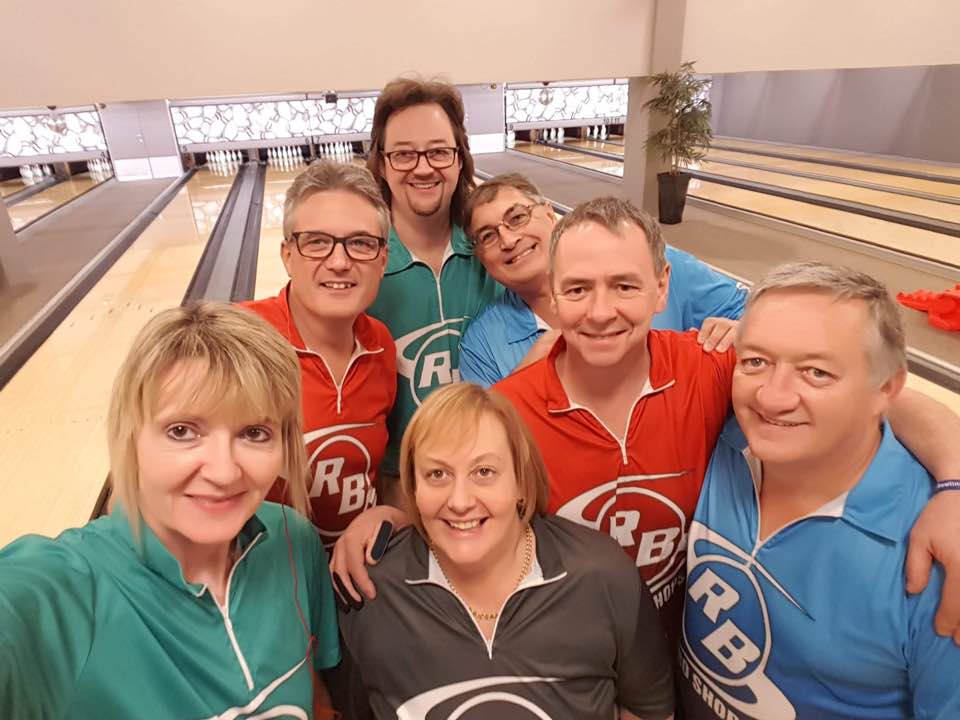 Finally Alan, for people reaching 50 and maybe considering coming back to the sport or entering tournaments and competitions. Why should they consider bowling in the seniors?
The Senior competitions have it all really. Some of the friendships I've made are the best I've ever had. All levels are catered for and welcomed, but don't be mistaken – the tournaments aren't just a nice day out, the competition is friendly but fierce! All it needs to make things even better is a return of the BTBA senior tour as it was. It's absence has left a gaping hole.