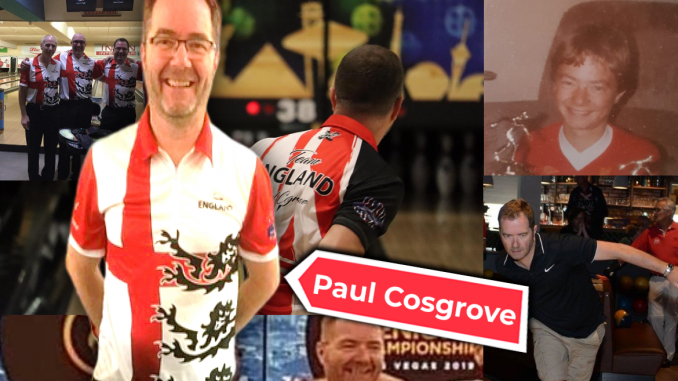 We continue our series with the seniors and a player who started in South Africa, lives in The Netherlands and has bowled for Team England. We find our more about one of our overseas senior stars, Paul Cosgrove.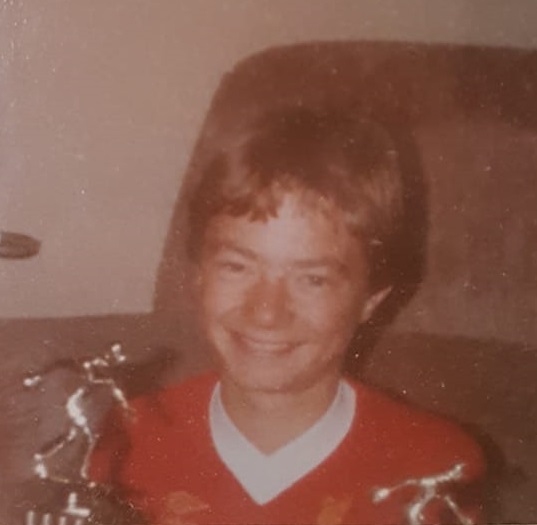 Where was your first time bowling and why did you then get into the sport?
"A long time ago in a galaxy far, far away…." well I think it was around 1982/3 in a 1 horse town in South Africa, being expats we moved around alot and we ended up in a brand new town that had absolutely nothing for kids to do, fortunately they built a bowling alley and one of my mates convinced me to come along to junior league after school, I went and got picked for the team that week and ended up in Pretoria ( The Capital City) the following week for a tournament – That was it for me, hooked for life
Who taught you how to bowl in the early years?
We were very fortunate to have a benefactor and coach in Dave Coertzen, he taught us the basics like the 3-6-9 sparing system, gave us tons of lane time and generally took us all over the place for tournaments etc. He loved the game and really helped me at a very awkward and challenging time of my life, I never really got to thank him for that, I wish I had.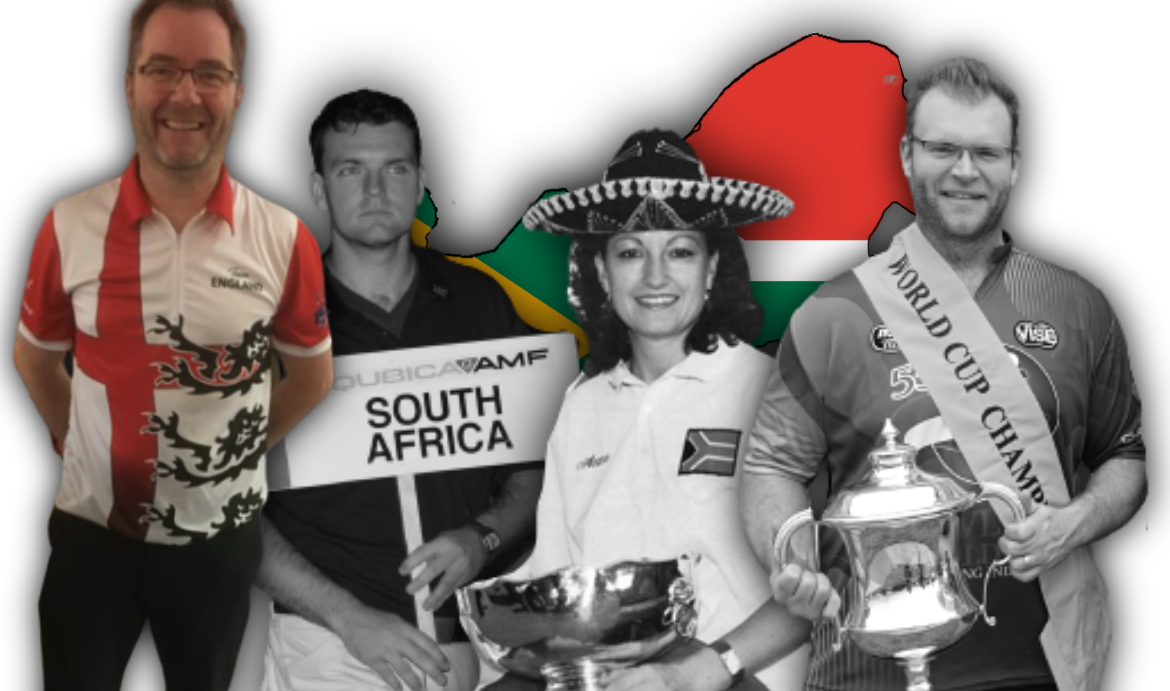 Bowling in South Africa would mean you might know some of the fantastic World stars they have had over the years?
Yes of course, for such a small bowling community they have had real World class players over the years and could have had a few more had they stuck at it. Obvious one, Guy Caminsky, I played league and competed in many tournaments against him, of course he usually always wins.
We also had Anne Jacobs, World Cup Winner, Jody Ellis who managed to get rookie of the year on the PWBA before it collapsed, and Fran Louw who was just a kid when I left SA and now is the reigning World Cup Champion, amazing really.
Over the years there were many others that could have made it, a little 18 year old two hander, Daniel Kerr beat Chris Barnes in the South African Open in the 90's – and the rest of Team USA and Team England – this was way before 2 handed became so popular, I think that kid had mega potential.
Plus many others – small but strong bowling community that's for sure. I do miss those days. I have so many wonderful memories from my time there. Juniors from the Secunda Superbowl James Ball, Spencer Hawes, Stephen Latchford, Stewart Douglas and Andrew O'Niel – we got up to a lot of mischief back in the day – loved it!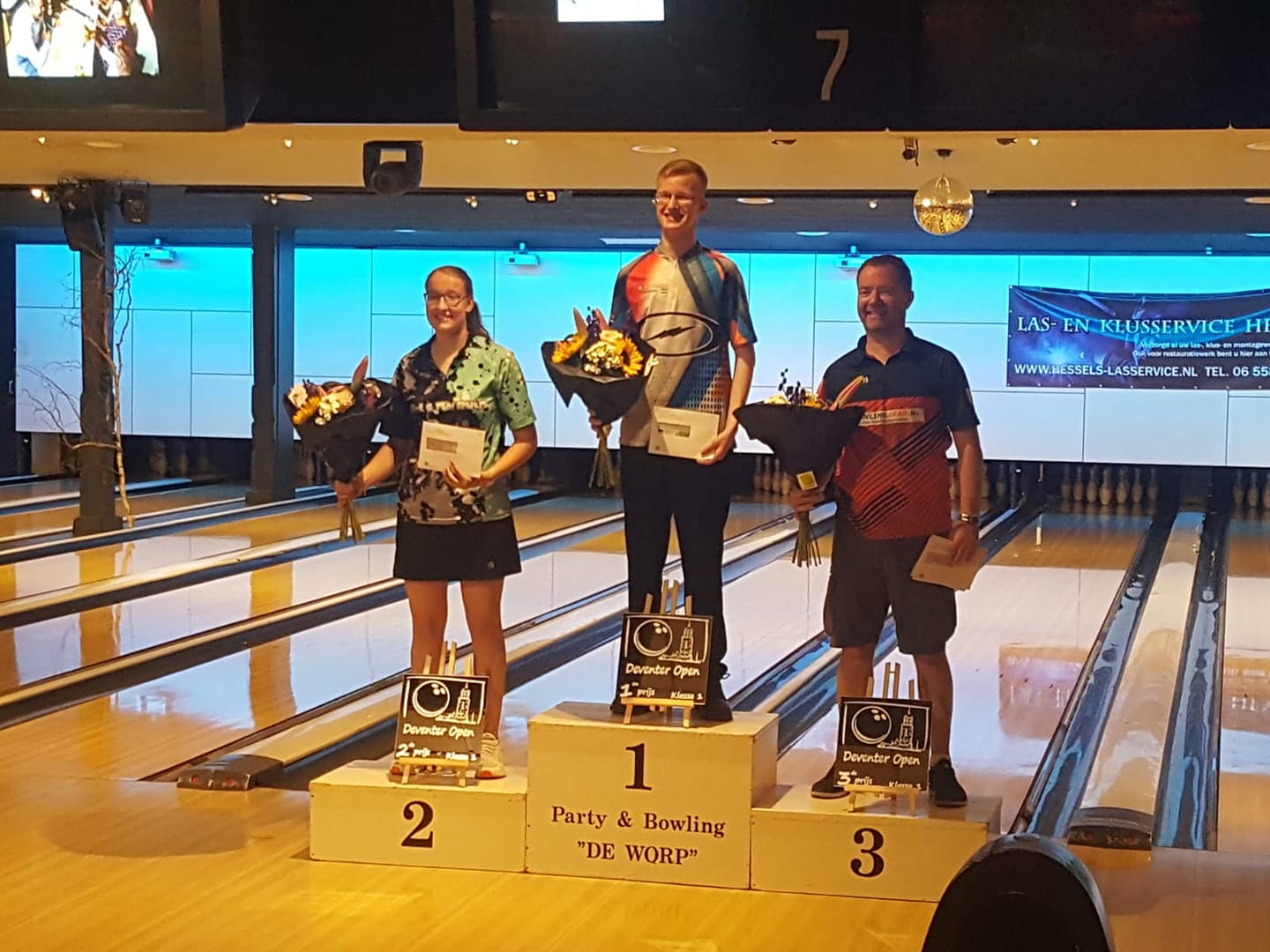 How then does an Englishman find himself living and bowling in the Netherlands?
Well I had been out of bowling for around 13 years when we moved here for my wife's work. It was just after Christmas 2015 and my son suggested we should go bowling for something to do the 1st week we were here, so I dusted off the old Dexters and headed out, It wasn't long before I got hooked, I started messing around playing 2 handed for about 6 months before finally getting serious about it again. So the thumb went back in and the real hard work began.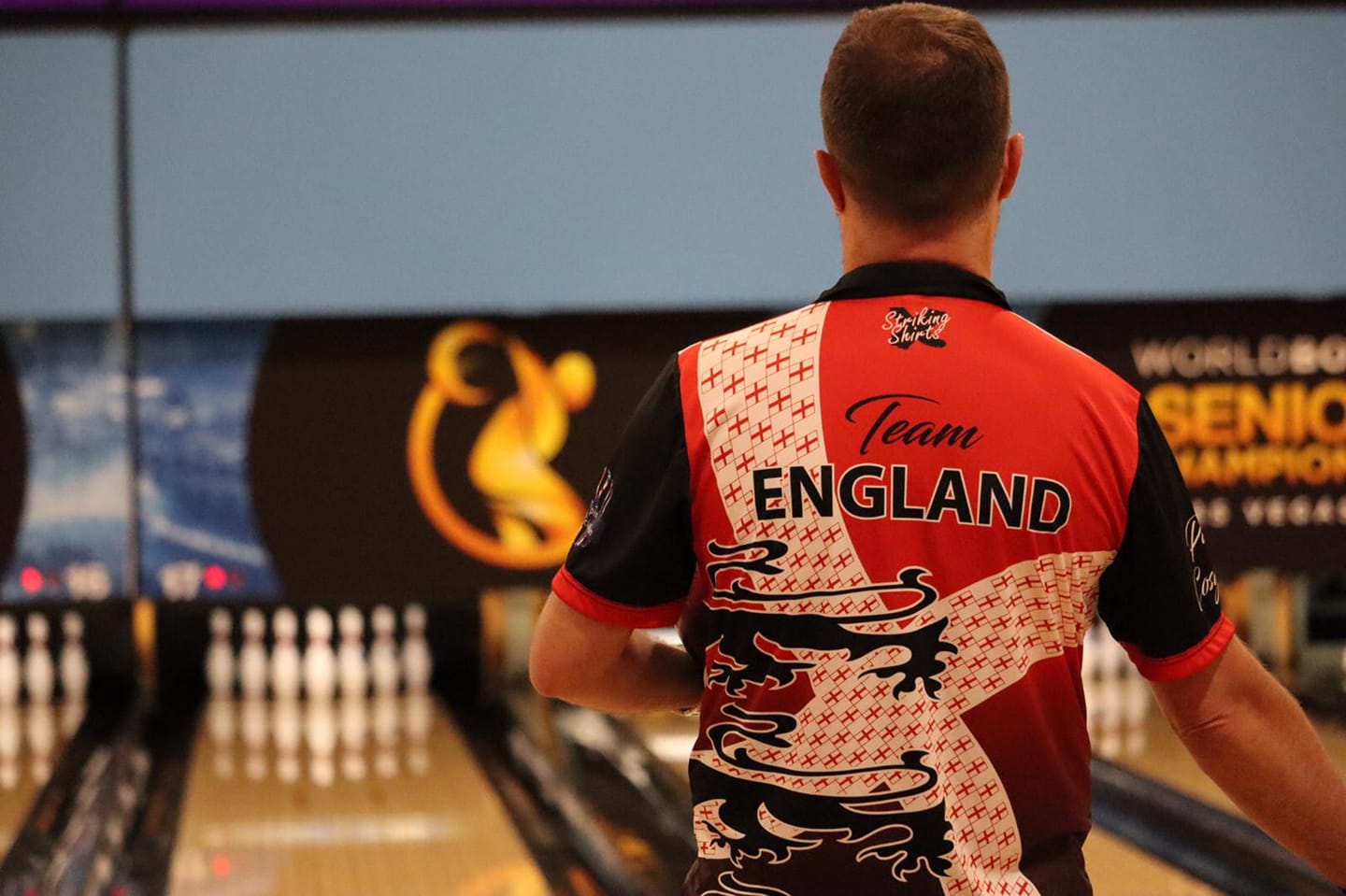 2018 you break into the Senior Team England as a trials winner. What effort had it taken to get to this level?
It was a long progression, and a big learning curve, the game had changed so much and the scores were almost unimaginable for my 80's bowling brain to fathom. But I stuck at it, practised a lot and bowled in almost every tournament that came along. It wasn't until I bumped into Lol Ellis in 2018 at an ISBT event in the Netherlands that I started thinking about Team England. He convinced me to come along to the trials that year and give it a go, so I have a lot to thank him for as well. That pushed me to train and work harder in the hope that I could make the team.
I was also very fortunate to get sponsored by Franky's Bowling and BowlingGear.nl pro shops without which I'm not sure I would have made it this far. So a huge thank you to Frank Barthen, Marcel van Veelen, John Bosch, Larbi "The lane Whisperer" Ben Abdelhak, and all the wonderful staff, thank you, thank you and thank you,. Oh and of course my wife, Dimple, who lets me get away with murder. I owe her everything.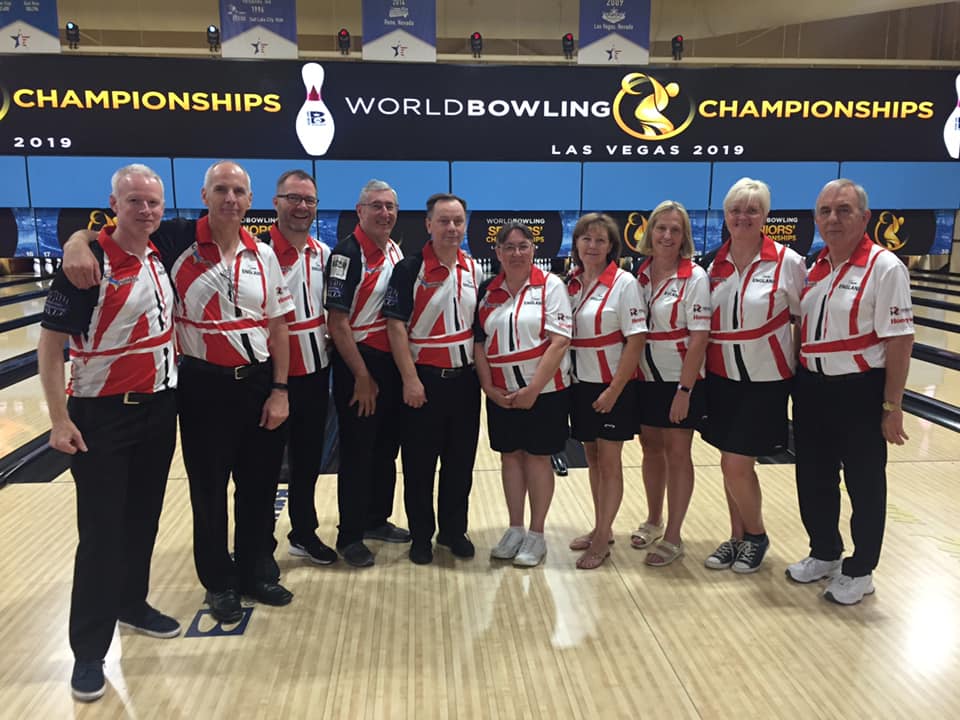 Retaining your place in the 2019 trials. It is then out to Las Vegas for the World Senior Championships. How was the experience for you?
Putting on the England Shirt was a dream I had since I was a kid, so when it finally happened it was both amazing and surreal , especially since I would also be sharing the lanes with some of the guys I admired when I was a kid. The overall experience was amazing, I had the worst possible start in the singles and was extremely disappointed by my performance but very happy with the way Geoff Brown and I played to finish 12th in the Doubles. It was my 1st major team event and looking back I wish I could have that 1st block over again but what doesn't break you only makes you stronger. I went there with a bunch of guys that I hardly knew and came back with good friends and a lifetime of memories. Can't wait for the next one.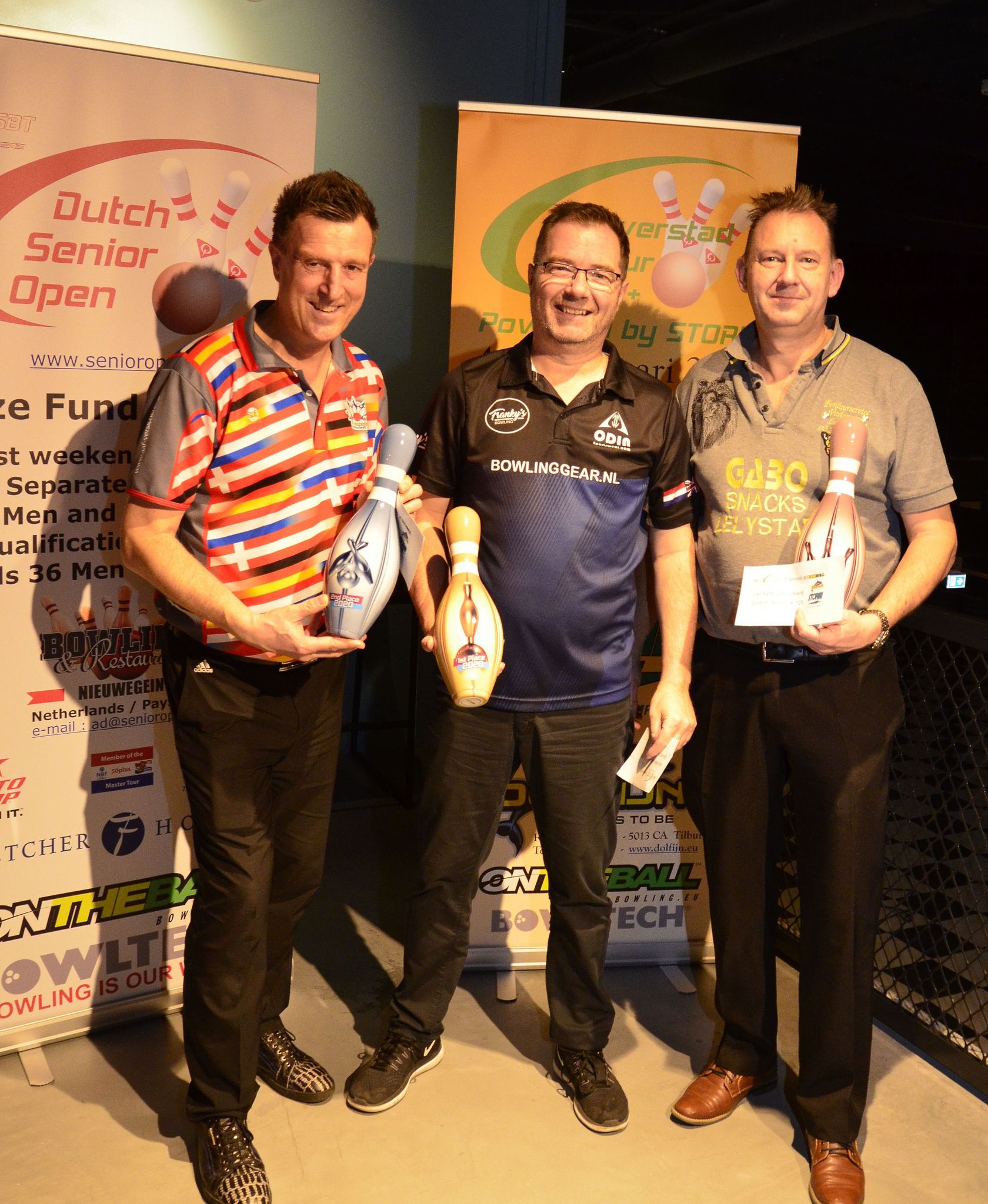 A pandemic hits and things like travel and bowling become almost a distant memory. How did you deal with the downtime?
I found it extremely difficult not bowling, my whole life revolved around it, but I also had a major medical scare just as the 1st lockdown began which helped me put things into perspective. Time away from bowling also helped me focus my mind on what I could do better on and off the lanes. It's a work in progress but I like to think I'm on the right path.
You sadly missed out on a place in the 2022 trials on challenging patterns. What work will you put into your game now to be ready for the next one ?
Yes, that was very disappointing. Sometimes you make decisions that don't work out, in hindsight I should have been more aware of the scoring pace rather than getting hung up on my own score or lack thereof. Again what doesn't break you can only make you stronger. As always I will continue to work on my game, I still play a lot of tournaments against both Seniors and Adults, and of course I will be putting the hard practice hours in. I love this game and the challenge it brings so hopefully I will get more opportunities to play for Senior Team England.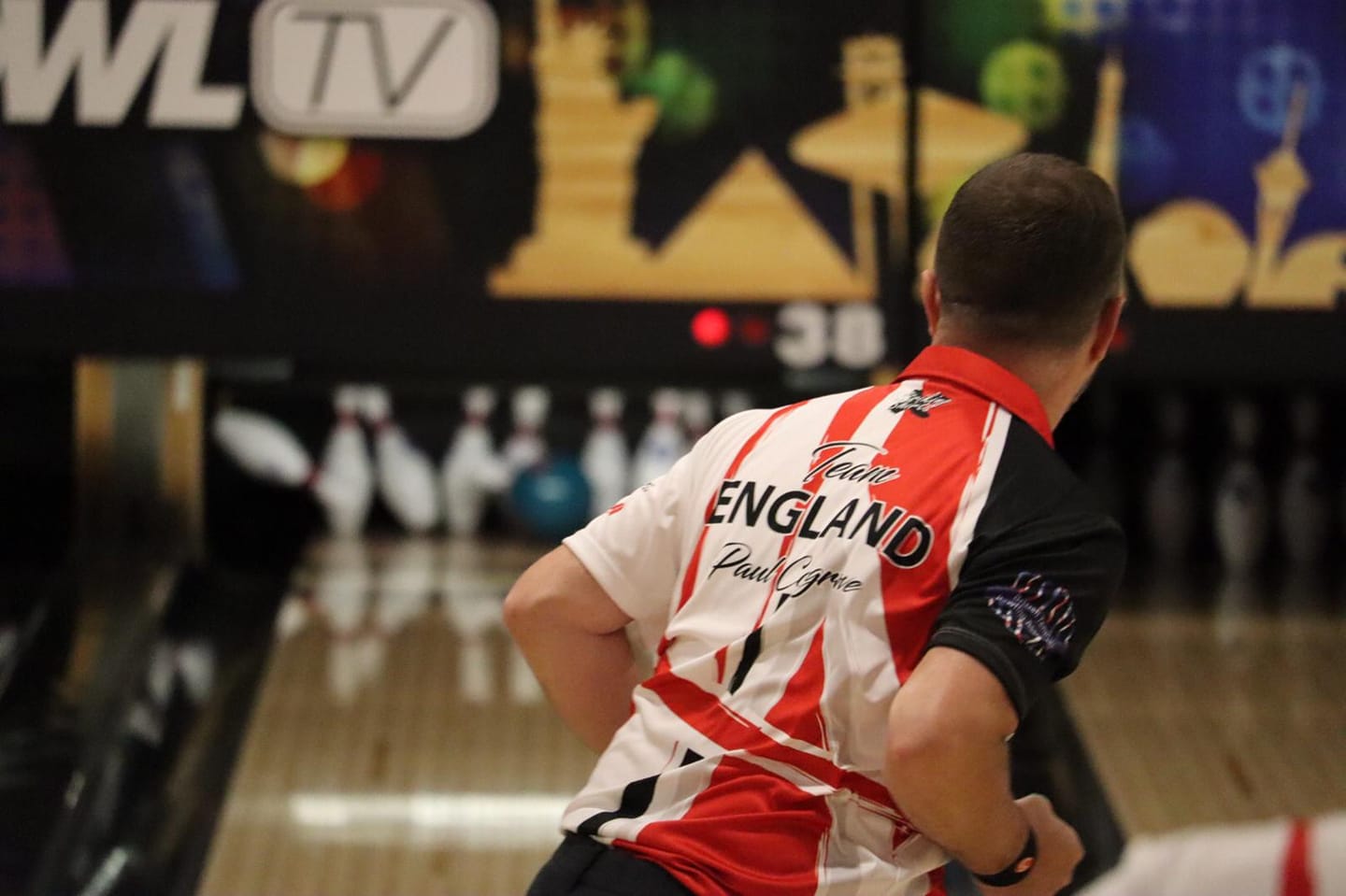 What goals do you have for yourself in the seniors?
One has to be realistic. I'm not about to become a PBA 50 pro bowler anytime soon but I do believe that if I stay healthy, keep working on my game my chances of taking that next step in the major championships will come. So while I realise it won't be easy I do believe that nothing is impossible and with the right team and a bit of luck Senior Team England can produce the goods in the future, I hope I'm part of it.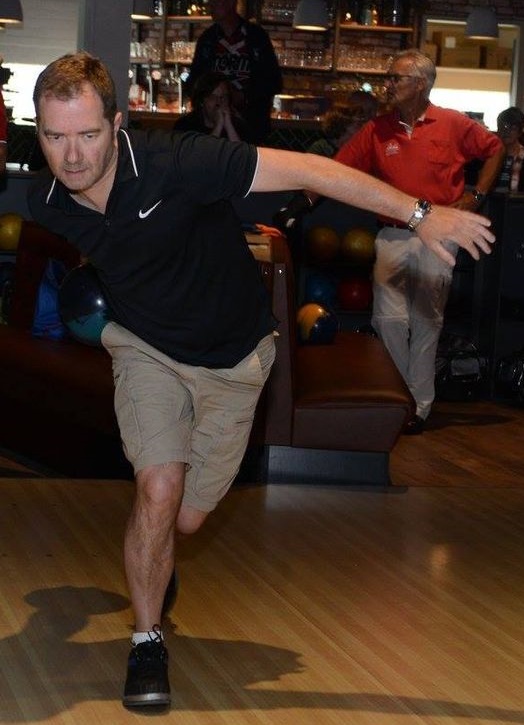 When you are not bowling, what other hobbies or interests do you have?
Haha, I wish I had time for anything else, I used to love playing golf but really don't have the time to put the effort in and to be honest I was crap at it, but I loved that early morning walk around the course talking crap with my mates, now I do that on the lanes instead. I have started a new hobby though, forex trading. It's a lonely and boring existence but I love it. It requires discipline and patience, something that I need to work on, a lot !
What is the day job that helps pay for the bowling obsession?
Yeah I get asked this one a lot, my usual answer is, "I'm pro-bowler who doesn't make any money" but that's not so unusual as most Pro Bowlers don't make any money haha. So I look after the kids while the wife is away all day at work. I've been very fortunate, spent 25 years in IT and when we arrived in the Netherlands we (I) decided that I'll take a "time-out" while the wife and kids get settled, 6 months to a year at most… managed to stretch it to 6 years now haha. I dabble in a few things like Crypto and Forex but it's much like my so-called "Pro-Bowling" career lol.
Singles or Teamplay, which do you prefer and are you looking forward to trying more baker formats in the seniors?
That's a tough one, I really love both. I think any new player coming into the game finds it tough to find a team in the beginning so singles are more important for me in that regard, but once you find a team, winning with your mates is special, nothing can beat that.
At first I didn't like the idea of baker in major championships but having watched the last WC in Dubai I'm convinced that this is the true representation of what team bowling is meant to be. I think baker brings you all closer together as a team, you literally breathe and die for every shot and for each other.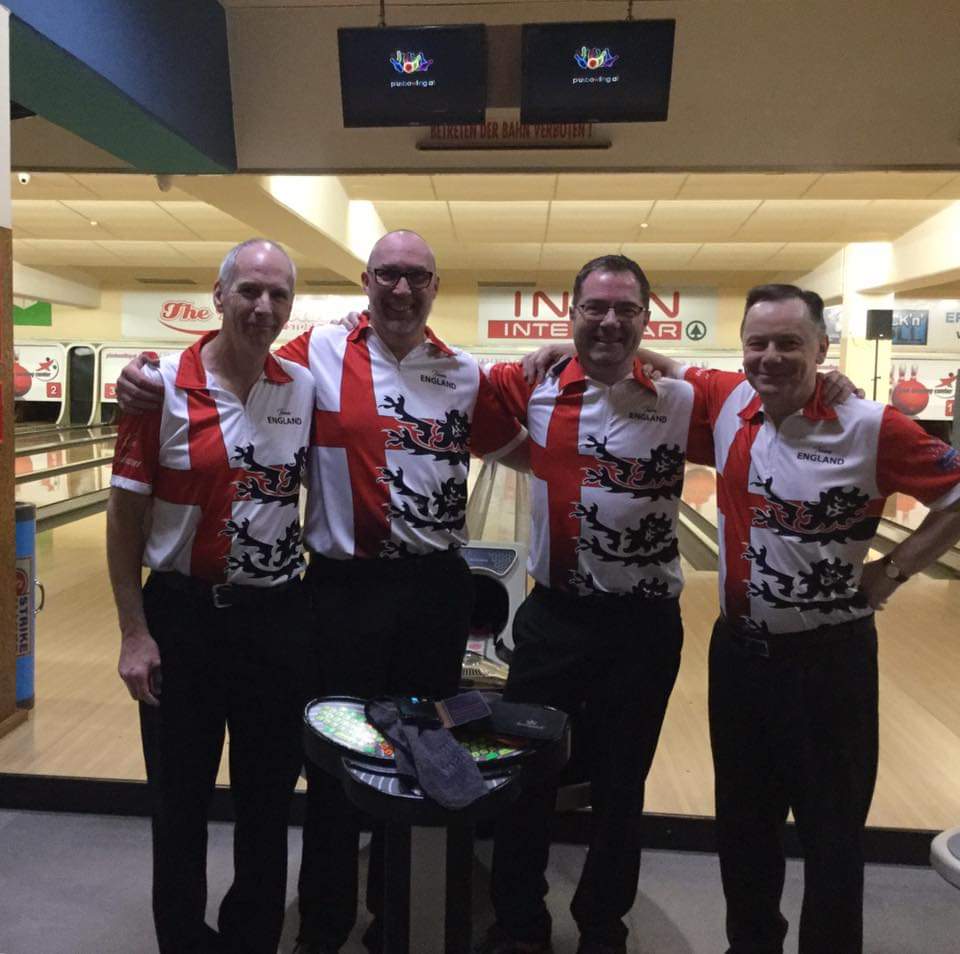 Ask some senior bowlers about String machines and they complain without actually bowling on them. Have you played on them much and how do you think they will blend into todays sport?
Only on older types of string machines and I couldn't stand them. But that wasn't only due to the strings, most centres that had them were really just entertainment venues with little or no oil and approaches that were like walking on chewing gum. So being old school I find it tough to think that this is the way we are going, that said I'm also a bit more pragmatic about it now, as long as everything stays the same in front of the pins, oiled lanes, clean approaches etc., then it is just another type of carry that we need to get used to, just like plastic and wooden pins are different then so are strings, and if the USBC sanctions them then I will bowl on them without any complaints.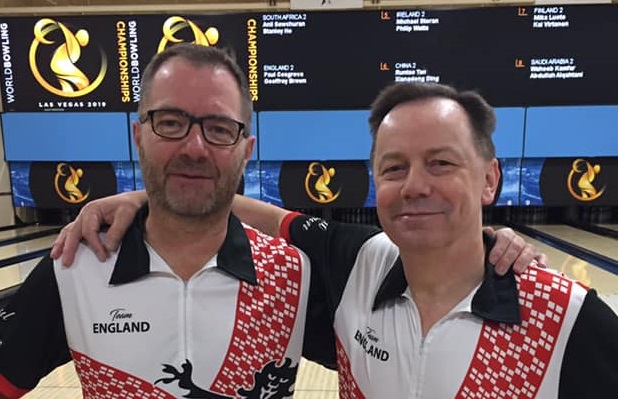 Looking around the World Senior division, it gets stronger every year. Which players do you admire in bowling?
I've never really been the fanboy type, but one cant help but admire Norm Duke. True legend and at 57 still competing and beating kids 30 years younger. Hope he stays away from senior USA for a while lol, no in all seriousness generally sharing a lane with the pro's from the 80's is a dream come true for me, very lucky to be on the lanes in Vegas with the likes of Walter Ray Jr and Parker Bohn.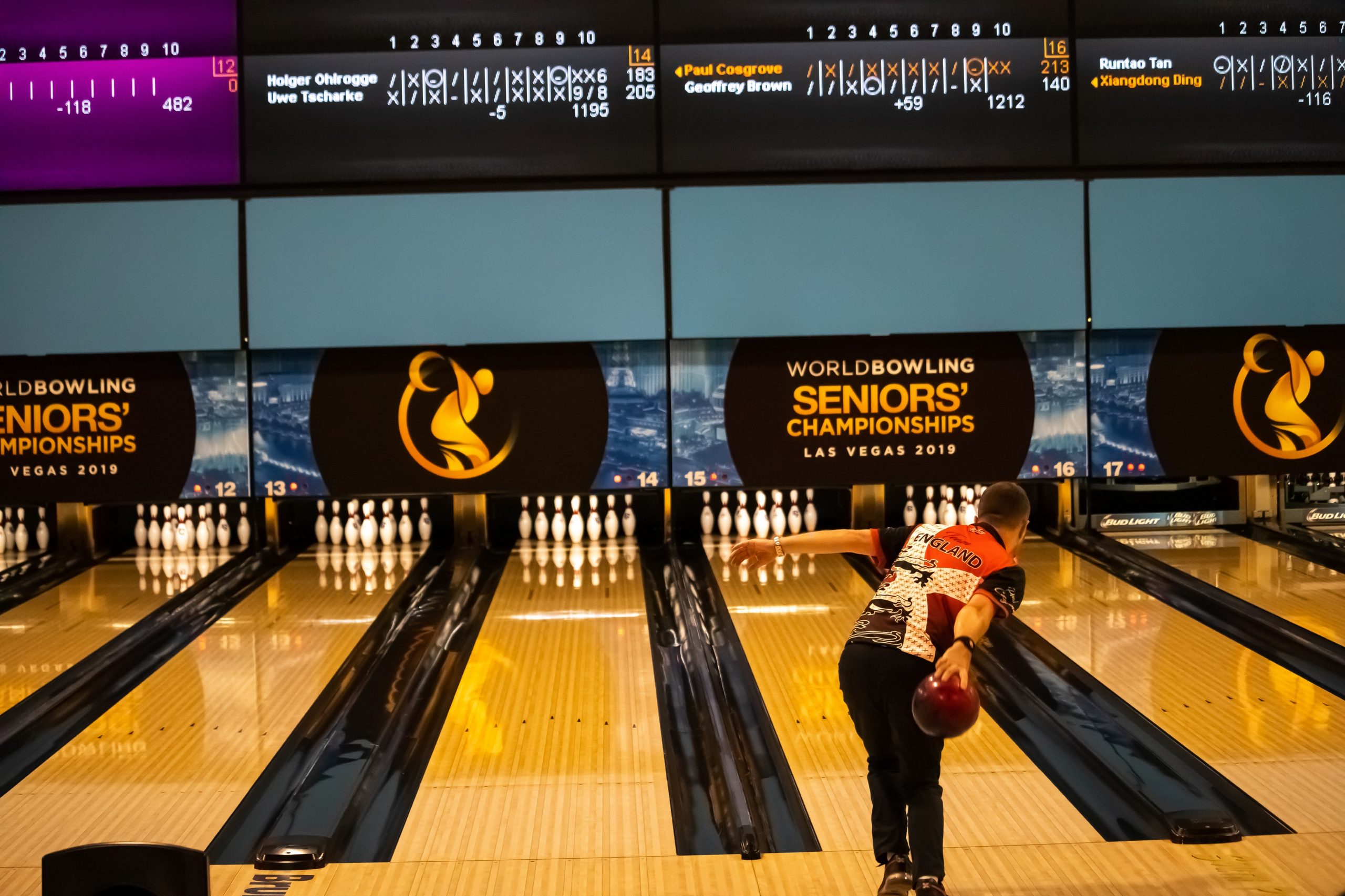 Over the last few years there have been many long trips across Europe in the car. What songs and artists are on the Cosgrove playlist?
It's a long a varied one, but I love screaming on the top of my lungs when I'm in the car, alone of course, it really gets the juices flowing and a great mental pick me up before an event, so literally anything that I can guess the words to, normally something that is associated with a memory or a good time in my life, old U2 classics, Paul Weller, Pink Floyd, Bob Marley, Mumford and Sons, Kings of Leon, Dermot Kennedy, Tom Walker, David Bowie, The Waterboys, Radiohead, Red Hot chilli peppers any many many more… it's a long list lol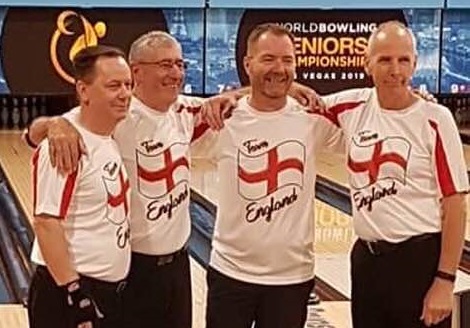 Finally Paul, for people coming up to 50 and were maybe past bowlers or some looking for something to do. Why should seniors consider getting into the sport
Bowling is a fabulous game, something nearly anyone and everyone can do. It is more social than any other sport I know and you will get to meet some crazy and wonderful people. You can compete at all sorts of levels and if you push yourself you can get great opportunities to compete at major championships all over the world. It's a second opportunity for those that missed it when they were younger. Go for it, what's the worst that can happen? A few new friends and a great time ? So come on , Get back into bowling your sport and country needs you.