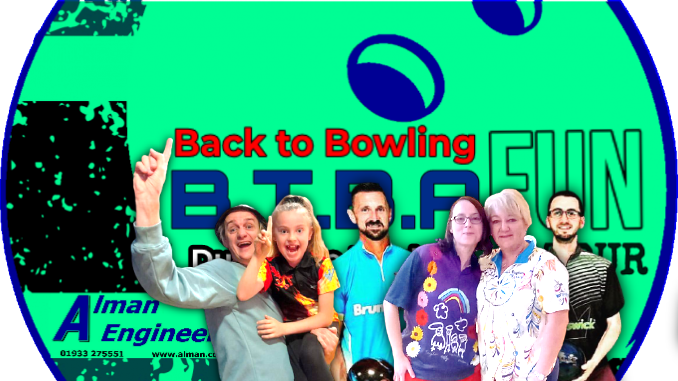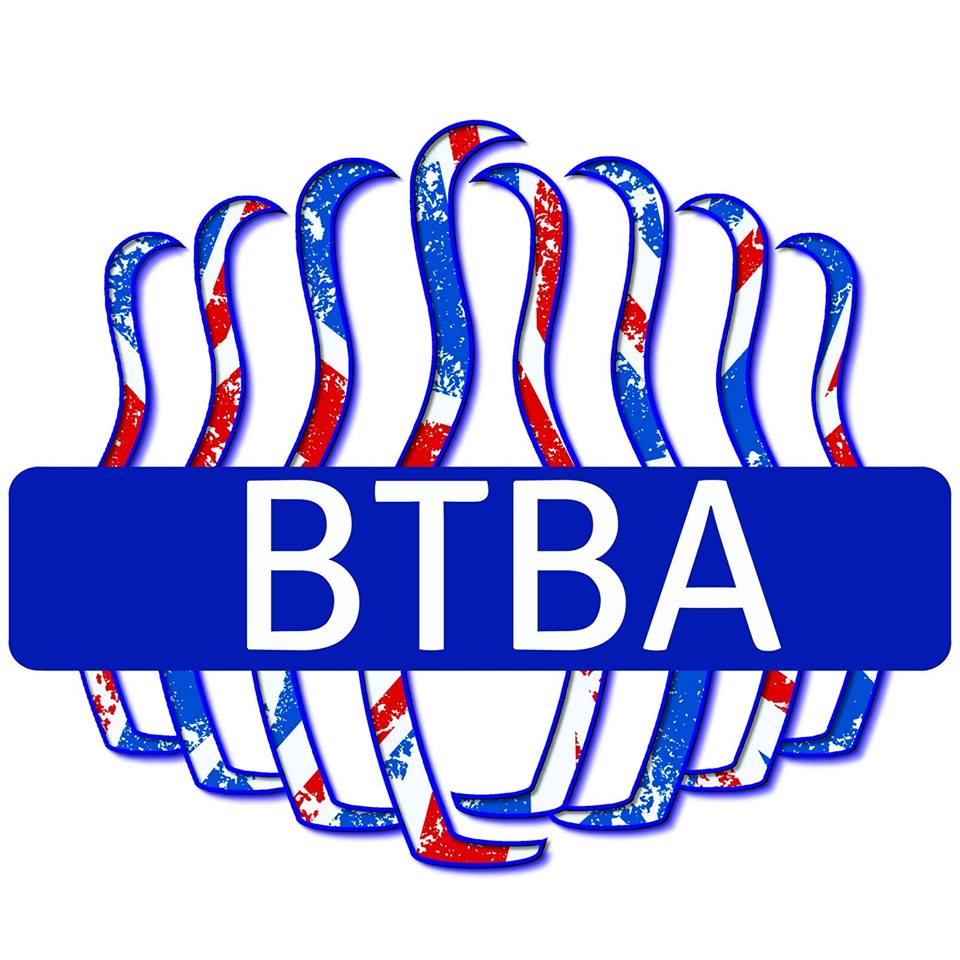 August Bank Holiday saw the 2nd in the series of 5 "Back 2 Bowling" Events held by the BTBA. This one was held at Dunstable. The whole idea of these events is to get people of all ages and abilities back into a form of competitive bowling after our enforced layoff due to Covid lockdowns.
The formats for these events are nice and simple. Its 3 games re-entry doubles and there are 3 divisions depending on the combined average of the team. Just like the first tournament at Shipley this event was supported by the local YBC the "Dunstable Dragons" and we had the youngest competitor Taylor Bonfield at 7years of age, and at the other end of the spectrum we had Steve "carnage" Carnall at 139 years of age.
In division C (330 or less team average) the "Dragons" dominated. In 3rd place were Father and Daughter pairing Kevin and Lola Pilley on 1084 (181 average) Lola hitting a PB high game in her set. In 2nd were the Dragons. Cameron Brown and Willian Herbert on 1128 (188 average) but the winners were 8 year old Ava Richardson and 48year old Basher Bonfield. Basher called in at the last minute as Ava's partner was taken ill. Ava hitting a PB high series of 405 and Basher hitting his average with a 762 set for a 1167 set (194 average). Basher also ruining a 300 in his set with a limp wristed 12th shot that went through the pins like a wounded hedgehog for a 6 count and a 296. Ava said afterwards that she knew she would have to be at her best to carry the usual useless Basher.. The cheek of these kids !!
Onto division B (331-389 average). The long time leaders were the pairing from the YBC Ki Leighfield and Kallum Peach with 1287 (214 average) but in the penultimate squad of the tournament the luck of Irish Gaye McCully and Alison Taylor put together a good score of 1325 (220 average) to take the win. With Team ADR (Dan Harding & Izzy Fletcher) taking 3rd.
Now onto the top Division, division A for teams with a combined average of 390 or more which contained all the superstars, the youngsters, the middle aged (rob Thurlby) and old (Steve Carnall).
Holding top spot in the early proceedings were youngsters Dan Harding and Charlie Upton – combined age not even 30 !. They hit 1458 (243 average) and it took a monumental effort from the grizzly experienced competitors of Rob Thurlby and Steven Kay to topple that score and take the win. Rob and Steve shot 1493 (248 average). In 3rd was another junior pairing – Jack Blyth and George Jagger. And how did the seniors get on ?? – Well Steve Carnall and Steve Jeeves representing the silver surfers showed that they still have the minerals despite all the creaks and moans from their old bodies. The Steve's shot 1392 for a tie of 7th place.
The was also a scratch individual pot based on the bowlers 3 game series. Winner of this was Dan Harding with a 786 set, with Jack Blyth in 2nd with a 782 and Pete Stevenson in 3rd with a 767 which included the tournament high game, a 299.
We also held a raffle, the Prize a Brunswick Uppercut ball donated by one of our sponsors BowlingVision Ltd. The raffle raised £186 and the proceeds were split with 50% going to the local YBC and the other half into the prize fund.
So that's a wrap .. 123 teams bowled attracting bowlers of all ages and abilities, which was the aim and with a prize fund of nearly £2,500
A massive thanks to all the bowlers who came from all over to support the event. To Dunstable Gobowling for providing us with lanes that didn't have any serious breakdowns all weekend. Thanks to all sponsors and also massive thanks to my significant other – Alison Taylor for letting me spend all weekend in the bowl (including my OWN birthday) to run the event.
We move on to the 3rd tournament in the series – October 9th and 10th at Mansfield and you can find the entry form here https://btba.org.uk/btba-doubles-mansfield-2021/
Results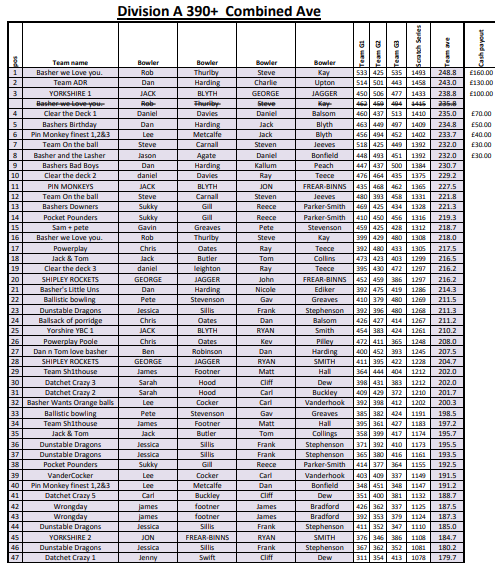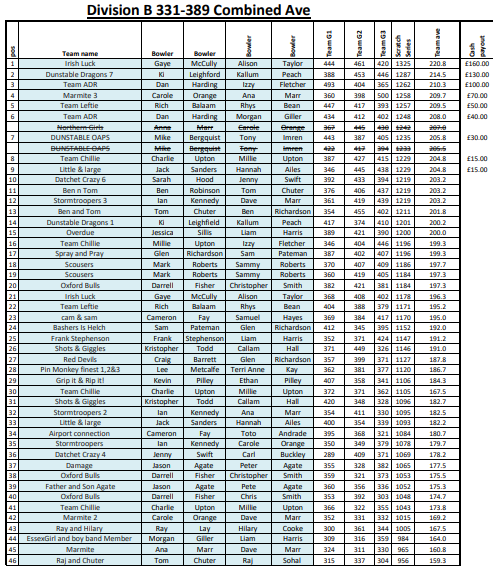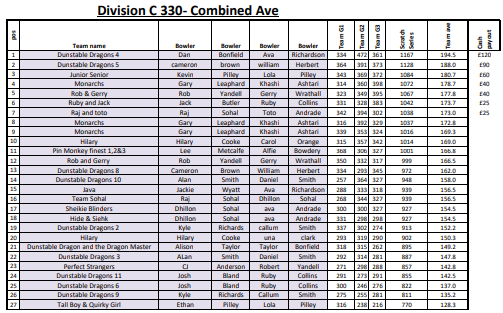 Pot scores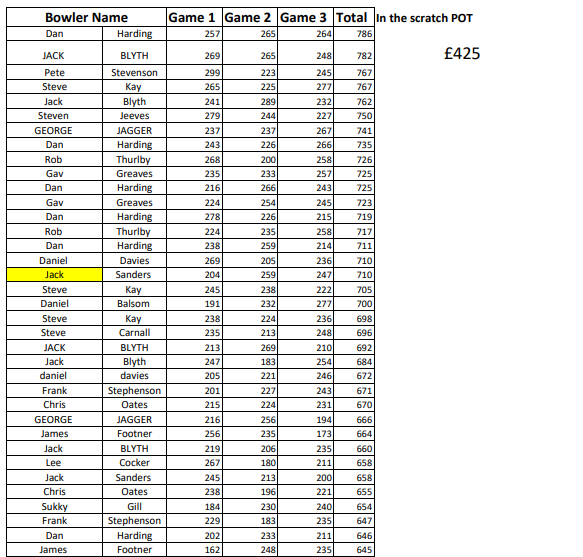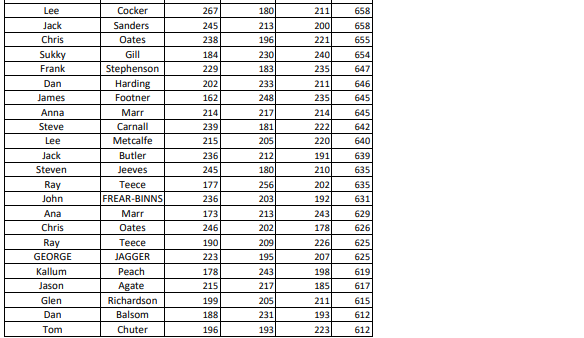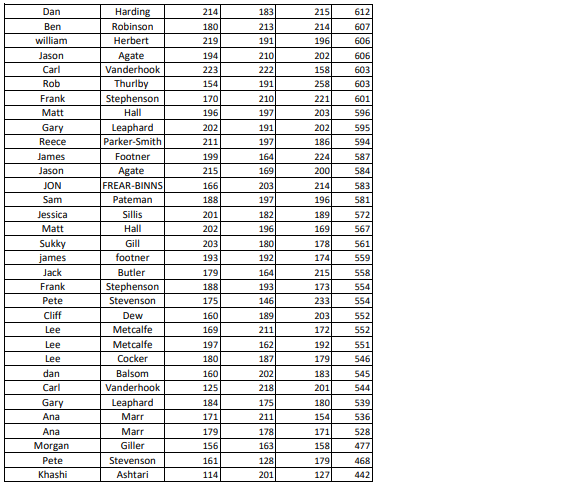 ---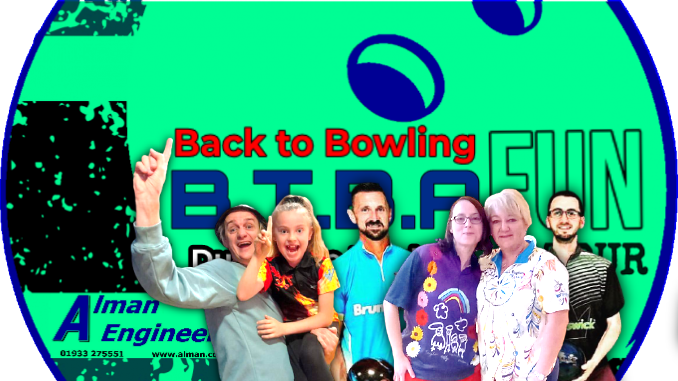 Stop 2 – Event Details
Download full details and rules for this tournament using the following link:
BTBA Doubles Dunstable 2021 – Sanctioned Entry Form.
---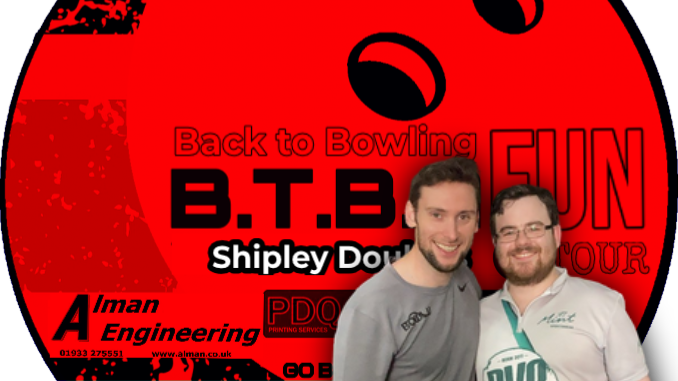 Stop 1 – Shipley Doubles
Report and results
---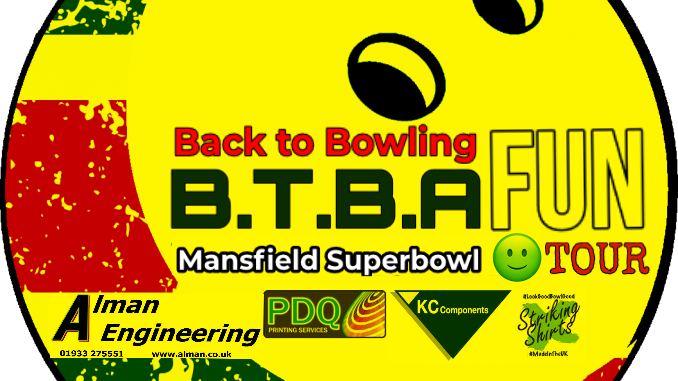 Stop 3 – Mansfield Doubles
9th-10th October – Mansfield Superbowl
---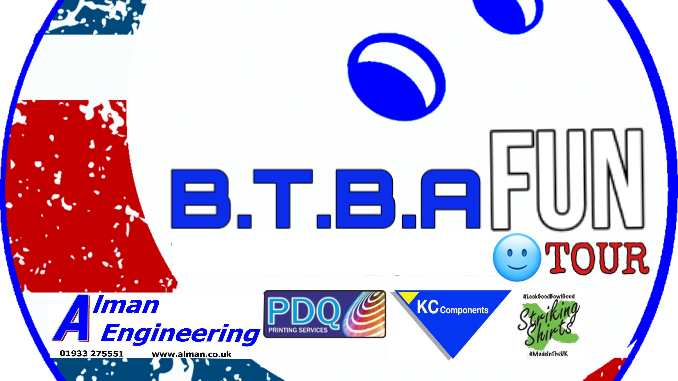 About the BTBA Fun Tour
Whilst there won't be a BTBA tour in 2021 we still want to hold some events for our members. There will be 4 of these events this year and all your scores will be collated and entered into the data base to form a National BTBA average which you can use for 2022 BTBA Tour.
We want to encourage bowlers of all ages and abilities to play 1 or more of these events, and that's why we have created average based divisions –so there's something for everyone. We have tried to keep to entry fee low,but still offer a prize fund, which will be boosted from the 2020 BTBA tour pot.
It's going to be so good to be back out there competing. I'm Looking forward to seeing you all at one or more these events this year, even you're not too keen on seeing me !
Daniel "basher" Bonfield –BTBA DUDE