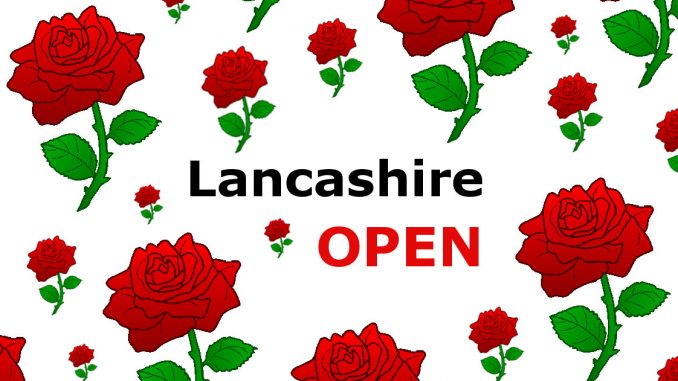 Pete Stevenson and Michael Boddy the big winners in the Lancashire Open
| | |
| --- | --- |
| | |
| Scratch Winner Pete Stevenson | HCP winner Michael Boddy |
The 3rd Stop of this years BTBA tour took us to Wigan for the Lancashire Open. The tournament has grown for a 3rd successive year. 2017 we had 33 players, then that increased to 42 in 2018 this year that increased to 55, it would have been the maximum 60 but frustratingly players withdrew in the days leading up to the tournament.
First round was 6 games with the top 8 scratch and top 8 handicap scores going through to a 2nd round.
The scratch leader was Gavin Greaves with 1348 a 225 average, with Pistol Pete Stevenson in 2nd on 1336 and local boy Matt Giles in 3rd 1327
There was a special "closest to the pin" competition, where all bowlers got to predict what the leading score would be, but if you went even 1 pin over the score you went "bust" The prize was a Brunswick Method Ball donated by tour sponsor Bowling Vision. Richard Annable predicted 1346 and being the closest won the ball !
The Handicap sectioned was being led by Local Nads Mohammed with Cambridgeshire's Michael Boddy in 2nd . The BTBA Tour is full of inventive ways bowlers can win prizes and Nads won himself an extra £50 courtesy of PDQ Printing Services for handicap high game with an incredible 328
The BTBA tour rankings are decided on the individuals placing after round 1. Gavin Greaves for the Adult Men, Charlotte Rathbone for the Adult Ladies, Kevin Pilley for Senior Men and Carol Orange for the Senior ladies all claimed maximum points
The cut to the 2nd round came in at Rob Thurlby on 1278 for the scratch section and Jamie Dolan in the Handicap
In Tour tournaments we like to give the high rollers, the Scratch players a bit more cash to play for. So we try and always run Scratch high game pots, which are optional to enter at an additional cost of £5. 42 bowlers entered, and it meant that each high game won £35. The winners were
Game 1 – Fred Lee 279
Game 2 – Lee Cocker 246
Game 3 – Fred Lee 255
Game 4 – Joe Crook 258
Game 5 – Jamie Goswell 248
Game 6 – Gavin Greaves 278
The 2nd round was 3 games with both the handicap and scratch section cutting to the top 4 who would go and play a step ladder final.
In the scratch section Pete Stevenson shot a 727 series to move to the top with Gavin Greaves slipping down to 2nd. Northampton's Dylan Maciuk shot 634 to move into 3rd spot and the step ladder was completed by Jamie Goswell.
In the handicap section Nads stayed top seed, with Charlotte Rathbone moving up to 2nd with Michael Boddy slipping down to 3rd. The top 4 was rounded out by Eva Raynolds finishing in 4th spot.
Scratch Step ladder
Game 1 between Goswell and Maciuk – Maciuk won both games 227-207 and 200-171 and progressed to match 2 against Gavin Greaves. Greaves took a 2 pin lead with a 200-198. In the 2nd game neither bowler could get going Greaves shooting a 167 with Maciuk just edging through with a 173, and this was enough to win the match by 4 pins and a shot at the title against top seed Pete Stevenson. An upset looked on the cards as Maciuk won the first game 244-202 and now just needed 1 more solid game to win the title. But some nerves and bad breaks got in the way and Maciuk could only muster a 158 2nd game. Stevenson still had to claw back the first game deficit, but his tail was up and he shot a 224 to give him the win 426 to 402.
Handicap Step Ladder
Game 1 was between Boddy and Reynolds. Boddy giving away 24 pins in handicap. After the first game Reynolds had a 12 pin lead, But Boddy upped his game shooting a 257 handicap game and progressed to match 2. Next up for Boddy was Rathbone. Boddy was up in game 1 by 21 pins, and in game two both bowlers shot a 202 which meant that Boddy went through to the title match against local bowler Nads Mohammed. Mohammed had a big handicap advantage had bowled brilliantly all day, but his form deserted him in game 1 and he only shot a 126 which gave Boddy a first game lead of 40 pins. Mohammed's form returned for game 2 but he couldn't stop Boddy running the ladder and claiming the victory 447-466
Scratch Winner Peter Stevenson
Handicap Winner Michael Boddy
So thanks to Natalie Leigh and the Lancashire association for running this event and to the Sponsors B&P fabrications Leicester who boosted the prize fund, Bowling vision, PDQ Printing services and Striking shirts.
Results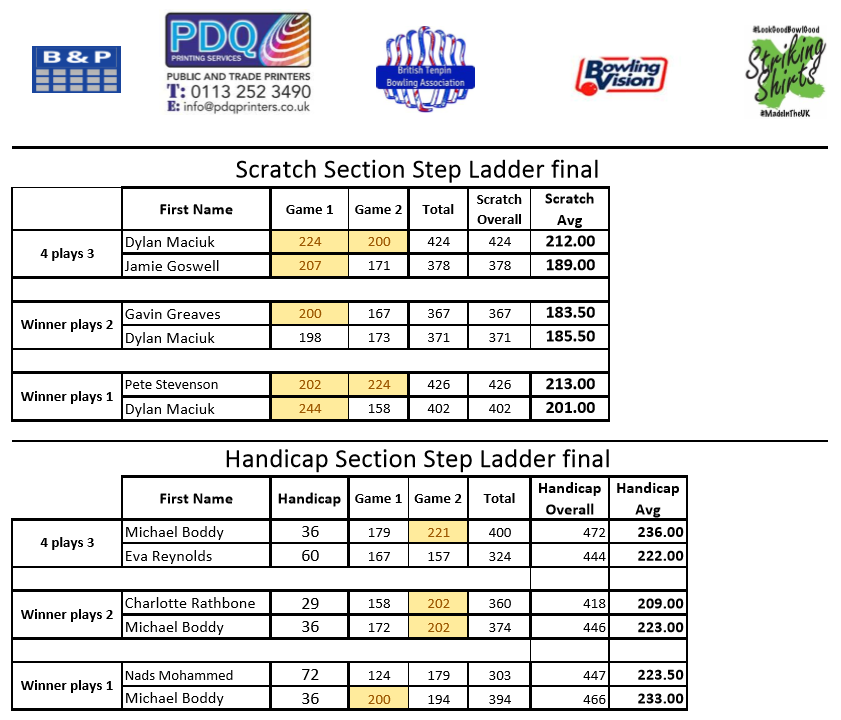 Download or view full results Here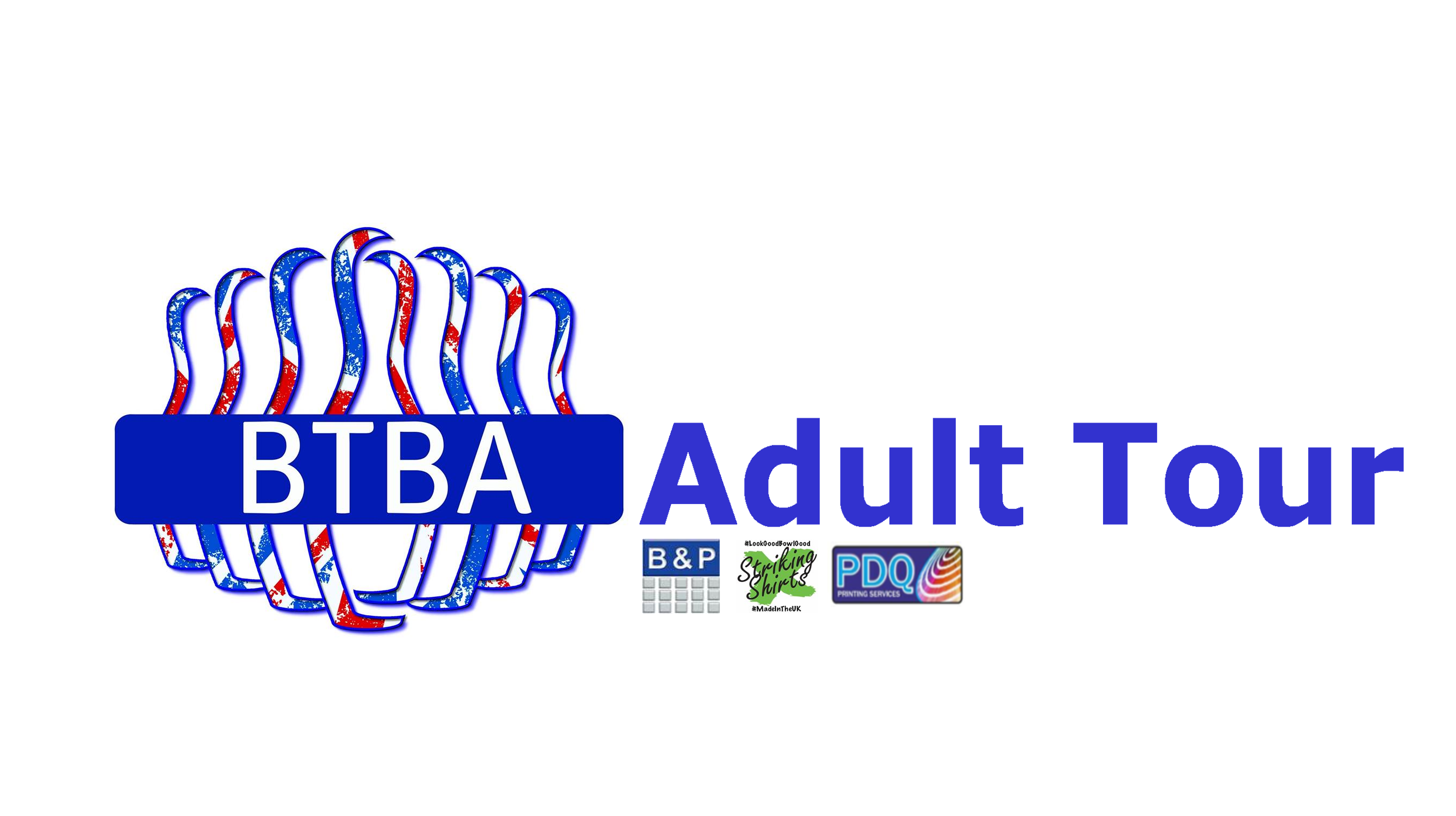 The next Stop on the BTBA tour is one for the Seniors – It's the Senior Nationals. This is a Major ranking event, with extra rankings points available.
An Online entry form can be found here https://form.jotformeu.com/90092736258361
Then Stop 5 for Seniors and Stop 4 for the Adults is the Jim Brewer Memorial scratch and handicap doubles at Poole on May 19th.
An online entry form can be found here https://form.jotformeu.com/90726330386357