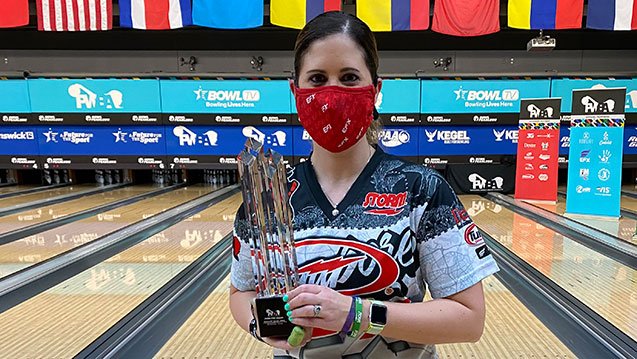 ARLINGTON, Texas – After almost five years, three heartbreaking runner-up finishes and a global pandemic, Bryanna Coté of Tucson, Arizona, found her way back to the winner's circle on the Professional Women's Bowling Association Tour.
Everything about the 34-year-old right-hander's journey to the trophy this week at the 2021 PWBA ITRC Classic was different than her breakthrough performance in 2016, except for the flood of emotions that came once the championship match concluded.
In a way, the teary-eyed Coté who stood at the microphone following her 244-238 win over Jillian Martin of Stow, Ohio, was the same young lady who had dreams of success on bowling's biggest stages. At the same time, the words she spoke came from an experienced veteran who had learned from every bit of adversity and disappointment since her last win.
The victory, broadcast live on BowlTV, was the second of Coté's career and earned her a $10,000 top prize. Her performance also denied Martin, a 16-year-old right-hander, the opportunity to become the youngest bowler in history to win a PWBA Tour event.
"Because it had been so long, it felt like the first time all over again," Coté said. "I was really nervous for that match, no matter who I was going to bowl, because everyone had bowled well, and the pattern (43 feet) was really high-scoring. I just wanted to stay slow and bowl my own game."
Three quick strikes helped the six-time Team USA member to an early advantage at the International Training and Research Center, while converting the challenging 2-4-5-8 combination in the fourth frame gave her a six-pin lead halfway through the game. Both players struck three consecutive times to set up a dramatic conclusion.
Though Martin failed to strike again in the ninth frame, she closed with three strikes to put Coté in a familiar position, one she had thought about when she strategically chose to finish on the right lane, a benefit of being the higher seed going into the match.
In her own final frame, Coté calmly delivered the mark and five pins she needed to clinch the title. She would have preferred to seal it with a strike, but the 10 pin on her first offering had other plans.
"I really was trying not to pay too much attention to the scores, but I knew I needed a mark," Coté said. "Of course, everyone wants to strike there, and I thought it was a decent shot, but maybe not as good as the few before it. I was glad to leave something makeable. I took some extra time to slow my process, and I visualized myself making it. Then, I did."
Being in that position, even being on that particular lane in that moment, were the result of her having matured as a player. She succeeded because she previously had failed.
At the 2019 PWBA Fountain Valley Open, her most recent bid for a second career title, a devastating 8 pin in a must-strike situation allowed Sweden's Sandra Andersson to escape with a one-pin victory. Coté lost in that moment, but it helped her win Saturday at the ITRC.
"At Fountain Valley, I learned about my shot-making ability under pressure, and throwing a shot like that went a long way toward eliminating any self-doubt," said Coté, who was the runner-up to Danielle McEwan in Fountain Valley in 2018 and again to eventual PWBA Player of the Year Shannon O'Keefe at the 2018 United States Bowling Congress Queens. "I've gained so much trust in my ability, and while that's just one example, it all helped with how I handled the situation tonight."
Coté's first title came at the 2016 PWBA Lexington Open, where she was the less-experienced player making her first TV appearance, so she was able to relate to what Martin likely was feeling on the lanes Saturday. On the way to that win, Coté defeated O'Keefe and USBC Hall of Famer Kelly Kulick.
Though Martin's first title match didn't end the same way, she said the experience was unforgettable. A win would've added her name to the record book just above hall of famer Wendy Macpherson, who won the U.S. Women's Open in 1986 at age 18.
"It was surreal," Martin said. "I probably won't process it for a while. It's so crazy. I put everything out there. In the end, I didn't come out with the win, but I'm very happy with my performance. I can't believe how far I made it."
To earn the meeting with Coté, Martin had to defeat two of the PWBA Tour's top competitors.
Martin kicked off the stepladder with her second win of the day against USBC Hall of Famer Liz Johnson of Niagara Falls, New York, this time sneaking by the 24-time PWBA Tour champion, 238-235.
Martin was able to build a lead with five consecutive strikes, starting in the fifth frame, and she stepped up in the 10th frame with a chance to shut out Johnson. Martin left a 10 pin on her first offering, spared it and knocked down nine pins to seal the win.
Earlier in the day during match play, Martin defeated Johnson 289-220. Martin also owns the highest game rolled this week at the ITRC, a 299 performance that came in match play during the season-opening Bowlers Journal Classic. A 4 pin ended her quest for the first perfect game of her career.
Martin's semifinal victory over two-time PWBA Tour champion Dasha Kovalova of Ukraine was a little less eventful. Two splits and a missed single pin were the undoing for Kovalova, while Martin struck six times on the way to a 227-185 victory.
"Just bowling against all the ladies was a crazy experience because they're people I've looked up to," Martin said. "It was definitely nerve-wracking, but to come out here and bowl against them has been amazing."
The ITRC Classic was the second event of the PWBA Kickoff Classic Series, which will feature three national tour stops and one regional event during its seven-day run at the ITRC, the home of Team USA.
This week's Kickoff Classic Series marks the first PWBA Tour competition since September 2019. The 2020 season was canceled due to COVID-19.
Competition at the ITRC resumes Sunday with the PWBA Arlington Regional. The eight-game qualifying round will begin at 3 p.m. Eastern, and the four-player stepladder finals will take place at 9 p.m. EST. All of the action will be shown live at BowlTV.com.
The final event of the Kickoff Classic Series, the PWBA Hall of Fame Classic, will get underway Monday at 11 a.m. Eastern. The unique format will include 24 head-to-head matches over two days, with total pinfall, plus bonus pins for each win, determining the five players for the championship round.
Competitors qualified for the Hall of Fame Classic based on their combined qualifying totals from the Bowlers Journal Classic and ITRC Classic (18 games), but all pins have been dropped heading into the final tournament.
All of the qualifying and match-play rounds at the Kickoff Classic Series are being broadcast live at BowlTV.com, free of charge to visitors who create a login for the site. The four events include formal stepladder finals, with a BowlTV subscription required for those who want to watch live.
Each event at the PWBA Kickoff Classic Series is being contested on a different lane condition.
The prize fund for each of the three national tour stops is $65,000, with $10,000 going to each champion.
The 2021 PWBA Tour season will feature 20 events, highlighted by the introduction of the Classic Series events and an increase in the season's overall prize fund by nearly $400,000.
To learn more about the PWBA Tour, visit PWBA.com.
About the PWBA
The Professional Women's Bowling Association (PWBA) originally was formed in 1960. The PWBA Tour has events throughout the country, offering high-level competition and top prize money for women bowlers. The PWBA is supported by the Bowling Proprietors' Association of America (BPAA) and the United States Bowling Congress (USBC).
Saturday's results
FINAL STANDINGS
1, Bryanna Coté, Tucson, Ariz., 244 (one game), $10,000
2, n-Jillian Martin, Stow, Ohio, 703 (three games), $5,000
3, Dasha Kovalova, Ukraine, 185 (one game), $3,500
4, Liz Johnson, Niagara Falls, N.Y., 235 (one game), $3,000
STEPLADDER RESULTS
Match No. 1 – Martin def. Johnson, 238-235
Semifinal – Martin def. Kovalova, 227-185
Championship – Coté def. Martin, 244-238
MATCH PLAY
(21 games, 30 bonus pins for a win, 15 bonus pins for a tie)
1, Bryanna Coté, Tucson, Ariz., 6-6-0, 5,134. 2, Dasha Kovalova, Ukraine, 9-3-0, 5,129. 3, Jillian Martin (n), Stow, Ohio, 7-4-1, 5,128. 4, Liz Johnson, Niagara Falls, N.Y., 4-8-0, 5,045.
DID NOT ADVANCE
5, Sandra Gongora, Mexico, 8-4-0, 5,033, $2,500. 6, Julia Bond, Aurora, Ill., 6-6-0, 4,953, $2,150. 7, Lindsay Boomershine, Perry, Utah, 5-7-0, 4,948, $2,125. 8, Shannon O'Keefe, Shiloh, Ill., 6-6-0, 4,941, $2,075. 9, Stefanie Johnson, McKinney, Texas, 5-7-0, 4,884, $2,000.
10, Caitlyn Johnson, Beaumont, Texas, 7-5-0, 4,881, $1,900. 11, Rocio Restrepo, Uniontown, Ohio, 5-6-1, 4,878, $1,850. 12, Taylor Bulthuis, Coral Springs, Fla., 3-9-0, 4,536, $1,800.