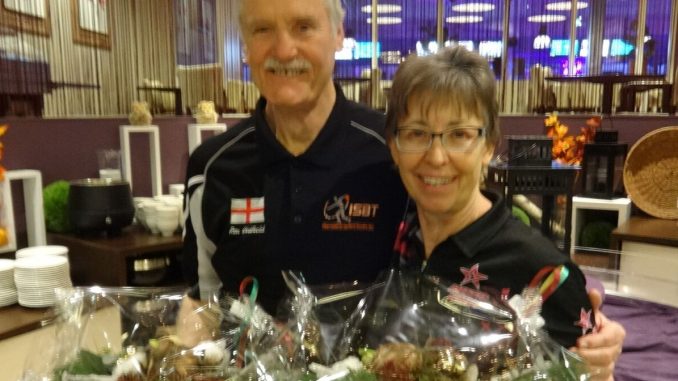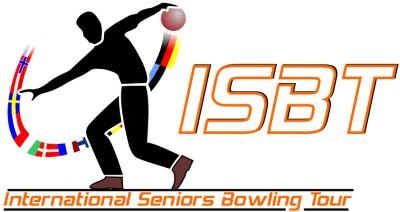 Bowling Goes, Goes, Netherlands
3rd to 8th December 2019
Champions: Martina Beckel and Ron Oldfield
The final stop on the 2019 ISBT tour was the Goes Senior Open, at Bowling Goes in the Netherlands, with 99 men and 35 women taking part.
The format for the tournament was a single 6 game qualifying block, with unlimited re-entries. For those not able to qualify this way, there were additional opportunities through Scratch scores and Turbo games. Age bonus started at age 51 (1 pin per game), then increased a pin for every additional year of age with no limit. As with all ISBT events, there was a separate division for ladies.
The tournament started with a single squad on Tuesday, led by bowlers from the Netherlands. Ben Van Denzel had 1325 in the men's section, with Farida Pascoal-Blom scoring 1180 in the ladies' section. Wednesday squads were also dominated by Netherlands bowlers, Peter Broekmans was first to top 1400 with 1404, with Claribel Muis being top lady with 1166.
There were two squads on Thursday, Jordi Roca Martinez from Belgium was top over the day with 1351, with Claribel Muis improving in the ladies' section with 1216.
Friday saw three more squads, and the leader was Steven Jeeves from England with 1482, just two pins ahead of Patrick Rolland from France. In the ladies' section, Angie Brown from England shot 1210 to slip into second place overall.
There were three final squads on Saturday, and in the first Uwe Tscharke from Germany hit 1540, a 249 scratch average to take the overall qualification lead. Behind him was Klaus-Uwe Lischka also from Germany with 1488. In the ladies' section, Martina Beckel from German scored 1308 to take the overall lead, just ahead of Jan Hodge from England with 1301.
In the second squad of the day, Englishmen Steve Carnall, Frank Lindsay and Mike Halliwell all found scores around 1400 to gain qualifying positions. Karin Lischka from Germany also booked a qualifying spot with 1263.
In the final qualifying squad, José Estevez from Spain almost scored a 300 game, but a single pin leave on his last ball resulted in a 299, and a 1543 qualifying block to take the overall lead. Harald Punessen and Frank Öing from Germany also booked their places in the finals with good blocks.
At the end of qualification, the men's leaderboard was led by José Estevez with 1543, ahead of Uwe Tscharke and Klaus-Uwe Lischka. The cut at 18th place was André Geelen from Belgium with 1381. These 18 would be joined by three Turbo and three Scratch qualifiers, making a total of 24 qualifiers. Martina Beckel led the women's section with 1308, ahead of Jan Hodge and Karin Lischka. The top six were joined by two more bowlers, one each from the Scratch, and Turbo lists. Qualifying had been dominated by the left-handed bowlers, with 8 of the top 10 qualifiers being left handed.
The finals started with the men bowling a three game block, starting from scratch. Again, the left side of the lane was the place to be, with Patrick Rolland, Uwe Tscharke, and José Estevez leading from this side of the lane. The cut at 16th place was Jack Edelaar from the Netherlands with 637.
Into the next round, and the right-handed players started to come into their own. Ron Oldfield from England was leader after six games with 1457, just a pin ahead of Steven Jeeves. These two had opened a substantial lead over the rest of the field. After this round, only eight players would remain, the cut falling to Hermann Wimmer from Germany with 1366.

The final round was a further three games, and Steven Jeeves started with a 274 game to open out a lead at the front. Game two was close between him and Ron Oldfield, but in the last game Steven Jeeves couldn't get a run of strikes going, and Ron Oldfield found two runs of strikes to win his 18th ISBT title by 29 pins over Steve Jeeves, who couldn't overcome the 198 pins difference in age bonus over the 9 games. José Estevez finished in third place.

In the ladies' section, the eight qualifiers also bowled a three game block. Liliane Vintens from Belgium was the strong leader after three games, with a 53 pin lead over the Martina Beckel in second place. Only four players would go forward, Farida Pascoal-Blom from the Netherlands was in fourth place with 579.
The three game final was played with pinfall carrying forward. After two games, Liliane Vintens still held a 23 pin lead, with Martina Beckel and Véronique Perniaux from Belgium being separated by 3 pins. In the final game, it was close right to the end, but a final run of strikes by Martina Beckel gave her the overall win ahead of Véronique Perniaux, with Liliane Vintens in third place. Martina Beckel's ISBT title count has now reached 16, just two behind all time leader Angie Brown.
The ISBT Masters rankings for 2019 were finalised after this tournament, and Hermann Wimmer finished top of the men's division for the fourth successive year, ahead of Roger Pieters and Georgio Desimio. In the ladies' division, Angie Brown finished top, ahead of Martina Beckel and Liliane Vintens. The top 32 men and 12 ladies will be invited to compete in the Masters competition, which will be held in Moussey-Le-Neuf, France on 17th August 2020.
The ISBT tour will resume in 2020 for the French Brunswick Senior Open, which takes place from the 11th to 16th February 2020 at Van Gogh Bowling in Villeneuve D'Ascq, France. Full details are available at the ISBT web site, http://www.isbtbowlingtour.eu/
View full results here