Champions: Jan Hodge and Ron Oldfield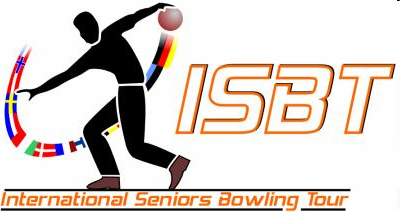 The eleventh stop on the 2018 ISBT tour was a return to the popular venue of Euro Bowling in Deurne, Belgium, which attracted an entry of 67 men and 17 women. The format for the tournament was a single 6 game qualifying block, with unlimited re-entries. For those not able to qualify through the main leader board, there were additional opportunities through Turbo games, Scratch scores and a Desperado squad. Age bonus started at age 51 (1 pin per game), then increased a pin for every additional year of age with no limit. As with all ISBT events, there was a separate division for ladies.
Qualification squads ran from Thursday to Saturday, with two squads on the opening day. John Bosch from Netherlands led the first day with a total of 1456 including age bonus, ahead of Paul Cosgrove from England. Liliane Vintens led the ladies' section with 1319, ahead of Farida Pascoal-Blom from the Netherlands.
The second day saw a huge score of 1515 from Belgium's Gery Verbruggen, a 250 scratch average. Behind him were good scores from two UK bowlers, Ron Oldfield with 1471, and one pin behind Alan Keddie. Liliane Vintens was again top lady but did not improve her previous block score.
There were four squads on the final day of qualification. In the first, Uwe Tscharke led with 1412, ahead of fellow German Martina Beckel, whose 1369 block put her firmly at the top of the ladies leaderboard. In the second squad, Ron Oldfield led with a slightly higher block of 1482, while Jan Hodge from England booked her finals place with a solid 1322 block. Helmut Ulber from Germany easily took the third squad with 1513.
The final squad saw local bowler Herman Pellegroms from Belgium take top honours with 1378, while defending champion Angie Brown from England found a 1232 block to take the final ladies' qualification place.
At the end of qualification, Gery Verbruggen was top qualifier with 1515, ahead of Helmut Ulber, Ron Oldfield and Alan Keddie. These four would miss the first final round. The cut for the finals in 20th place was Serge Van Mechelen from Belgium with 1377 Joining the top twenty would be three Scratch, three Turbo, and two Desperado qualifiers.
In the women's rankings, Martina Beckel was clearly top with 1369, ahead of Jan Hodge, Liliane Vintens, Farida Pascoal-Blom and Angie Brown. These five would go forward to the finals, joined by one Scratch, one Turbo, and one Desperado qualifier.
10 men and 2 ladies took part in the Desperado competition. Robert Vallons and Paul Lamon, both from Belgium, gained the last qualification places, along with Anna Yang from the Netherlands.
Early on Sunday morning, 24 men played a four game block, the top 12 would progress to the later rounds. Roger Pieters led with 1001, ahead of fellow Belgian player André Geelen. John Bosch was the twelfth and final qualifier, he had tied with Frank Lindsay from England, but progressed through having the highest scratch total.
The sixteen bowlers were now split into four groups of four. Each group played a two game block, with the lowest player eliminated after each block until only one player remained in each block. After some close matches, the four finalists were Roger Pieters, Herman Pellegroms, Ron Oldfield and Hermann Wimmer from Germany. The final would be decided in a stepladder format.
In the first match, Ron Oldfield had a close win over Roger Pieters, then easily defeated Herman Pellegroms. In the final match, Hermann Wimmer couldn't find strikes, leaving Ron Oldfield to coast to an easy win 240-195, for his 16th ISBT title.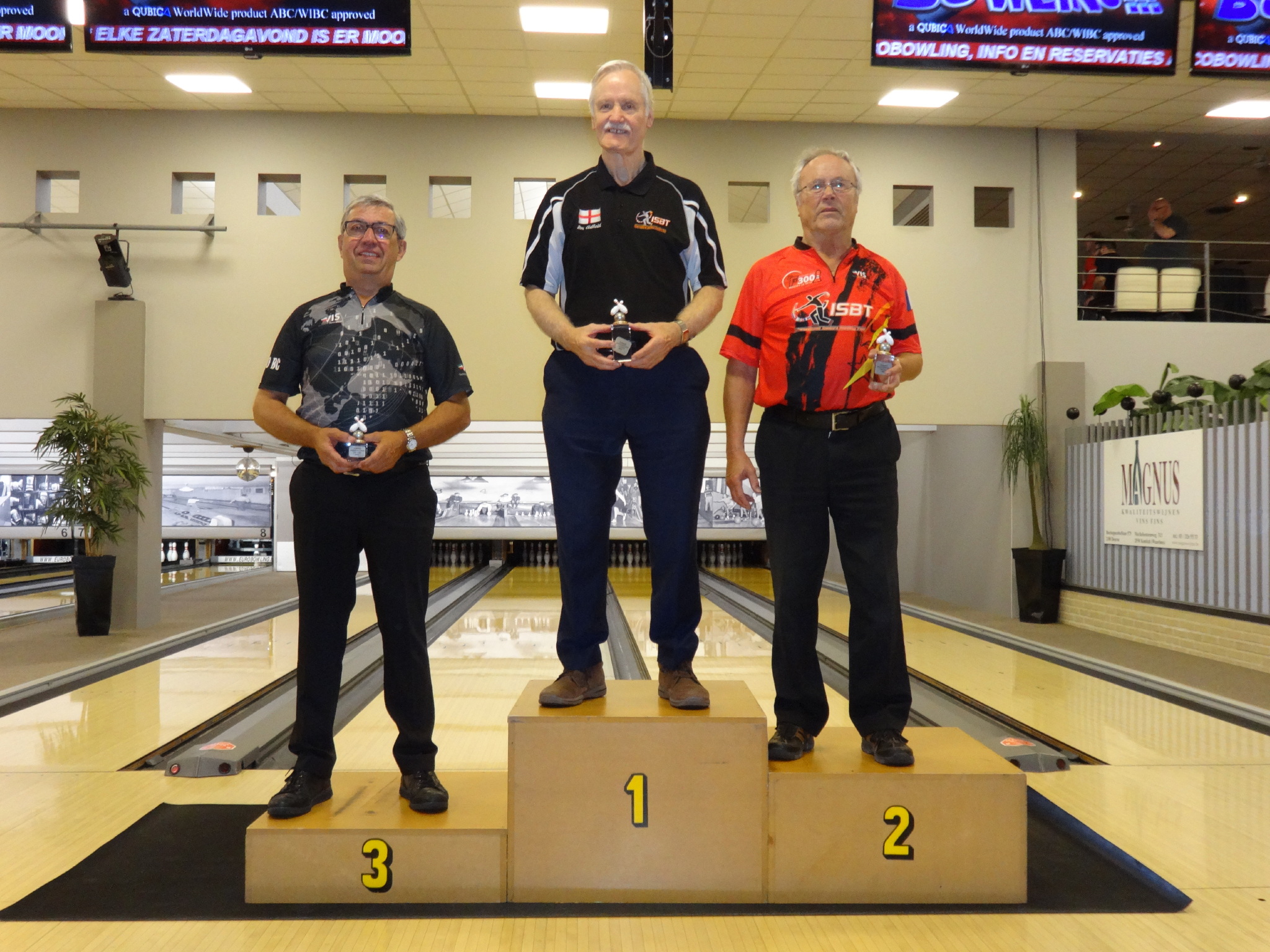 In the ladies' section, the format was two groups of four, with the lowest player being eliminated after each two game block. The four players to make the stepladder final were Jan Hodge, Martina Beckel, Liliane Vintens, and Farida Pascoal-Blom.
Liliane Vintens had an easy win in the first match against Farida Pascoal-Blom, then lost a close second match to Martina Beckel. The final match against Jan Hodge started with both players failing to make spares in the first frame. Neither player could strike freely, but Jan Hodge did enough to take a great win over Martina Beckel 192-179 for her first ISBT title.
The final stop for 2018 is the Zeeland Senior Open, which takes place at Bowling Goes in the Netherlands. The tournament runs from the 6th to 9th December. Full details are available at the ISBT web site, http://www.isbtbowlingtour.eu/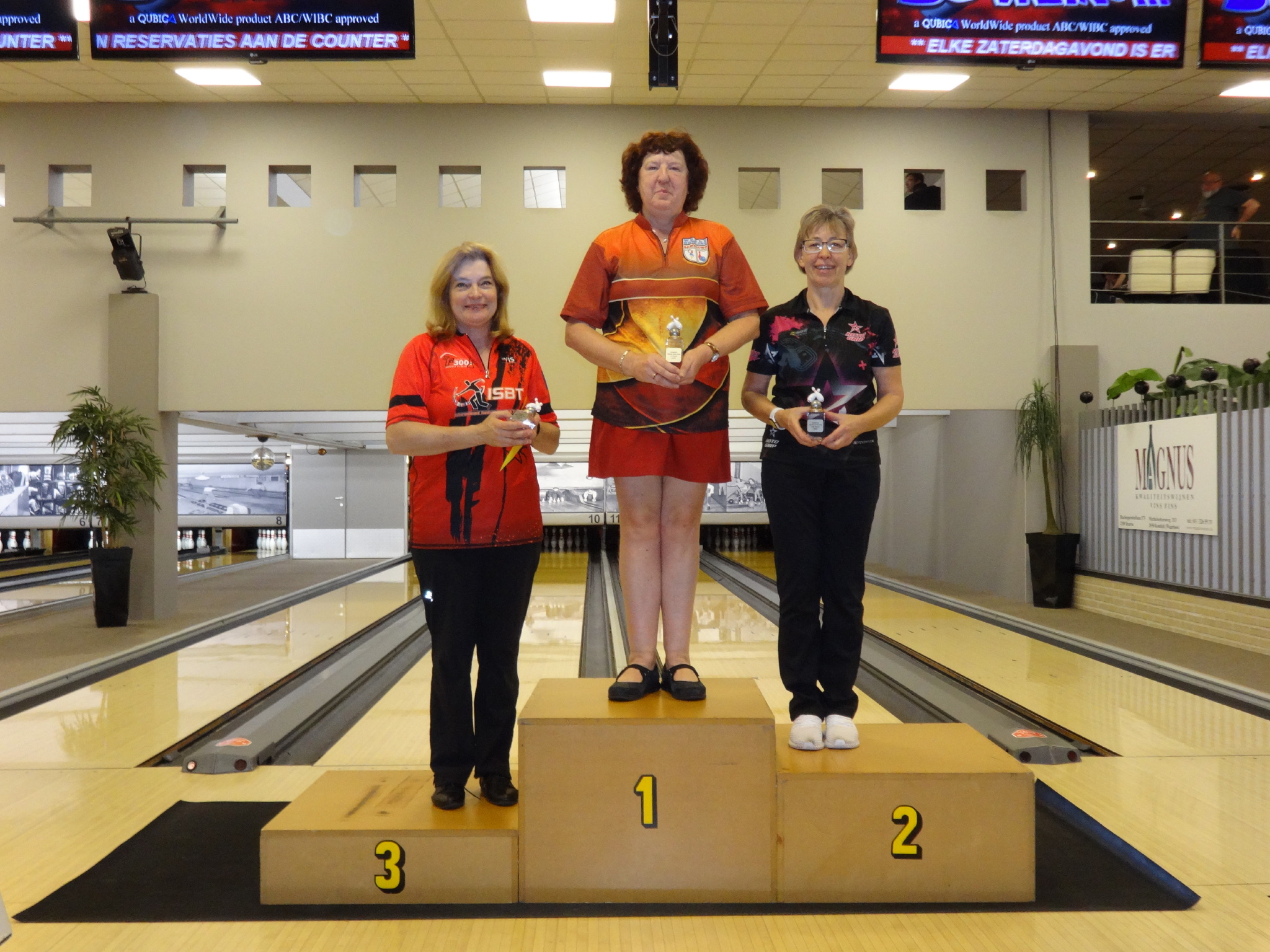 Results
Ladies
Stepladder Final
Pos
Name
 
Age Bonus
Scratch
Total
Total
Liliane Vintens
BE
11
202
213
4th
Farida Pascoal-Blom
NL
23
147
170
Martina Beckel
DE
9
206
215
3rd
Liliane Vintens
BE
11
192
203
1st
Jan Hodge
UK
13
179
192
2nd
Martina Beckel
DE
9
170
179
Final Round 2
Pos
Name
 
Age Bonus
Game 1
Game 2
Scratch
Total
Total
Average
1
Martina Beckel
DE
9
195
235
430
448
215.0
2
Farida Pascoal-Blom
NL
23
186
179
365
411
182.5
3
Angie Brown
UK
10
193
176
369
389
184.5
1
Jan Hodge
UK
13
212
204
416
442
208.0
2
Liliane Vintens
BE
11
171
206
377
399
188.5
3
Bianca Völkl-Brandt
DE
3
199
169
368
374
184.0
Final Round 1
Pos
Name
 
Age Bonus
Game 1
Game 2
Scratch
Total
Total
Average
1
Angie Brown
UK
10
205
216
421
441
210.5
2
Martina Beckel
DE
9
224
191
415
433
207.5
3
Farida Pascoal-Blom
NL
23
180
190
370
416
185.0
4
Anna Yang
NL
9
218
165
383
401
191.5
1
Jan Hodge
UK
13
211
204
415
441
207.5
2
Bianca Völkl-Brandt
DE
3
198
216
414
420
207.0
3
Liliane Vintens
BE
11
181
208
389
411
194.5
4
Daniele Guigon
FR
11
180
171
351
373
175.5
Qualifying
| | | | | | | | | | | | | |
| --- | --- | --- | --- | --- | --- | --- | --- | --- | --- | --- | --- | --- |
| Pos | Name |   | Age Bonus | Game 1 | Game 2 | Game 3 | Game 4 | Game 5 | Game 6 | Scratch | Total | Average |
| 1 | Martina Beckel | DE | 9 | 257 | 184 | 181 | 252 | 225 | 216 | 1315 | 1369 | 219.2 |
| 2 | Jan Hodge | UK | 13 | 166 | 230 | 208 | 245 | 170 | 225 | 1244 | 1322 | 207.3 |
| 3 | Liliane Vintens | BE | 11 | 215 | 213 | 219 | 226 | 216 | 164 | 1253 | 1319 | 208.8 |
| 4 | Farida Pascoal-Blom | NL | 23 | 154 | 190 | 214 | 178 | 233 | 170 | 1139 | 1277 | 189.8 |
| 5 | Angie Brown | UK | 10 | 177 | 182 | 214 | 201 | 199 | 199 | 1172 | 1232 | 195.3 |
| 6 | Daniele Guigon | FR | 11 | 243 | 183 | 183 | 163 | 184 | 193 | 1149 | 1215 | 191.5 |
| 7 | Marja Van Dijk-Uittenbogaard | NL | 7 | 185 | 202 | 211 | 237 | 155 | 182 | 1172 | 1214 | 195.3 |
| 8 | Bianca Völkl-Brandt | DE | 3 | 197 | 192 | 168 | 245 | 202 | 178 | 1182 | 1200 | 197.0 |
| 9 | Claribel Muis | NL | 10 | 228 | 148 | 192 | 212 | 149 | 194 | 1123 | 1183 | 187.2 |
| 10 | Inge Hazeleger | NL | 4 | 158 | 192 | 179 | 182 | 219 | 213 | 1143 | 1167 | 190.5 |
| 11 | Anna Yang | NL | 9 | 203 | 172 | 181 | 165 | 164 | 198 | 1083 | 1137 | 180.5 |
| 12 | Marian Verhoef | NL | 13 | 172 | 199 | 182 | 181 | 181 | 124 | 1039 | 1117 | 173.2 |
| 13 | Sabine Magam | BE | 9 | 185 | 138 | 169 | 188 | 164 | 179 | 1023 | 1077 | 170.5 |
| 14 | Uschi Diekhoff | DE | 17 | 153 | 171 | 155 | 137 | 137 | 210 | 963 | 1065 | 160.5 |
| 15 | Ruth Stander | UK | 34 | 135 | 153 | 119 | 139 | 153 | 143 | 842 | 1046 | 140.3 |
| 16 | Wilma Di Giorno | NL | 7 | 152 | 203 | 140 | 112 | 158 | 154 | 919 | 961 | 153.2 |
| 17 | Henny Van Der Jagt | NL | 23 | 148 | 137 | 171 | 134 | 124 | 106 | 820 | 958 | 136.7 |
Men

Stepladder Final
Pos
Name
 
Age Bonus
Scratch
Total
Total
Ron Oldfield
UK
27
228
255
4th
Roger Pieters
BE
19
226
245
Ron Oldfield
UK
27
193
220
3rd
Herman Pellegroms
BE
13
169
182
1st
Ron Oldfield
UK
27
213
240
2nd
Hermann Wimmer
DE
25
170
195
Final Round 4
Pos
Name
 
Age Bonus
Game 1
Game 2
Scratch
Total
Total
Average
1
Hermann Wimmer
DE
25
169
197
366
416
183.0
2
Gery Verbruggen
BE
2
168
201
369
373
184.5
1
Herman Pellegroms
BE
13
225
225
450
476
225.0
2
Alan Jenkins
UK
27
192
184
376
430
188.0
1
Ronald Oldfield
UK
27
206
162
368
422
184.0
2
Serge Van Mechelen
BE
0
225
193
418
418
209.0
1
Roger Pieters
BE
19
237
192
429
467
214.5
2
Arthur Dähn
DE
17
158
162
320
354
160.0
Final Round 3
Pos
Name
 
Age Bonus
Game 1
Game 2
Scratch
Total
Total
Average
1
Gery Verbruggen
BE
2
226
247
473
477
236.5
2
Hermann Wimmer
DE
25
204
213
417
467
208.5
3
John Bosch
NL
14
199
210
409
437
204.5
1
Herman Pellegroms
BE
13
258
259
517
543
258.5
2
Alan Jenkins
UK
27
184
226
410
464
205.0
3
Harald Punessen
DE
5
183
192
375
385
187.5
3
Ronald Oldfield
UK
27
226
208
434
488
217.0
2
Serge Van Mechelen
BE
0
213
243
456
456
228.0
1
André Geelen
BE
22
213
192
405
449
202.5
3
Roger Pieters
BE
19
215
216
431
469
215.5
1
Arthur Dähn
DE
17
207
211
418
452
209.0
2
Alan Keddie
UK
7
204
219
423
437
211.5
Final Round 2
Pos
Name
 
Age Bonus
Game 1
Game 2
Scratch
Total
Total
Average
1
Hermann Wimmer
DE
25
256
265
521
571
260.5
2
Gery Verbruggen
BE
2
267
279
546
550
273.0
3
John Bosch
NL
14
222
228
450
478
225.0
4
Uwe Tscharke
DE
6
232
226
458
470
229.0
1
Harald Punessen
DE
5
299
224
523
533
261.5
2
Alan Jenkins
UK
27
246
227
473
527
236.5
3
Herman Pellegroms
BE
13
186
202
388
414
194.0
4
Helmut Ulber
DE
19
183
183
366
404
183.0
1
Ronald Oldfield
UK
27
196
248
444
498
222.0
2
André Geelen
BE
22
192
218
410
454
205.0
3
Serge Van Mechelen
BE
0
227
214
441
441
220.5
4
Mo Singleton
UK
24
183
182
365
413
182.5
1
Roger Pieters
BE
19
216
195
411
449
205.5
2
Alan Keddie
UK
7
205
228
433
447
216.5
3
Arthur Dähn
DE
17
192
217
409
443
204.5
4
Giorgio Desimio
BE
18
202
198
400
436
200.0
Final Round 1
Pos
Name
 
Age Bonus
Game 1
Game 2
Game 3
Game 4
Scratch
Total
Total
Average
1
Roger Pieters
BE
19
237
255
208
225
925
1001
231.3
2
André Geelen
BE
22
224
222
244
212
902
990
225.5
3
Alan Jenkins
UK
27
193
247
211
191
842
950
210.5
4
Uwe Tscharke
DE
6
246
246
245
184
921
945
230.3
5
Hermann Wimmer
DE
25
205
191
217
226
839
939
209.8
6
Harald Punessen
DE
5
216
233
224
226
899
919
224.8
7
Mo Singleton
UK
24
159
241
223
198
821
917
205.3
8
Arthur Dähn
DE
17
205
207
210
226
848
916
212.0
9
Giorgio Desimio
BE
18
174
210
208
247
839
911
209.8
10
Serge Van Mechelen
BE
0
256
180
269
194
899
899
224.8
11
Herman Pellegroms
BE
13
239
195
223
190
847
899
211.8
12
John Bosch
NL
14
214
209
193
225
841
897
210.3
13
Frank Lindsay
UK
18
208
190
205
222
825
897
206.3
14
Owe Herrmann
NO
18
203
159
181
270
813
885
203.3
15
Marc Franceus
BE
3
234
203
203
221
861
873
215.3
16
Mike Halliwell
UK
11
245
173
183
213
814
858
203.5
17
Jeff Taylor
UK
10
202
173
213
229
817
857
204.3
18
Robert Vallons
BE
12
191
213
180
206
790
838
197.5
19
Henry Van Steenis
NL
11
190
202
203
197
792
836
198.0
20
Frank Stander
UK
38
159
138
160
193
650
802
162.5
21
Mick Ince
UK
18
180
162
173
212
727
799
181.8
22
Paul Lamon
BE
14
165
197
174
203
739
795
184.8
23
Valentin Fatu
RO
6
221
193
168
173
755
779
188.8
24
Paul Cosgrove
UK
1
227
196
159
157
739
743
184.8
Qualifying
| | | | | | | | | | | | | |
| --- | --- | --- | --- | --- | --- | --- | --- | --- | --- | --- | --- | --- |
| Pos | Name |   | Age Bonus | Game 1 | Game 2 | Game 3 | Game 4 | Game 5 | Game 6 | Scratch | Total | Average |
| 1 | Gery Verbruggen | BE | 2 | 257 | 279 | 255 | 206 | 249 | 257 | 1503 | 1515 | 250.5 |
| 2 | Helmut Ulber | DE | 19 | 216 | 216 | 257 | 217 | 214 | 279 | 1399 | 1513 | 233.2 |
| 3 | Ronald Oldfield | UK | 27 | 215 | 205 | 215 | 244 | 216 | 225 | 1320 | 1482 | 220.0 |
| 4 | Alan Keddie | UK | 7 | 214 | 245 | 227 | 278 | 259 | 205 | 1428 | 1470 | 238.0 |
| 5 | Mike Halliwell | UK | 11 | 226 | 214 | 254 | 257 | 224 | 224 | 1399 | 1465 | 233.2 |
| 6 | John Bosch | NL | 14 | 243 | 178 | 222 | 226 | 244 | 259 | 1372 | 1456 | 228.7 |
| 7 | Owe Herrmann | NO | 18 | 224 | 194 | 235 | 204 | 248 | 237 | 1342 | 1450 | 223.7 |
| 8 | Marc Franceus | BE | 3 | 223 | 219 | 258 | 244 | 258 | 224 | 1426 | 1444 | 237.7 |
| 9 | Arthur Dähn | DE | 17 | 228 | 263 | 186 | 233 | 183 | 245 | 1338 | 1440 | 223.0 |
| 10 | Alan Jenkins | UK | 27 | 192 | 216 | 207 | 259 | 187 | 200 | 1261 | 1423 | 210.2 |
| 11 | Frank Stander | UK | 38 | 217 | 161 | 202 | 202 | 247 | 166 | 1195 | 1423 | 199.2 |
| 12 | Frank Lindsay | UK | 18 | 205 | 202 | 223 | 226 | 212 | 246 | 1314 | 1422 | 219.0 |
| 13 | Mo Singleton | UK | 24 | 172 | 236 | 188 | 240 | 247 | 193 | 1276 | 1420 | 212.7 |
| 14 | Paul Cosgrove | UK | 1 | 200 | 213 | 279 | 237 | 248 | 236 | 1413 | 1419 | 235.5 |
| 15 | Roger Pieters | BE | 19 | 202 | 214 | 244 | 221 | 224 | 196 | 1301 | 1415 | 216.8 |
| 16 | Hermann Wimmer | DE | 25 | 233 | 187 | 203 | 204 | 233 | 205 | 1265 | 1415 | 210.8 |
| 17 | Uwe Tscharke | DE | 6 | 180 | 257 | 233 | 244 | 257 | 205 | 1376 | 1412 | 229.3 |
| 18 | Herman Pellegroms | BE | 13 | 193 | 184 | 258 | 259 | 214 | 216 | 1324 | 1402 | 220.7 |
| 19 | André Geelen | BE | 22 | 216 | 235 | 194 | 235 | 194 | 178 | 1252 | 1384 | 208.7 |
| 20 | Serge Van Mechelen | BE | 0 | 224 | 234 | 226 | 235 | 248 | 210 | 1377 | 1377 | 229.5 |
| 21 | Henry Van Steenis | NL | 11 | 245 | 182 | 206 | 197 | 220 | 259 | 1309 | 1375 | 218.2 |
| 22 | Giorgio Desimio | BE | 18 | 196 | 193 | 263 | 187 | 224 | 200 | 1263 | 1371 | 210.5 |
| 23 | Harald Punessen | DE | 5 | 212 | 239 | 223 | 212 | 228 | 224 | 1338 | 1368 | 223.0 |
| 24 | Valentin Fatu | RO | 6 | 244 | 235 | 242 | 246 | 210 | 152 | 1329 | 1365 | 221.5 |
| 25 | Bruno Schmitt | FR | 12 | 214 | 194 | 191 | 244 | 237 | 199 | 1279 | 1351 | 213.2 |
| 26 | Les Grant | UK | 24 | 191 | 152 | 234 | 171 | 203 | 250 | 1201 | 1345 | 200.2 |
| 27 | Auke Broekhuizen | NL | 7 | 236 | 201 | 216 | 202 | 206 | 236 | 1297 | 1339 | 216.2 |
| 28 | Steve Coates | UK | 7 | 207 | 206 | 224 | 223 | 234 | 201 | 1295 | 1337 | 215.8 |
| 29 | Jeff Taylor | UK | 10 | 223 | 153 | 244 | 234 | 218 | 199 | 1271 | 1331 | 211.8 |
| 30 | Chris Ellis | UK | 9 | 187 | 235 | 191 | 177 | 257 | 213 | 1260 | 1314 | 210.0 |
| 31 | Alfred Metz | DE | 10 | 213 | 227 | 192 | 195 | 222 | 204 | 1253 | 1313 | 208.8 |
| 32 | Robert Vallons | BE | 12 | 174 | 238 | 180 | 213 | 207 | 229 | 1241 | 1313 | 206.8 |
| 33 | Marin Jean | FR | 6 | 214 | 226 | 211 | 199 | 205 | 218 | 1273 | 1309 | 212.2 |
| 34 | Erwin Groen | NL | 7 | 219 | 226 | 212 | 196 | 186 | 227 | 1266 | 1308 | 211.0 |
| 35 | Mick Ince | UK | 18 | 137 | 256 | 190 | 215 | 214 | 180 | 1192 | 1300 | 198.7 |
| 36 | Swa Apers | BE | 31 | 210 | 169 | 169 | 194 | 194 | 168 | 1104 | 1290 | 184.0 |
| 37 | Gunnar Trouillard | BE | 9 | 196 | 203 | 225 | 220 | 187 | 198 | 1229 | 1283 | 204.8 |
| 38 | Dominique Brosens | BE | 9 | 159 | 247 | 196 | 183 | 225 | 215 | 1225 | 1279 | 204.2 |
| 39 | Keith Hodge | UK | 20 | 236 | 200 | 139 | 180 | 207 | 195 | 1157 | 1277 | 192.8 |
| 40 | Rene Gooyers | NL | 14 | 169 | 245 | 209 | 180 | 215 | 171 | 1189 | 1273 | 198.2 |
| 41 | Douglas Sinclair | UK | 23 | 214 | 187 | 154 | 180 | 178 | 221 | 1134 | 1272 | 189.0 |
| 42 | Ron Van Den Bogaard | NL | 6 | 226 | 149 | 217 | 210 | 235 | 192 | 1229 | 1265 | 204.8 |
| 43 | Freddy Schijf | NL | 7 | 171 | 238 | 194 | 212 | 208 | 193 | 1216 | 1258 | 202.7 |
| 44 | Peter Knopp | DE | 8 | 165 | 245 | 205 | 216 | 200 | 178 | 1209 | 1257 | 201.5 |
| 45 | Yves Delafonteyne | BE | 4 | 192 | 214 | 199 | 199 | 202 | 225 | 1231 | 1255 | 205.2 |
| 46 | Pierre Prou | FR | 19 | 195 | 172 | 146 | 214 | 220 | 190 | 1137 | 1251 | 189.5 |
| 47 | Steve Wright | UK | 18 | 235 | 184 | 172 | 184 | 200 | 167 | 1142 | 1250 | 190.3 |
| 48 | Greg Jerome | UK | 12 | 224 | 236 | 188 | 192 | 156 | 175 | 1171 | 1243 | 195.2 |
| 49 | Jürgen Louia-Kretz | DE | 2 | 236 | 194 | 194 | 257 | 203 | 138 | 1222 | 1234 | 203.7 |
| 50 | Guy Latry | BE | 24 | 171 | 193 | 183 | 192 | 164 | 184 | 1087 | 1231 | 181.2 |
| 51 | Jurgen Laermans | BE | 3 | 185 | 231 | 182 | 203 | 218 | 191 | 1210 | 1228 | 201.7 |
| 52 | Ben Van Denzel | NL | 10 | 215 | 176 | 228 | 148 | 197 | 203 | 1167 | 1227 | 194.5 |
| 53 | Norbert Rondelez | BE | 10 | 190 | 200 | 197 | 202 | 161 | 209 | 1159 | 1219 | 193.2 |
| 54 | Louis Hendriks | NL | 3 | 182 | 183 | 201 | 215 | 214 | 204 | 1199 | 1217 | 199.8 |
| 55 | Paul Newton | UK | 21 | 190 | 179 | 185 | 175 | 172 | 178 | 1079 | 1205 | 179.8 |
| 56 | Jochen Diekhoff | DE | 19 | 139 | 189 | 188 | 196 | 213 | 157 | 1082 | 1196 | 180.3 |
| 57 | Dave Goodwin | UK | 18 | 210 | 179 | 200 | 168 | 158 | 165 | 1080 | 1188 | 180.0 |
| 58 | Ivan Burian | CZ | 6 | 173 | 214 | 195 | 180 | 184 | 204 | 1150 | 1186 | 191.7 |
| 59 | Gino Di Giorno | NL | 14 | 180 | 179 | 181 | 191 | 166 | 187 | 1084 | 1168 | 180.7 |
| 60 | Hans Bakker | NL | 19 | 196 | 195 | 168 | 158 | 164 | 170 | 1051 | 1165 | 175.2 |
| 61 | Paul Lamon | BE | 14 | 182 | 166 | 188 | 175 | 170 | 190 | 1071 | 1155 | 178.5 |
| 62 | Ad Van Der Jagt | NL | 22 | 180 | 180 | 211 | 163 | 142 | 146 | 1022 | 1154 | 170.3 |
| 63 | Michel Ligier | FR | 13 | 175 | 157 | 187 | 197 | 153 | 205 | 1074 | 1152 | 179.0 |
| 64 | Danny Maes | BE | 11 | 165 | 166 | 192 | 148 | 176 | 210 | 1057 | 1123 | 176.2 |
| 65 | Marc Van Wuytswin | BE | 10 | 173 | 203 | 178 | 191 | 191 | 126 | 1062 | 1122 | 177.0 |
| 66 | Wilbert Anthonisee | NL | 2 | 161 | 140 | 184 | 198 | 169 | 174 | 1026 | 1038 | 171.0 |
| 67 | Jens Muth | DE | 7 | 213 | 238 | 169 | 191 | 0 | 0 | 811 | 853 | 135.2 |
Copyright Talk Tenpin 2006-2017 | Talk Tenpin is published by Aspire Web Media Ltd. Registered in England & Wales 6923950