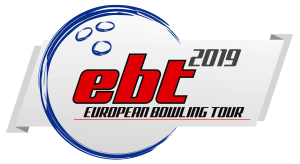 This year we have newcomers as winners of the EBT.  On the women's division we had Anna Andersson from Sweden winning the tour with 688 points, well in front of a well-known athlete, Jenny Wegner, Sweden with 537 points, Anna had already secured the win, and did not participate in the last stop of the tour in Aalborg.  3rd place was Mai Ginge Jensen from Denmark.
The leader of the men's division of the tour, Arnar David Jonsson, had won one EBT title in Odense in 2018, but this year decided to participate full force, and the results were 2 EBT titles, in Track Open in Munich, and in the last stop in Aalborg.  Arnar got 670 points in total, in front of Adam Andersson, Sweden with 579 points and 3rd place Kim Bolleby, Thailand with 454 points.
We are congratulating the two tour winners, who each will be awarded 1.000 € for their victories of their division in the European Bowling Tour 2019.
Click here to see the final ranking in the 2019 Women's Division
Click here to see the final ranking in the 2019 Men's Division