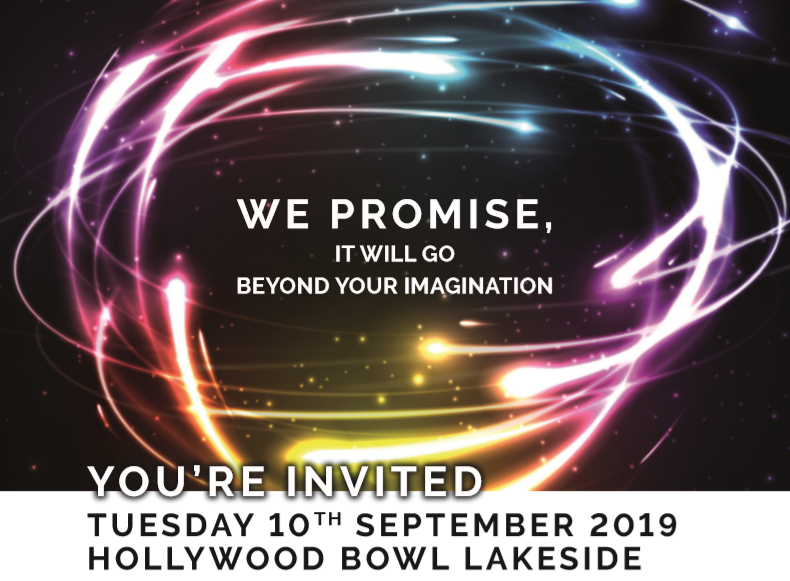 We got an invite from QubicaAMF which said "We promise, it will go beyond your imagination". Location – Thurrock, England or to be more exact, at two locations of The Vue Cinema and Hollywood bowl both in the Intu Lakeside Shopping centre.
Just off the M25 near the Dartford Tunnel the Lakeside site was constructed from a former chalk quarry and opened in 1990 by Princess Alexandra. Now having learned that afterwards you could not say this was a 1990's mall. Far from it, later updates over the years including a 30 million renovation and a new Boardwalk in 2007 and today even after a recession looks very new.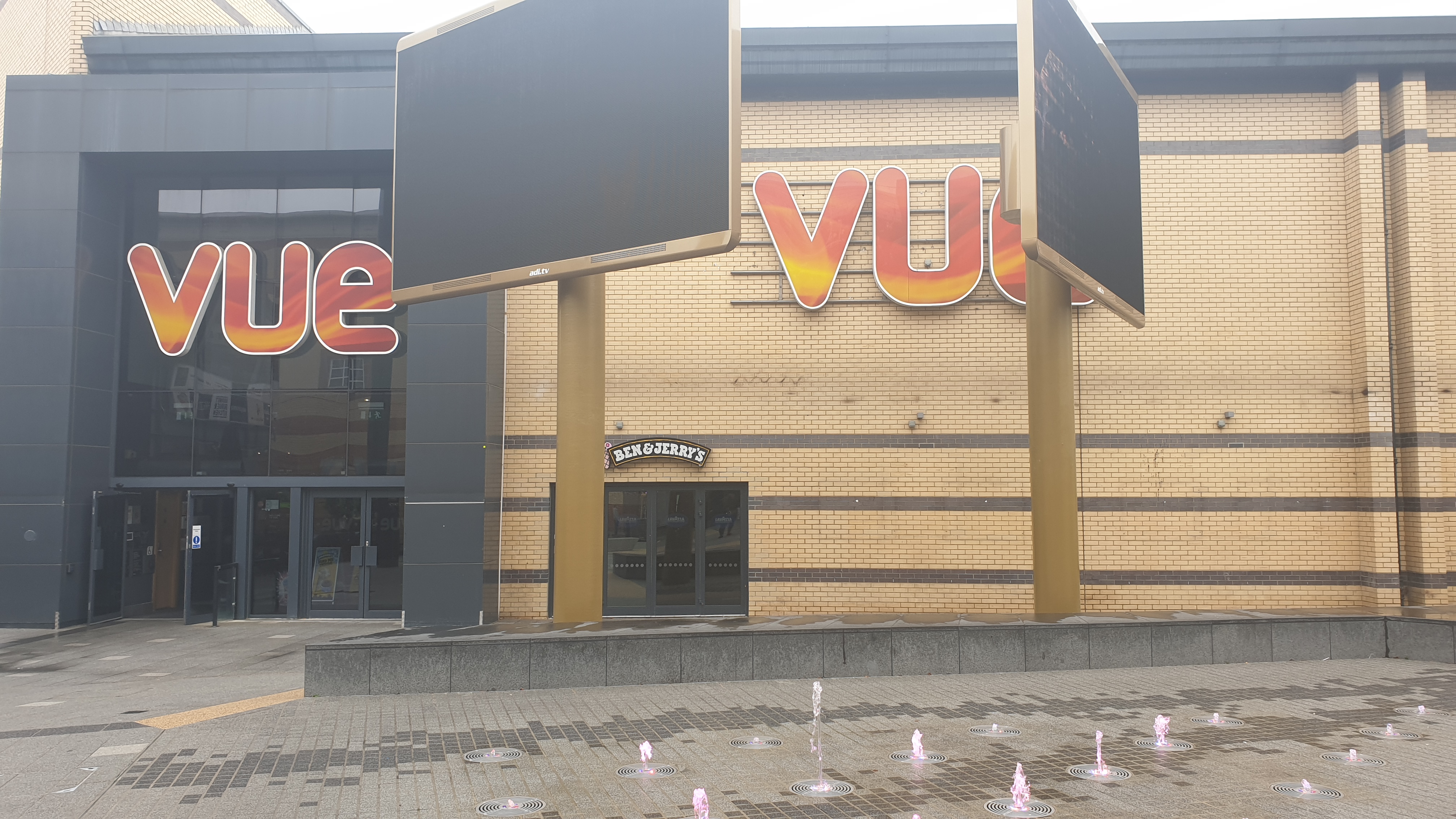 Lots of car parking and all the usual top shops and restaurants make lakeside a nice place to hang out. Taking the walk along the boardwalk by the lake to the Vue Cinema was the first port of call for this visit.
Bumping into QubicaAMF's Gerard Barrett outside I was able to catch up with what he had been up to. Gerry does all the installations and tech work and forever traveling, he was to confirm the company was very busy as new and existing customers loved the new innovations. This tied nicely into the days showing of products.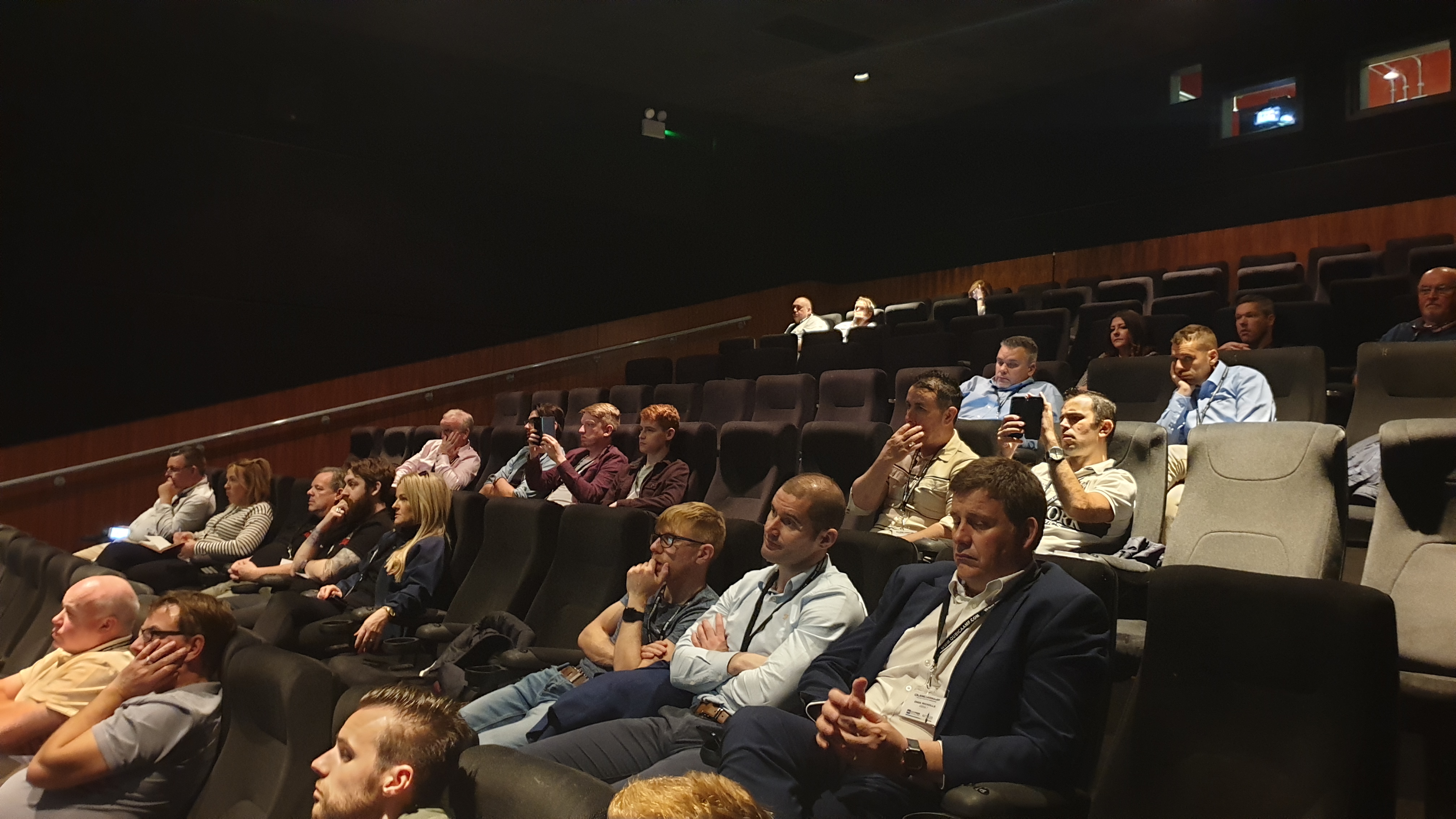 For the first time QubicaAMF used a cinema to present and I have to say it hands down beats sitting in a conference room or bowling centre room. The Vue is a great place for movies and actually the one I use myself in my area due to the better prices. Sitting right at the back I had a full view of the proceedings which started at 10.30am when QubicaAMF UK Business Manager John Emmett welcomed the visitors and introduced our first presenter.
Guests included new and existing customers, some who already had some of the leading QubicaAMF products and some new to the innovations. Having seen and played on Hyperbowling before I knew all about it's capabilities but I knew those that had not been on it were in for a treat.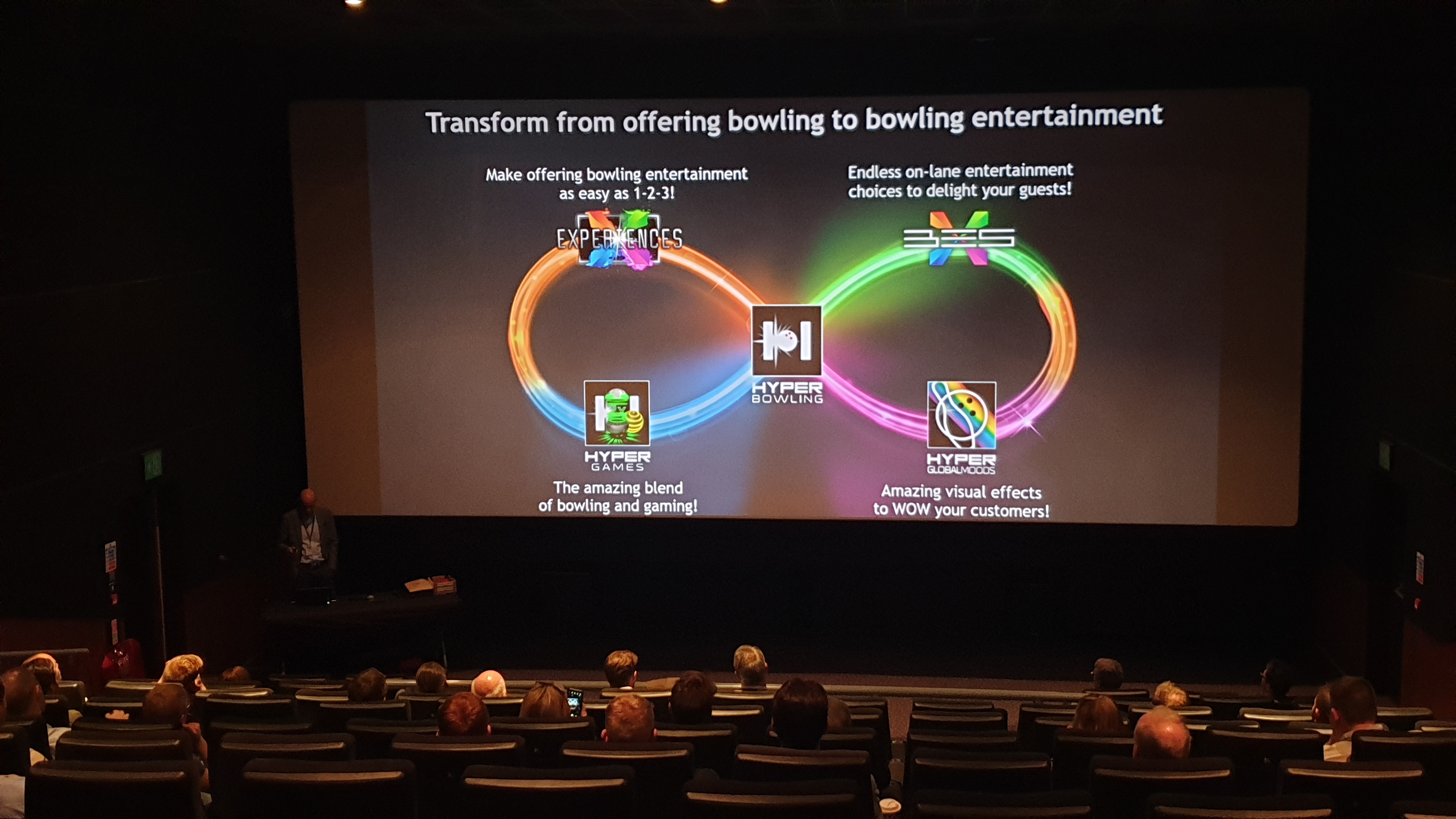 So our first presenter was QubicaAMF's EMEA Sales Director Massimo Matteuzzi who talked about the company and how three friends with just a $40,000 investment amount and an idea got to where they are today. Now mention the company spent $40 MILLION from 2012-2018 on research and development and you get an idea of why this company is doing well and the things they are providing are helping the industry make more money and attract new guests.
Some interesting facts learned included 14% of Americans go bowling, that's 46 million people. The flip side of that is 86% dont bowl and that amount is 280 million. The UK sees a higher 32% bowling (21 Million) so 68% not bowling (44 million). Now I know Hollywood bowl and others are doing really well with bowling in the UK at the moment so imagine if they can reach that 44 Million not bowling?
Obviously this is where QubicaAMF see the answers and have concentrated on reaching these people. When asked, people rated their bowling skills around 5 out of 10 which if you think about it means they would be open to new bowling formats which level the playing field a little and give them more enjoyment.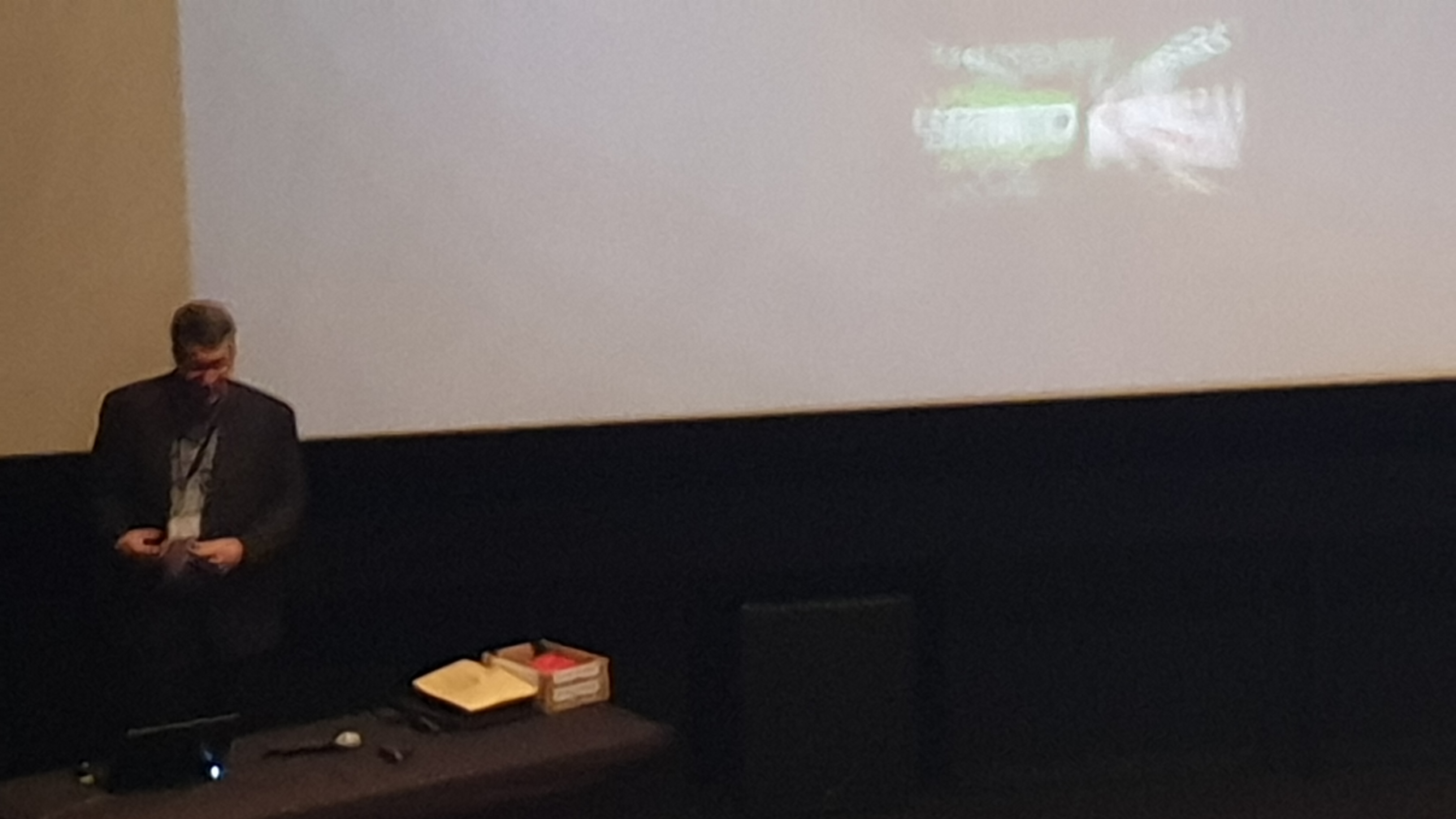 Massimo went on to introduce the Eco system of products the company had lined up and handed over to Product Innovation & Marketing Manager Kelly Wilbur. Kelly I met around four years ago at Worcester at the BESX Experience and QubicaAMF showing off the all new Bowler Entertainment System. Kelly again went over the BEX capabilities and announcing World bowling's Current frame scoring is in the system now. Bowlers wanting to practice on this scoring only need visit any centre that already has BESX installed. Plenty to choose from Worldwide too as its now in 80+ countries and 1600 centres with 27,000 lanes and growing all the time.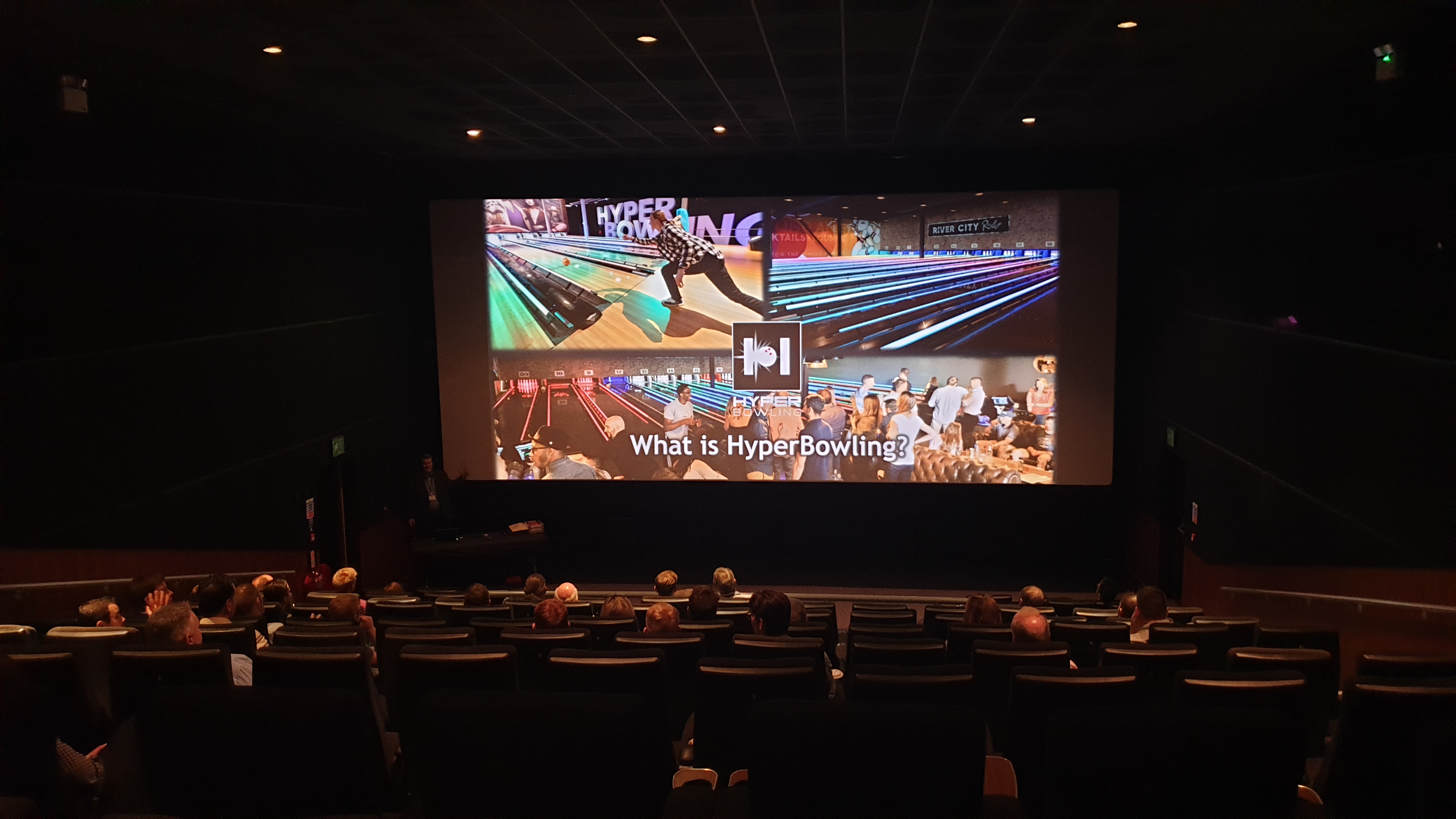 Kelly moves onto Hyperbowling and a number of graphics and videos detailing what it can do. Bowling Re-Invented says QubicaAMF and hard to argue with that. This is not traditional bowling. It can be, anytime you like you can switch off the Hyper and you still have traditional bowling and scoring or games or whatever you want.
Here is where 'REAL' bowlers or some of them switch off and say its not bowling. Not true. It is just a different form and is more likely to bring people to bowling than turn them away. Some may dive from Hyper or BESX games and string machines to freefall and traditional.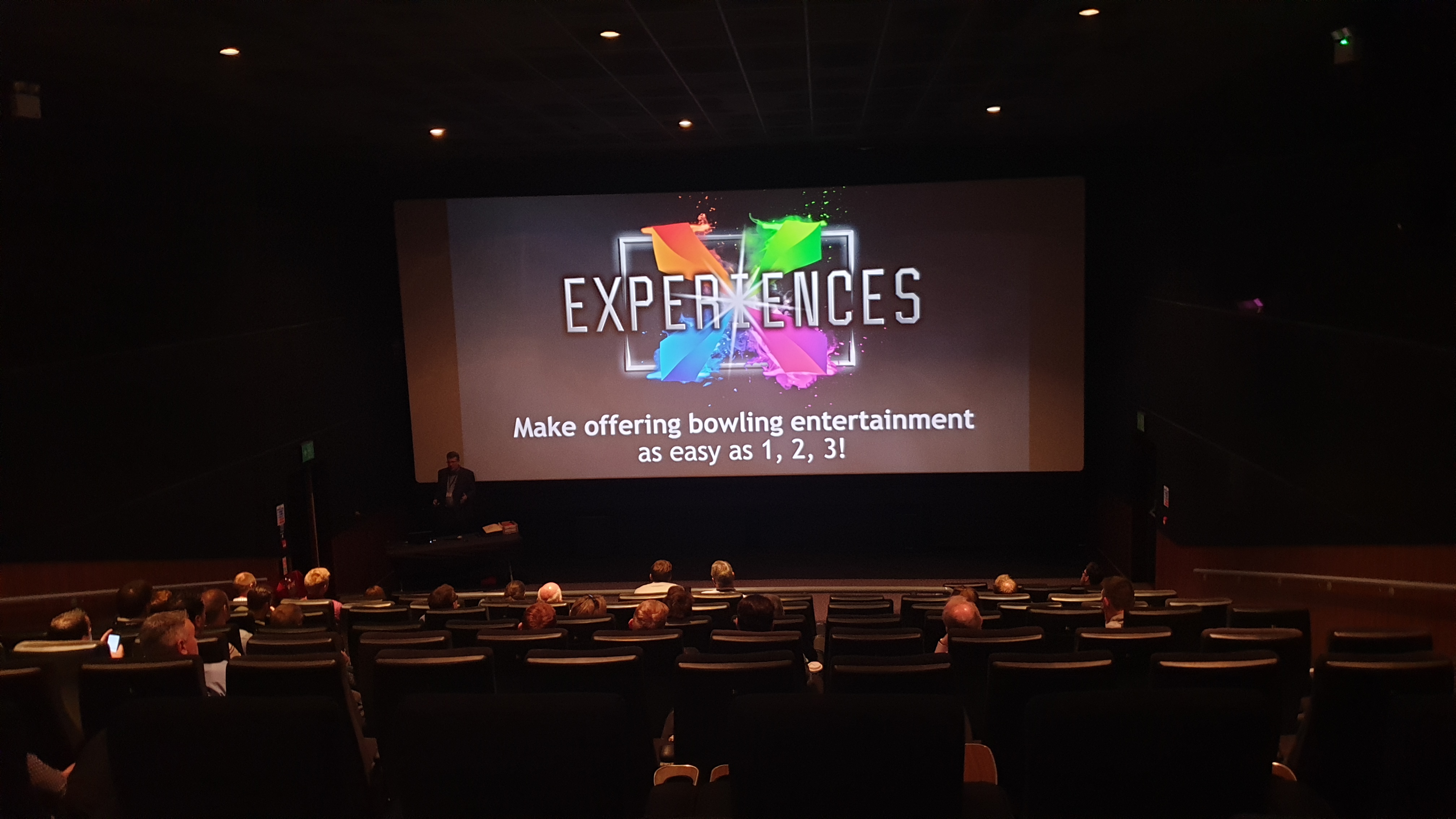 We all started bowling in one form or another, for some it may have been string machines in the 1990's or Pin boys way back. Innovation has always driven the industry and the game changes with every new era. If you are a bowler, give Hyper bowling a go, It is proper fun and just because you have a 200 average does not mean you will be awesome at Hyperbowling. I would love to see more top bowlers playing competitions as a new side format in events. Team building and all that corporate stuff is well suited to this product.
Kelly further explained other parts of the Eco system like BESX Experiences which like Menus in fast food outlets gives guests easy options when picking what bowling options they want.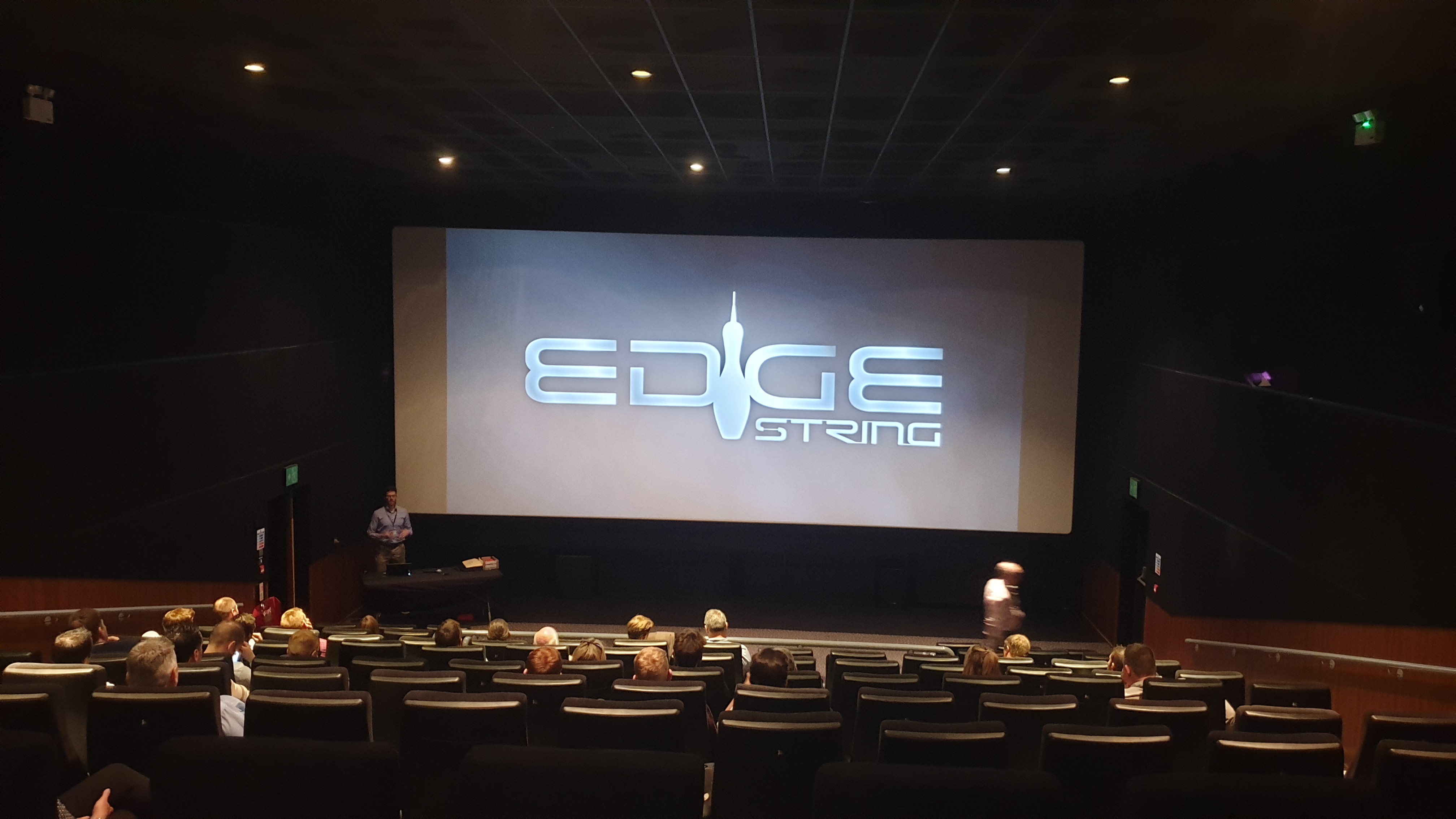 Next up was Director, Bowling Capital Equipment Neil Pennington who introduced us to the evolution of the companies string machine. Again this is where some traditionalists are not favorable in their comments on them and in some cases having not even played on them.
They are quite simply here to stay. The savings proprietors can make from using them cannot be ignored and new and existing customers can choose which type they use in the future. One centre alone saving $45,000 in parts and labour. I think the reason people initially get upset is they remember the old string machines and how they were simply arcade bowling. This technology is way beyond what that was and with the edge machine now beyond what QubicaAMF had themselves with the previous TMS machine.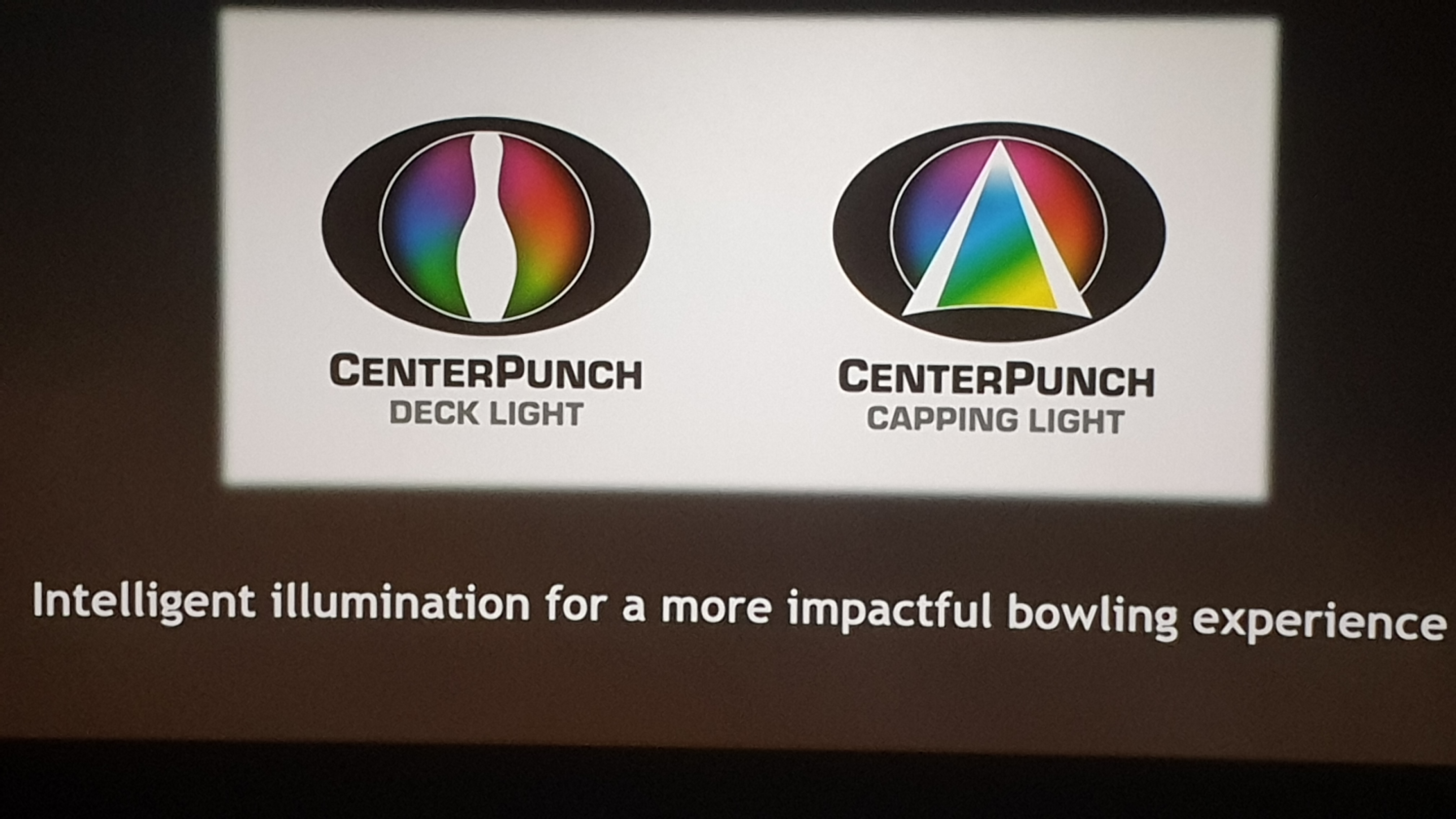 Neil explained how The R&D at QubicaAMF started from the bottom up and a totally realized new version. Pins have total freedom to roam when hit and interesting here is the machine has THREE adjustments, FOUR Tools, Is Plug and play and 1 year before needing to be serviced. That is certainly a lot different to traditional.
Centre Punch was next up and QubicaAMF's lighting options for cappings and pindecks. You are able to design custom layouts or simply use the pre programmed options to dress your centre in any colour or design you like. This blends seemlessly with the companies other products to give options for all capital budgets.
So after a couple of hours we had seen all the videos and for all a better understanding of what was available and the next part of the day after lunch at Zizzi would be on the lanes at Hollywood to see it all in action.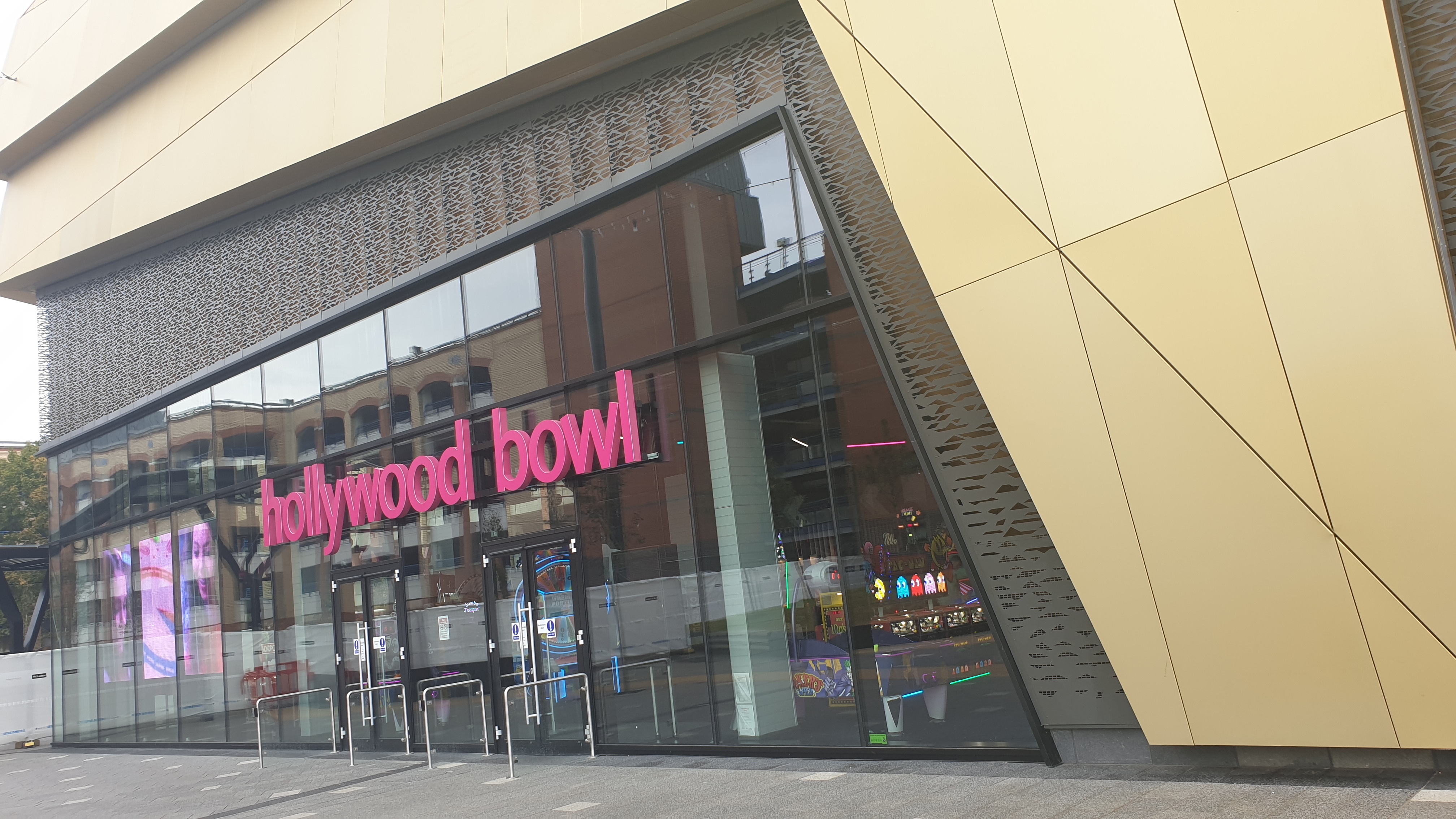 Hollywood are doing really well at the moment and it is not hard to see why, They have just completed a massive refurbishment of their estate and are reaping the benefits in profits from providing a better service than the company had before. The Thurrock centre reopened in January 2019 with all the newlook the company has become associated with.
That means a few of the lanes have a VIP area next to other lanes. Even though the company did a massive refit, a lot of the centres have variations in look, layout and Equipment. Some have traditional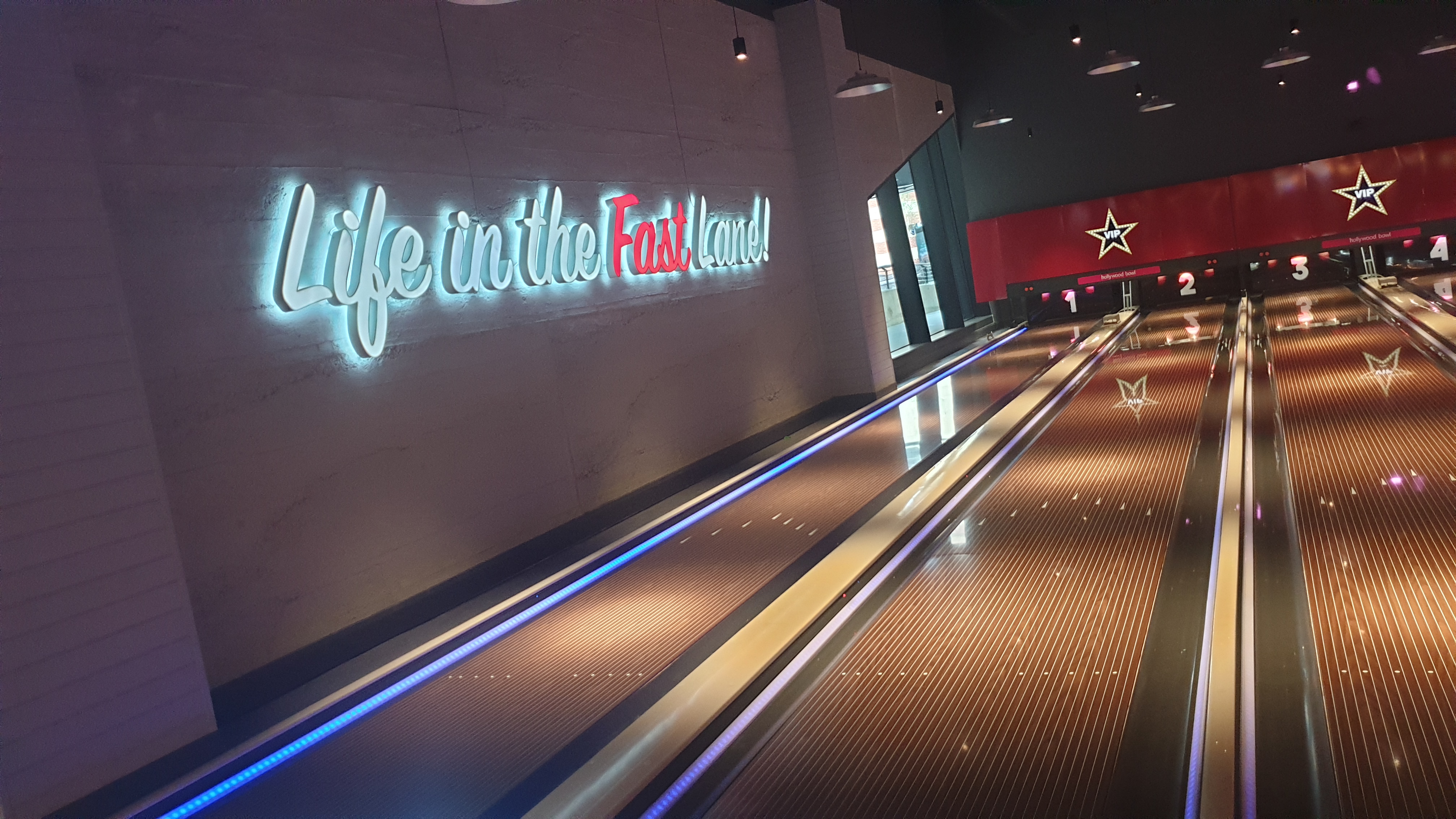 machines, some TMS string but Thurrock the first to get the all new Edge machines and lanes they went with English Walnut and normal coloured lanes mixed in pairs in the centre and all Walnut in VIP area. Actually one for the best VIP area's I had seen in the Hollywood centres with a cool star design as you go in and Hollywood items in glass cases at the sides.
The visiting guests all got on the lanes to try out the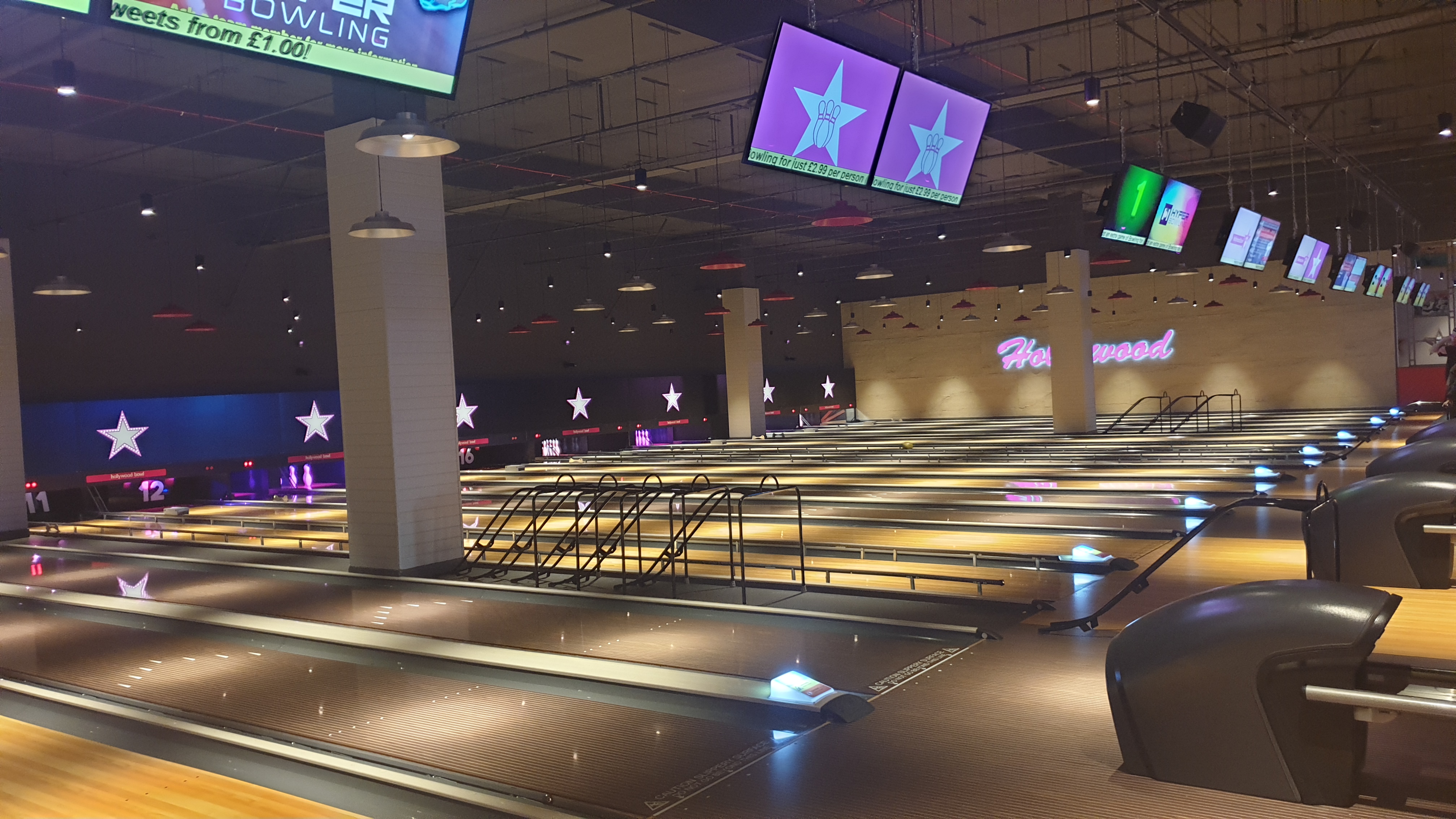 Hyperbowling and Edge machines and quickly learned just how different Hyper Bowling is. All in all a great presentation by QubicaAMF and exciting times seeing these new innovations enter the bowling World, It made me wonder what those QAMF R&D boffins were working on next so I asked Kelly Wilbur "I know you are working on the next things kelly and will not tell me what is coming", He gave me a wry smile haha. I then asked if we would see BesX 2 in the future? "Not really, The system was built to be modular so has a lot of room to grow."