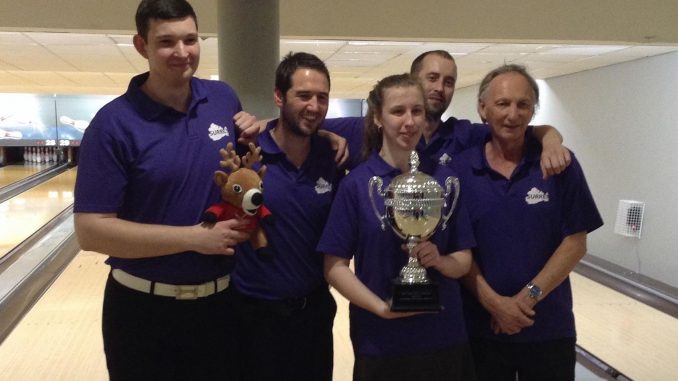 By Daniel Bonfield
The South East County changed venue for the first time in its 8-year history. Usually played at the Scareport (mainly because I love the chicken) this year we went to Guildford instead. I'm not sniffy or particularly anti string pins. But if I had a choice I would choose to bowl on freefall pins, luckily for the time being we still have a choice – so we headed to Guildford.
The tournament is an invitational to all the counties in the South East-ish area. The counties must select their teams from anyone who attended their county trials. This means that counties can pick bowlers who aren't likely to feature in the BTBA Inter county qualifiers, so therefore more people get a chance to experience 5 person team bowling with a county shirt on their backs. And hopefully that addresses the grievances of bowlers who claim never to enter the trials as they never get picked for any tournaments.
Its also a great fund raiser for local associations – each county sells raffle tickets to win prizes donated by sponsors Tesco, Bowling Vision and Bowl Tech. Then on the day of the tournament we run a tombola and the proceeds are split between the participating counties. For most counties this is their biggest revenue driver of the year, bringing in more cash then even their BTBA membership rebate. So this tournament is really vital for the promotion of tenpin bowling on a local level.
There does seem to be a little confusion out there… but this is just a tournament I created, and I run as ME, not as a regional officer or the BTBA Tour Manger, just as ME, Daniel Reginald William Bonfield III. I don't even bowl in it ! No one asked to me run it – I thought 8 years ago it was a good idea and I done it, because I want bowlers to enjoy themselves, get a chance to represent their county and because I know Local Associations needs as much help in generating funds as they can get – it's sanctioned by the BTBA, but its not a BTBA organised event.
There's no prize fund, and I make it as cheap as I can… All the teams are playing for is fun and the prestige of representing their county at their chosen sport.
It's a simple format – just 5 games. There are bonuses for Ladies, Senior Men and Senior Ladies. You bowl and the team who knock down the most pins win ! Its 2 games break for lunch then a further 3
20 Teams – 100 bowlers took to the lanes and before the lunch break it was the Hampshire Huns that were leading with games of 1125 and 1020 (Ken Burton, Dave Hayward, Dom Buckley, Russell Shear, Ryan Mitchener)
Things started changing after the lunch break both the Essex teams banged in games over 1050 and the Surrey Stags (Jon Naylor, Dan Lewis, Larry Excel, Matt Dold, Sarah Jane Gregg) made a big move shooting 1140 game. Game 4 Surrey Stags shot another impressive game of 1134 and now moved clear at the top by 50 pins from the Essex 1 team. Game 5 and no one could stop the Surrey Juggernaut as they threw a third game over 1100 to win the title for the 4th time in 5 years. Essex 1 came 2nd (Jamie Alder, Frank Stephenson, Yolanda Stephenson, Jon Greengrass, and Dan Cathorne) and Essex 2 came 3rd (Dan Rixon, Steve Groom, Jamie Groom, Mark Thompson, Brian Greene)
Champions again – Surrey Stags
Topping the Individual averages were…
Men's – Jamie Alder – Essex – 234
Ladies – Dawn Payne – Hampshire – 201
Senior Men – Alan Hanafin – 226
Senior Lady – Despina Gough – Sussex 179
I also run a scratch high game pot for those that fancy winning a little bit of cash – this year each pot paid out £36, and the winners were
Game 1 – Kirk Taylor – London – 267
Game 2 – Jamie Alder – Essex – 237
Game 3 – Jon Naylor – Surrey – 257
Game 4 – Dan Lewis – Surrey – 264
Game 5 – Selwyn Morgan & Neil Taylor – London – 257
Now its time for the big raffle. We had a Radical Katana Slash donated by Bowling Vision – and that was won by Chris Taaffe from Kent and a Motiv Covert Tank donated by BowlTech and that was won by Jon Langbridge from Herts
Chris Taaffe wearing a fetching blouse with his new Radical Katana Slash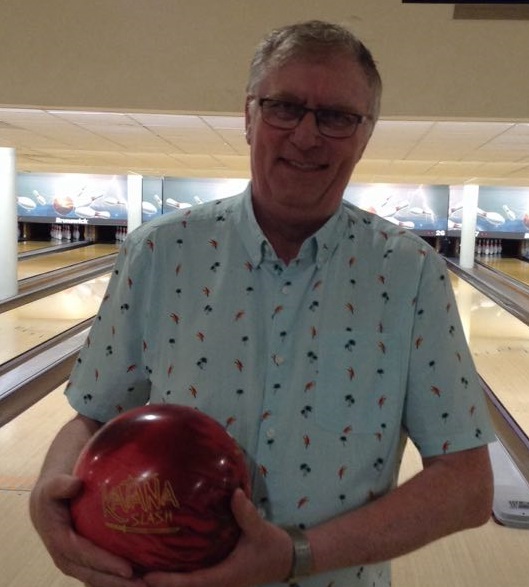 Jon Langbridge with his New Motiv Tank Covert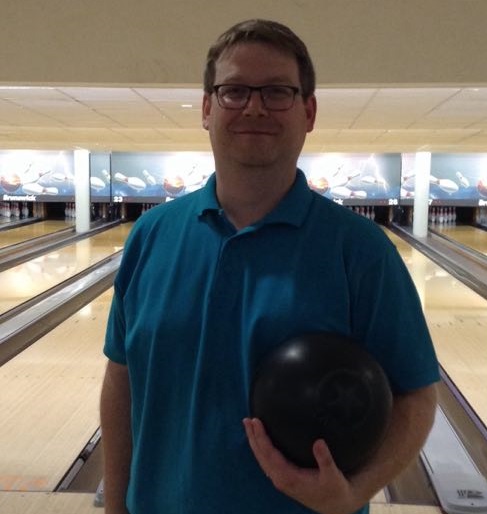 So all in all in a good tournament which I hope to hold again next year. Time for some thanks you… Will Line – thanks so much for doing the raffle and tombola and his team – you raised a lot of dosh for the counties. To Matt at Guildford Spectrum Leisure Complex – perfect hosts. Rita Thompson for handing out the scores sheets. To the sponsors Bowling Vision and Bowltech UK Limited for their continued support of this tournament. All the local association secretaries and team managers for rounding up your players sorting your teams out. And to the bowlers… thank you for playing the tournament in a great spirit and supporting the raffle and tombola… all money that will go back into to local association bowling.
Yours in Bowling
Basher.
Full Results
Men
| | | | | | | | | | |
| --- | --- | --- | --- | --- | --- | --- | --- | --- | --- |
| County  | | | Game 1  | Game 2  | Game 3 | Game 4 | Game 5 | Total  | Average  |
| Essex 1 | Jamie | Alder | 259 | 237 | 205 | 234 | 237 | 1172 | 234.4 |
| Surrey Stags | Daniel | Lewis | 225 | 214 | 202 | 264 | 248 | 1153 | 230.6 |
| Essex 2 | DAN | RIXON | 254 | 248 | 225 | 211 | 201 | 1139 | 227.8 |
| Hertfordshire | Alan | | 237 | 209 | 234 | 215 | 237 | 1132 | 226.4 |
| Buckinghamshire | Matt | Trotter | 214 | 235 | 213 | 257 | 203 | 1122 | 224.4 |
| Buckinghamshire | Nick | Kowalski | 238 | 177 | 235 | 257 | 215 | 1122 | 224.4 |
| hampshire senior men | SUREN | JOHANNSEN | 180 | 256 | 279 | 207 | 194 | 1116 | 223.2 |
| Surrey Stags | Jon | Naylor | 176 | 188 | 257 | 235 | 246 | 1102 | 220.4 |
| Essex 1 | JON | GREENGRASS | 209 | 211 | 254 | 192 | 234 | 1100 | 220 |
| London 2 | Selwyn | Morgan | 244 | 167 | 203 | 224 | 257 | 1095 | 219 |
| Surrey Stags | Matthew | Dold | 193 | 176 | 246 | 252 | 223 | 1090 | 218 |
| London 1 | Neil | Taylor | 220 | 228 | 184 | 194 | 257 | 1083 | 216.6 |
| Hampshire Alpha | Dominic | Buckley | 246 | 183 | 202 | 223 | 224 | 1078 | 215.6 |
| Buckinghamshire | Andy | Giles | 195 | 215 | 217 | 235 | 216 | 1078 | 215.6 |
| Surrey Seniors | Ben | Robinson | 194 | 278 | 188 | 183 | 234 | 1077 | 215.4 |
| Hampshire Alpha | David | Reed | 224 | 188 | 202 | 204 | 248 | 1066 | 213.2 |
| Bedfordshire | James | Wheeler | 202 | 227 | 214 | 183 | 238 | 1064 | 212.8 |
| Kent men | Clint | Miller | 226 | 234 | 174 | 170 | 258 | 1062 | 212.4 |
| Essex 1 | Frank | Stephenson | 171 | 257 | 245 | 227 | 160 | 1060 | 212 |
| Hertfordshire | Craig | Barratt | 213 | 183 | 224 | 220 | 216 | 1056 | 211.2 |
| London 3 | Mark | Spurway | 191 | 167 | 223 | 247 | 222 | 1050 | 210 |
| Oxford Bulls | Ian | Mills | 247 | 195 | 224 | 215 | 168 | 1049 | 209.8 |
| Essex 2 | STEVEN | GROOM | 223 | 195 | 237 | 191 | 199 | 1045 | 209 |
| London 2 | Kirk | Taylor | 269 | 225 | 173 | 191 | 179 | 1037 | 207.4 |
| Hampshire Huns | Ryan | Mitchener | 235 | 175 | 212 | 245 | 169 | 1036 | 207.2 |
| Surrey Stags | Larry | Excell | 202 | 214 | 223 | 186 | 210 | 1035 | 207 |
| Kent Allsorts | Sean | Purcell | 213 | 216 | 159 | 236 | 210 | 1034 | 206.8 |
| Hampshire Huns | Russell | Shear | 244 | 234 | 193 | 201 | 158 | 1030 | 206 |
| Hertfordshire | James | Bignall | 233 | 193 | 201 | 213 | 184 | 1024 | 204.8 |
| Essex 2 | MARK | THOMPSON | 192 | 207 | 177 | 194 | 249 | 1019 | 203.8 |
| Oxford Bulls | Darrell | Fisher | 181 | 203 | 245 | 208 | 179 | 1016 | 203.2 |
| Bedfordshire | Sukky | Gill | 226 | 201 | 222 | 203 | 162 | 1014 | 202.8 |
| Kent men | Stuart | Turpin | 201 | 203 | 188 | 229 | 190 | 1011 | 202.2 |
| Hampshire Alpha | Tom | Chuter | 183 | 197 | 182 | 217 | 224 | 1003 | 200.6 |
| Hampshire Huns | Mike | Southwell | 224 | 210 | 205 | 168 | 194 | 1001 | 200.2 |
| Surrey Seniors | Trevor | Nell | 167 | 211 | 236 | 186 | 200 | 1000 | 200 |
| Oxford Bulls | Kenneth | Iredale | 176 | 214 | 193 | 217 | 199 | 999 | 199.8 |
| hampshire senior men | JIM | ALLAN | 197 | 204 | 209 | 225 | 160 | 995 | 199 |
| Sussex | Darren | Hall | 195 | 182 | 176 | 263 | 176 | 992 | 198.4 |
| Essex 1 | DAN | CATHORNE | 186 | 213 | 192 | 211 | 181 | 983 | 196.6 |
| Kent men | Bob | Ockelford | 230 | 202 | 180 | 205 | 162 | 979 | 195.8 |
| London 4 | Matt | Smith | 216 | 193 | 203 | 150 | 215 | 977 | 195.4 |
| Bedfordshire | Jordan | Hart | 197 | 206 | 169 | 235 | 170 | 977 | 195.4 |
| Hampshire Huns | David | Hayward | 217 | 188 | 170 | 189 | 203 | 967 | 193.4 |
| Kent men | Dan | Marren | 175 | 214 | 209 | 168 | 200 | 966 | 193.2 |
| Kent Allsorts | Robert | Abbott | 191 | 194 | 237 | 160 | 183 | 965 | 193 |
| Hertfordshire | Jon | Langbridge | 174 | 184 | 185 | 214 | 208 | 965 | 193 |
| hampshire senior men | TONY | HARRIS | 189 | 177 | 173 | 185 | 236 | 960 | 192 |
| Essex 2 | JAMIE | GROOM | 173 | 182 | 213 | 206 | 180 | 954 | 190.8 |
| hampshire senior men | STEVE | BRUCE | 186 | 165 | 181 | 189 | 224 | 945 | 189 |
| Hampshire Huns | Ken | Burton | 205 | 213 | 181 | 160 | 172 | 931 | 186.2 |
| Surrey Seniors | Dave | Herman | 203 | 154 | 183 | 189 | 201 | 930 | 186 |
| London 1 | Jay | Anonuevo | 225 | 204 | 155 | 184 | 161 | 929 | 185.8 |
| Essex 2 | BRIAN | GREENE | 202 | 157 | 204 | 179 | 183 | 925 | 185 |
| Hampshire Alpha | Ron | O'Sullivan | 246 | 158 | 149 | 188 | 183 | 924 | 184.8 |
| London 4 | Pat | Hackett | 188 | 212 | 171 | 183 | 166 | 920 | 184 |
| Surrey Seniors | Dave | Thornton | 187 | 170 | 190 | 209 | 153 | 909 | 181.8 |
| Kent Allsorts | Chris | Skudder | 147 | 191 | 199 | 179 | 193 | 909 | 181.8 |
| Kent men | Chris | Taaffe | 138 | 149 | 231 | 243 | 143 | 904 | 180.8 |
| Oxford Bulls | Harald | Grau | 205 | 179 | 159 | 184 | 172 | 899 | 179.8 |
| London 2 | Sam | Tan | 174 | 201 | 142 | 172 | 210 | 899 | 179.8 |
| hampshire senior men | Kevin | Reed | 137 | 199 | 187 | 162 | 207 | 892 | 178.4 |
| Surrey Juniors | Samuel | Hales | 184 | 188 | 136 | 150 | 217 | 875 | 175 |
| Surrey Juniors | Cameron | Fay | 138 | 202 | 172 | 211 | 147 | 870 | 174 |
| Hampshire Alpha | Bill | May | 203 | 164 | 168 | 162 | 172 | 869 | 173.8 |
| Surrey Juniors | Joesph | McCaffery | 179 | 170 | 158 | 176 | 180 | 863 | 172.6 |
| Hertfordshire | Vincenzo | Orlando | 148 | 181 | 171 | 202 | 152 | 854 | 170.8 |
| Oxford Bulls | Derrick | Jephcott | 214 | 177 | 145 | 162 | 144 | 842 | 168.4 |
| London 3 | Ben | Gilkes | 184 | 146 | 160 | 160 | 191 | 841 | 168.2 |
| London 1 | Adrian | Rosser-Davies | 174 | 167 | 172 | 166 | 161 | 840 | 168 |
| London 4 | Chris | White | 150 | 187 | 212 | 130 | 149 | 828 | 165.6 |
| Surrey Juniors | Joey | Dawson | 177 | 144 | 161 | 176 | 148 | 806 | 161.2 |
| Buckinghamshire | Maurice | Lipyeart | 154 | 160 | 160 | 148 | 169 | 791 | 158.2 |
| London 3 | Will | Smith | 161 | 141 | 160 | 138 | 121 | 721 | 144.2 |
| London 1 | Riley | Taylor | 123 | 155 | 120 | 131 | 150 | 679 | 135.8 |
| London 3 | Paul | Sparrowhawk | 138 | 130 | 108 | 150 | 138 | 664 | 132.8 |
Women
| | | | | | | | | | |
| --- | --- | --- | --- | --- | --- | --- | --- | --- | --- |
| County  | | | Game 1  | Game 2  | Game 3 | Game 4 | Game 5 | Total  | Average  |
| Hampshire Ladies | Dawn | Payne | 130 | 178 | 267 | 226 | 204 | 1005 | 201 |
| London 4 | Joanna | Hackett | 214 | 214 | 170 | 179 | 206 | 983 | 196.6 |
| Kent Allsorts | Hannah | Bratton-Smith | 193 | 208 | 193 | 169 | 214 | 977 | 195.4 |
| Surrey Stags | Sarah -Jane | Gregg | 180 | 193 | 212 | 197 | 182 | 964 | 192.8 |
| Hampshire Ladies | Chelsie | Williams | 203 | 155 | 217 | 148 | 216 | 939 | 187.8 |
| Sussex | Despina | Gough | 209 | 153 | 190 | 171 | 173 | 896 | 179.2 |
| London 2 | Sam | Denne | 221 | 149 | 166 | 179 | 178 | 893 | 178.6 |
| Hampshire Ladies | Lucy | Williams | 174 | 183 | 156 | 195 | 181 | 889 | 177.8 |
| Hampshire Ladies | Sandra | Simmonds | 161 | 179 | 193 | 213 | 138 | 884 | 176.8 |
| Bedfordshire | Tina | Spence | 175 | 150 | 201 | 188 | 165 | 879 | 175.8 |
| London 1 | Sharon | Hackett | 131 | 182 | 182 | 165 | 197 | 857 | 171.4 |
| Essex 1 | YOLANDA | STEPHENSON | 149 | 178 | 188 | 171 | 170 | 856 | 171.2 |
| Bedfordshire | Zoe | Disson | 171 | 160 | 212 | 109 | 200 | 852 | 170.4 |
| Buckinghamshire | Julie | Giles | 178 | 167 | 165 | 168 | 166 | 844 | 168.8 |
| Kent Allsorts | Katie | Reeve | 222 | 142 | 155 | 152 | 159 | 830 | 166 |
| London 2 | Claire | Sellars | 134 | 125 | 208 | 202 | 158 | 827 | 165.4 |
| London 3 | Denise | Jackson | 192 | 172 | 157 | 148 | 147 | 816 | 163.2 |
| Sussex | Nikkita | Trsulove | 165 | 146 | 211 | 145 | 147 | 814 | 162.8 |
| Surrey Juniors | Iriana | Lagman | 182 | 126 | 155 | 181 | 158 | 802 | 160.4 |
| Hampshire Ladies | Charlotte | Williams | 181 | 142 | 123 | 174 | 159 | 779 | 155.8 |
| London 4 | Angela | Sellars | 158 | 140 | 128 | 146 | 191 | 763 | 152.6 |
| Sussex | Sharon | Kay | 151 | 170 | 174 | 146 | 102 | 743 | 148.6 |
| Surrey Seniors | Helen | Morris | 127 | 168 | 161 | 150 | 117 | 723 | 144.6 |
| Sussex | Carolyn | Oakley | 123 | 158 | 121 | 132 | 156 | 690 | 138 |
Team
| | | | | | | | |
| --- | --- | --- | --- | --- | --- | --- | --- |
| Surrey Stags | 85 | 976 | 985 | 1140 | 1134 | 1109 | 5429 |
| Essex 1 | 85 | 974 | 1096 | 1084 | 1035 | 982 | 5256 |
| Essex 2 | 35 | 1044 | 989 | 1056 | 981 | 1012 | 5117 |
| hampshire senior men | 175 | 889 | 1001 | 1029 | 968 | 1021 | 5083 |
| Hertfordshire | 35 | 1005 | 950 | 1015 | 1064 | 997 | 5066 |
| Buckinghamshire | 100 | 979 | 954 | 990 | 1065 | 969 | 5057 |
| Hampshire Alpha | 70 | 1102 | 890 | 903 | 994 | 1051 | 5010 |
| Hampshire Huns | 35 | 1125 | 1020 | 961 | 963 | 896 | 5000 |
| Kent Men | 70 | 970 | 1002 | 982 | 1015 | 953 | 4992 |
| Oxford Bulls | 140 | 1023 | 968 | 966 | 986 | 862 | 4945 |
| Bedfordshire | 100 | 971 | 944 | 1018 | 918 | 935 | 4886 |
| London 2 | 135 | 1042 | 867 | 892 | 968 | 982 | 4886 |
| Kent Allsorts | 170 | 966 | 951 | 943 | 896 | 959 | 4885 |
| Surrey Seniors | 170 | 878 | 981 | 958 | 917 | 905 | 4809 |
| Hampshire Ladies | 265 | 849 | 837 | 956 | 956 | 898 | 4761 |
| London 4 | 170 | 926 | 946 | 884 | 788 | 926 | 4640 |
| London 1 | 100 | 873 | 936 | 813 | 840 | 926 | 4488 |
| Sussex | 230 | 843 | 809 | 872 | 857 | 754 | 4365 |
| Surrey Junior | 50 | 860 | 830 | 782 | 941 | 850 | 4313 |
| London 3 | 85 | 866 | 756 | 808 | 843 | 819 | 4177 |