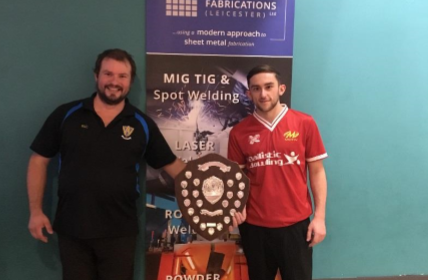 Each year the event has seen more competitors take to the lanes in Shrewsbury and this year, backed by the BTBA we saw numbers jump to 47 entrants. Both of last year's winners James Tidd (Scratch) & Lloyd Cooper (Handicap) were not in the field which meant we would be crowning a new champion this year. OF the 47 entrants only Pete Stevenson was a previous champion (Scratch 2016).
We were using our house pattern (Empire – devised by Rob Thurlby & Ed Crane).
Round 1 – Squad A – 15 players took part in squad A, largely local bowlers but a few others who had decided to hit the lanes early, two of which James Denvil (203) and Dave Dugmore (231) set the early scratch scoring pace in game 1. Game 2 saw more bowlers adapt to the pattern with three bowlers going above 200, Kirstie Western (233), Michael Boddy (220) and Richard Martin (205). Only Michael Boddy went above 200 in game 3, in fact he went out of sight smashing in a 257 (302 Handicap) game, this also meant he led the scratch standings with 669. The half way stage is sometimes a good wakeup call and this proved to be the case here with 4 players shooting good scores to move in to contention, Darren Knightsbridge 247, Dave Dugmore 211 and Richard Martin & Darren Milner both shooting 201 games. Dugmore continued his form in to game 5 with a 230 as Boddy hit 202 to lead the overall by 2 pins from Dave. Sadly for Boddy a badly timed 145 saw him finish squad A in 2nd place in the scratch section with 1211, Dugmore's last effort of 245 propelled him to a 1309 and 1st place. Elsewhere bowlers were jostling for position and qualifying spots with Western (212) Steve Wilson (201) and Darren Knightsbridge (200) all hoping this was enough for the next round.
Round 1 – Squad B – 32 bowlers assembled for squad B with some rather long journeys concluded at AMF Shrewsbury. Leon Devlin set the benchmark with 245 in the opening game, 6 other players went over 200, with Gavin Greaves (235) and James Wheeler (225) the closest to Leon. 14 bowlers passed the 200 mark in game 2 with the same man Devlin leading the charge with a 258 game, followed by Craig Parker (241) and Frankie Plewis (231). Only 8 bowlers managed this feat in game 3 with the headline maker once again Devlin hitting 244 to set a benchmark of 750 off the opening 3 games, Pete Stevenson (234) and Daniel Lewis (217) made the podium places. Game 4 and it was pay-per-view stuff again from Devlin (233) but this was eclipsed by Gavin Greaves (236) with Kirk Taylor (220) getting the bronze, 6 others went over with Hayley Russell, Tom Walster-Prince, Chris West and Dan Bonfield all hitting at least their 2nd 200+ game. Game 5 had an unfamiliar look as all three high games going to those who hadn't placed yet. TWP (255), Liam Fitzpatrick (245) and David Whiffin (229). Naturally Devlin wanted to make amends and landed game 6 top of the tree with a 242 and wonderful 6 game block of 1400. TWP's 237 led to a final tally of 1285, enough for third place overall. Picking up the game 6 bronze was Dan Bonfield who most definitely was not shut out.
Since its inception in 1990 only three 300 games have been bowled on Shrewsbury's lanes so high scoring is something to be worked at and earnt rather than being a given. Just 4 bowlers hit above average during qualifying, special mention to Anne Waddington, Dave Dugmore, Michael Boddy & Richard Martin.
The way this event works sees the top 8 scratch bowlers qualify for the second round – scratch with the top 8 handicap scores from the remaining players advancing to the second round – handicap. All scores from the 6 game qualifying block roll over and this is a now a fight to be in the top 4 of the relevant section to advance to the stepladder finals. Unsurprisingly Devlin held the lead in the scratch section (1400) with Anne Waddington & Richard Martin (1391) tied in joint 1st place in the handicap section.
2nd Round – Scratch The good scoring from the morning continued with 7 of the 8 competitors hitting 200+ games, with 8th seed Bonfield making a move with a 255, followed by TWP's 235 & Greaves 235. Stevenson sitting in 5th place at the start of the second round rolled a 248 second game to set himself up nicely for game 9 and a shot at the top 4, Boddy recovered from a tough first game with a 232 and Bonfield kept up the surge with a 219. The standings going in to the last game were tight with only a matter of pins separating 3rd – 6th place. Devlin cemented top seed for the stepladder with a 225, Greaves gave himself a shot at the finals with a 215 and Stevenson took 3rd seed with a 201. Dugmore's consistency meant a 200 game was enough for 2nd seed. Bonfield who was holding 4th place going in to game 9 rolled a 190 which meant a tie with Greaves and courtesy of countback meant he was eliminated as Greaves progressed, enough to grind anyone's gears.
2nd Round Handicap The handicap section is all about hitting above average, half the field managed to do this in game 6 with Rob Spinks-Chilman (184 – 42 pins above entering average) leading the way. Richard Martin (192 – 21 pins above entering average) and Shropshire's very own Octogenarian June Johnson (153 – 18 pins above entering average) making a pop at those final 4 places. Only 3 players went above their entering average in game 8, Jamie Goswell (198 – 24 pins above entering average) June once again in the mix (+5) and James Watson (+3). With only 12 pins separating 3-8th at the start of the second round this was always going to be tight. RSC set the world alight once more with a +46 game, Jamie Goswell looked like he wanted to stay a little longer (+38) and June looking like she had finally warmed up rolled a (+19) and was the only player to roll every game in the second round above her average. After the scores had been checked Richard Martin stood in 1st place with 2132, Jamie Goswell and RSC tied on 2058 but courtesy of countback Jamie took 2nd seed and RSC third seed, Plewis took 4th seed with 2041.
Finals 1st Step: It's difficult to put in to context the excitement both 1st steps generated with each and every player matching their opponent pretty much shot for shot. To the extent that each game came down to the final ball. In the handicap section RSC appearing to be dead and buried managed to salvage a hambone leaving Plewis needing a strike to tie the game, an 8 count meant that she bowed out with handicap scores of 248-246. In the scratch section the players managed to do what was narrowly avoided in the handicap section and both strike out to tie the scores 208-208. In the event of a tie a one ball roll off would occur with the player scoring the highest total emerging, in the event of a further tie this would continue until there was a winner. At the first attempt Stevenson managed a strike to Greaves 8 count, progressing to the next step.
2nd Step: Incoming seeds Goswell (handicap) and Dugmore (scratch) had seen what their opponents had been through and were under no illusion of the test that lay ahead. The closeness of the previous matches was somewhat obliterated by RSC who chose this moment to pop in his highest score of the day, 205 scratch (283 handicap) with Goswell only able to muster a 190 in response, the long drive finally taking its toll. In the scratch section, it was again nip and tuck until the 10th where Stevenson took the initiative and closed out the game 215-202.
3rd Step: The scratch final was between a previous winner (Stevenson) and bowler of the day (Devlin), surely not one to disappoint. Perhaps the rest had unsettled Devlin who struggled to get into any kind of rhythm whereas Stevenson was firing on all cylinders, the match ended 257-197 in Stevenson's favour and with it his second Shropshire Open title. The handicap section also saw a 3rd seed looking for the win against Richard Martin. I think it is fair to say that the occasion got to both bowlers with mistakes being made. Sadly for Martin this was to be the lowest game thrown all day (197 handicap) and against RSC's (220 handicap) this was not going to be enough, the handicap title remains as it always has done, safe in Shropshire.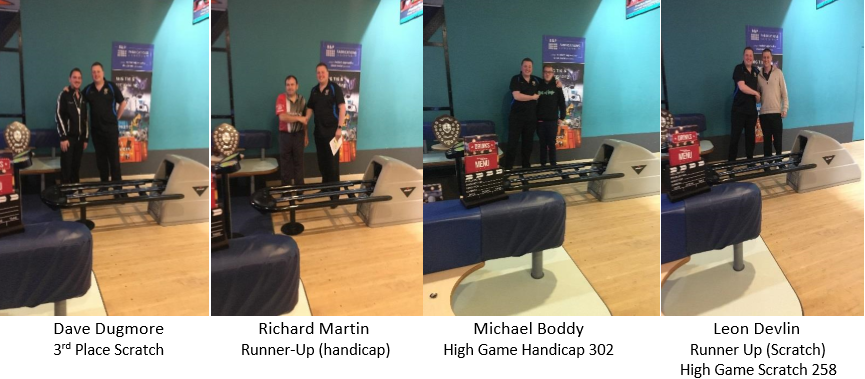 We would like to thank everyone who travelled to Shrewsbury to play the event, we are a fledging county seeking to recruit more players, improve playing standards and deliver good tournaments, we hope you enjoyed the challenge and look forward to seeing you again next year!
Good luck to everyone for the rest of the BTBA Tour – next events as follows 13th/14th October Northants Open Wellingborough 17th/18th November Generation Doubles Stroud
Download or view Results here