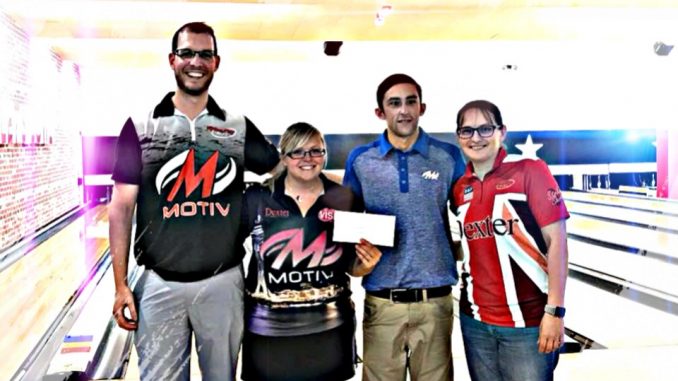 The 6th Stop on the BTBA Adult tour was the Mixed Trios event organised by the Sussex Association and held at AMF Worthing. The temperatures are soaring but unlike many bowls the temperature was o.k.  24 teams entered, with 8 teams playing the Saturday squad and 16 on the Sunday. The format was nice and simple, each team bowling 7 games, no cuts and no step ladders, simply the team with the highest score won !
There was a handicap and scratch section as well optional high game pots
After the Saturday squad it was the team of Basher Bonfield, Kate Wicklow and Glen Richardson that were leading the scratch section with a 201.1 team average, and leading the handicap section was the Make it a Double team of Ben Bizley, Dave Rutherford and Leah Tickner with a 224.9 team average. The individual high bowlers we Samantha Hannan who started with a 149 but after lunch nearly went and claimed the "look nifty get 50" £50 bonus from our sponsor Striking Shirts. Samantha had the front 10 then left a stone cold 10 pin for a 289 game. Sam finished with a score of 1487 a 212.42 average. The men's section was dominated by lefties, with 5 out the top 7 left handers. But the best left hander was the one time YAC double champion Basher Bonfield with a score of 1507 a 215.3 average.
Sunday saw some strong teams entering the competition and some good scoring. The Alley Cats team  had entered several teams, and their teams featured heavily in top 3 of the handicap section. Alley Cats 4 represented by Kirsty Western, James Denvil and Darren Knightsbridge took 2nd place with Saturdays leaders Make it a Double dropping to 3rd. But the win went to the Alley Cats 1 team  of Ryan Mitchener, Vicky Knightsbridge and Danny Graham who won with an average of 230.2
In the scratch division the Ballistic Bowling team of Gavin Greaves, Jenny Turnbull and Tom-Walster Prince took 3rd place with a 203 average. In 2nd place were Leon Devlin, Billy Warnes, and Rebekah Hamlet of the Mashed Potato Team on a 207.5  average. But taking the win by 142 pins with a team average of 214.3 were Team Motiv – Hayley Russell, Pete Stevenson and Chris Oates. (pictured)
The individual scratch winners were Hayley Russell averaging 215 and James Denvil with a 230.1 average. Both won a BTBA tour exclusive Striking Shirt.
As always these tournaments don't just happen, a lot of organising and preparation goes into them. So thanks to Lisa John who gave up her weekend to run the event and to our host AMF Worthing. Thanks to B&P Fabrications Leicester whose sponsorship enables us to keep the price of the tournaments low and still offer a decent prize fund and to Striking Shirts for their continued support of the tour.
The high pot games were
Gavin Greaves – 279
Tom Walster-Prince – 252
Sukky Gill – 268
James Denvil – 258
Samantha Hannan – 289
Glen Richardson – 269
James Denvil – 256
Series – James Denvil – 1611
Next stop on the tour is the Qubica AMF World cup Qualifier at Dunstable – This event is completely sold out !  
Then the tour heads to Shrewsbury and the Shropshire Open.  You can enter this tournament via the online entry form which can be found here. https://www.emailmeform.com/builder/form/i7125j9odDFfLb9d5TWxa0f1
Results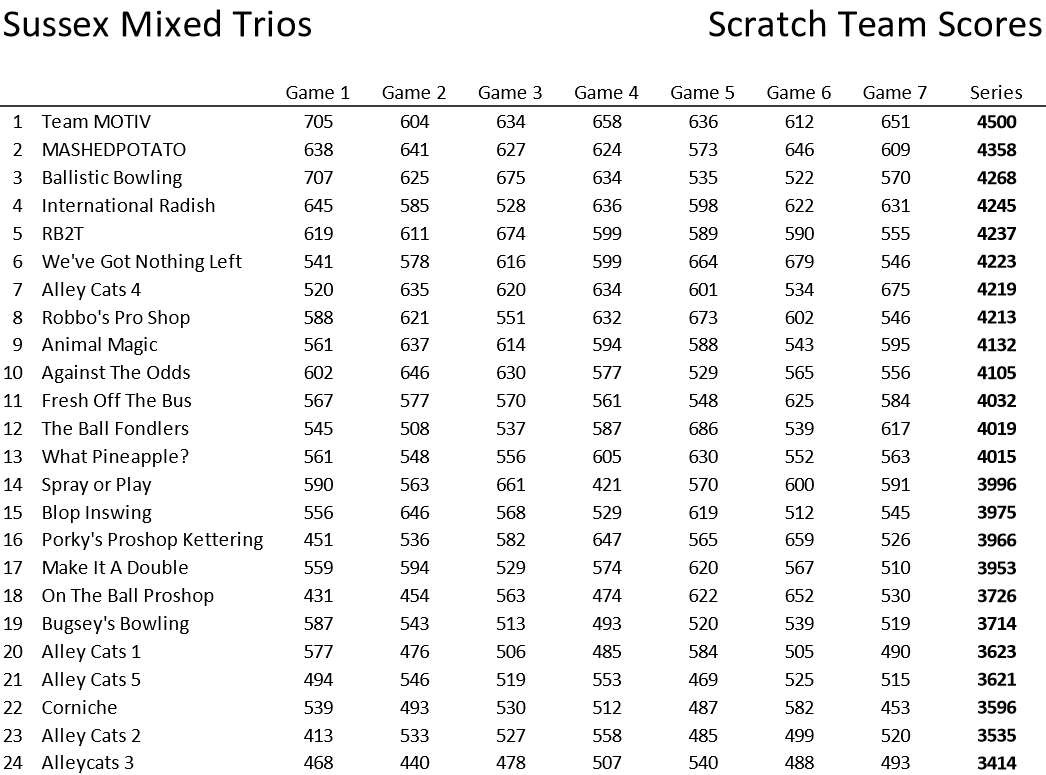 Download or view full results here Results