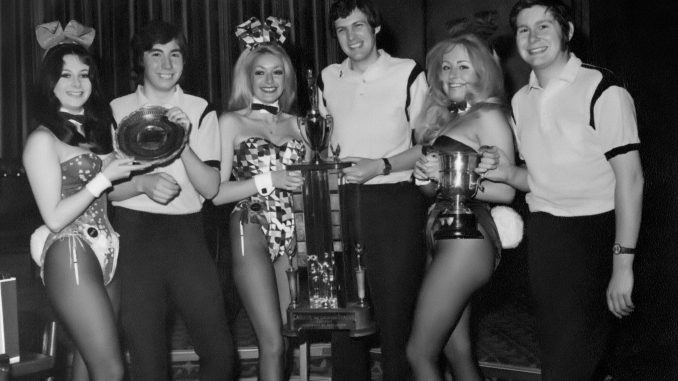 Way back in the day, my local bowl, Top Rank Bowl Chatham, was a popular venue-out for bored teens. We didn't bowl that often as it was cheaper to just hang out with a coffee whilst watching the 180 average experts!  However, after joining Jess Cooper's Ski-Bolts at Top Rank Bowl, Chatham, we achieved a few SEBA (now KTBA) area highs. Our team comprised myself, Roger Evans, Pete Chapman, John Griffin (no relation to Ron – as far as I know!) Nigel Holgate and Colin Pepler, who sadly passed away some years ago.  Colin was a member of the first GB Youth team in 1972.
Jess Cooper retired from bowling so I set about the task of forming a new team with a more modern image.  My father was a member of the London Playboy Club which I, as a young man, was very fortunate to visit a few times.  This gave me the bold idea of approaching the club to see if they would consider sponsoring our new team.  I wrote to their head office and within a short space of time, I received a letter back from Victor Lownes, the European boss of Playboy, saying they would love to be involved.  Imagine my delight!
In 1972 we registered to join the 5 person Cassius league at the then 24 lane Excel Bowl at Cliftonville (Margate) which today is still going strong as the excellent 12 lane Bugsy's Bowl.  We duly turned up for the first week and caused a bit of a stir in our smart Playboy uniforms (no bunny tails!) and were delighted to win the league at our first attempt.  As far as I remember, we pipped Mike Luckhurst's Cliftonville All Stars for the title.  We were invited up to the Playboy Club to celebrate our success where we met Serena Williams – the head bunny, not the tennis player!  A memorable experience for three young men.  We enjoyed lunch at the club and had photos taken, yours truly in the centre. Our regional newspaper got wind of our exploits so we had our 15 minutes of fame on their front page.  A few months later, Serena hit the tabloid headlines as she became involved with Malcolm Allison, the manager of Manchester City FC. Big Mal's flamboyant lifestyle already had him dubbed as football's first playboy manager so they made a good couple!
After getting married, I gave up bowling for many years but started again when AMF opened a new centre at Chatham and I joined a doubles league, reaching a 187 average which was pretty good back in the day!  My wife, Rosemary, was Kent Area Secretary for many years, at the time John Cudmore was Area President.  After a number of seasons, my enthusiasm waned so I took a bowling sabbatical until 2015 when I joined the new Medway Premier Doubles league at the splendid Hollywood Bowl Rochester which had opened the year before.
I enjoy my current association with the BTBA, my main task being to manage the tournament sanctioning and payments process.   I still have my Playboy shirt, still drive a sports car and still have an eye for a pretty girl so I guess I'm still a playboy – in my dreams !!