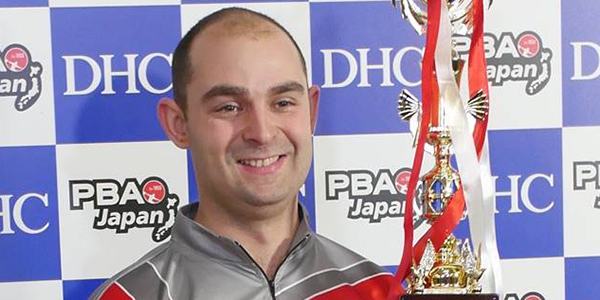 TOKYO, Japan – England's Dom Barrett defeated Kyle Troup of Taylorsville, N.C., 267-204, to win the DHC PBA Japan Invitational, the first tournament of the 2018 Go Bowling! PBA Tour season, at Tokyo Port Bowl on Sunday.
For Barrett, the title was the sixth of his Professional Bowlers Association career and came on the heels of a less-than-memorable start to his 2018 season while competing in non-PBA events in Europe.
"I just finished bowling in Sweden and Finland," he said. "I physically felt good but I didn't get anywhere, so I was looking forward to this week. Japan is very special. You have to qualify to be here and there is a lot of history with this event. I led it two years ago and (PBA Hall of Famer) Amleto (Monacelli) beat me, so it was great to have another go at it."
Barrett, who earned 5 million Japanese yen (roughly $46,000 US dollars), jumped into the tournament lead with a strong opening eight-game match play round. Troup, trying for his third PBA Tour title, overtook Barrett in the second round of match play, but Barrett defeated Troup in the final position round match to regain the top berth for the stepladder finals where he ran away from the American two-handed player.
Qualifying leader Anthony Simonsen of Austin, Texas, started the stepladder finals with a 248-244 win over Marshall Kent of Yakima, Wash. He then eliminated Japanese star Shota Kawazoe, 278-257, before losing to Troup in the semifinal match, 227-180.
The PBA provided live coverage of the DHC PBA Japan Invitational on its video streaming service, Xtra Frame, and will continue its live streaming service when the Tour opens its mainland U.S. schedule with the PBA Tournament of Champions at AMF Riviera Lanes in Fairlawn, Ohio, Feb. 7-11. A Tournament of Champions pre-tournament qualifier precedes the start of the TOC on Feb. 5.
Xtra Frame subscriptions are available in a variety of packages: three-day ($3.99), 30-day ($7.99) and Xtra Frame Season Ticket (a full-year's coverage at an average cost of $1.25 per week). Subscriptions are available by visiting "xtraframe.tv" and clicking on the "subscribe now" link. New monthly or Season Ticket subscribers are automatically entered into PBA's monthly sweepstakes where they have chances to win a new high-performance bowling ball from Brunswick, DV8 or MOTIV.
DHC PBA JAPAN INVITATIONAL
Tokyo Port Bowl, Tokyo, Japan, Sunday
Final Standings
1, Dom Barrett, England, $46,000.
2, Kyle Troup, Taylorsville, N.C., $23,000.
3, Anthony Simonsen, Austin, Texas, $11,500.
4, Shota Kawazoe, Japan, $9,210.
5, Marshall Kent, Yakima, Wash., $7,370.
Stepladder Results
Match One – Simonsen def. Kent, 248-244.
Match Two – Simonsen def. Kawazoe, 278-257.
Semifinal Match – Troup def. Simonsen, 227-180.
Championship – Barrett def. Troup, 267-204.
Final Match Play Standings (after 28 games, including match play bonus pins)
1, Barrett, 12-4, 6,522.
2, Troup, 11-5, 6,518.
3, Kawazoe, Japan, 11-5, 6,453.
4, Simonsen, 4-12, 6,315.
5, Kent, 9-7, 6,314.
6, Sean Rash, Montgomery, Ill., 9-7, 6,304, $4,235.
7, Ryan Ciminelli, Clarence, N.Y., 7-9, 6,261, $4,050.
8, An Junsang, South Korea, 10-6, 6,258, $3,865.
9, Rhino Page, Orlando, 7-9, 6,225, $3,685.
10, Jesper Svensson, Sweden, 9-7, 6,213, $3,405.
11, Tommy Jones, Simpsonville, S.C., 6-10, 6,140, $3,225.
12, Jason Belmonte, Australia, 8-8, 6,123, $3,040.
13, Yannaphon Larpapharat, Thailand, 7-8-1, 6,094, $2,855.
14, Shuichi Heki, Japan, 8-8, 6,016, $2,670.
15, n-Yuhi Shinbata, Japan, 5-11, 6,004, $2,485.
16, EJ Tackett, Huntington, Ind., 4-11-1, 5,972, $2,300.
n-denotes non-PBA member.