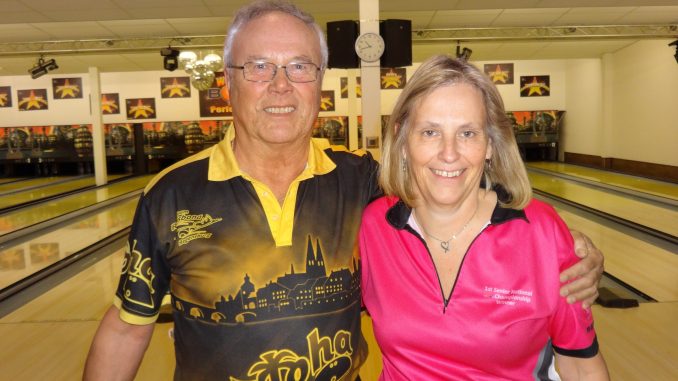 The 2017 International Seniors Bowling Tour concluded in early December with the Zeeland Senior Open in Goes, Netherlands. This was the final event of the 2017 tour, which comprised 11 individual senior (age 50 and over) tournaments, held in 6 European countries – Germany, Belgium, France, Italy, England and the Netherlands. During the course of the year, 545 men and 142 women competed for the titles, an increase of over 20% on the 2016 season, playing for total prize money in excess of €128,000.
The competitors came from across Europe and beyond, with a total of 27 countries represented. In the men's division, only two were able to win twice during the season, Christer Danielsson from Sweden, and Ron Oldfield from England. Other winners in the men's division were Georgio Desimio and Robert Vallons from Belgium, Alan Jenkins and Gary Barlow from England, Amedio Spada from Italy, Roger Pieters from France, and Herman Wimmer from Germany. Ron Oldfield has the highest number of ISBT wins since the tour started in 2010 with 16, ahead of Chris Vandamme from Belgium, and Carlo Greulich from Germany, both with 7 victories.
In the ladies' division, only England's Angie Brown managed more than 1 win, with victories in Deurne and Goes. This takes her total number of ISBT wins to 16, ahead of Liliane Vintens from Belgium and Martina Beckel from Germany, both with 9 victories. The other titles in 2017 went to Kimberley Oakley, Lynne Walker and Sandra Boswell from England, Brigitte Fievet and Nadia Goron from France, Daniela Buzzelli from Italy, Janne Monsen from Norway, Bianca Völkl-Brandt from Germany, and Liliane Vintens from Belgium.
Throughout the year, as well as competing for outright victories, bowlers are awarded points based on their finishing places, which determine the overall rankings for the year. In 2017, Angie Brown from England finished top of the ladies' ranking for the third time, with Hermann Wimmer top of the men's rankings for the second successive year. The top 32 men and 12 women will be invited to the 2017 Masters final which will be held at Cristal Bowling in Wittelsheim, France on the 20th April 2018, during the Alsace Senior Open tournament.
2017 saw the first ISBT tournament in England for several years, held at Stroud Bowl. The 2018 season sees a return to may of the established tour stops, with a few dates later in the year still to be finally confirmed. However, it is sure that the ISBT will continue to flourish, based around the friendships established between bowlers of many different nationalities, and the competitive atmosphere of the ISBT.
Full details of the tour can be found on the ISBT website at http://www.isbtbowlingtour.eu
---
Rankings
Ladies
| | | | |
| --- | --- | --- | --- |
| 1 | Angie Brown | UK | 1060 |
| 2 | Liliane Vintens | BE | 695 |
| 3 | Kimberley Oakley | UK | 510 |
| 4 | Martina Beckel | DE | 490 |
| 5 | Ruth Stander | UK | 475 |
| 6 | Claribel Muis | NL | 470 |
| 7 | Farida Pascoal-Blom | NL | 425 |
| 8 | Nadia Goron | FR | 380 |
| 9 | Linda Pray | UK | 375 |
| 10 | Bianca Völkl-Brandt | DE | 370 |
| 10 | Lynne Walker | UK | 370 |
| 12 | Uschi Diekhoff | DE | 355 |
| 13 | Gisela Insinger | DE | 310 |
| 14 | Danièle Guigon | FR | 300 |
| 15 | Karin Lischka | DE | 290 |
| 16 | Pépita Jacques | FR | 265 |
| 17 | Odile Verlinde | FR | 260 |
| 18 | Sharon Le Louarn | JE | 255 |
| 19 | Nadine Robert | FR | 250 |
| 20 | Julie Johanssen | UK | 220 |
| 21 | Anna Yang | NL | 215 |
| 21 | Beate Albert | DE | 215 |
| 23 | Jan Hodge | UK | 200 |
| 24 | Inge Hazeleger | NL | 170 |
| 25 | Sabine Leutwiler | CH | 165 |
| 26 | Daniela Buzzelli | IT | 160 |
| 26 | Linda Buckland | UK | 160 |
| 28 | Maria Carola | BE | 155 |
| 29 | Alessandra Morra | IT | 145 |
| 29 | Sandra Boswell | UK | 145 |
| 31 | Nadine Lavrut | FR | 135 |
| 31 | Paula Visser | NL | 135 |
| 33 | Hillevi Huhta | FI | 130 |
| 34 | Kerstin Deter | DE | 125 |
| 34 | Linda Van Kerckhove | BE | 125 |
| 34 | Marianne Pelz | DE | 125 |
| 37 | Bozena Pajak | PL | 115 |
| 37 | Jacqueline Faure | FR | 115 |
| 37 | Triss Carman | UK | 115 |
| 40 | Angela Laub | DE | 110 |
| 40 | Isabelle Chevet | FR | 110 |
| 42 | Brigitte Fievet | FR | 105 |
| 42 | Catherine Wills | UK | 105 |
| 42 | Janne Monsen | NO | 105 |
| 45 | Françoise Augustin | FR | 100 |
| 46 | Gabriele Grether | DE | 95 |
| 46 | Marie Pierre Scellier | FR | 95 |
| 46 | Patricia Vezzu | BE | 95 |
| 49 | Petra Börding | DE | 90 |
| 50 | Gloria Carney | UK | 85 |
| 50 | Sue Abela | MT | 85 |
| 52 | Diane Johnson | UK | 70 |
| 52 | Fatima Sancho | FR | 70 |
| 52 | Maria Tirelli | IT | 70 |
| 52 | Nel Tel | NL | 70 |
| 56 | Maria Grazia Locatelli | IT | 65 |
| 56 | Sue Cobb | UK | 65 |
| 56 | Vera Stepper | DE | 65 |
| 59 | Christiane Clerc | FR | 60 |
| 59 | Kirsten van der Kooij | NL | 60 |
| 59 | M.Rosaria Matrullo | IT | 60 |
| 59 | Miluse Novakova | CZ | 60 |
| 59 | Monica Vento | IT | 60 |
| 64 | Anja Lieb | DE | 55 |
| 64 | Bigi Manico | CH | 55 |
| 64 | Carmen Secchi | IT | 55 |
| 64 | Claudie Lenfant | FR | 55 |
| 64 | Corinne Poux | FR | 55 |
| 64 | Elke Gräwe | DE | 55 |
| 64 | Gabi Brandes | DE | 55 |
| 64 | Jana Lebrova | CZ | 55 |
| 64 | Kathleen De Keersmaeker | UK | 55 |
| 64 | Laurence Gaillard | FR | 55 |
| 64 | Luciana Cafaro | IT | 55 |
| 64 | Margit Schaschl | DE | 55 |
| 64 | Marie Ahlstrand | SE | 55 |
| 64 | Pasqualina Curcio | IT | 55 |
| 64 | Petra Viehweg | DE | 55 |
| 64 | Véronique Boulot | FR | 55 |
| 80 | Annie Leone | FR | 50 |
| 80 | Bea Cramer | NL | 50 |
| 80 | Benedetta Fodera' | IT | 50 |
| 80 | Chantal Vanbesien | FR | 50 |
| 80 | Claudine Joguet | FR | 50 |
| 80 | Doriana Marconi | IT | 50 |
| 80 | Ginette Belolo | FR | 50 |
| 80 | Giuseppa Torrisi | IT | 50 |
| 80 | Henny van der Jagt | NL | 50 |
| 80 | Hilary Cooke | UK | 50 |
| 80 | Joanita Nkonge | FR | 50 |
| 80 | Maria Grazia Caliari | IT | 50 |
| 80 | Marian Verhoef | NL | 50 |
| 80 | Marion De Leux | NL | 50 |
| 80 | Martina Jakobi | DE | 50 |
| 80 | Monique Weisemburge | FR | 50 |
| 80 | Sandra Church | UK | 50 |
| 97 | Alice Muller | NL | 45 |
| 97 | Angelika Hernitschek | DE | 45 |
| 97 | Angelika Slama | DE | 45 |
| 97 | Anita Bain | CH | 45 |
| 97 | Anna Maiale | IT | 45 |
| 97 | Chantal Genest | FR | 45 |
| 97 | Christine Prietz | DE | 45 |
| 97 | Christine Sabo | DE | 45 |
| 97 | Corinne Rohr | FR | 45 |
| 97 | Dana Hanusova | CZ | 45 |
| 97 | Françoise Sustar | FR | 45 |
| 97 | Franziska Knöbl | DE | 45 |
| 97 | Lisbet Hedberg | SE | 45 |
| 97 | Maggie Andersson | SE | 45 |
| 97 | Margit Keituri | FI | 45 |
| 97 | Maria Scarpino | IT | 45 |
| 97 | Mariann Kleiven | NO | 45 |
| 97 | Marita Jansson | SE | 45 |
| 97 | Nadia Petre | BE | 45 |
| 97 | Nellie Smits | NL | 45 |
| 97 | Simonetta Marchesi | IT | 45 |
| 97 | Solveig Johansson | SE | 45 |
| 97 | Sylvette Lassal | FR | 45 |
| 97 | Wilma Di Giorno | NL | 45 |
| 97 | Yvonne Randell | IE | 45 |
| 122 | Andrea Homan-Zorge | NL | 40 |
| 122 | Annie Millet | FR | 40 |
| 122 | Blanka Hanusikova | CZ | 40 |
| 122 | Lieselotte Wühl | AT | 40 |
| 122 | Loïse Chaix | FR | 40 |
| 122 | Marja van Dijk | NL | 40 |
| 122 | Nadine Prangère | FR | 40 |
| 122 | Roelie Langeloo | NL | 40 |
| 122 | Sara van der Rhee | NL | 40 |
| 122 | Yolanda Schouten | NL | 40 |
| 132 | Alice Bogie | UK | 35 |
| 132 | Asta Dambrauskiene | LT | 35 |
| 132 | Aurelija Keturkaite | LT | 35 |
| 132 | Elizabeth Gove | UK | 35 |
| 132 | Ella Krivorotovla | RU | 35 |
| 132 | Galina Sughanova | RU | 35 |
| 132 | Marina Kzavzenko | RU | 35 |
| 132 | Maxxi Bartz | DE | 35 |
| 132 | Nicole Thüry | DE | 35 |
| 132 | Roshild Jensen | NO | 35 |
| 132 | Sylvi Berge | NO | 35 |
Men
| | | | |
| --- | --- | --- | --- |
| 1 | Hermann Wimmer | DE | 940 |
| 2 | Roger Pieters | BE | 835 |
| 3 | Alan Keddie | UK | 720 |
| 4 | Steven Jeeves | UK | 715 |
| 5 | Auke Broekhuizen | NL | 700 |
| 6 | Lol Ellis | UK | 685 |
| 7 | Giorgio Desimio | BE | 675 |
| 8 | Valentin Fatu | BE | 670 |
| 9 | Ron Oldfield | UK | 665 |
| 10 | Helmut Ulber | DE | 660 |
| 11 | Robert Vallons | BE | 595 |
| 12 | André Geelen | BE | 570 |
| 13 | Pierre Prou | FR | 550 |
| 14 | Arthur Dähn | DE | 510 |
| 15 | Harald Punessen | DE | 495 |
| 16 | Frank Lindsay | UK | 475 |
| 17 | Dominique De Nolf | BE | 465 |
| 18 | Mike Halliwell | UK | 460 |
| 19 | Alan Jenkins | UK | 435 |
| 20 | Les Grant | UK | 425 |
| 21 | Ian Buckland | UK | 410 |
| 21 | Yves Delafonteyne | BE | 410 |
| 23 | Ekkehard Oette | DE | 405 |
| 24 | Christer Danielsson | SE | 395 |
| 24 | Doug Sinclair | UK | 395 |
| 26 | Mo Singleton | UK | 390 |
| 27 | Peter Knopp | DE | 385 |
| 28 | Carlo Greulich | DE | 360 |
| 29 | Jeff Taylor | UK | 355 |
| 30 | Mick Ince | UK | 350 |
| 31 | Steve Coates | UK | 335 |
| 32 | Uwe Tscharke | DE | 330 |
| 33 | Frank Stander | UK | 320 |
| 33 | Michel Ligier | FR | 320 |
| 35 | Ingar Gabrielsen | NO | 310 |
| 35 | Paul Cosgrove | NL | 310 |
| 37 | Ron Van Den Bogaard | NL | 285 |
| 37 | Ulf Lönngren | SE | 285 |
| 39 | Klaus-Uwe Lischka | DE | 275 |
| 40 | Dominique Wallet | FR | 270 |
| 41 | Dave Goodwin | UK | 255 |
| 41 | Greg Jerome | UK | 255 |
| 41 | Jean-Philippe Rossire | CH | 255 |
| 41 | Michael Pray | UK | 255 |
| 45 | Patrick Rolland | FR | 245 |
| 46 | Dan Ahlquist | SE | 240 |
| 46 | Frédéric Goron | FR | 240 |
| 48 | Francois Apers | BE | 230 |
| 48 | Steve Wright | UK | 230 |
| 50 | Jack Smith | UK | 225 |
| 51 | Jurgen Laermans | BE | 220 |
| 51 | Norbert Rondelez | BE | 220 |
| 53 | Jochen Diekhoff | DE | 215 |
| 54 | Paul Le Louarn | JE | 210 |
| 55 | Berny Stöckl | DE | 205 |
| 55 | Gary Barlow | UK | 205 |
| 55 | Yves Strobbe | FR | 205 |
| 58 | Rene Gooyers | NL | 200 |
| 59 | Erwin Groen | NL | 195 |
| 60 | Alan Tone | CA | 170 |
| 60 | Etienne Couvent | BE | 170 |
| 62 | Bruno Schmitt | FR | 165 |
| 62 | Horst Albert | DE | 165 |
| 62 | Louis Hendriks | NL | 165 |
| 62 | Steve Carnall | UK | 165 |
| 66 | Keith Hodge | UK | 155 |
| 66 | Loris Masetti | IT | 155 |
| 66 | Luciano Casagrande | BE | 155 |
| 66 | Paul Lamon | BE | 155 |
| 70 | Amedeo Spada | IT | 150 |
| 70 | Jürgen Preuss | DE | 150 |
| 70 | Suren Johanssen | UK | 150 |
| 73 | Dario Ancarani | IT | 135 |
| 73 | Joël Rost | FR | 135 |
| 75 | Gery Verbruggen | BE | 130 |
| 75 | Laurent Quittelier | FR | 130 |
| 75 | Maarten in 't Veld | NL | 130 |
| 75 | Ralph Hughes | UK | 130 |
| 79 | Henry van Steenis | NL | 125 |
| 80 | Jack Edelaar | NL | 120 |
| 80 | Marco Reviglio | IT | 120 |
| 80 | Paul Newton | UK | 120 |
| 83 | Ivan Burian | CZ | 115 |
| 83 | Maurizio Celli | IT | 115 |
| 83 | Werner Laun | DE | 115 |
| 86 | Björn Bergvall | SE | 110 |
| 86 | Bogdan Gula | PL | 110 |
| 86 | Dieter Rau | DE | 110 |
| 86 | Jacques Brunet | FR | 110 |
| 90 | Laya Djouad | FR | 105 |
| 90 | Leen van Haaften | NL | 105 |
| 90 | Patrice Sustar | FR | 105 |
| 90 | Stéphane Gromadzik | FR | 105 |
| 90 | Thomas Schwermer | DE | 105 |
| 95 | John Bosch | NL | 100 |
| 95 | Raimo Palokoski | FI | 100 |
| 97 | Frank Öing | DE | 95 |
| 97 | Gabriele Benvenuti | IT | 95 |
| 97 | Noël De Lazzer | FR | 95 |
| 100 | Andy Clough | UK | 90 |
| 100 | Claude Escarguel | FR | 90 |
| 100 | Miroslaw Pajak | PL | 90 |
| 103 | Markku Puurunen | FI | 85 |
| 103 | Massimo Isoppo | IT | 85 |
| 103 | Pekka Tiironkoski | FI | 85 |
| 106 | Alain Aubert | FR | 80 |
| 106 | Alain Sobkowiak | FR | 80 |
| 106 | Alvaro Cardona | ES | 80 |
| 106 | Andy Gillespie | UK | 80 |
| 106 | Marco Borbeggiani | IT | 80 |
| 106 | Rinaldo Ineichen | CH | 80 |
| 106 | Serge Orengo | FR | 80 |
| 113 | Didier Marmion | FR | 75 |
| 113 | Freddy Schijf | NL | 75 |
| 113 | Gaël Scellier | FR | 75 |
| 113 | Gianni Marchiori | IT | 75 |
| 113 | Gordon Humphries | UK | 75 |
| 113 | Gunnar Trouillard | BE | 75 |
| 113 | Harald Laub | DE | 75 |
| 113 | Herman Pellegroms | BE | 75 |
| 113 | Jan de Bruijn | NL | 75 |
| 113 | John de Vries | NL | 75 |
| 113 | Kalle Gaiser | DE | 75 |
| 113 | Patrick Herbaut | FR | 75 |
| 113 | Peter Börding | DE | 75 |
| 113 | Peter Thüry | DE | 75 |
| 127 | Bruno Perez | FR | 70 |
| 127 | Domenico Nespoli | IT | 70 |
| 127 | Gary Baker | UK | 70 |
| 127 | Gregor Ramsak | CH | 70 |
| 127 | Günther Grether | DE | 70 |
| 127 | Günther Hofmann | DE | 70 |
| 127 | Jaakko Polttila | FI | 70 |
| 127 | Jean-François Jourdain | FR | 70 |
| 127 | Marcel Deudon | FR | 70 |
| 127 | Nick Wright | UK | 70 |
| 127 | Patrick Berthomiere | FR | 70 |
| 127 | Philippe Andre | FR | 70 |
| 127 | Philippe van Vaerenbe | BE | 70 |
| 127 | Ralph Yves Genillard | CH | 70 |
| 127 | Rob Gorter | NL | 70 |
| 127 | Tini van Dorst | NL | 70 |
| 127 | Wilbert Anthonisse | NL | 70 |
| 144 | Ad Van Der Jagt | NL | 65 |
| 144 | Armand Lavrut | FR | 65 |
| 144 | Aurelio Briganti | IT | 65 |
| 144 | Avellino Zampieri | IT | 65 |
| 144 | Bruno Dufeutrelle | FR | 65 |
| 144 | Chris Skudder | UK | 65 |
| 144 | Dominique Brosens | BE | 65 |
| 144 | Eric Koning | NL | 65 |
| 144 | Gilbert Houchard | FR | 65 |
| 144 | Janusz Hulecki | PL | 65 |
| 144 | Jean-Charles Faure | FR | 65 |
| 144 | Kevin Reed | UK | 65 |
| 144 | Luciano Marsero | IT | 65 |
| 144 | Manuel Petit | FR | 65 |
| 144 | Marcel Blaser | CH | 65 |
| 144 | Martial Petit | FR | 65 |
| 144 | Miroslav Chylo | DE | 65 |
| 144 | Peter Broekmans | NL | 65 |
| 144 | Peter van den Oever | NL | 65 |
| 144 | Roel Mol | NL | 65 |
| 144 | Sandro Danesi | FR | 65 |
| 144 | Thierry Deboissy | FR | 65 |
| 144 | Vladimir Dvorak | CZ | 65 |
| 144 | Walter Kindschuh | DE | 65 |
| 144 | Yvan Augustin | FR | 65 |
| 169 | Ed Roberts | US | 60 |
| 169 | Frédéric Rollier | FR | 60 |
| 169 | Fredy Lieb | DE | 60 |
| 169 | Jean Marc Lebon | FR | 60 |
| 173 | Alfred Metz | DE | 55 |
| 173 | Dante Didonfrancesco | IT | 55 |
| 173 | Franco Vanzella | IT | 55 |
| 173 | Hans Nitsch | DE | 55 |
| 173 | Kim Johnson | UK | 55 |
| 173 | Paul Stott | IE | 55 |
| 173 | Ray Lay | UK | 55 |
| 173 | Timo Mäkelä | FI | 55 |
| 173 | Vittore Rescazzi | IT | 55 |
| 182 | Claude Vanbesien | FR | 50 |
| 182 | Gérard Calonnec | FR | 50 |
| 182 | Henk Wijker | NL | 50 |
| 182 | Joe Ciach | CA | 50 |
| 182 | Leen Schaap | NL | 50 |
| 182 | Peter Todosijevic | DE | 50 |
| 182 | Santo Provenzi | IT | 50 |
| 182 | Ton Plummen | NL | 50 |
| 190 | Alain Letribot | FR | 45 |
| 190 | Alessandro Martino | IT | 45 |
| 190 | Anastasios Chalkidis | DE | 45 |
| 190 | Brian Johnson | UK | 45 |
| 190 | Daniel Billebeau | FR | 45 |
| 190 | Erminio Vettoretti | IT | 45 |
| 190 | Frank Börner | DE | 45 |
| 190 | Lasse Jalava | FI | 45 |
| 190 | Lucio Malandra | IT | 45 |
| 190 | Massimo Losi | IT | 45 |
| 190 | Nev Robinson | UK | 45 |
| 190 | Patrick Delarue | FR | 45 |
| 190 | Peter Almqvist | SE | 45 |
| 190 | Renato Bortolon | IT | 45 |
| 190 | Roger Froloff | FR | 45 |
| 190 | Serge Frouvelle | FR | 45 |
| 190 | Stefan Wulcan | SE | 45 |
| 190 | Volkmar Wiehe | DE | 45 |
| 208 | Anders Hagberg | SE | 40 |
| 208 | Ben Van Denzel | NL | 40 |
| 208 | Brian Wilkins | UK | 40 |
| 208 | Georges Torok | FR | 40 |
| 208 | Gino di Giorno | NL | 40 |
| 208 | Giuseppe Cuomo | IT | 40 |
| 208 | Giuseppe Marchese | IT | 40 |
| 208 | Graziano Pachera | IT | 40 |
| 208 | Ivan Sabo | DE | 40 |
| 208 | Jan Egil Hansen | NO | 40 |
| 208 | Jiri Hindrak | CZ | 40 |
| 208 | John Wilson | IE | 40 |
| 208 | Laurent Matiere | FR | 40 |
| 208 | Lionel Thomas | FR | 40 |
| 208 | Luciano Lambertini | IT | 40 |
| 208 | Martin Snelting | NL | 40 |
| 208 | Mats Lunderquist | SE | 40 |
| 208 | Oleksandr Savhuk | UA | 40 |
| 208 | Peter Betz | DE | 40 |
| 208 | Peter Panas | DE | 40 |
| 208 | Petri Keituri | FI | 40 |
| 208 | Phil Patrick | UK | 40 |
| 208 | Stefano Beltrami | IT | 40 |
| 231 | Alan Bennett | UK | 35 |
| 231 | Alan Turner | UK | 35 |
| 231 | Antonio Maddaloni | IT | 35 |
| 231 | Benito Guzzinati | IT | 35 |
| 231 | Bernhard Wyrwal | DE | 35 |
| 231 | Claudio Zucconi | IT | 35 |
| 231 | Conn Casey | CA | 35 |
| 231 | Danilo Catani | IT | 35 |
| 231 | Dario Servadio | IT | 35 |
| 231 | Dave Montgomery | UK | 35 |
| 231 | Eric Dingreville | FR | 35 |
| 231 | Eric Huyghe | BE | 35 |
| 231 | Eric Poux | FR | 35 |
| 231 | Falcao Belmiro | PT | 35 |
| 231 | Gareth Roberts | UK | 35 |
| 231 | Geoff Gardner | UK | 35 |
| 231 | Ger Van Loon | NL | 35 |
| 231 | Gérard Lettree | FR | 35 |
| 231 | Giuseppe Sciascia | IT | 35 |
| 231 | Hans Gerold | DE | 35 |
| 231 | Heinz Spot | DE | 35 |
| 231 | Joseph Bulzan | BE | 35 |
| 231 | Kevin Lamb | UK | 35 |
| 231 | Klaus Reitze | DE | 35 |
| 231 | Krzysztof Olesinski | PL | 35 |
| 231 | Luc Giebens | BE | 35 |
| 231 | Mark Spiteri | MT | 35 |
| 231 | Mike Kennedy | AS | 35 |
| 231 | Nico Thienpondt | NL | 35 |
| 231 | Norbert Lutzei | DE | 35 |
| 231 | Oliver Simonian | FR | 35 |
| 231 | Patrick Hunter | FR | 35 |
| 231 | Patrick Lefrancois | FR | 35 |
| 231 | Patrick Mochon | FR | 35 |
| 231 | Paul Morris | UK | 35 |
| 231 | Raimund Patterman | AT | 35 |
| 231 | René Van Hoorebeke | BE | 35 |
| 231 | Rory Smith | US | 35 |
| 231 | Sante Del Vecchio | IT | 35 |
| 231 | Shigefumi Goto | JP | 35 |
| 231 | Stefano Michelini | IT | 35 |
| 231 | Stephen Bose | UK | 35 |
| 231 | Thorsten Filor | DE | 35 |
| 231 | Togni Riziero | IT | 35 |
| 231 | Trevor Green | UK | 35 |
| 231 | Ulrich Zeitler | DE | 35 |
| 231 | Victor Taeymans | BE | 35 |
| 231 | Vittorio Gorrieri | IT | 35 |
| 231 | Willy Ebel | DE | 35 |
| 231 | Wolfgang Emmerich | DE | 35 |
| 231 | Wolfgang Gürz | DE | 35 |
| 231 | Wolfgang Gutzmer | DE | 35 |
| 231 | Yvon Lassal | FR | 35 |
| 231 | Zdenek Havlicek | CZ | 35 |
| 285 | Alain Deledda | FR | 30 |
| 285 | Alain Duboz | FR | 30 |
| 285 | Alain Durot | FR | 30 |
| 285 | Alain Marc Michali | FR | 30 |
| 285 | Alan Wills | UK | 30 |
| 285 | Albinas Dambrauskas | LT | 30 |
| 285 | Alder Zappaterra | IT | 30 |
| 285 | Alexander Moore | DE | 30 |
| 285 | Alexandre Petitjean | FR | 30 |
| 285 | Alfred Hoke | DE | 30 |
| 285 | Alfred Klausmann | FR | 30 |
| 285 | Allen Poulson | DE | 30 |
| 285 | Andre Beers | NL | 30 |
| 285 | Andreas Bösiger | CH | 30 |
| 285 | Andreas Janssen | DE | 30 |
| 285 | Angelo Maggi | IT | 30 |
| 285 | Aniello Graziuso | IT | 30 |
| 285 | Anthony Paris | MT | 30 |
| 285 | Anthony Robson | UK | 30 |
| 285 | Antonio del Rosario | NL | 30 |
| 285 | Antonio Fecchio | IT | 30 |
| 285 | Antonio Garilli | IT | 30 |
| 285 | Archie Bogie | UK | 30 |
| 285 | Arend Schokker | NL | 30 |
| 285 | Arno Hummelink | NL | 30 |
| 285 | Battista Gghilardi | CH | 30 |
| 285 | Ben Penninkhof | NL | 30 |
| 285 | Bengt Ahlstrand | SE | 30 |
| 285 | Bernard Anselmier | FR | 30 |
| 285 | Bernhard May | DE | 30 |
| 285 | Bernie Matthews | UK | 30 |
| 285 | Bertrand Bertiaux | FR | 30 |
| 285 | Billy Gill | UK | 30 |
| 285 | Bjarne Elsborg | DK | 30 |
| 285 | Bob Ockleford | UK | 30 |
| 285 | Bruno Belin | FR | 30 |
| 285 | Bruno Masslow | BE | 30 |
| 285 | Bruno Merlen | FR | 30 |
| 285 | Bruno Perrault | FR | 30 |
| 285 | Bruno Vatin | FR | 30 |
| 285 | Calogero Miraglia | BE | 30 |
| 285 | Carlo Dal Monte | IT | 30 |
| 285 | Carmine Rotondaro | IT | 30 |
| 285 | Christian Delullier | FR | 30 |
| 285 | Christian Muhr | FR | 30 |
| 285 | Claude Genest | FR | 30 |
| 285 | Claudio Nazzurri | IT | 30 |
| 285 | Clinton Forster | US | 30 |
| 285 | Cor Brouwer | NL | 30 |
| 285 | Cris van Hoogstraten | NL | 30 |
| 285 | Daniel Dubart | FR | 30 |
| 285 | Daniele Fracasso | IT | 30 |
| 285 | Dany Delforge | FR | 30 |
| 285 | Davide Sacchi | IT | 30 |
| 285 | Denis Renard | FR | 30 |
| 285 | Didier Fouquet | FR | 30 |
| 285 | Didier Gourdon | FR | 30 |
| 285 | Dieter Schüttforth | DE | 30 |
| 285 | Dietmar Sehn | DE | 30 |
| 285 | Dirk Jan Vosselman | NL | 30 |
| 285 | Dirk van der Kooij | NL | 30 |
| 285 | Domenico Giacubbo | IT | 30 |
| 285 | Dominique Van Den Hove | FR | 30 |
| 285 | Eddy Jeziorski | BE | 30 |
| 285 | Edgar Hufnagel | DE | 30 |
| 285 | Edwin Bain | DE | 30 |
| 285 | Ehsan Alizade | NL | 30 |
| 285 | Ennio Giroldini | IT | 30 |
| 285 | Enrico Salvati | IT | 30 |
| 285 | Éric Beaujot | FR | 30 |
| 285 | Ermanno Morini | IT | 30 |
| 285 | Ernst Baur | CH | 30 |
| 285 | Ernst Blasits | DE | 30 |
| 285 | Ewald Schneider | DE | 30 |
| 285 | Ezio Bona | IT | 30 |
| 285 | Ezio Racca | FR | 30 |
| 285 | Fabien Fleury | FR | 30 |
| 285 | Francesco Anacleria | IT | 30 |
| 285 | Franco Meneghel | IT | 30 |
| 285 | Frank Van De Merlen | BE | 30 |
| 285 | Franz Danzer | DE | 30 |
| 285 | Fred Beumer | NL | 30 |
| 285 | Fred Philips | CA | 30 |
| 285 | Fred Tel | NL | 30 |
| 285 | Frédéric Charrier | FR | 30 |
| 285 | Geir Anseth | NO | 30 |
| 285 | Generoso Ciccone | IT | 30 |
| 285 | Gérard Dome | FR | 30 |
| 285 | Gerd Ahrens | DE | 30 |
| 285 | Gerd Wienß | DE | 30 |
| 285 | Gerhard Machner | DE | 30 |
| 285 | Gerry Wrathall | UK | 30 |
| 285 | Gerth Reuter | DE | 30 |
| 285 | Gilles Payet | FR | 30 |
| 285 | Giorgio Galluzzo | IT | 30 |
| 285 | Giorgio Magni | IT | 30 |
| 285 | Giorgio Sacco | IT | 30 |
| 285 | Giuseppe Panelli | IT | 30 |
| 285 | Giuseppe Pascotto | IT | 30 |
| 285 | Greg Nicolas | NZ | 30 |
| 285 | Grégoire Duchemin | FR | 30 |
| 285 | Gregory Blepp | DE | 30 |
| 285 | Guus Cramer | NL | 30 |
| 285 | Guy De Keersmaeker | BE | 30 |
| 285 | Guy Latry | BE | 30 |
| 285 | Hajo Ottenbacher | CH | 30 |
| 285 | Hans Bakker | NL | 30 |
| 285 | Hans Nietsch | DE | 30 |
| 285 | Hans Peters | NL | 30 |
| 285 | Hans Werner Frerix | DE | 30 |
| 285 | Hans Wischniewski | DE | 30 |
| 285 | Harald Horejs | AT | 30 |
| 285 | Harry Meijer | NL | 30 |
| 285 | Harry Sanders | NL | 30 |
| 285 | Helmut Usuner | DE | 30 |
| 285 | Herbert Thebelt | NL | 30 |
| 285 | Holger Ohlrogge | DE | 30 |
| 285 | Ian Oakley | UK | 30 |
| 285 | Ismaêl Boulfelfel | FR | 30 |
| 285 | Iurii Grynyk | UA | 30 |
| 285 | Jacques Morel | FR | 30 |
| 285 | Jacques Roux | FR | 30 |
| 285 | Jaime Ocampo | FR | 30 |
| 285 | Jan Boelens | NL | 30 |
| 285 | Jan de Jong | NL | 30 |
| 285 | Jan Passies | NL | 30 |
| 285 | Jan van der Heide | NL | 30 |
| 285 | Jean Claude Fruit | FR | 30 |
| 285 | Jean Jacques Dairay | FR | 30 |
| 285 | Jean Marc Marin | FR | 30 |
| 285 | Jean Marie Panis | BE | 30 |
| 285 | Jean Mary Mathey | FR | 30 |
| 285 | Jean-Christian Garcia | FR | 30 |
| 285 | Jean-Claude Lamotte | BE | 30 |
| 285 | Jean-Claude Mioni | FR | 30 |
| 285 | Jean-Louis Mercalli | FR | 30 |
| 285 | Jean-Luc Pilon | FR | 30 |
| 285 | Jean-Michel Salvini | FR | 30 |
| 285 | Jim Einhorn | DE | 30 |
| 285 | Jocelyn Le Marec | FR | 30 |
| 285 | Jochen Mueller | DE | 30 |
| 285 | Jordi Roca | BE | 30 |
| 285 | Joseph Perruzza | FR | 30 |
| 285 | Jurgen Neumann | DE | 30 |
| 285 | Karel van Dijk | NL | 30 |
| 285 | Kees Ringelberg | NL | 30 |
| 285 | Ken Wray | UK | 30 |
| 285 | Kevin Pilley | UK | 30 |
| 285 | Klaus Gesell | DE | 30 |
| 285 | Klaus Heinel | DE | 30 |
| 285 | Klaus Hinney | DE | 30 |
| 285 | Klaus Hoffmann | DE | 30 |
| 285 | Kurt Bauer | DE | 30 |
| 285 | Kurt Stehl | DE | 30 |
| 285 | Lamberto Catalani | IT | 30 |
| 285 | Leone Luigi | FR | 30 |
| 285 | Lex Beauchampet | NL | 30 |
| 285 | Lorenzo Fiorentin | IT | 30 |
| 285 | Louis Michelot | FR | 30 |
| 285 | Luca Caiti | IT | 30 |
| 285 | Luigi Vicentini | IT | 30 |
| 285 | Manfred Kapp | DE | 30 |
| 285 | Manfred Meier | DE | 30 |
| 285 | Manfred Rupertinger | DE | 30 |
| 285 | Marc Franceus | FR | 30 |
| 285 | Marc Van Wuytswinkel | BE | 30 |
| 285 | Marcel Barat | FR | 30 |
| 285 | Marcel van der Pot | NL | 30 |
| 285 | Marcello Liperoti | IT | 30 |
| 285 | Martin den Blanken | NL | 30 |
| 285 | Martin Spoelstra | NL | 30 |
| 285 | Martin Webster | UK | 30 |
| 285 | Matthias Kabel | DE | 30 |
| 285 | Maurizio Gasperini | IT | 30 |
| 285 | Maurizio Tiso | IT | 30 |
| 285 | Mauro Bruschi | IT | 30 |
| 285 | Mauro Galli | IT | 30 |
| 285 | Michael Kiefer | DE | 30 |
| 285 | Michel Joguet | FR | 30 |
| 285 | Michelangelo Chiale | IT | 30 |
| 285 | Mike Sykes | UK | 30 |
| 285 | Nicola Galeone | IT | 30 |
| 285 | Ove Osgjelten | NO | 30 |
| 285 | Pal Sigurd Romskaug | NO | 30 |
| 285 | Paolo Feretti | IT | 30 |
| 285 | Paolo Ramondini | IT | 30 |
| 285 | Pasquale Dieni | IT | 30 |
| 285 | Pat Nolan | US | 30 |
| 285 | Patrick Chretien | FR | 30 |
| 285 | Patrick Maes | BE | 30 |
| 285 | Pere Tusquellas | ES | 30 |
| 285 | Peter Gremmert | DE | 30 |
| 285 | Peter Hartmann | DE | 30 |
| 285 | Peter Lüdecke | DE | 30 |
| 285 | Peter Renner | DE | 30 |
| 285 | Peter van Koningshove | NL | 30 |
| 285 | Peter Verlaan | NL | 30 |
| 285 | Philippe Delpit | FR | 30 |
| 285 | Philippe Fouillet | FR | 30 |
| 285 | Philippe Piel | FR | 30 |
| 285 | Pieter de Bruijn | NL | 30 |
| 285 | Poul Hansen | DK | 30 |
| 285 | Ralf Beenken | DE | 30 |
| 285 | Ralf Gräwe | DE | 30 |
| 285 | Reginald van IJzendoo | NL | 30 |
| 285 | Reinhold Paitz | DE | 30 |
| 285 | Ricardo Franco | ES | 30 |
| 285 | Rinaldo Amadori | IT | 30 |
| 285 | Robert Ghanbar | DE | 30 |
| 285 | Roberto Antonello | IT | 30 |
| 285 | Roberto Cesi | IT | 30 |
| 285 | Roberto Di Laus | IT | 30 |
| 285 | Roberto Panero | IT | 30 |
| 285 | Roberto Reverdito | IT | 30 |
| 285 | Robyn Watkins | NZ | 30 |
| 285 | Roger Verhasselt | BE | 30 |
| 285 | Roig Miquel Angel | ES | 30 |
| 285 | Roland Thamberger | CH | 30 |
| 285 | Ronald Chandra | NL | 30 |
| 285 | Ronald Koot | NL | 30 |
| 285 | Rotislav Kala | CZ | 30 |
| 285 | Runar Almestrand | NO | 30 |
| 285 | Ruud Stauttener | NL | 30 |
| 285 | Sammy Borg | MT | 30 |
| 285 | Saverio D'Elia | IT | 30 |
| 285 | Sergej Vasilchenko | RU | 30 |
| 285 | Sergio Trovato | IT | 30 |
| 285 | Shaun Cummings | AS | 30 |
| 285 | Stefan Kehrle | DE | 30 |
| 285 | Stefan Korol | DE | 30 |
| 285 | Stefan Kuhn | NL | 30 |
| 285 | Stefan Söderlund | SE | 30 |
| 285 | Stephan Verheijen | NL | 30 |
| 285 | Steve Williams | UK | 30 |
| 285 | Theo Hopmans | NL | 30 |
| 285 | Thomas Gürz | DE | 30 |
| 285 | Tim Swain | NZ | 30 |
| 285 | Tom Gulman | US | 30 |
| 285 | Ton van der Velden | NL | 30 |
| 285 | Uli Battes | DE | 30 |
| 285 | Valeriy Bondar | UA | 30 |
| 285 | Vincent Prangère | FR | 30 |
| 285 | Vincenzo Fantauzzo | IT | 30 |
| 285 | Wainer Gianotti | IT | 30 |
| 285 | Walter Fetscher | DE | 30 |
| 285 | Walter Gehring | DE | 30 |
| 285 | Walter Wais | DE | 30 |
| 285 | Werner Kimmerle | DE | 30 |
| 285 | Werner Knöbl | DE | 30 |
| 285 | Werner Prietz | DE | 30 |
| 285 | Wilfred Brocken | BE | 30 |
| 285 | Wilfried Riesmeier | DE | 30 |
| 285 | Willem Nolting | NL | 30 |
| 285 | Wim Louwerse | NL | 30 |
| 285 | Wolfgang Gruber | DE | 30 |
| 285 | Yannick Guitton | FR | 30 |
| 285 | Yvan Le Bois | FR | 30 |
| 285 | Yves Hantson | FR | 30 |
| 285 | Yves Keller | FR | 30 |
| 285 | Yvon Marchand | FR | 30 |