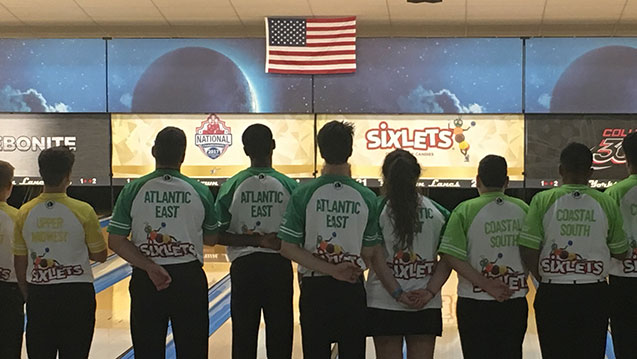 CLEVELAND –  After two days of exciting Baker competition at a pair of Cleveland-area bowling centers, four teams are headed to the television finals of the 2017 USA Bowling National Championships presented by Sixlets.
The event includes two divisions – 12-and-under and 15-and-under – each with its own TV show, and both will feature terrific young talent and great storylines.
The shows will be taped July 22 for delayed broadcast on CBS Sports Network. This year's U12 show will air Aug. 15 at 7 p.m. Eastern, and the U15 finals will run Aug. 22 at 7 p.m. Eastern.
The U12 teams advancing to the title match are Georgia All Stars from the Atlantic East and Cloverleaf Strikers from the Pacific Southwest, both of which rolled through the U12 bracket undefeated (4-0).
The U15 final will feature undefeated Bring It On from the Northeast against 3 Rights Make a Left of the Midwest, which defeated Heartland's Oklahoma XXXXXtreme, 2-0, to advance, after losing their first meeting.
The U12 show will be a return to TV for a pair of winning coaches, while two of their players will be seeking redemption from a year ago.
Bill and Ellen Johnson, who coached the South region's The Strikers to the U15 title in 2016, will look to collect a second title in 2017, this time with the Georgia All Stars in the U12 division. Their U15 Georgia All Stars came up short this year in Cleveland.
All of the team members bowl together often as part of the Georgia All Stars program, which includes competition against bowlers from North and South Carolina, so the group considers experience and camaraderie as two of its strengths.
The Johnson's advancing team includes James Armendariz, Jacob Ballenger, Bryant Griffith and Riley Stewart. Griffith and Ballenger were members of the second-place U12 team at last year's event in Indianapolis.
The Pacific Southwest squad, all from California, includes Joey Irvin, Diego Jara, Nihal Mareedu and Harley Shene.
"Last year, we were very fortunate to make the U15 show and come away with a championship, and we're excited to be back on TV and try to win one with our U12 team," Ellen Johnson said. "Bryant and Jacob made TV, too, and although they didn't win, they're looking forward to another chance and using that experience to help the team succeed this year."
The all-female Bring It On is coached by the International Bowling Campus Youth Committee's 2017 Volunteer of the Year Leslie Bohn, with help from her hall-of-fame husband, Parker Bohn III.
The duo preaches the importance of spares, especially when the lane conditions are a little tougher, and they have two simple mottos for the bowlers they coach – get bored making spares, and love your spare ball.
Leslie Bohn said her team's spare shooting was spot on during the two days of competition at Yorktown Lanes in Parma Heights, Ohio (qualifying Wednesday) and Cleveland's Freeway Lanes of Parma (match play Thursday), but it was a powerful final-frame double from 14-year-old Amanda Naujokas that locked up the team's spot in the championship round.
Amanda, the girls U12 champion at the 2015 Junior Gold Championships, anchored Bring It On to a 2-0 (242-177 and 215-207) win against the New England region's New England Strikers. She was joined by Marissa Cosentini, Kamerin Peters, Paige Peters and Paige Boyd.
"I was nervous and shaking, but I took some deep breaths, and that really seemed to help," Naujokas said. "Having confidence in my shots helped, too. It's a great feeling to be in this position, and we'll plan to take it one shot at a time, using today as extra confidence."
As coaches, the Bohns have worked hard to make sure their teams, students and their own children are prepared for competition, not only at the USA Bowling National Championships, but also at the Junior Gold Championships and Bowling.com Youth Open taking place in the Cleveland area this month as well.
Their team's success Thursday at Freeway Lanes was bittersweet, as their son Brandon, daughter Sydney and niece Natalie Kent were on the U12 #TeamLit that fell just short of a TV appearance, losing to Georgia All Stars for a spot on the show.
"It certainly is a tough role, as I try to console my own son, but I'm also really excited for these girls," Leslie Bohn said. "The girls have worked so hard and have terrific chemistry, since they're good friends, too. They learn and feed off each other, and I'm proud of how they bowled as a team. We've worked hard to prepare all of our bowlers for these events, and it's nice to see that pay off."
The all-male 3 Rights Make a Left includes Brandon Bonta, Silas Limes, Peyton Montgomery and 2015 U12 Junior Gold champion Spencer Robarge.
The 2017 USA Bowling National Championships started with 32 teams – 16 in the 12-and-under division and 16 in the 15-and-under division – which bowled five and six one-game Baker matches, respectively, Wednesday at Yorktown Lanes, with their win-loss records determining the seeding for their respective double-elimination match-play brackets Thursday.
The schedule originally called for 15 matches, but a citywide power shortage forced the day to be cut short. Ties were broken by total pinfall.
Thursday's match play at Freeway Lanes of Parma featured best-of-three Baker matches to see who advanced.
The event's finals will take place Saturday at Game of Wickliffe in Wickliffe, Ohio, and will be televised on CBS Sports Network for the second consecutive year. The title matches will have a best-of-five Baker format to crown the second national champions in the event's brief history.
All rounds of qualifying and match play leading up to the televised finals were broadcast on BowlTV.
The USA Bowling program was introduced at the regional level in 2013 and grew to include the first USA Bowling National Championships last year in Indianapolis.
The 32 teams competing in the Cleveland area this week all earned their spots at the national event by winning one of 16 regional tournaments held across the country throughout the end of 2016 and beginning of 2017.
USA Bowling is a product of the Youth Education Services (YES) Fund, a joint initiative of the Bowling Proprietors' Association of America and United States Bowling Congress supported by top bowling brands including Bowling.com, Columbia 300, Ebonite, Hammer, QubicaAMF, Roto Grip, Storm and Track.
For more information on the USA Bowling National Championships or Junior Gold Championships, visit BOWL.com.
About International Bowling Campus
The International Bowling Campus (IBC) is the headquarters for the bowling industry and directly serves the more than 69 million bowlers in the United States. The IBC houses the resources of the United States Bowling Congress, the governing body and membership organization for the sport; the Bowling Proprietors' Association of America, representing the business interests of bowling centers; IBC Youth Development; Strike Ten Entertainment, the marketing arm for the industry; the International Bowling Museum and Hall of Fame; the International Bowling Pro Shop and Instructors Association; the International Bowling Media Association; the Bowling News Network; the Billiard and Bowling Institute of America; and the International Training and Research Center.