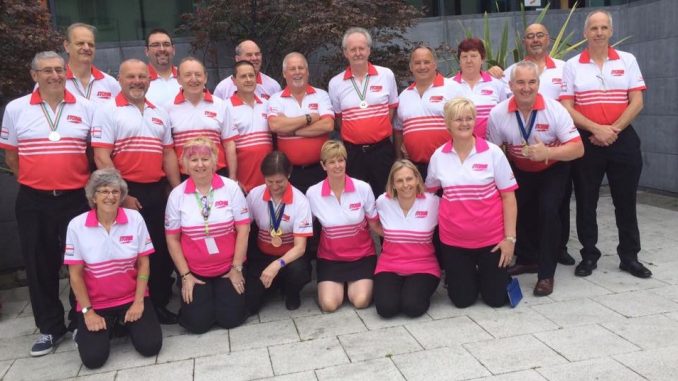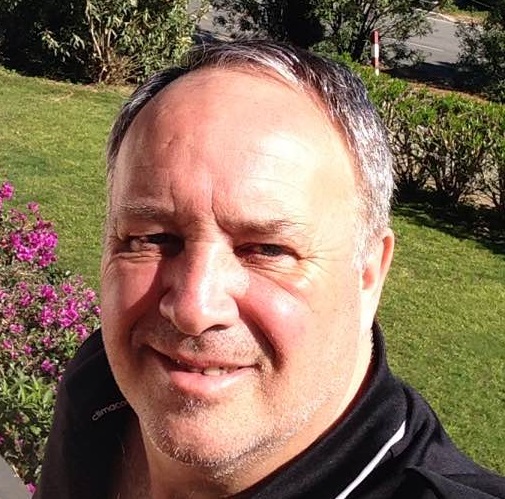 The diary of an ESBC competitor.
By Paul Morris
Day One – Saturday
Here we are again, all checked in and about to have a full English breakfast to really start the day. Flight is due to leave at 9.50am. This flight is probably the closest I'll get to first class as I have a seat in row 1. Looks like I picked the right time to leave it has started to rain. It was slightly strange as I had to remove my headphones totally for both take-off and landing!! A straightforward one-hour flight and we're in Dublin, met up with Ian and Linda at Dublin airport before heading to the Green Isle Hotel.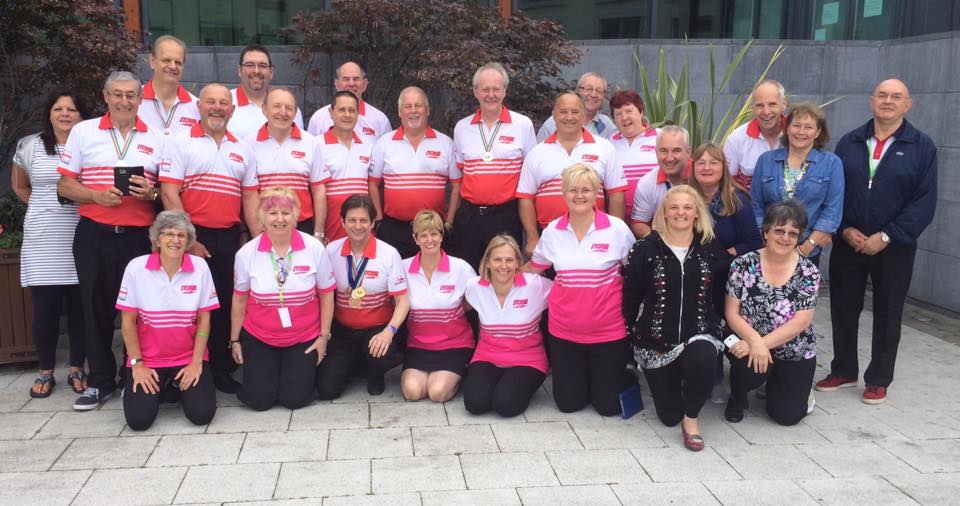 Meeting at 2pm had most of us there, Richard had sent his apologies as he was detained in hospital with quite a serious eye infection, it's likely he will be kept in for a couple of days.
Gary O turned up with the news that he couldn't find all his bowling balls!!!! The majority of balls were driven over by Lol and Mike via Kim at Stroud, who was horrified at the thought of not getting all the balls on the van!!! This issue was sorted fairly quickly when Kim went to look and he found them where they should be just separated. Eric's face was quite a picture as well, not sure what exactly he was thinking!! But Panic over, on with the meeting. Next up is the journey to the opening ceremony, 2 double-deckers and a single decker coach were required to take all the bowlers and guests from the Green Isle Hotel to The Helix Centre. Gary Baker was asked to parade the English flag during the ceremony which he did with great pride.
There was some entertainment that followed the ceremony which was a singer and half a dozen dancers who were very good and finished the evening with a rendition from the Riverdance.
A great way to start the week. It was then into the foyer area for drinks and nibbles. Plenty of wine for all the guests but ran out of Heineken very quickly!!!!
While on the way back in the bus Lol noticed what could only be described as a faceless Leprechaun hanging from the rear view mirror. All you could see was the little Irish Hat and (as Lol said) some pu*** hanging below the mirror, well that was enough to get both the Sandra's going. They were giggling most of the way back to the hotel, and thought that was the end of the frivolities, then the coach got up some speed and because one of the top window hatches was open there was quite a draught coming through, and guess who caught the worst of it, yep you got it, the Sandra's, well….that messed up their blue rinses and nearly blew them off!!!!!! By now they were almost in tears from laughing so much. Al lent them his fleece top, hoping they didn't make it too wet; (from crying too much) to try and keep warm until we got the window closed. Anyway back to the hotel to finish the evening off and for some, to prepare for their early start on day one of bowling.
Day Two – Sunday
Barry and Mike are first up in the 10am squad at Charlestown.
Mike struggled a little but still managed a 6 game block of 1118. Barry fared better on the left for a 1206. I went along to support the guys in the next squad, Gary B and Mark who both looked as though they had a good shot during their practice. This certainly turned out to be the case for Gary as he shot a 278 first game. I found out later that he was very nervous during that first game but once on the score sheet seemed to settle for the rest of the first block of 3. He was fortunate during his 2nd block of 3 to have only himself and one other bowler. This was because with just 3 to their pair which included a pacer they were falling behind on time, because the pacer was so slow, so the referee decided to pull the pacer out. This allowed Gary to bowl at a much better pace. He finished with a brilliant 1367 which put him in first place in his Group. He just has to sit back and sweat it out for the rest of the week!! Mark started steadily with a 221, 217 which was encouraging but unfortunately lost his way a little over the next couple of games but finished with a great last game of 257 to finish at 27 over for his block of 6.
We then stayed around to watch Keith and Lol in the last squad of the day. Lol was reasonably steady throughout his six games he finished with 1248 plus his 6 bonus pins which puts him in sixth place so far. Keith, had a terrible start with a 151, his next two games were better and finished the first three games with a 554. Once he moved lines he managed to sort himself out and through 675 for the next three, this gave him a total of 1229, but Keith gets three bonus pins per game so another 18 which gave him a grand total of 124, this left him equal 7th. Once we got back to the hotel, we found that they had stopped serving food, so about a dozen of us ended up ordering a Chinese takeaway, Thanks to Jan for taking charge of this. Once that was eaten some of us retired to the bar for a drink and a chat. At some point towards the end of the evening it was mentioned by Kim and I, that women always say one thing but generally mean something completely different!! We didn't realise how much of a nerve this would hit! Especially with Sandra B, who was disagreeing.
Day Three – Monday
This was an early start for Me, Ian and Gary O, as we had to get the bus at 7:30 from the hotel to Charlestown. This journey was to take about two hours. Once at the bowl we got ourselves ready and registered.
I started well with a 243 game, followed by two more 200 games for 69 over after the first three games. I then moved lanes to 13 & 14 and struggled a little bit. With Lol being there trying to help me find an answer I ended up changing balls, (possibly too much in hindsight!!), but I finished with a 200 game for 1223. I am happy with that. It was at some point during the 2nd 3 games that Richard turned up, considering what he had been through he looked well.
Gary O was on the lanes to my left. He started extremely well considering this was his first outing as a Team England Bowler. I'm sure he had some nerves but they would have disappeared with a great first game of 253, unfortunately he couldn't keep that going and finished with 1165. Couldn't really see what Ian was up to as he was down on the lower lanes. I found out after we had finished bowling that Ian had done OK and was six under on the 1194.
As I wanted to go over to watch the Ladies bowl (because last year in Copenhagen I did not get that opportunity), I went and found Gordon and Kim to wish them all the best for their singles and then disappeared. The Ladies were playing in Blanchardstown, so I got on the coach that was going back to our hotel, and the driver let me off at the Crowne Plaza Hotel, (although there were no bowlers to be dropped off) he then pointed me in the right direction and I walked for 10 minutes to the bowl. The driver then continued to our hotel and left my balls in reception for me. What a good lad.
The Ladies were playing their Trios here, but unfortunately they all struggled to score well, with each Trios team only managing to score one 200 each. They were all struggling with their spares, which was a real shame because they managed 4th & 8th place, that could have been so much better had they spared better. Catherine, Sandra S and Angie finished with 3112 which put them in 4th. Jean, Sandra B and Val finished with 3045 which put them in 8th. All of us then jumped back on the coach and went back to the hotel where we had something to eat. The carvery was still going, which was very good. Followed by a couple of beers.
Day Four – Tuesday
We started the day with a meeting at 11am, because no one was bowling until 2pm at Blanchardstown. That was all men who had their Trios.
The meeting was a brief chat of what had been going on so far, and was their anything that could be shared to help the men. The Ladies had a day off. We then got ourselves sorted for Men's Trios at Blanchardstown. I managed to scrounge a lift with Kim so I didn't have the long coach journey. This meant there was Me, Kim, Diane, Gary B and Tricky (Richard) with our kit all piled into Kim's new Jag, what a nice motor, didn't struggle at all with 24 bowling balls.
The only thing that Kim struggled with was knowing how many Tolls he owed?? The centre at Blanchardstown was another leisure centre with lots of gaming machines on one side of the building and the lanes on the other, it was poorly lit and the scoring monitors weren't much better, in so much it was pretty difficult reading the scores, and that was for those of us on the lanes, not sure how the spectators managed!!! Anyway, first up was Lol, Gary and Gordon on lanes 1&2 With Richard, Ian and Keith on lanes 7&8. Lol struggled to stamp his authority on the lanes and was probably hung by Gordon and Gary a dozen times, in the first couple of games. It took him until 2 1/2 games in before he registered his first double!! No worries because Gary and Gordon were scoring very well from the off. Lol bowled a 523 while Gary and Gordon scored 83 & 55 over respectively for their first 3 games.
They then moved to lanes 5 & 6 where Lol improved. As a team they were pretty consistent as all six of their games were over 600 each time which is a good bench mark for the Trios. Lol shot a 633 for his 2nd set of 3 and Gary and Gordon had 607 & 643 respectively. This gave them a scratch total of 3744 plus Lol's handicap of 6!!, and a grand total of 3750 which puts them in First Place. With Richard, Ian and Keith on lanes 7&8 I was able to keep one eye on what they were up to as well. They started well on the fresh oil with a 662 first game, unfortunately they were unable to keep this up and only managed one other game over par.
It was their 5th game that really put a damper on things as this was only 515!! They finished with a grand total of 3560. Richard finished 17 under, Ian was 20 over and Keith was 61 under although he did have a handicap of 18 that was added in. Once these guys had finished it was over to the other two teams for their turn, that started at 7pm. That was Mike, Gary O and Mark in one team and Paul, Barry and Kim in the other. This was the one I was looking forward to as Kim and myself teamed up with Larry last year to win the Gold medal. So this year Barry was to be the new Larry!!ha-ha. We didn't start too well and only managed a first game of 583, we sorted things out and shot a massive 703 for the 2nd game. We followed these two games up with two more over par games to be 142 over and just 9 pins short of first place with two games to go. I'm not sure if Kim and Barry knew how close things were.
We slipped up a little with game 5 and only shot 587. We had lost a little reaction from where we were bowling, so as a team we decided to go back to where we had started and go again. This got us back into the mix. Onto the last game knowing that we needed a 622 to take first place, unfortunately we only managed a 601, what a bummer. We were totally disappointed, so close yet so far. On the positive side this put us in Silver position. Plus, as I said to Kim we had scored more than last year when we won, so couldn't ask for much more than that. We had all bowled really steady with Kim bowling 1271, Me on 1220 and Barry 1239 after a 159 first game. Well bowled Kim and Barry I thoroughly enjoyed your company and it was fun. Didn't get to see or hear how our other team were getting on, but looking at the scores they started off really well going 652, 497, 657 for the first 3 to be 6 over. Unfortunately when they moved they only managed one more 200 game between them. It was after midnight when we finally left the centre, so really pleased that I came over with Kim as we were able to avoid the long Bus ride back and managed a night cap in the bar to celebrate our 2nd place.
Day Five – Wednesday
This should have been a day off from bowling for the men, but Eric had managed to get Richards singles changed from Sunday to the Wednesday because he was in hospital at the beginning of the week. This also meant the team meal that was a possibility was not going to happen. I had a lay in and caught the 11am coach to go to Coolock to support the Ladies in their doubles. I just caught the end of Catherine and Angie who had scored 1114 & 1022 respectively for a total of 2136.
Both Sandra Simmonds and Val and Sandra Boswell and Jan were due on at 1.30pm. Sandra and Val were up against the younger seniors while Sandra and Jan were in the "B" group, the slightly older ones!!!
Unfortunately, they were all struggling with their spare shooting. This was discussed, but no one could really put their finger on why this should be. Especially as we know they can do better as 2 of them medalled last year in Copenhagen. Kim made sure that Richard got to the centre for his singles and I think a few went over to support him. Looking at his scores he was steady throughout his 6 games and finished on 1209.
Day Six – Thursday
This day was to be a bit of a headache for the coaches as the Ladies were playing their Singles at ALSAA – Jan & Sandra B 9am, Sandra B & Angie 1.30pm, Catherine & Val 5pm And the Men had their Doubles at Stillorgan. Lol & Keith, Gordon & Gary, Paul & Kim all at 1.30pm, Richard & Ian, Gary O & Barry, Mike & Mark all at 5pm. Mike and Eric decided to go to ALSAA with the Ladies, Lol could help the men at Stillorgan when he wasn't bowling should it be necessary. It turns out that Stillorgan did not play at all like we were led to believe! I think myself and Kim were looking forward to trying to improve on last year's Bronze medal.
This unfortunately was not to be. I think we were unlucky with the lane draw, as we ended up on lanes 1 & 2 for our 2nd block of three and couldn't carry to save our lives. I went 601, 501 for 1102 and Kim didn't. He struggled big time and scored 498, 545 for 1043. Team total 2145. These scores also messed us up for the All Events, more so Kim as he missed the Masters by 35 pins. I was watching all others that played on 1 & 2 and it seems they all struggled!! Lol was in no position to help as he was playing himself. Whether Mike with all his knowledge and expertise could of helped we will never know. So all we can say is there is always next year…. hopefully!! Lol and Keith fared a little better with a total of 2249. That's 1173 & 1076 respectively. This put them in 8th place once all had been done.
Gary and Gordon played much better and ground out an impressive score of 2414, they scored 1215 & 1199 respectively. This was enough to earn them 3rd place. Come 5pm it was the turn of the other 3 pairs, Richard & Ian, Gary O & Barry, Mike & Mark.
Richard and Ian were steady throughout hitting a final total of 2378. That was 1150 for Richard and 1228 for Ian, which included a Lily!! It just so happened that I was watching this pair when it happened, so out with the camera for a picture, which was sent to Linda for a keepsake. The shot itself wasn't that bad, just a little light in the pocket. This was enough for a Silver medal at the end of the day. Great shooting lads.
Mike and Mark had a lousy start to their doubles campaign shooting a 289, which they never recovered from. They finished with 1044 & 1083 respectively. This left them in 21st place overall. They finished playing on
lanes 17 & 18 right up tight to the right-hand wall, so couldn't see that well from our position. Although I did see Mike hit a great pocket hit and leave the 8 pin!
Gary and Barry started off very well and were just over for their first 3 games. But like most of the others this went south when they changed lanes for the 2nd set of 3 games. They finished with a total of 2282 which was enough for 13th place, nothing to be ashamed of. Looking at all the scores Stillorgan was the hardest centre to score in. From over 290 pairs that bowled here in all three divisions, only 5 pairs managed a score of 2400plus. With bowling over for the day and nothing the following day, half a dozen of us decided to get a taxi and go into Dublin for something to eat and drink with some music to boot. Before we headed into O'Neils, we took some photographs of the Molly Malone statue, and probably the best one was of Kim getting a right handful of her ample breast. We then went for something to eat and then listen to some music. Unfortunately we were chatting too much over dinner and missed the music, also before we knew it the bar had closed so there was no more drinks, at least not in that place. We headed down the road and found O'Donoghues which was open for a little while longer so we had another drink here. This was an eventful half hour as gary was chatted up by a very drunk lesbian who thought he was gay and that Richard was his partner…. she spent a good 10 minutes stroking his hair!!!!! Come midnight, time to get a taxi and head back to the hotel.
Day Seven – Friday
There was NO bowling for any of us today, so Eric had organised a bit of fun for us in the way of a Mystery Tour. Everyone had been trying to guess what it was throughout the week. The only clue that Eric would give anyone was that we could win prizes. Some thought it might be Bingo! Anyway, all was to be revealed in the breakfast bar at 9-45am when we all got together. We had to sit with our Doubles partners for starters, and any partners that were there with us. So it was Myself, Kim and Diane. We were given a map of Dublin with some instructions. There were also some questions to answer when we returned. It turns out we are going on a sort of scavenger hunt, taking plenty of mug shots on the way. The main idea was to go to landmarks that were on the map and take a selfie or get the partner to take a mug shot of the doubles pair and the land mark. You got more points for those points that were the furthest from Dublin Centre, which was The Zoo, The Gaol & I.M.M.A, these all carried 20pts I think.
The majority of us decided to get on the 69 bus from just outside the hotel. Eric had informed us it was cash only, no change given. It turns out to be coins only, no change. Fortunately we all had enough change. As it happened the bus's route into Dublin went close to the Zoo, so we all piled off the bus and headed straight for the Zoo, Me & Kim made a couple of detours to what we thought would be good points!! Kim was giving Gary plenty of abuse across the roads, as he felt he had got rid of the "Boy" for the day, so Gordon, Gary, Mark & Mike plus partners ended up going their own way. Keith, Lol, Jan & Sandra B seemed to get as far as the Tea rooms and stopped. After using the toilets at the tea rooms, we set off on our own route to the next point. We then saw Gordon, Gary and Co who had the same idea. We visited a couple of other places together and on to the Irish Museum of Modern Arts where we all had a bite to eat and a drink. We left first to go on our way and didn't see another sole all day.
It was non-stop, how Diane managed to keep up, especially with an ill-fitting shoe I will never know, good on ya Diane. Come 4pm we started looking for the bus stop that was to get us back to the Hotel, well that was easier said than done. I'm sure Mike had told us the bus finished at Stephens Green, But we could not find the 69 Bus stop anywhere around there. Every number but the 69!!! I think we found out later that the 69 went from North of the River Liffey, that was nowhere near where we were!!!!!!! So we done the next best thing and got a Taxi back to the Hotel. En Route we saw Sandra S, Val, Al and Mike (not sure what had happened to his partner Mark) on the top deck of a 69 bus, so we got our Taxi driver to sound his horn as we passed them as we hung out the windows of the Taxi, but all was in vain as they did not notice us, or just chose to ignore us!!!!
Once back at the Hotel it was time for the questions, and the prize giving, I think we got about 60% of the questions, but did not ring off all the places we had visited as we thought they were going to look at the photos we had taken, so we were a bit short of circles and finished about 5th I think. All in all, it was a great day out that I think was enjoyed by all. A dozen of us finished the night off by having a 15-minute walk down the road to a restaurant and a very pleasant meal and then wandered back for a night cap.
Day Eight – Saturday
Masters at Blanchardstown. We were to be represented by Gordon in group A, Gary B and Ian in group B. England was also represented by Kevin Lamb in group C. The way this was to work this year was the six bowlers in each group would play on a pair of lanes and the lowest bowler would drop out each time. They would play 3 games and then move to the lanes that the Ladies were using and vice versa, as to why this was to happen was a mystery. Gordon and Gary got through the first game with 218 and 228 respectively; unfortunately we lost Ian in that first game with a 195. The second game saw quite a few low games but Gordon 224 and Gary 185 had done enough to move forward.
Game 3 was nothing special from any of the bowlers. Gordon finished this game equal last with the Swedish player, so there was to be a roll off, trouble is no one really knew what it was to be. They started by saying it was a two frame roll off, but our Tony Brown jumped in and showed the officials the rules of the tournament, which stated it would be a one ball roll off… gulp. Well eventually at least after 5 minutes delay the Swede went first and left a ringing 7 pin (he was a leftie), Gordon set himself on the approach and delivered the perfect ball for a strike and passage to the next round. Gary scored 192 which was enough to move him into the next round. All bowlers now changed round and the men went to the other end of the centre where they continued with Game 4.
This unfortunately was where we lost Gary with a 176 game, we also lost Kevin Lamb at this point. Gordon however had found another lease of life and hit a great 237 game to make his way through to the final game. It was now down to the final game and it was getting very difficult to see as there was so many people trying to see what was going on. Lynn, Gordons better half could not see at all and ended up sitting right at the back, not sure if that was because she couldn't face watching or just couldn't see!! I ended up standing on the Air Hockey machine so that I could see what was going on and almost commentating to Lynn as Gordon made strike after strike. I think he put the first 6 strikes in, which gave him a great cushion over his Russian opponent and ran out the easy winner 244 to 200. Gordon had won the ESBC Masters GOLD medal. We then managed to get ourselves a great position down on the lanes just in front of where the medal presentations were to take place.
A great view for the photographs, unfortunately it turned out to be really bad from a lighting point of view, so all photos were pretty awful!!! Something needs to be done about this in future.
We had a little shouting to do with the following medals:
Gary Baker – Bronze in the Singles (group B)
Gary Baker & Gordon Humphries Bronze in the Doubles (group A)
Richard Hood & Ian Buckland Silver in the Doubles (group B)
Kevin Lamb & Del Delaney (Ire) Bronze in the Doubles (group C)
Lol Ellis, Gordon & Gary B Silver in the Trios
Gary B Bronze in the Masters (group B)
Gordon Gold in the Masters (group A)
Kevin Lamb Bronze in the Masters (group C)
It was now back to the Hotel to get ready for the Banquet that evening. But before we went off to get ready we loaded all the bowling balls into the van, ready for the trip back home with Lol and Mike Q. Eric then wanted some photographs of all the medallists along with the rest of the squads. So we took all the photos that were wanted and then realised the Hodge's were missing. We gave them a few minutes but they did not appear so some then started texting them to find out where they had got to. They eventually decided to join us about 15 minutes after we had taken the first shots. They came outside as though nothing was wrong!! I am not going to mention what comments were being made, other than to say the egg was over done!! Once everyone had gathered down in reception again it was onto the coaches for the last time as a squad. Again there were a lot of people from our hotel that took up 4 coaches. We got to the Hotel that was hosting the Banquet pretty quickly
as it wasn't too far from our hotel.
It was an enormous place that had a great looking Golf Course (unfortunately no clubs). On getting inside couldn't see the bar for the amount of people there, although Eric did come back with a pint for me, cheers Boss. While waiting to go in both Gary O and Gary B were busy exchanging shirts with the Belgium guy who had asked at the bowl earlier that day. Gory O had one for himself and Gary B got his last one, but that was too big for him at XXL, so I had that one and Gary used my shirt to get himself a Russian shirt, again this one was too big, so he was to give this one to Kim and then had agreed with one of the Lithuanian women that he would exchange his shirt with her at the World's in August as she did not have her shirt with her at the Banquet.
The Banquet was an amazing event and very well done considering there was the best part or 1200 people there having a dinner. They had the final official thanks and handing over of the flag to Austria who will be hosting
the next ESBC in Vienna. During the final hours on the dance floor there was to be some more dancing from an Irish dance group that were superb as was the young lady that was singing.
A great evening……………….WELL DONE IRELAND.
Day Nine – Sunday
This was the day that most people were making their way home, either by car, van or flying. I had booked an afternoon flight so that I did not have to get up too early. I went to the airport with Gordon & Lynn, and both the Sandra's. I said my goodbye's as we left the coaches and made my way to Terminal 2. My flight was on time and got me back to Heathrow at 2.55pm. I was out of the airport in 25 minutes, but had to wait a while for the wife to turn up as the M25 had been a nightmare. Great to be back home after a long week.
I would like to say a big THANKS TO ERIC FOR ALL HIS HARD WORK IN ORGANISING THIS TRIP. Also to Lol and Mike for their help on the lanes when needed.