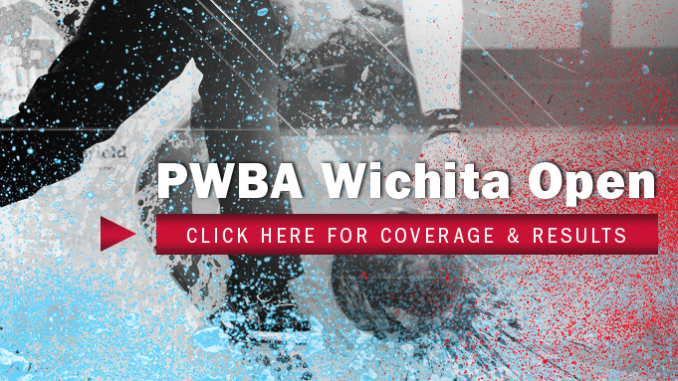 Click Here for Live Coverage
ARLINGTON, Texas – After three standard events in California and the first major of the year in the books, the Professional Women's Bowling Association Tour (PWBA) moves to the Midwest for four events, starting with the PWBA Wichita Open from June 1-3 at Northrock Lanes in Wichita, Kansas.
Danielle McEwan of Stony Point, N.Y., returns to Northrock Lanes as the defending champion, and to the scene of the crime where she committed an all-out assault on the pins.
After 15 games of qualifying, including three games of Cashers' Round competition, McEwan found herself outside of the match-play cut at the 2016 event with three games to bowl. After a quick adjustment, she fired 753 to sneak into match play as the 12th seed.
What transpired next was nothing short of incredible.
McEwan opened match play with games of 279, 268 and 276 for an 823 series, the first and only 800 series rolled by a PWBA player since the re-launch of the Tour in 2015. She followed with games of 276, 233 and 211 for a six-game total of 1,543, averaging more than 257 during match play to earn the top seed for the finals.
McEwan's performance gave a new meaning to the phrase, "It's never over until it's over."
"I'm not normally an honor-score type of player," McEwan said. "I haven't had many high games or series in a row like that in the past, so it gave me a lot of confidence to be able to do it in that situation. I definitely have a different mindset about it not being over until it's over. There were times in the beginning of that tournament when I had no look and thought I was out of it. It just proves that it's never too late to turn things around."
Along with McEwan, all 2016 PWBA Wichita Open TV finalists will compete this week, including Colombia native Maria Jose Rodriguez of Austin, Texas, Shannon Pluhowsky of Dayton, Ohio, and Syaidatul Hamidi of Malaysia.
In 2016, Hamidi rolled the tournament's only 300 game, during the Group A stepladder final, to earn a spot into the TV finals.
Hamidi, a member of Team Malaysia, competed in four events last year along with several of her teammates. This week she will be joined by Esther Cheah, Siti Rahman, Sin Li Jane and Shalin Zulkifli.
Sweden's Sandra Andersson, the 2016 USBC Queens runner-up, is scheduled to compete along with Team Sweden teammates Nina Flack and Victoria Johansson. Japan will be represented for the first time this season by Nachimi Itakura, Mayumi Naitoh and Chika Terashita.
Locally, 17 competitors with Wichita State ties will compete, including 2017 women's Intercollegiate Singles champion Sydney Brummett, National Collegiate Bowling Coaches Association First-Team All-American Hollyann Johansen, Go Bowling PWBA Players Championship winner Clara Guerrero, two-time PWBA champion Rocio Restrepo and 2009 NCBCA Most Valuable Player Sandra Gongora.
CBS Sports Network will televise the stepladder finals of 13 of the 14 PWBA Tour events which began May 23 with the USBC Queens, the first major event of the season, from the Raising Cane's River Center in Baton Rouge, Louisiana.
The stepladder finals of the PWBA Wichita Open will be taped for broadcast June 25 at The Ashwaubenon Bowling Alley in Green Bay, Wisconsin, one of four telecasts at the Go Bowling PWBA Players Championship, the second major of the season, and will air Tuesday, July 4, at 8 p.m. Eastern on CBS Sports Network.
All qualifying and match play rounds of PWBA Tour events will be carried on Xtra Frame, the exclusive online bowling channel for the Professional Bowlers Association. Go to XtraFrame.TV for more information.
2017 PWBA WICHITA OPEN
(At Northrock Lanes, Wichita, Kansas)
(All times local)
Thursday, June 1 
4:30 p.m. – 6 p.m.: Official Practice
7 p.m.: Pro-am
Friday, June 2
9 a.m. – 10 a.m.: Official Practice
Noon:  Qualifying Round 1 (fresh oil, six games)
6 p.m.: Qualifying Round 2 (burn, six games)
Saturday, June 3 
8:30 a.m.: Cashers' Round (fresh oil, six games)
1 p.m.: Round-Robin Match Play (burn, six games)
5 p.m.: Group Stepladder Finals (fresh oil)
7 p.m.: Pro-am
About the PWBA
The Professional Women's Bowling Association (PWBA) originally was formed in 1960. The PWBA Tour has events throughout the country, offering high-level competition and top prize money for women bowlers. The PWBA is supported by the Bowling Proprietors' Association of America (BPAA) and the United States Bowling Congress (USBC)