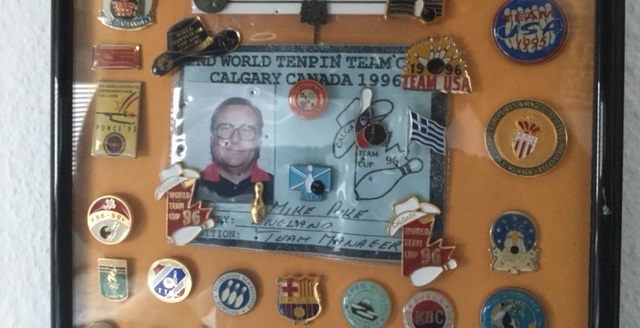 Nearly all bowlers have some kind of bowling collection, These collected over the years including magazines, news clippings, badges, flyers and lots more. We want to see your stash of bowling goodies from the history of the sport. First up we have former Team Britain manager Mike Pike with some of his stash.
Hi all I just thought I would send some items I collected in my time as manager of the British and England teams in the 90's and for the bowlers taking part in the selection for the team now I would like to tell you how it came about .
In the late 80's Pat White, Martin Webster and myself put forward to the BTBA a method to select the British team by their true form and ability instead of just being selected.
The top ten bowlers over ten tournaments would be the British team for the next year in internationals and the triple crown. In 92 or 93 Scotland, Wales and Northern Island were allowed to enter their own teams thus Team England started .
Our first international as manager of the men's team and Martin as manager of the ladies was in Denmark (Aalborg) then Sweden (Malmo) when the ladies had great success. Our next was to Reno Nevada USA ( which I most remember for as I demolished the loo in my hotel room and flooded the two floors below.
My next the team cup in Calgary Canada and the team started slowly but we came from nowhere winning the last six games to finish fourth . Martin and I also managed the teams in five triple crown.
The ladies and men in all the teams were great ambassadors for England and some of them still bowl in the seniors today .
Mike Pike
Mikes display of pin badges