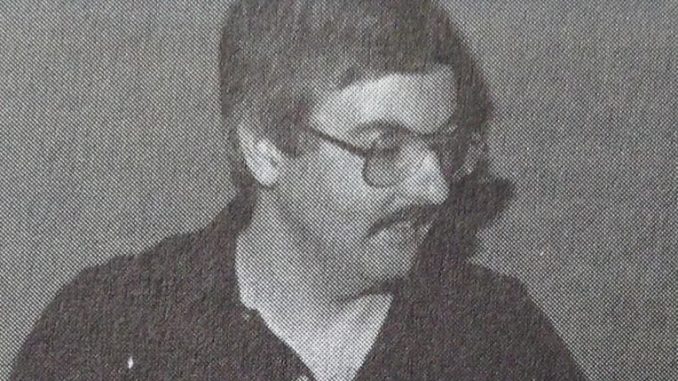 First published on Talk Tenpin in 2012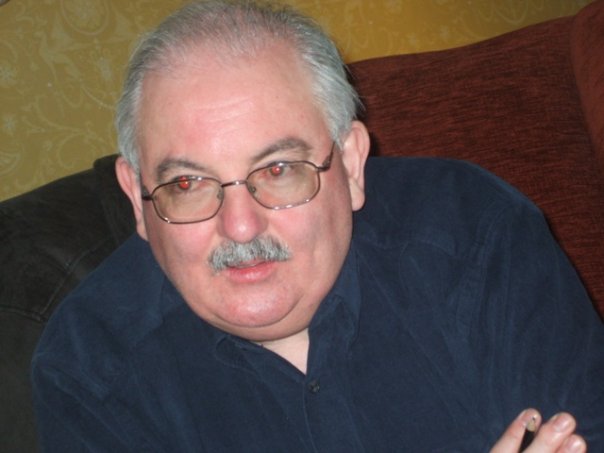 "The Grand Prix started small, Dave Wardle at Selby and myself at Shipley started the Yorkshire Grand Prix to give local bowlers something to play in, a bit like when we started the NST"
Dave Grainger started his bowling career in Leeds in the early sixties and soon became hooked on the sport. In 1979 he and a friend came up with the NST (Northern Scratch tour designed to combat a decline in the game and it became somewhat of a national institution over the following years. He opened his own bowling centre in the late nineties in Shipley, West Yorkshire and he continues to design and impliment events and tours for bowlers to play in. Dave is one of the nicest people you could ever meet in bowling and it was a pleasure to be able to speak with him and im sure you will all agree he has given us a very insightful and informative interview, So here it is in full.
When did you first get involved in bowling?
I first walked into a bowling alley, as they were then, in 1964 when Top Rank opened at Kirkstall Road in Leeds. I remember getting a reservation ticket and coming back about 8 hours later to take my turn to bowl, it was crazy in those days. My friends and I were hooked and we shortly joined the junior league and started playing a few events. We later moved to the Excel Bowl Merrion Centre where we started to play in adult leagues. I eventually became the secretary of the Friday Fives, that wonderful institution that is no longer with us, and often did the league sheet of 26 x 5 man teams by hand and had it up in the bowl on the Saturday morning, my girlfriend wasn't too pleased.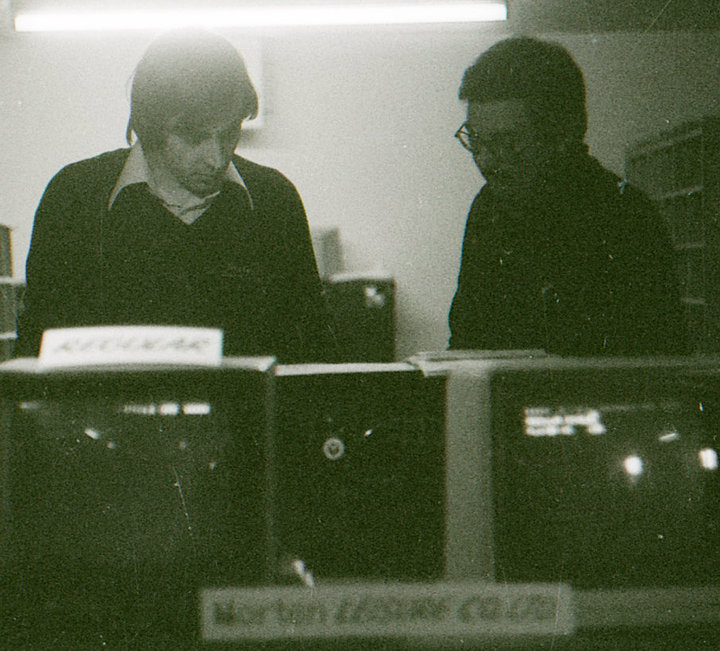 In the 80's you and Dave Simons came up with the Northern Scratch Tour or NST as it was known, What made you come up with the idea?
I think it was 1979 when we ran our first NST, Northern Scratch Tour, at the Merrion Centre. We had seen bowling on the decline and felt there was little good quality competition for the bowlers in the North. The SBC, Scratch Bowers Club, now the PTBC, was doing quite well in the South but didn't venture too far North so we set up the NST. The bowlers loved it and we often attracted entries of 100 or so and we were the first to introduce a separate ladies section as well as giving a local junior a chance to compete in each event. We attracted many bowlers from the Midlands and more and more from the South, particularly the Worthing crew who travelled miles and were very supportive and eventually we became the National Scratch Tour running events from the South coast to the North East.
Many people might not know but you and Dave were the forerunners for computers and computer results in bowling, Was it difficult to write a program no one had ever seen before?
We cannot take too much credit for introducing computer scoring into bowling as it was Rob Whittingham of Umbra software and Manchester Classics fame, who produced the programs . I remember we used Apple II machines with 48k floppy disc drives and the information was continually shuffled to and from the floppy drive. We did eventually upgrade to 64k and used 2 floppy drives which speeded things up greatly.  No graphics in those days just basic data. Dave Simons did eventually learn how to programme and adapted the basic programmes to run the many different events we were involved in.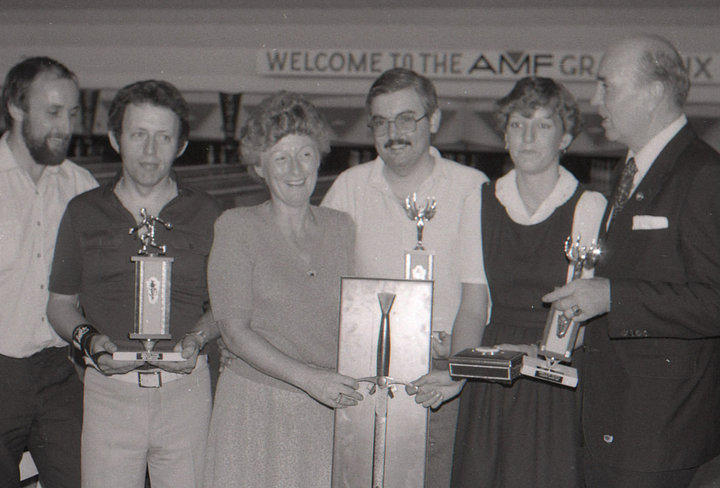 You have always been a driven individual, What made you build your own bowling centre in the 90's?
I had always had the dream and had often thought about owing and running my own centre. I had been a civil servant for 27 years when I took a voluntary redundancy package in 1996 so had some money in the bank. After quite a few months of looking for a suitable job I was having no luck and my wife decided that the career move she had hoped to make wasn't for her so I needed to start earning again. I was still in contact with Dave Simons who had some business disappointments and was unemployed and looking for something to do. I gave him a call and said did he fancy getting back into the bowling business and he jumped at the idea. We enlisted the technical help of Chris Malcolm who was now in the Isle of Man and started looking for a building. We found the old bowling centre in Shipley, produced a business plan took it to the bank, borrowed some money, got planning permission and 6 months later opened the doors.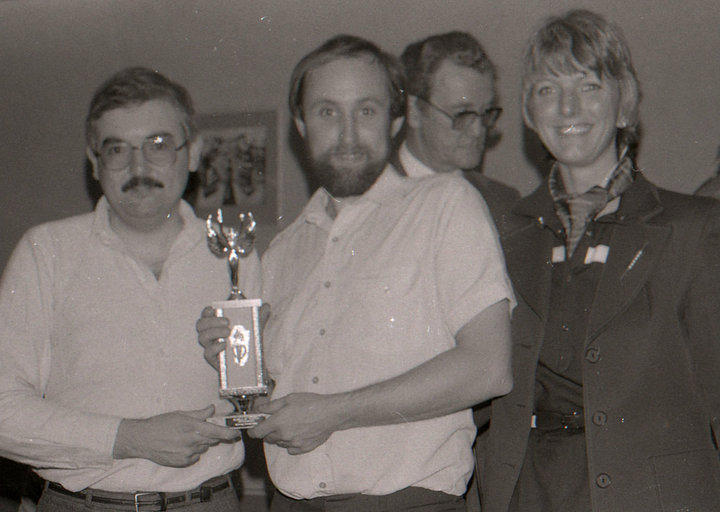 Times have been difficult in the last few years for bowling centres, how has the business side of bowling changed since you opened your centre?
When we first opened the customers just rolled in, Bradford had many bowlers who had bowled in the 60's and came back to try it again. Many new people also started to bowl and kids parties took off as did Friday and Saturday nights. We had 4 good years and developed our strong league program as this was our business model to balance open play with league and tournament play. Good old Hollywood bowl then opened 3 miles down the road and business took a dive as there were now 40 lanes in Bradford to choose from instead of just 12 at Shipley.  We did still have a viable business due to our balanced approach and we started to do more tournaments and I invested in the centre by upgrading the scoring and installing synthetic lanes.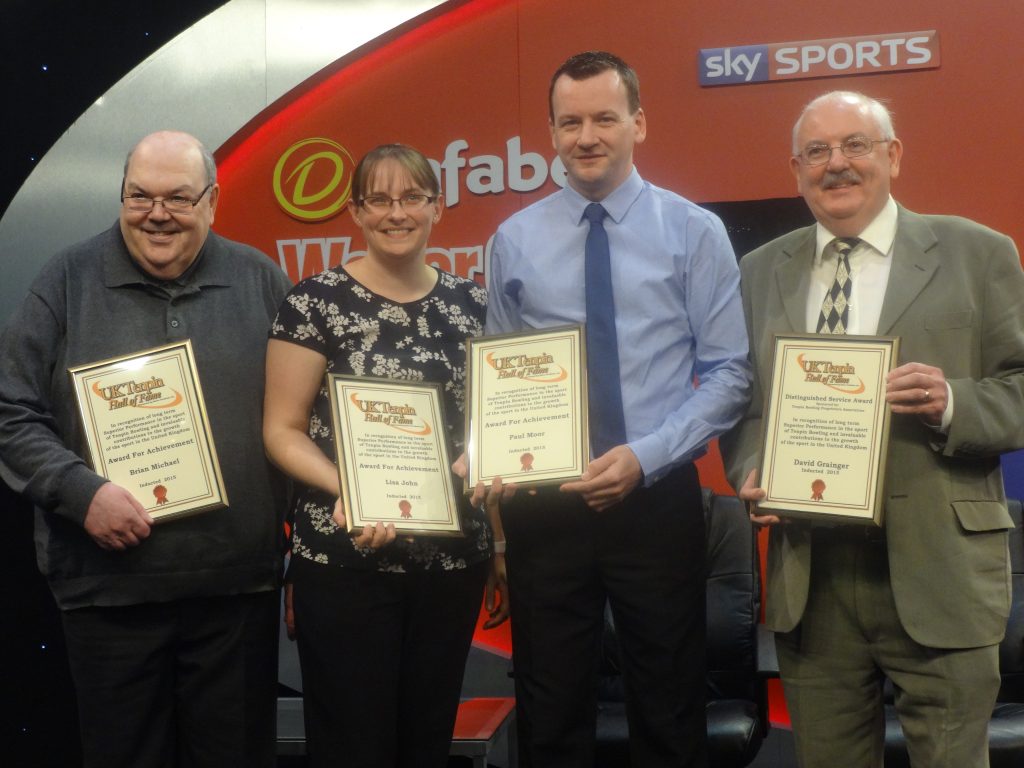 What needs to be done to bring people back into bowling centres?
If anyone knows the answer to this please send your answers on a postcard to me at Go Bowling, Shipley.  It is not easy but good business fundamentals should apply, give good customer service, train your staff well, give good value for money and a good time and hopefully the customers will come back. Bowling is generally too expensive and people these days cannot afford to do it on a regular basis. It is often seen as a special occasion treat. Raising the general awareness of bowling is key and it is good to see many adverts on TV now use bowling. The proprietors association is tying in more and more with third party offers and this is bringing people into bowling centres. More general press coverage of bowling as a sport needs to be obtained and the National Association needs to be at the forefront here certainly with the National teams. The other thing that needs to be done is to start treating bowling as a sport. Here the proprietors are vital, too many are just interested in filling the place with open play and making money. I have always bowled in centres that had strong league programmes (Leeds, Belle Vue. Tolworth, Sheffield and now Shipley) and where bowlers congregated and spent time together, it was their place "where everyone knows your name". Bowling needs to become popular again, perhaps not the 8 hour waiting lists of the 60s, but certainly be seen as a value for money night out where everyone can have a good time and as a place where bowlers are welcomed and encouraged.
As a great supporter of sport bowling be it leagues and tournaments you started the Northern Grand Prix tour three years ago and it is now beginning to catch the imagination of bowlers, What was the idea behind the concept?
The Grand Prix started small, Dave Wardle at Selby and myself at Shipley started the Yorkshire Grand Prix to give local bowlers something to play in, a bit like when we started the NST. Dave unfortunately lost Selby so I took the events to Shipley and we attracted bowlers from a number of other centres. John Ralphs over in Lancashire not only ran the North West Fives, a tremendous organisation keeping 5 man team bowling alive in the North, but ran some singles events but entries were dropping so we roped John in to put on some events in Lancashire. This then became the Northern Grand Prix and with the bigger catchment area plus interest from the North East and Hull we suddenly increased entries all round. We try and keep the entry fees at a reasonable level, take very little in expenses and with the help of the various proprietors keep the lineage reasonable in order to generate a decent prize fund. We have also attracted some sponsorship this season from Bowling Vision.
You mentioned the friday fives at leeds and North west fives in Lancashire, apart from the Nationals it has become very difficult to find events with a five person format yet when our national teams compete in major championships they at some point play as five, Why has this format disappeared and how could it be brought back?
Having bowled in such great leagues as the Friday Fives at Leeds, The Mancunian at Belle Vue, Monday Fives at Tolworth and the Sheffield Supreme league I know how good 5 man bowling can be. These leagues have always attracted top players and many others wanting to test themselves against the best, there is nothing like 5 players all bowling well and pushing each other to produce even better scores. It was a full night out usually followed by a game of cards or a few drinks in the bar to analyse every ball bowled, some would say sad but it was all part and parcel of the night. It is a question of creating the right environment for people to want to bowl and spend time in the bowling centre. The more that bowlers are welcomed and looked after in a centre the more bowlers will want to play and the numbers will increase and with increased numbers the chance of forming 5 man teams becomes a possibility. It is very much down to individual proprietors to want to do this as a 5 man team league does take most of the evening to bowl and it can affect overall income particularly on a busy night. The Northwest Fives have a good formula, teams play in different centres just once a month and this works well. Perhaps this is the way forward to have travelling leagues from different centres not playing once a week but once a month, I know in various parts of the country this type of competition does happen.
With the Northern Grand prix could it eventually spread its wings like the NST did and for any centre out there interested in the concept what would you say to them?
I do not see the Northern Grand Prix expanding list like the old NST. The NGP is a series of events organised by different people within a standard format. I do not run the NGP as such but just co-ordinate the events, keep bowlers updated and report on the scores as well as run the Grand Final at Shipley. If any centre is interested in running an event just let me know, we would need to know that a number of bowlers from that centre are interested in playing and that the centre has someone who can run the event in its entirety.
It cannot be said you are not a visionary when it comes to what bowlers want or need due to your experience in tenpin bowling, How do you envisage the coming years for the sport?
I hope that the initial enthusiasm generated by the changes being made to our National association continues. The BTBA in its current format could not continue and new ideas and a new structure were needed. I look forward to seeing what they have in mind. Closer co-operation with the proprietors is starting to happen and this needs to continue and develop. Tenpin bowling has always, and always will, rely on the enthusiastic amateur, to organise and run events. Junior participation is the essential lifeblood of any sport and thankfully bowling does well here with many clubs and coaches and a vibrant series of competitive bowling. Unfortunately many juniors do not make the progression into adult leagues due to the cost and other distractions of modern life. I again come back to the point in making a bowling centre a meeting place for bowlers where you can meet like minded people and socialise, in this way bowling will prosper.
As a bowler you do shoe up from time to time, Do you still get the buzz you always did from bowling?
I still play in our scratch doubles league on a Tuesday at Shipley, I'm down on average this season to 189, getting on a bit and the old body doesn't always do what the brain tells it but I enjoy it tremendously. I also play the Nationals every year with the Shipley teams, we usually take 10 of us away for the weekend and stay in a hotel and make it a social weekend as well. This to me is what bowling is about, the friendship, the camaraderie, doing our best and participating in a sport we all love. Winning is not everything but it's nice when you do.
Having been around the sport for so long and seeing the changes to technology in all aspects of the game what things do you think have improved the sport and which things do you think may have hindered the sport?
How long have you got? Synthetic lanes, reactive bowling balls, new lane conditioning products, hi tech lane machines have all increased the number of variables in the game. How many times do you hear the term "matching up", it is quite an art form to understand all this and use it to your advantage. In this respect the game has become more complicated and more expensive as usually a number of bowling balls are required for the different conditions experienced. I am not sure this is a good thing as bowlers tend to "buy" a shot rather than look at the fundamentals of their game and maybe change release, line or pace to play the best shot. Too many bowlers just want to rev it up and throw it hard to hit somewhere on the pocket side of the headpin to get maximum action and carry. Synthetic lanes in themselves have generally been good, more consistent, easier to maintain, longer lasting but herein lies another issue, Topography. This is a hot topic in the states at the moment, just check out the Kegel web site for more on this and their lane mapping system. Topography can be the single most significant factor affecting the bowl ability of a bowling lane, particularly with overlays. Any dip, slope or rise will affect the roll of the ball and how it reacts. It is estimated less than 1% of all lanes in the states fully meet the level test in all areas. So you may have the best lane machine and if you are lucky you may have someone who knows how to use it and put down a great pattern but if your lanes are not level each lane will react differently. The new lane machines and conditioning products are great they can put down oil board by board and create wonderful patterns at the touch of a button. It is therefore easier to create a range of patterns with differing difficulties. Once again these machines are more complicated to maintain and to keep in good working order so can easily go wrong and negate any advantage. All in all we have to move with the times but I would like to see a limit on the aggressive nature and design of bowling balls which would enable everything to be calmed down, use less oil and in my view bring more skill into the game.
In all your time in bowling and especially tournaments which players did you feel were the "real deal" and which players did you enjoy watching?
I have probably seen most of the top bowlers over the last 45 years and to pick any individual out is extremely tough. My knowledge was certainly better in the 60s , 70s and 80s than more recently. One that sticks in my mind is Bernie Caterer when he won the AMF World Cup in 1973, I had seen Bernie in a number of events in the UK and always admired his smooth style of playing. I remember Chris Buck nearly making a PBA final in his first year on tour, I think in the late 60's. Chris later won quite a number of events in the UK and Ireland that I had been involved in organising and I was always amazed at how he could manufacture a shot even when the lanes didn't suit him. Ronnie Oldfield is a legend and has to be admired for being at the top for so long, his consistency and accuracy rarely let him down. Today's crop of players are a different breed, but I feel the likes of Paul Moor, Stu Williams and Dom Barrett would have been at the top no matter what era they bowled in. They have all put in the time to learn the game and develop their style to suit the modern game. On the international scene I had the pleasure of meeting and watching two great bowlers, Dick Weber and Earl Anthony here in the UK. Dick had the strangest style you could imagine but it was effective and his name lives on in the Weber Cup. Earl was to me the archetypical leftie, so smooth, so accurate and so good not surprising he won so many PBA titles. Both were great ambassadors for the game and both were gentlemen. I have to mention my favourite lady bowlers and again I have seen many great bowlers throughout the years. Pauline Buck was the first women to win the AMF World Cup for England and continued at the top for many years. She was another very accurate and controlled bowler who could play on most conditions. My old team mate Judy Howlett (Robins) was perhaps not the most naturally gifted bowler I have seen put she achieved so much through shear dedication and a tremendous will to win. The modern day girls are all gifted bowlers and certainly play a different game to us mere mortals and it is good to see them doing so well but I wouldn't like to mention anyone in particular.
You told me recently you were looking at the idea for a senior tour in the north and also a ladies league, Have you fleshed out those ideas yet?
Very early days yet for a northern senior tour and you really need to speak to Jack Smith who is the main protagonist in this possible venture. I know Jack has a number of other bowling irons in the fire at the moment so I am not sure how he has progressed with this one. I will be very happy to support any such venture. As for a ladies league or ladies only tournament I am still thinking about this. If any ladies out there think it is a good idea let me know and we can maybe try something out at Shipley. The ladies side of the game does need encouragement and it would be nice to see many more ladies enjoying the competitive side of bowling.
Having spent so much of your life involved in bowling what do you do in your spare time and what interests do you have outside the sport and business?
The bowl itself takes up lots of my time but outside that it is mainly family things. Both my girls are at University, Lucie is at Leeds Met and lives partially at home while Emma is partying away in Newcastle. I play a bit of Golf now and then providing the weather is good. I love my real ale and malt Whisky and will travel miles to get a good pint, we do tend to visit a number of pubs. We socialise with friends, often in each other's houses, as well as going out for a meal now and then. Holidays are important to us as it gives me and Cath a complete break from our normal routine. Each year we go in a camper van to Scotland with two close friends and visit two Whisky Distilleries as well as doing a bit of walking and site seeing. We also try and get abroad each year to get a bit of Sun and see a few sites. I still cannot however resist going into any Bowling Centre I come across when abroad just to see what it's like, Cath understands.