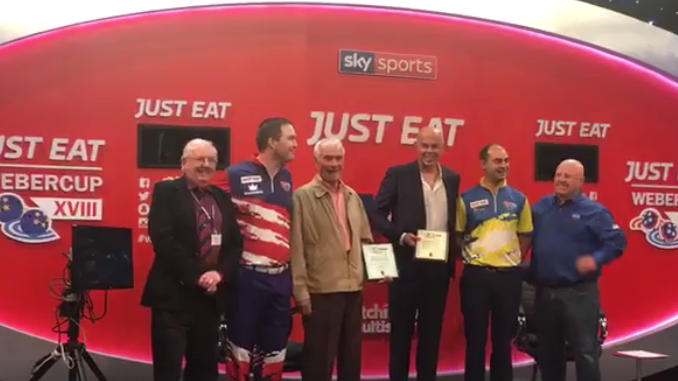 Meg Coombs/Shaw/Jordache, Kimberley Melchonne/Coote/Oakley and Phil Scammell are now all inducted into the UK Tenpin Hall of Fame, which is kindly sponsored by Storm Products, Inc., through their UK distributors, Bowltech UK.
This past week finally saw three more legends of bowling on our shores inducted into the UK Tenpin Hall of Fame. Last week during the Weber Cup Meg Shaw/Jordache and Phil Scammell were presented with their awards by the Weber Cup Captains Dom Barrett and Sean Rash with Bill Supper representing sponsors Storm Products and Hall of Fame president David Grainger.
Meg is sadly no longer with us and her award was accepted by husband Aydin Jordache.
One week later we were able to complete our inductions as Kimberley Oakley was presented with her award by BTBA chairman Ron Griffin at the European Senior tour event at Stroud. 

Frances Da Costa, or Fran Dee as she is known to the world of Junior Bowling was inducted in the Distinguished Services division of the UK Tenpin Hall of Fame sponsored by the Tenpin Bowling Proprietors Association. Fran was given her award at the best place possible, the NAYBC Junior Nationals held at Go Bowling, Dunstable earlier in the year where she was presented by NAYBC Chairman Martyn Wenger.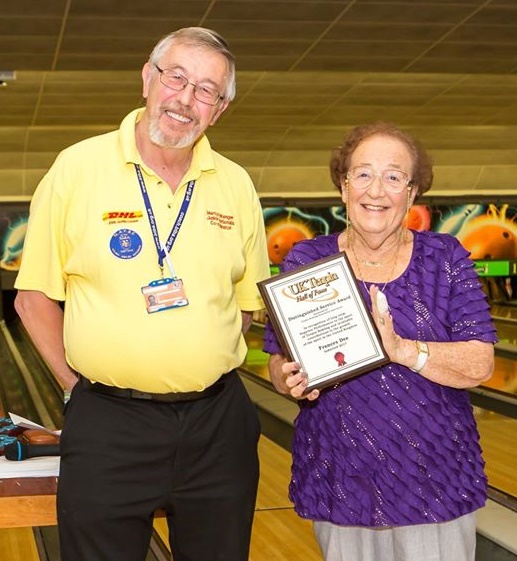 Nominations were made by each of the ten members of the UK Tenpin Hall of Fame committee and a list was drawn up. The Committee then had access to researched details on each player and a ballot was held to find the final Male, Female and industry names to be inducted in 2017.
After the ballot, we saw a tie on the ladies and both were inducted. The players selected were chosen for their achievements in World, European and Domestic tournaments and for additional honours like World Bowler of the Year and induction into the World Bowling Writers Hall of Fame.
As well as the players being celebrated and honoured an industry award for distinguished service was again selected. Since the sport arrived on our shores special individuals all over the United Kingdom have dedicated their time to improving the game and working tirelessly to make the sport better for everyone. From BTBA, YBC officials to tournament organizers these people are the backbone of our sport and make it possible for bowlers to reach for the stars.
So here is a brief run down of the 2017 inductees

Meg Coombs/Shaw/Jordache won medals of all colours for Great Britain including Gold in the 1973 European Championships in Dublin Ireland. Also winning the first ever British Matchplay and a host of Domestic and European events. She was also awarded the Freedom of South Sheilds.  Posthumous award – Died 2007
Phil Scammell came second a record FIVE times in the British Open before winning in 2001. Great Britain and Team England member and Winner of multiple UK titles as wel as three time member of the European Weber Cup team, winning twice.
Kimberley Melchonne/Coote/Oakley is a medal winner for Great Britain in the 1994 European Championships as well as an Irish Open winner and owner of many UK domestic titles. Represented Britian in the 1988 Olympics.
Frances Da Costa, or Fran Dee as she is known to the world of Junior Bowling, first joined a league in 1970 in Hounslow. Starting and running Junior leagues at Hounslow and Airport bowl. she became the President of the league. She went to her first Junior Nationals in 1972 and has attended every year ever since.
Here is a more comprehensive list of the titles, medals and honours each of the inductees have won
Phil Scammell

1983 PTBC Worthing 1st
1984 NST Ilkeston 1st
1984 British Open Runner Up
1986 PTBC Crawley 1st
1986 NST Masters Leeds 1st
1986 NST Masters 1st
1986 PTBC Tolworth 1st
1986 British Open Runner Up
1987 British Open Runner Up
1989 British Open Runner Up
1990 NST Masters 1st
1990 NST Nottingam 1st
1990 British Open – Runner up
1990 International Trios, Scheveningen, Holland 1st
1991 Lelystad Grand Prix 1st
1991 Jim Brewer Memorial 1st
1992 NST, Derby 1st
1992 NST Stirchley 1st
1992 Fareham Doubles 1st
1992 Lelystad Grand Prix 1st
1993 PTBC Tolworth 1st
1996 PTBC, Milton Keynes 1st
1996 PTBC Airport 1st
1998 Coca Cola Fives 1st
1999 Scott Banks Trios 1st
2000 Scott Banks Trios 1st
2001 British Open 1st
2001 Paris Fives 1st
2002 Las Vegas event 1st
2003 Scott Banks Trios 1st
2006 Scott Banks Trios 1st
2012 London International winner
Finally Won British Open after five second place finishes and won again in 1996, Multi Domestic titles Played in the Weber Cup four times 02-04 winning twice in 03 and 04.
Kimberley Melchonne/Coote/Oakley
1989 NST Alconbury – Winner
1990 Irish Open, Stillorgan – Winner
1992 PTBC Airport winner
1992 PTBC Airport winner
1992 NST Airport winner
1993 Tottenham Matchplay winner
1993 Northampton World of Tenpin singles winner
1994 Tamworth Doubles winner
1994 BTBA Nationals, Norwich winner
1994 Sheffield Singles winner
1994 European Champions Cup, Scheveningen, Netherlands – Team Bronze
1995 PTBC Enfield winner
1996 Portsmouth Singles winner
1996 Jim Brewer Memorial, Poole winner
1997 PTBC Chelmsford winner
1997 Sheffield Singles winner
1997 European Championships, Nottingham, England –Team Bronze
1999 PTBC Newbury winner
2000 PTBC Crawley winner
2000 BTBA Nationals, Enfield winner
2000 Coca-Cola Fives, Nottingham winner
European Bronze medalist, Irish Open Champion and multiple domestic titles including BTBA Nationals, NST and PTBC stops.
Meg Coombs/Shaw/Jordache
Meg Jordache/ Shaw/Coombs (Posthumous)
1973 European Championships, Dublin, Ireland – Fives Gold
1976 European Team Cup, Amsterdam, Netherlands – Fives Silver
1978 London International Matchplay 1st
1980 European Champions Cup, Rome, Italy – Team Bronze
1983 NST Nottingham 1st
1983 NST Alconbury 1st
1984 European Champions Cup, Brussels, Belgium – Team Silver
*Due to incomplete UK records we are unable to add every win.
European fives 1 Gold, 2 Silver, 1 Bronze – Domestic titles
---
About the UK Tenpin Hall of Fame
A UK Tenpin Hall of Fame has been long overdue for many years. We have had many amazing bowlers who have won just about everything from World Cups and World Championships to PBA and European titles. But there was never a place to honour these exceptional bowlers until now. At long last some of the most influential people in UK bowling have been brought together to form the UK Tenpin Hall of Fame.
They include; International bowling writer and former World of Tenpin owner Keith Hale chaired the committee, Secretary of the Tenpin bowling Proprietors Association John Ashbridge, BTBA's Jo Cundy, Bowltech UK's Nick Keppe, Bowling Vision's Graham Waller, TV Commentator Cass Edwards, PTBC's Andy James, Former NST creator David Grainger, Former British Open organizer and AMF Humber's Jock Caie and Talktenpin's Dominic Gall.
Please visit the UK Hall of Fame website here Currently being updated