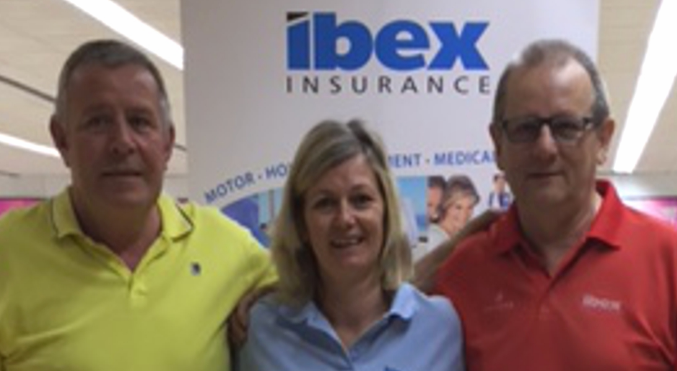 The 1st and 2nd April saw the fourth club championship of the Amigos Club de Bowling based at the Almeria Tenpin Bowling Centre in Arboleas Spain. The event has been generously sponsored by IBEX Insurance since the club´s conception in 2013.
This year proved to be the best yet. There were thirty four athletes entered into the first round. The top sixteen qualified for the knockout stages. The bowlers were seeded on their scores in the first round. In order to qualify for the final sixteen a score of over 613 (including handicap) had to be achieved. This was forty pins more than previous years.
A wide range of ability from both sexes qualified from a 56 handicapper to a well known scratch bowler.
The top 8 bowlers returned on Sunday for a Knock out to remember which saw some fantastic bowling and high scoring.
FINAL 8 SCR HCP SCR HCP
Match 1 Neil Pipkin 456 573 V Neil Bates 483 576
Match 2 Phil Taylor 627 675 V Mike Brosnan 504 585
Match 3 Dave Love 464 572 V Trevor Stockley 464 509
Match 4 Rob Mudge 667 667 V Malcolm Rogers 599 671
The standard of bowling continued with some high scoring in order to qualify for the quarter finals, semis and the final. The eventual two finalists were Phil Taylor and Malcolm Rogers and what a final it turned out to be. The two guys battled it out with strike after strike throughout all three games. Culminating in Malcolm Rogers coming out on top with a scratch score of 678 (750) with hcp his personal best. Phil Taylor shot 665 (713) with hcp.
The spectators said afterwards that it was by far the best final seen since the bowl opened nearly 8 years ago.
A contributory factor to such great bowing was the condition of the bowling lanes, so a big thank you must go to the centre´s manager Rafael Aranda and the mechanics that look after the lanes. Without their hard work there would be no bowling centre for the club or the public to enjoy this wonderful sport in Southern Spain.
The chairman of the club Phil Taylor took the chance to thank Bernie Campbell of IBEX Insurance for arranging the continuation of the sponsorship for the 2017 /18 season.
PHOTOGRAPH Left to Right
Malcolm Rogers Winner
Bernie Campbell IBEX Insurance
Phil Taylor Runner Up
Full results at www.amigosbowlingleagues.co.uk