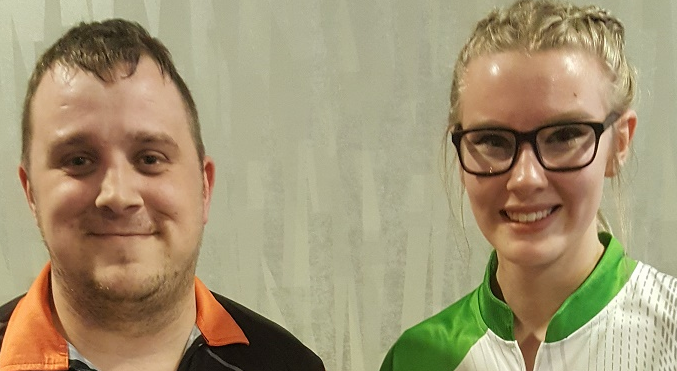 Mansfield Superbowl set the stage for this years competition. 41 entrants played for over £1000 in prize money as well as the chance to win a ball for the 1st 300 game generously supplied from Power Play Pro shop Shipley.
It looked like the ball would be claimed early as both Greg Marcus and Aaron Faulconbridge started game 1 with the front nine only for both players to fall short with a 285 from Marcus and 289 from Aaron which also was the high game of the day.
The optional scratch pot entry was won by our qualifying leader with an impressive 1483 (247 scratch ave) Michael Cummings.
Top 10 players would move on to the scrambler round with the 2015/16 Queen Donna Creighton unfortunately sitting in 25th. And Mark Smith narrowly missing the cut of 1345 (hdc) by only 1 pin………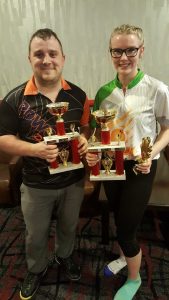 Scramble round/final
The top ten were split into 2 groups for this round, odd and even finishing positions. Fortunately this would mean that our 2 female qualifiers would be in different groups leaving to possibility of an all female final.
First to bow out Aaron Faulconbridge with a disappointing 195 (hdc) after shooting the days highest game, followed by our highest female qualifier Chelsey Dolan.
Next fell Reece Sanders and Daniel Davies, followed by qualifying leader Michael Cummings and 10th place qualifier Wayne Greenall.
Only 1 game remained to decide who our finalists would be, Darren Hallam and Liam Fitpatric who had looked a strong contender for the title during both qualifying and the first few stages of the scrambler fell under the sword.
Cara pleasance and Greg Marcus moved onto a fresh pair for the final game to decide who would be the overall winner of this years competition.
The game ran very close up to the last frame when Cara missed a crucial spare which Marcus took advantage of to claim the title.
Well done to our new King of the Hill Greg Marcus and Queen of the Hill Cara Plesance.
We hope all the entrants enjoyed the event and would like to thank all the staff at Mansfield Superbowl for their help and hard work during the day, and look forward to seeing you all and some new faces next year.
Results
King of the hill 2017 scores 1
King of the hill 2017 Scrambler Round