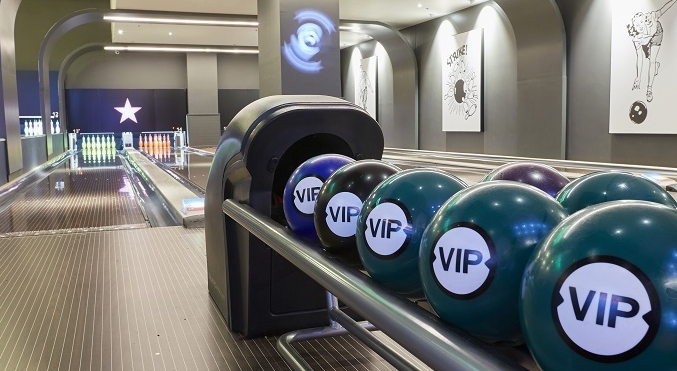 A brand new, multi-million-pound bowling centre is set to open in Derby city centre in eight weeks' time, as part of intu Derby's new and improved leisure development.
The 22,000 sq ft Hollywood Bowl will create 30 permanent and part-time jobs for the local community, when it opens early April.
The 18 lane boutique Hollywood Bowl will bring the UK's newest and most technologically advanced bowling venue to Derby city centre and will provide a high quality leisure entertainment experience for families and adults alike.
Steve Burns, CEO at The Hollywood Bowl Group said: "When work completes on Hollywood Bowl Derby, it will be our 56th centre in the UK and our second new centre to launch this year.
"Designed as a 'next generation' Hollywood Bowl, it is set to be one of the most innovative bowling centres in the country"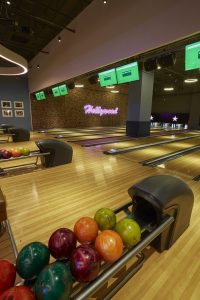 Derby design details
Hollywood Bowl Derby will represent the future of Hollywood Bowl and will include 18 fully computerised lanes with plush seating, a new 'Hollywood Diner' restaurant concept and upgraded bar, and new décor celebrating all things Americana.
Any of the lanes can be pre booked, including the four new and exclusive VIP lanes which include exciting and unique features such as action replays, personalised messaging and social media interaction. The VIP lanes are decorated with portraits of Hollywood legends, allowing visitors to get the A-list treatment and bowl in a plush, roped off area, with bowling balls that look like giant pool balls.
Visitors will be able to enjoy freshly-made American classics, including gourmet burgers, hot dogs and shakes, in the new Hollywood Diner. The centre's revamped bar serves a variety of drinks including traditional cocktails – making it an ideal venue for night time trade.
In addition, Hollywood Bowl Derby will become home to a cutting-edge amusement area, making it one of the first bowling centres in the country to offer a cashless 'tap to play' experience, in response to the growing trend for cashless facilities.
Guests will be able to top up 'fun cards' with credits and use them on the latest industry-leading games, as well as new versions of retro favourites. Many of the games will also allow players to win a range of child-friendly prizes.

About Hollywood Bowl
Hollywood Bowl is part of The Hollywood Bowl Group, the UK's leading ten-pin bowling business with 56 centres operating under the Hollywood Bowl, AMF Bowling and Bowlplex brands.
Specialising in modern, high quality bowling centres, Hollywood Bowl has built a reputation for delivering outstanding family entertainment in venues that, due to their unique nature, are also aspirational leisure destinations for young adults and perfect for corporate parties and events.
Hollywood Bowl has modernised the customer bowling experience. Centres offer state-of-the-art booking systems, premium American diners, licensed bars, Costa Coffee outlets and exclusive pre-bookable VIP lanes, bringing bowling into the 21st Century.
The company employs 2,000 team members, 100 of whom are based at its central support centre in Hemel Hempstead.