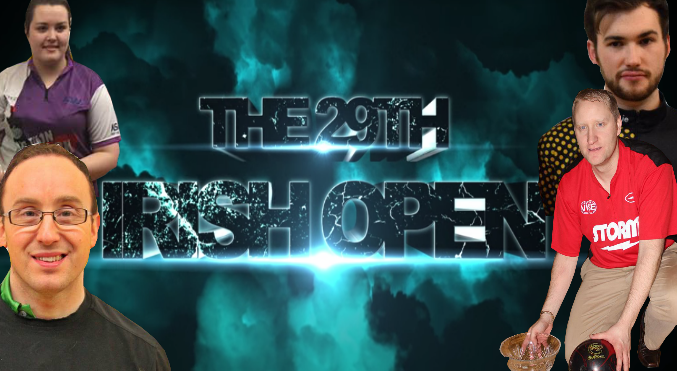 The 2017 EBT Irish Open Championships in association with Storm Products has kicked off in Leisureplex Stillorgan . The week-long event, which is the second stop on the 2016 European Bowling Tour, got underway with an opening squad made up of mostly home players at 18:30 pm.
Qualifying squads will then continue from Wednesday January 13th, with two squads that evening and then squads running all day Thursday and Friday and concluding on Saturday evening.
210 of the best players in European and World tenpin bowling, representing 12 different countries, will play 6-games qualifying in a re-entry-style tournament, where bowlers can play multiple squads and use their best 6-game series in an attempt to make the final rounds.
2016 sees a livestream of the event return for a third year, with all squads being broadcast live from Thursday afternoon.
The stream will be run once again by TalkTenpin.net and Dutch Bowling TV's Simon Scheppers.
Bowlers playing the event are requested to fill in an online form to help provide details of all players on streams.
The tournament will come to a close on Sunday January 22nd, with the final 16 players. contesting a knockout match-play finals until one person is crowned EBT Irish Open Champion 2016, along with the €5,000 first prize. There will also be €500 up for grabs for the highest-placed female bowler, and €1,000 for the highest placed senior player. In total €20,000 in cash prizes will be given out for the event.
---
1989
It all started in 1989 with England's Chris Buck becoming a worthy first champion. A year later we had our first female champion as England's Kimberly Coote won with Steve Gomersall taking the mens title.
From the then until now it has become a who's who of European talent, Dom Barrett and Paul Moor from England share the spoils for most wins with three each and in the women, Pauline Buck (Eng), Lena Sulkanen (Den), Kirsten Penny (Eng), Kerena Dykes (Ire) and Amanda Larkin (Ire) have all won twice with Amanda Larkin winning the last two and look for the first hattrick of wins.
Only one Irishman has won the title as Barry Foley won in 2013 as you can see from a full list of winners here.

Foley takes an early lead
He's the only Irish male winner in 28 years and looks like he is hungry to retain a title he won so emotionally back in 2013. Barry Foley set his stall out in squad 1 with a solid 1421 and high game of 279.
He was indeed miles in front of second placed Miles Corney from England with 1306 and Ireland's Alan Bride in third with 1242. Top female was two time champion Amanda Larkin in 5th with 1214 including ladies bonus.
Sloan Ranger makes a charge
Second in the QubicaAMF Bowling World cup in 2016, could 2017 be his year for the Irish Open? Chris Sloan, a two hander from Ireland blasted games of 259,254,199,268,268,279 for a massive 1527 (254) in squad two. Second was Hadley Morgan with 1406 and third was early leader Barry Foley with 1303.
In the second squad of Tuesday Ireland's Eoghain Lebioda came out on top with 1378 as Alan Bride placed second with 1345 and Northern Ireland's Ryan Press in third with 1341.
Reay of Hope
England's Keira Reay has had four months off recently, Having bowled since she was under 10 a break was needed. Well she's back and finding form pretty quickly.
A steady 1342 scratch in squad four gave her the squad win and a total with ladies bonus of 1390.
Second in the squad was Scotland's Steven Gill with 1332 followed by EBT rankings champion Richard Teece from England in third with 1271.
Stop the Press
There was a Seismic shift in squad five as the owner of Seismic Bowling and Rift Apparel, Ryan Press rolled a fine 290 in game five which helped give the Northern Irishman the squad win with 1419 and a place in the top five of the combined scores.
Second was England's Richard Teece with 1381 as Poland's Michael Brachaniec placed third with 1337.

Finland makes a move
The third squad of the day produced some more fine bowling and this time we saw Finland make a move on the leaders as Petri Keituri (Photo right) rolled a strong 1460 to place second overall.
Defending Champion Paul Moor took second place with 1434 and looks like he wont let his title go easily.
Third was another bowler from Hull in England as Adam Michaels started with a 288 and ended with 1402.
So close to the lead for Tomas
The final squad of Thursday took to the lanes at 8pm and it looked like it was going to be a massive set for Finland's Tomas Kayhko as he opened up with back to back 279's. Come game three the wheeels fell off the bus as he ony managed a 174 and it would be fair to suggest a great score could go bad. It didn't though as the young Finn fought back with further games of 257,278 and 257 for 1524 and just three pins behind Irishman Chris Sloan on 1527.
1996 champion Tore Torgersen place second in the squad and 9th overall with 1399 as another Finn Santtu Tahvanianen placed third with 1335.
Mr President
No, Donald Trump did not turn up in Stillorgan but we did see a president roll 1446 to take the first squad of Friday. Perttu Jussila became president of the Finnish Bowling association recently and has been busy meeting with big people including the leader of Finland. Today though he was doing what he does best and slots nicely into the top 8. Second in the block was Iceland's Stefan Claessen with 1373 and Denmark's Patrick Sorensen in third, thanks in part to the first 300 of the event in game three.
Tore Tore Tore
He's been a big name in bowling for so many years, won the Irish Open in 1996 and was a star name in the Weber cup for many years.
He's Tore Torgersen and at 48 still a force to be reckoned with. Well today he hit 1400 beating a previous score by just a pin but is still one of the most dangerous players in the field.
Second in the squad was Finland's Santtu Tahvanainen with 1368 and Dutch star Ghislaine Stigter Van der Toll in third with 1318.
Jo Jo
Squad 10 saw a very competitive but close field do battle on the lanes. It was a woman though that was to shine above the rest as Sheffield and England's Jo Allsebrook showed her talent with games of 257,205,212,255,237 and 226 for 1392 scratch and 1440 with ladies bonus.
Second was England's Dominic Buckley with 1373 and countryman Pete Stevenson with 1370 and just ahead of another former champion Jamie Bottomley, also from England.
Flying Finn
Just when you think you have seen many of the top Finnish players you realize there are many you have not seen. 20 year old Santtu Tahvanainen had bowled four squad already and by his own admission was chasing a top 4 place. The final squad of Friday saw him achieve this by shooting games of 279,236,258,235,243 and 248 for 1499 and third place overall.
Second and improving on an earlier score was Ireland's Barry Foley with 1460 and that was including a 191. Third was Finland's Lauri Sipla with 1373.
Viva le France
A full squad of bowlers took to the irish lanes on Saturday all chasing a number that would put them in the finals. The pick of the field was Frenchwoman Amandine Jacques who rolled 1364 scratch and 1412 with ladies bonus to head the field at the end.
In second place was Scotland's Brian Gillespie with 1383 and third went to American serviceman Ron Hurt with 1348. The high game in the squad came from Scotsman Alex Fraser who threw a fine 299 game, stopped only by a stubborn 10 pin.
Pistol Pete
It has been a decent last few days for England's Pete Stevenson in Ireland. First he averaged 262 over five games with a 300 at Alsaa in the Xtreme Singles then came the Irish Open and in squad 13 averaged 242 with 1457.
Second in the squad was England's Rob Thurlby with 1437 and third place went to countryman Gavin Greaves with 1408.
Jenny wins the block
2016 was a stellar year for Sweden's Jenny Wegner. She only went and won the biggest event on the planet by taking the QubicaAMF Bowling World cup title in Shanghai China. Looks like 2017 is going to continue as she blasted her way to fouth place overall in the final squad of qualifying to grab two byes in the final and already has one had on the female title. "I want to beat the men" she said afterwards in the Storm studio. Well it could happen yet.
Desperado
In an exciting one game shoot out we found our three extra players who would make it into the final rounds. Those three were Glen Richardson and Craig Barrett from England and Jason Byrnes from Ireland.
Final step 1A Jammy Dodger
A change in format meant that the final step 1A and 1B would be played over three games and not the usual four. No chance to slack off and every frame would count. James Wigmore aka Jammy Dodger from Ipswich, England smashed in games of 238,245 and 242 for 725 and lead the field at the end.
Second was Scotland's Steven Gill with a fine 700 thanks to a final game of 289.
Final step 1B Jamie and the magic torch
Late into Saturday we saw the completion of the finals step 1 as B squad took to the leisureplex lanes. 2014 champion Jamie Bottomley from Poole in Dorest, England made a good move and rolled games of 237,266 and 226 for 729 to head both squads.
Second was Frenchwoman Amandine Jacques with 683 scratch and 707 with ladies bonus and third overall as Sam Rose placed third and fourth overall with 706. Excitement at the end though as Ireland's Jason Byrnes and The Netherlands' Ben Gruisinga tied for the final place and were forced to play a two frame roll off. A single pin miss was to cost the irishman as the dutchman won easily.
Final step 2 Reay of Sunshine
Having played since she was under 10, Barnsley and England's Keira Reay was burnt out last year and needed a break from the sport. She took four months off and it looks like it has been great for here as she has come back and looking better than ever.
In a strong field she was head and shoulders above the rest with a fine total over three games of 735. Shock news in the block though was defending champion Paul Moor going out of the event.
Final step 4 Matchplay
Matchplay time and two game total pinfall matches would decide our quarterfinalists. Making it through were Finland's Santtu Tahvanainen who beat England's Richard Teece 515-415 as Sweden's Jenny Wegner defeated Ireland's Alan Bride 455-449. Also through were Keira Reay who beat Finland's Lauri Sipia 376-338 and finally Norway's Tore Torgersen took out Irishman Barry Foley 459-374.
Final step 5 Semi Finals
The seeding meant the two ladies would play each other as the two men did battle for a finals place. Taking those spots were Keira Reay who defeated World Cup Champion Jenny Wegner 458-453 as Tore Torgersen beat Santtu Tahvanainen 463-438.
In the seniors semi finals Nico Thienpondt from the Netherlands defeated countryman Ben Gruisinga 411-399 as Finland's Petri Keituri beat 2015 Senior open winner Tom Byrne 452-447.
Final step 6 Finals
In 1996 and the last time Tore Torgersen won the Irish Open his opponent Keira Reay was not even born. Keira had just been crowned the 2017 female champion but she had one eye on the top prize also. Tore was having none of it though and quickly built up a lead that the young star from England could not keep up with. Tore after 21 years became the champ again by winning 503-415.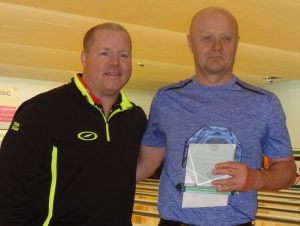 In the senior final Nico Thienpondt had a chance to become the first person in history to win both the main event and the senior event having first won the Irish Open back in  1993. It sadly was not to be as Finland's Petri Keituri just shaded it 421-398 to become the 2nd senior open champion.
RESULTS
Results after qualifying

Irish Open Scoring – Standings Final
Irish Open Scoring – Finals Step1.2 Results
Irish Open Scoring – Finals Step 2 Results
Irish Open Scoring – Finals Step 3 Results
Irish Open Scoring – Finals Step 4 Results
Irish Open Scoring – Finals Step 5 Results
Irish Open Scoring – Finals Step 6 Results
Please visit the official website here for all the latest results and information