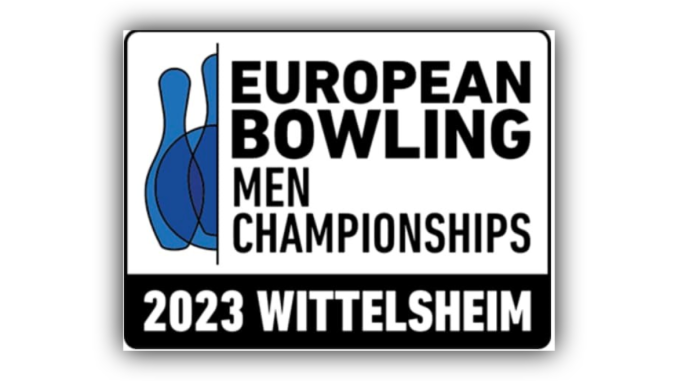 The European Men Bowling Championships 2023 will be held in Cristal Bowling in Wittelsheim, France from 6th to 17th June 2023.
Reports
178 athletes from 31 nations go to battle in France to find the 2023 European Champions. As always Sweden get a mention and ones to watch especially now they decided not to play in the World Championships this year. Finland, Denmark, Germany, England, Czech Republic, France, Greece, Israel or maybe Malta, Italy, Slovenia, Slovakia, Romania, The Netherlands, lets stop there, anyone can win a medal and the best athletes on the lane pattern will rise to the top as always. Win a medal at EMC and you join the greats of an event with a rich history.

SINGLES
A strong scoring pace was Finland's Joonas Jahi leading after three with games of 254,269 and 246 but the strikes disappeared and he ended back in 8th. Taking up the lead was Denmark's Tim Stampe with a fine 1449 with Dutch star Jord Van Weeren in second with 1418 and the Czech Republic's Lukas Jelinek in third with 1403. Germany's Paul Purps holding the fourth spot with 1397.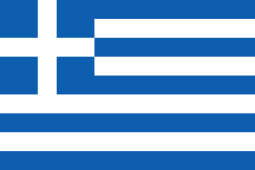 Squad 2 saw more great scoring and England's Garry Sykes going well by game four and leading the way before some Greece lightning as Evangelos Krizinis took over with games of 223,255,234,226,268 and 217 for 1423. Also going well Finland's Jarno Lahti, Norways's Viktor Mortensen and Germany's Dennis Grunheid. So after two squads it was Denmark, Greece, The Netherlands and Finland holding the top four spots.

The final squad of the singles saw a race to the top four places but only one in the end was good enough to break in. That man was the tall Swede James Blomgren with games of 185,279,227,238,247 and 249 for 1425. Close but not enough included Sweden's Pontus Andersson with 1414 and Spain's Pace Rodriguez also on 1414. So through were Denmark, Sweden, Greece and The Netherlands.

SINGLES FINALS
The Netherland's vs Denmark and Greece vs Sweden in our semi finals for the singles medals and wins for Dutchman Jord Van Weeren who defeated Denmark's Tim Stampe 247-203 as Sweden's James Blomgren joined him in the final by beating Evangelos Krizinis 243-166.
The final must go down as an instant classic and a titanic battle which saw both players flying past the 230 mark. At the end it was Dutch Delight as Jord Van Weeren was crowned singles Gold medal winner with 267 to the Swede's 259.

DOUBLES
Squad 1 of the doubles on Sunday saw the Italian's staking a big claim in the last four by posting 2870 and Nicola Pongolini with 1423 and Antonino Fiorentino with 1432. Second was Denmark's Carsten Warming Hansen and Mik Stampe with 2754 and making up the top four were Sweden and Norway.

If we thought the first squad scores were good, the second were higher as The Netherlands smashed in 2914 with 1465 from singles Gold medallist Jor Van Weeren and not to be undone 1449 and a 300 game from Mark Jacobs. If that was not enough, they also rolled a European record 568. On another day Sweden with 2796 may have been leading as James Blomgren fired a 1460 with Jesper Svensson's 1336.

One squad to go and still a chance for a few to grab a top four place but the only country to do that in the end were Denmark and Tim Stampe (1418) and Dan Ostergaard-Poulsen (1394) with 2812 and would join The Netherland's Italy and Sweden in the doubles finals.

DOUBLES FINALS
Sweden vs The Netherlands in the semi finals might just go down as one of the greatest ever matches. The Dutch with 239 from Mark Jacobs and 286 from Jord Van Weeren and 525 that on other days is more than enough. Not today though as Sweden hit 535 and 268 from Jesper Svensson and 267 from James Blomgren. The other semi although lower scoring was equally exciting and Italy brushing past Denmark 438-400. Could the final live up the semi? Just about. 267 each from Nicola Pongolini and Antonino Fiorentino for 534 and Sweden taking Silver with 482.

TRIOS
Day 1 of the trios saw two squads playing three games each and flying out of the blocks in squad one were germany with a record 802 game then following up with 741 and 746 for a massive 2289 and another record. Frank Drevenstedt with an awesome 810. Iceland were in second with 2123 and Sweden third with 2089. 300 in this squad for Italy's Tommaso Radi.

Squad 2 not quite as high but some fine bowling and Sweden into the top four overnight with 2178 and each of the Swedes a pin apart, Blomgren with 727, Svensson with 726 and Andersson with yes you guessed it 725. Finland in second and fourth overall with 2099.
300 in this squad for Ukraine's Viktor Miroshnychenko

Two more squads on Wednesday and we found our top four. Seden's Andersson/Svensson/Blomgren leading the way with 4248. Germany's Purps/Grunheid/Drevenstedt with 4234, Sweden's Wetterberg/Jansson/Larsen with 4192 and Finland's Kayhko/Tonteri/Tahvanainen with 4165.
TRIOS FINALS
Sweden vs Finland and Sweden vs Germany in the semi finals of the trios and both Swedish teams through as Andersson/Svensson/Blomgren won 713-673 against Finland and Wetterberg/Jansson/Larsen winning 667-635 against the Germans.
So an all Swedish final and a close one at that and Wetterberg/Jansson/Larsen taking the Gold with 746-703.

TEAM
No shocks to see Sweden at the top after the first three team games on Thursday. Games of 1216, 1198 and 1143 for a fine 3557 and some way ahead of second placed France with 3430 then the Czech Republic in 3rd with 3355 and The Netherlands fourth with 3325. 300's for Italy's Antonino Fiorentino, Denmark's Carsten Warming Hansen, Ireland's Fran Puzzuoli and Lithuania's Aidas Daniunas.
The second set of three games were played on Friday and all we saw was Sweden extending their lead at the top. Games of 1241, 1044 and 1101 for 6943 (231). Second was France with 6752, third going to Greece with 6688 and The Netherland's taking the final spot with 6625.

ALL EVENTS
Sweden's James Blomgren became All events champion after another fine performance in the team event. 1425, 1460, 1421 and 1446 for a total of 5752 (239). silver went to Frenchman Keny Billaut with 5630 and Bronze to the Czech Republic's Jaroslav Lorenc with 5629.
The cut for the top 24 tied by Denmark's Mik Stampe and Ireland's Taylor Williams on 5399 and the Dane advancing on highest last game.

MASTERS
Dutchman Jord van Weeren is your EBF EMC 2023 Masters champion after an amazing final and days play in France. The Singles champion completed the double by winning 2-1 and bowling a 300 along the way. Losing the first game 248-259 against the young Lithuanian Laurynas Narušis, Jord came back with 12 perfect strikes to level the match and go to the decider. Another close game saw Dutch delight and a 277-256 win and the Gold medal.
The road to the final saw The lithuanian defeat Italy's Antonino Fiorentino 2-0 then beating Germany's Frank Drevenstedt 2-1 and Czech Republic's Lukas Jelinek 2-1 to reach the final. The Dutchman defeating countryman Nick de Gelder 2-1, beating Finland's Santtu Tahvanainen 2-0 and taking out Italy's Nicola Pongolini 2-1.
---
---
Home Nation Reports

England
England have a mix of youth and experience in a strong looking squad for EMC in 2023. Experience coming from Jamie Bottomley and Mark Patrick with an exciting crop of younger athletes also with experience in Gary Sykes, George Jagger and Callum Simons and a debut at EMC for an in form Gavin Greaves.

SINGLES
First up for England were Gavin Greaves and Mark Patrick and a strong start for both athletes with 256 for Gavin and 243 for Mark. The block went well for Gavin as he added games of 212,224,268,203 and 225 for 1388 and 5th place. Mark with an up and down block of 197,245,165,211 and 220 for 1281 and 15th.
Another great block for the English as Garry Sykes blasted into the lead at the four game mark but could not keep up the pace and dropped to 5th at the end. His 1338 a great opening score and confidence builder. Jamie plugged away during the block and only ever a spare or double for the big scores but found the pace and ended with a good 1281.
Last but by no means least was George Jagger and Callum Simons and a mixed block for both Yorkshiremen with George starting and ending strong but tailing away in the middle and Callum slow starting but hot in the middle order before fading at the end. George with 1305 and Callum with 1256.
DOUBLES
A great start in the doubles for England and fifth place after squad 1 as George Jagger hit 1326 and Mark Patrick adding 1252 for 2578.
A mixed bag in the second block as Jamie Bottomley was going well with games of 222,258 then a dip to 193 and back up to 213,224 and 209 for 1319. Callum slow starting with 164 and 153 worked it out to add 194,210,255 and 247 for a recovery 1223 and 2542.
The final pair for England were Gavin Greaves and Garry Sykes and things looked bright early on but never really got going despite great effort from the pair. Gavin with 1300 and Garry with 1237 for 2543.
TRIOS
Two days and two three game blocks later we found Jamie, Gavin and Callum in 15th place overall with 3973 and Jamie with the top score of 1385. The other trio of Garry, Mark and George in 25th place with 3815 and a 1295 high from Mark.
TEAM
8th place for England after the first three games of the team event on Thursday. Games of 1049, 1055 and 1119 saw the team just 100 pins off the top four placings. Top man George Jagger with 755 including a front ten 288 at the end. in The make up team saw Callum with three good games for a 660.
Callum Simons in for Garry Sykes was the only change for England and games of 1151, 998 and 1052 for an overall of 6424 and top man was George Jagger with 1355.
ALL EVENTS
Gavin Greaves was the top man for england in 31st in the all events, George Jagger in 44th, Jamie Bottomley in 46th, Mark Patrick in 54th, Callum Simons in 79th and Garry Sykes in 86th.
---
---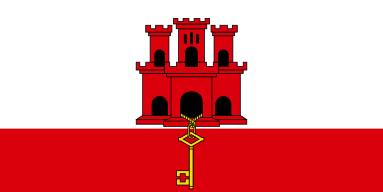 Gibraltar
Flying the flag for Gibraltar are Dion Webber, David Heath, Michael Wood, Tony Galea, Jayce Webber and Jamie Hickey.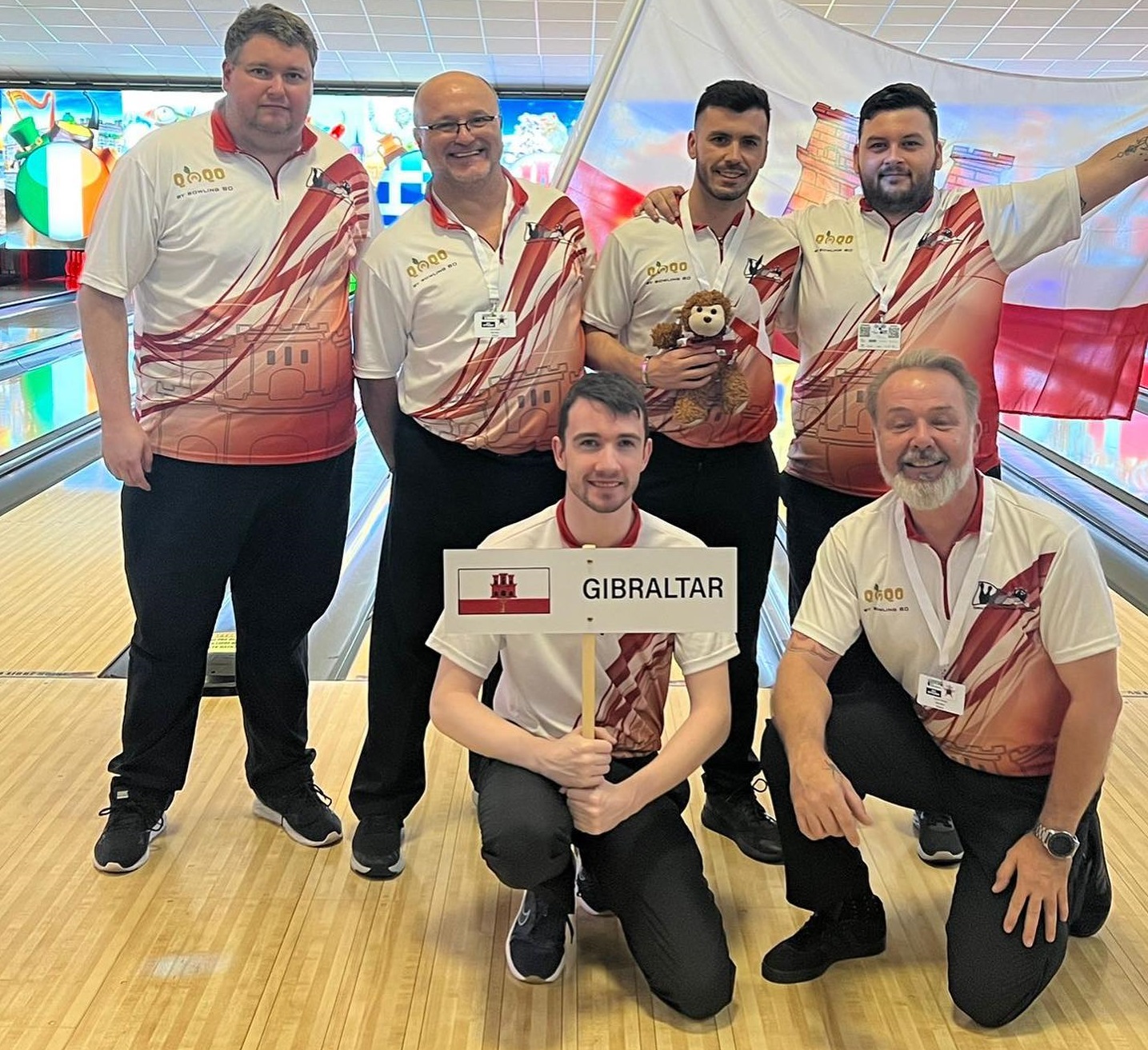 SINGLES
Dion Webber and David Heath first up for little Gibraltar and Dion the pick of the pair with 1094 in 48th as David placed 56th with 857.
Next up was Michael Wood and Tony Galea and Michael with a 196 the pick of the games and a 188 from Tony saw Michael in 59th with 993 and Tony in 60th with 924.
Finally it was Jayce Webber and Jamie Hickey up for Gibraltar and a massive 245 opener from Jayce before ending with 1137 and Jamie with a high of 203 and 1094 overall.
DOUBLES
Tony and David up first and a high game each of 178 on the way to Tony's 961 and David's 847 in 29th place.
Dion and Jayce up next and both around the same scoring pace as DIon hit 1042 and Jayce with 1039 for a total of 2081.
Last up and up and down for the irish pair as Taylor Williams hit 1315 and Alan Bride with 1178 for 2493.
TRIOS
The Gibraltarians finished the trios just a place apart in 56th and 57th. Jamie, DIon and Jayce hitting 3232 with David, Michael and Tony on 2813. High man overall was Dion with 1162.
TEAM
2518 for Gibraltar after the first three games of the team event. Micahel with 539, Jamie with 522, Jayce with 515, Dion with 477 and Tony with 465. In the make up team David shot 442.
The second set of three games saw the team finish with a total of 4955 and top man was Jayce Webber with 1115.
ALL EVENTS
Jayce Webber was the top man at the very end in the all events in 155th place with 4375, Dion in 162nd, Jamie in 166th, Michael in 169th and David in 172nd.
---
---
Ireland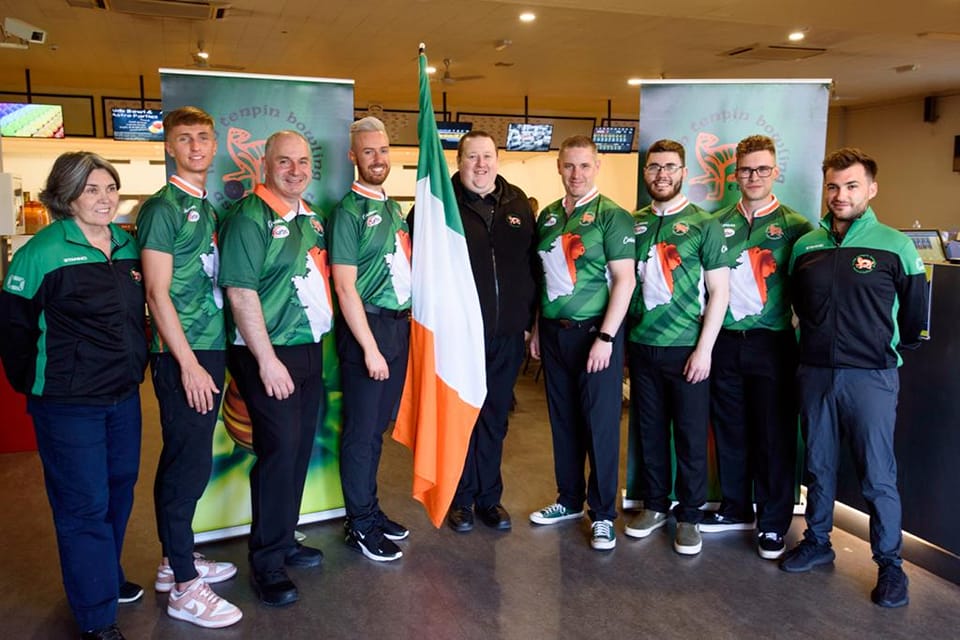 Ireland with a strong line up in 2023 with Fran Puzzuoli, Eoghain Lebioda, Sean Dempsey, Taylor Williams, Adam Martin and Alan Bride.
SINGLES
Not the start the Irish were looking for in the first squad of the singles as Eoghain Lebioda opened brightly with 201 but could not get going despite a 223 to end with and 1140 in 44th. Fran Puzzuoli back in 47th with 1102.
Hopes were raised in squad 2 for the Irish as Taylor Williams and Sean Dempsey took the the French lanes and both going well early on but Taylor pulling away with a middle order of 249,236,232 and 242 in a fine 1360 and 14th overall overnight. Sean with 1215 and 32nd in the block and 61st overall.
Last up for Ireland were Alan Bride and Adam Martin with both going well during the block and Alan the pick of the pair with 1291 and Adam with 1220.
DOUBLES
Eoghain and Sean up first for Ireland and a good block with shades of awesomeness as Eoghain hit a 239 and 1251 and Sean added a cheeky 279 and 1247 for 2498 and 10th place.
Up next for the Irish were Fran and Adam and Fran going well with 1258 including a 236 and Adam with 1109 and a high of 238.
Jamie and Michael were the final pair to complete the doubles and Jamie leading the way with 1069 and Michael with 1004 for a total of 2073 and 28th in the squad.
TRIOS
Two days of trios saw the Irish in 28th and 36th. The leading trio of Eoghain, Sean and Taylor hitting 3804 and a fine 1390 from Taylor. The second trio of Fran, Adam and Alan with 3717 and a great 1390 from Fran.
TEAM
Dancing in Ireland as Fran Puzzuoli fired an awesom perfect game in game 1 of the team event and helping to 12th place with 3172. Games of 1165, 973 and 1034 and top series was also Fran with 668. in the make up team Adam shot 533.
17th in the end for Ireland after a total of 6185 and Fran the top man with 1334.
ALL EVENTS
Heartache at the end for Ireland as Taylor Williams tied for the last place in the top 24 with 5399 but lost out on the high last gamr rule. Fran in 81st, Alan in 100th, Sean in 123rd and Adam in 147th.
---
---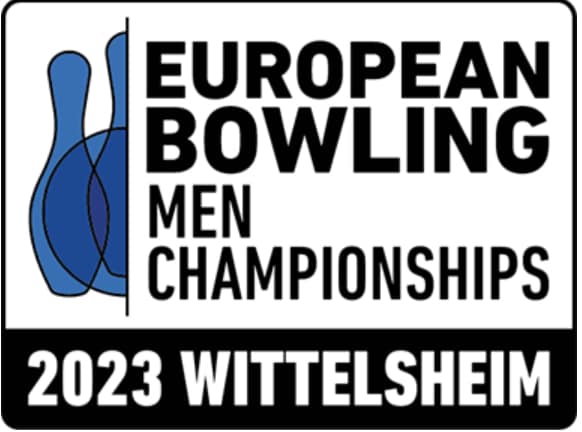 Results
Live Scoring and Live streaming
Results will be posted here during the event
TRIOS
Coming soon
DOUBLES
Finals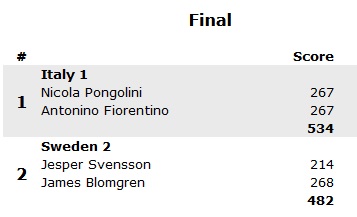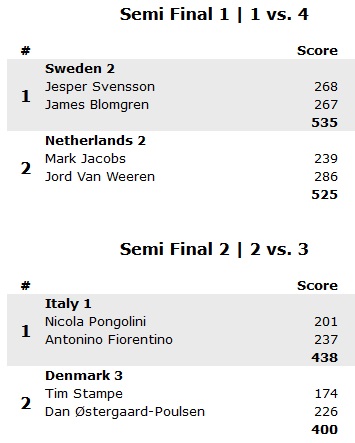 Qualifying top 6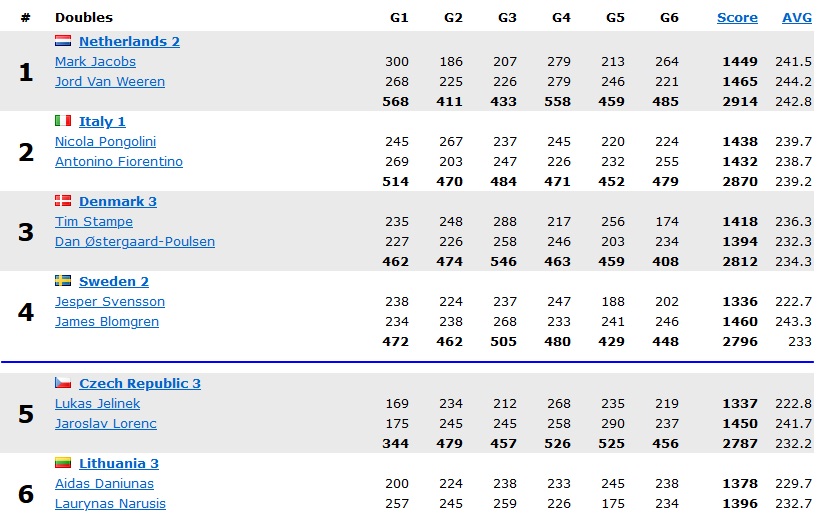 SINGLES
Finals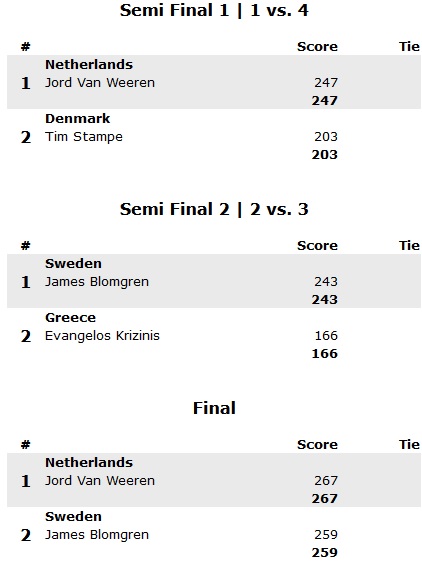 Qualifying top 20