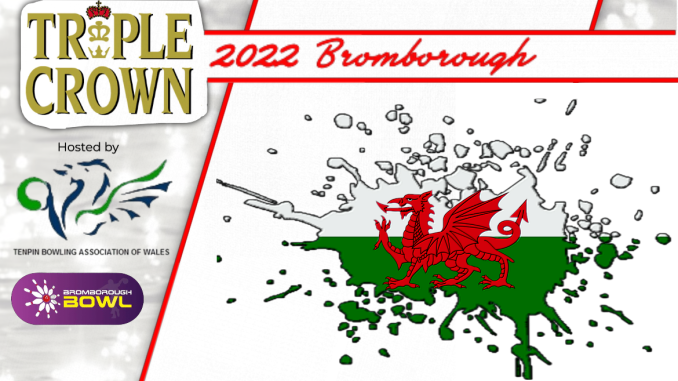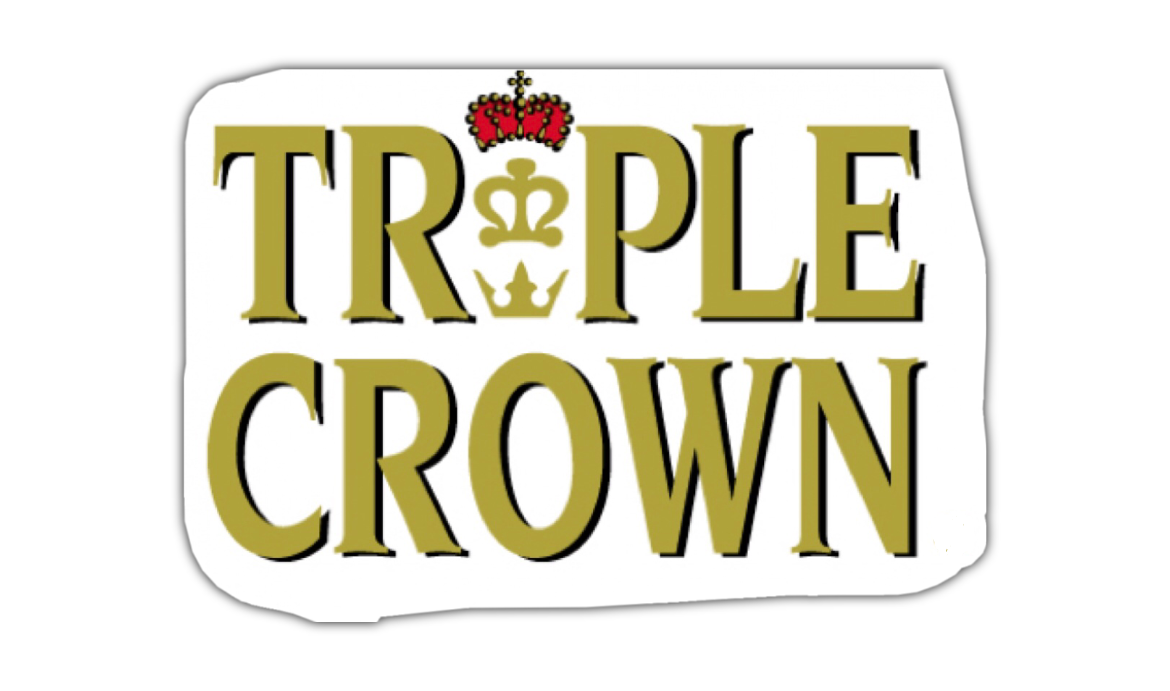 Bromborough Bowl, September 8th to 11th 2022
This Adult Triple Crown will consist of a total of 15 games per player, comprising as follows, 6 games singles, 3 games doubles, 3 games trios, 3 games team, 3 games mixed doubles. There will be a Masters Round Robin final for the top 8 men and top 8 ladies.
It is always a proud moment to wear your national shirt and one place bowlers over the years have got that chance is at the Triple Crown. Many great players from all nations have won the coverted All events and Masters medals including Brian Michael, Paul Delany, Richard Hood, Judy Howlett, Chris Buck and more recently Pete Stevenson, Laura Marcham and Ray Teece for England.
Scotland have had wins with Tania Yusaf, Alison Williamson, Carol Pirie, Laura Rhoney, Tilly Campbell and Frank Margiotta.
Wales with Mel Oates, Steve Williams, Sue Thomas and Jamie Griffiths.
Northern Ireland claiming titles by Tony O'Hare, Billy Nimick, Kenny Donnelly, Pat Duffy and David Williamson.
You can see the Masters and All events winners in the UK Tenpin Hall of Fame here (Search Triple Crown)
Teams
Reports
England have the best record in the triple crown but every year the home nations all put up a challenge. This year could be one of the closest so far with all the home nations sending strong teams to Bromborough. Reports will appear here during the event.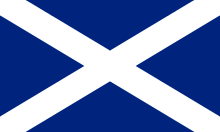 WOMENS SINGLES
The Womens singles was underway on friday morning and six games race to a medal. Winning that race was Scotland's Tania Yusaf with 1288 (214) and Gold, Silver going to England's Lorna Scott with 1282 and Bronze to Louise Roberts from Wales.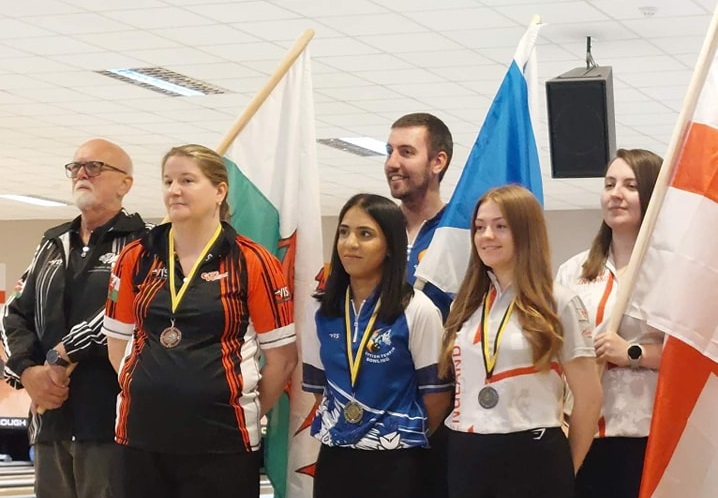 MENS SINGLES
Gold and Silver for England in the Men's singles on Friday afternoon and Mark Patrick on top with 1410 followed by team mate Adam Cairns in SIlver with 1368 and Bronze going to Ireland's Sean Dempsey with 1337.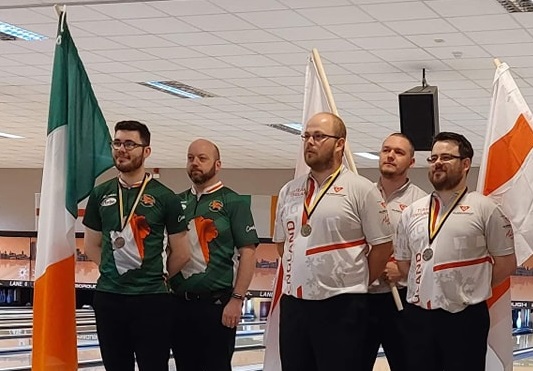 WOMENS DOUBLES
The women's doubles completed the first days play and two more medals for Team England and more Gold and Silver. Lorna Scott (691) and Elyse Giddens (602) taking Gold with 1293. Silver to team mates Charlotte Rathbone (629) and Natalie Boot (623) with 1252. Bronze to Scotland's Tania Yusaf (647) and Alannah McManus (554) with 1201.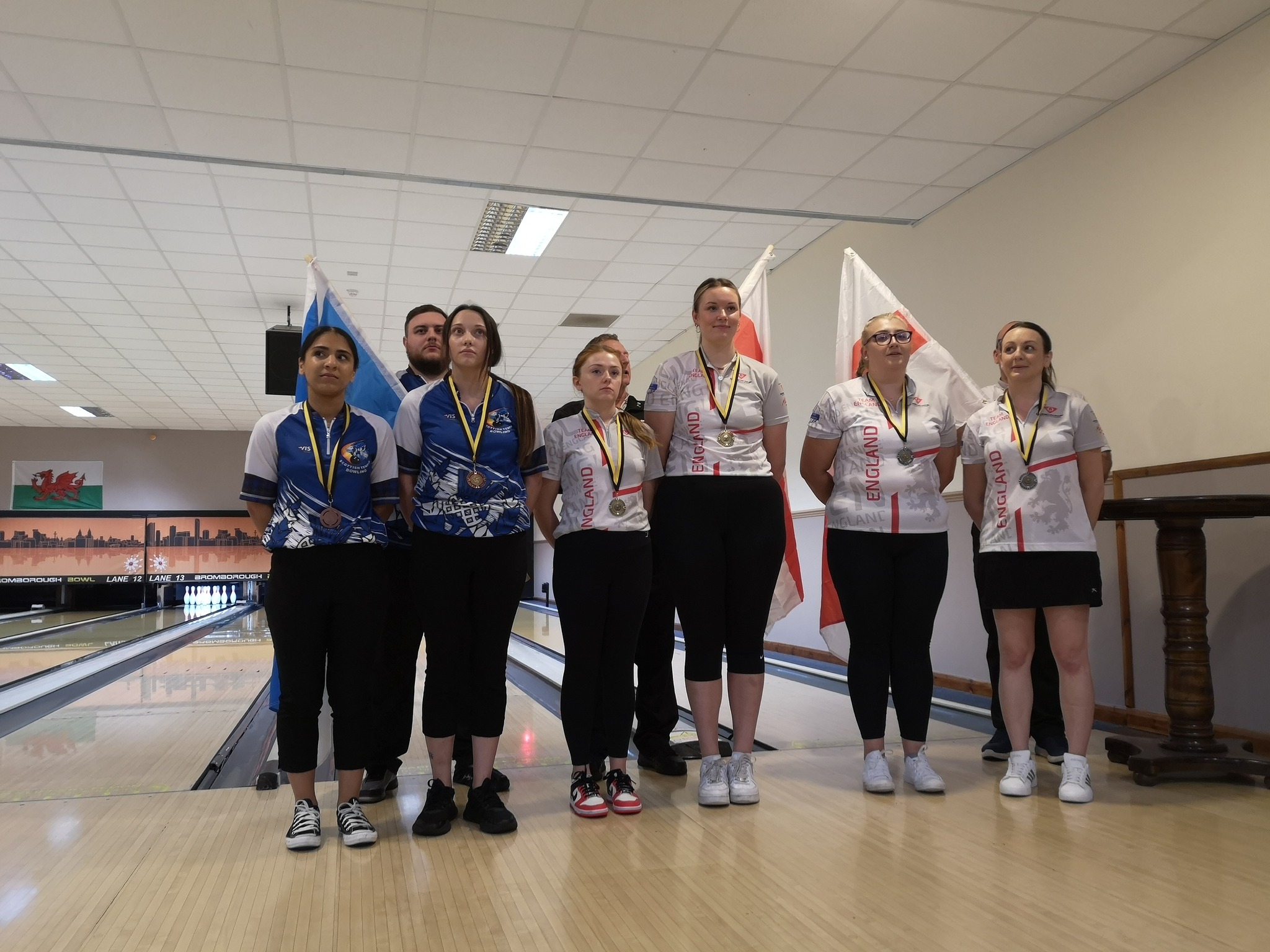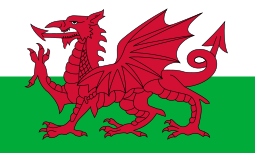 MENS DOUBLES
It was a fantastic gold for the host nation in the mens doubles as James Footner (708) and Glenn Robson (721) hit 1429 to win by 64 pins. Ireland took the Silver and also the bronze as Alan Bride (674) and Sean Dempsey (691) scored 1365 then Gavin Fox (661) and Colm Cloake (652) with 1313.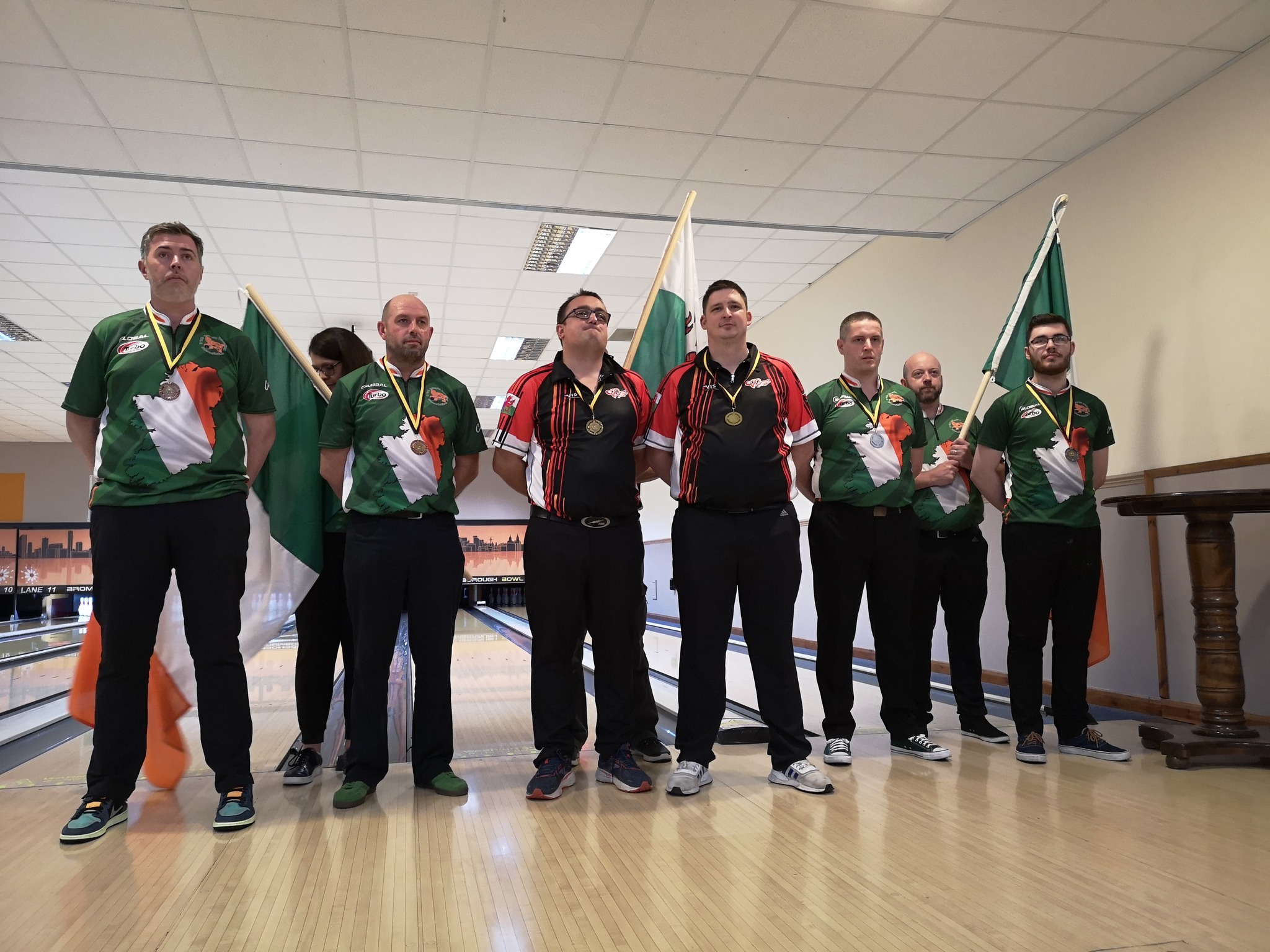 WOMENS TRIOS
Team England's Charlotte Rathbone (600), Vicki Harman (725) and Natalie Boot (715) rolled a massive 2040 to claim Gold ahead of Scotland in second with 18893 and England's Lorna Scott (599), Hannah Ailes (584) and Elyse Giddens (593) with 1776.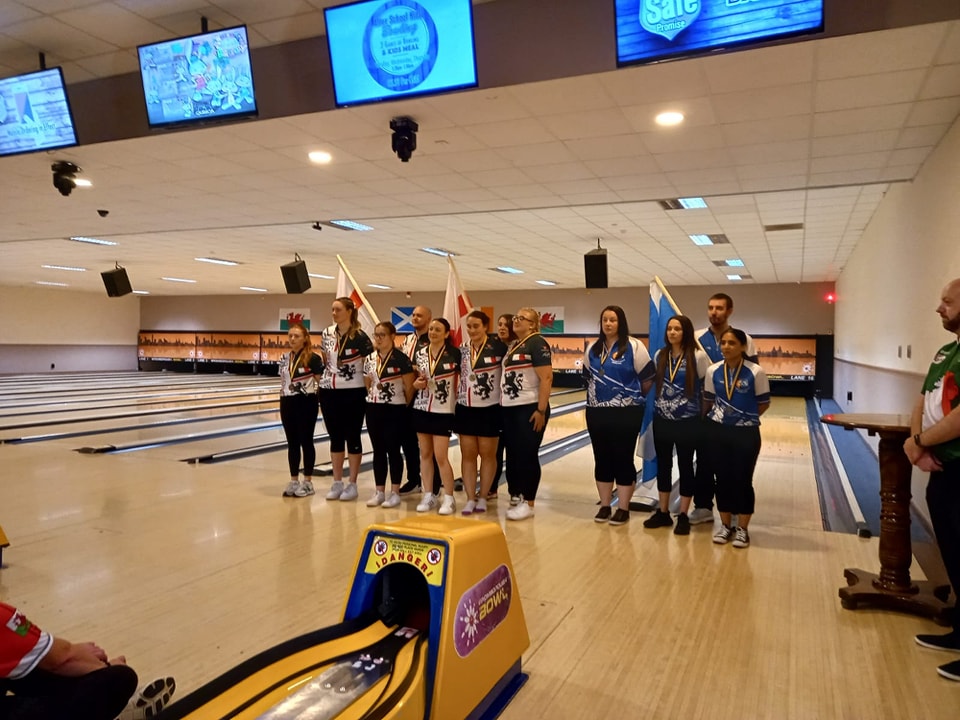 MENS TRIOS
Adam Cairns with a fine 764 and games of 257,275 and 232 together with 590 from Garry Sykes and 689 from Mark Patrick saw them claim Gold ahead of team mates Frank Stephenson (599), Garry Baird (662) and Adam Shrubb (645 with 1906 and Wales in Bronze with 1889.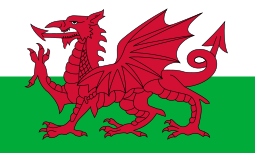 MIXED DOUBLES
Gold for the hosts as Wales Pauline McDonald (570) and Steve WIlliams (606) hit 1176. In Silver was England's Frank Stephenson (560) and Hannah AIles (614) with 1174 and Bronze to Scotland's Julia Claxton (497) and Daniel McKay (621) with 1118.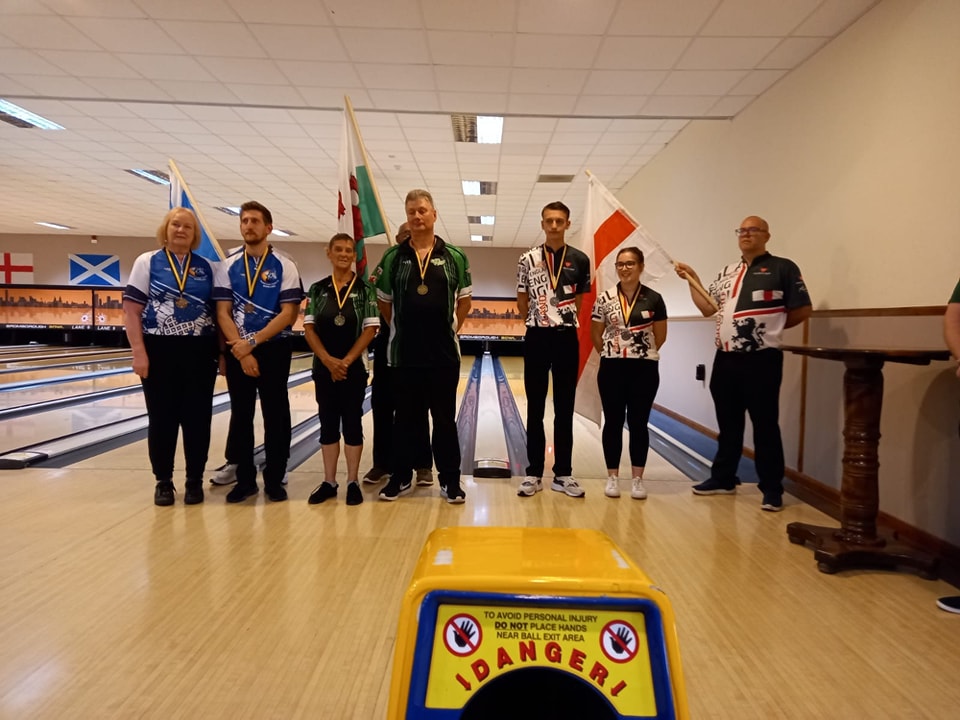 MENS TEAM
A competitive team event saw England take Gold with Adam Cairns for England in fine form with 725 and the team with 3170. Silver went to Wales with 3125 and a 684 high from James Footner. Bronze going to Ireland with 3125 and Sean Dempsey on fire with 746.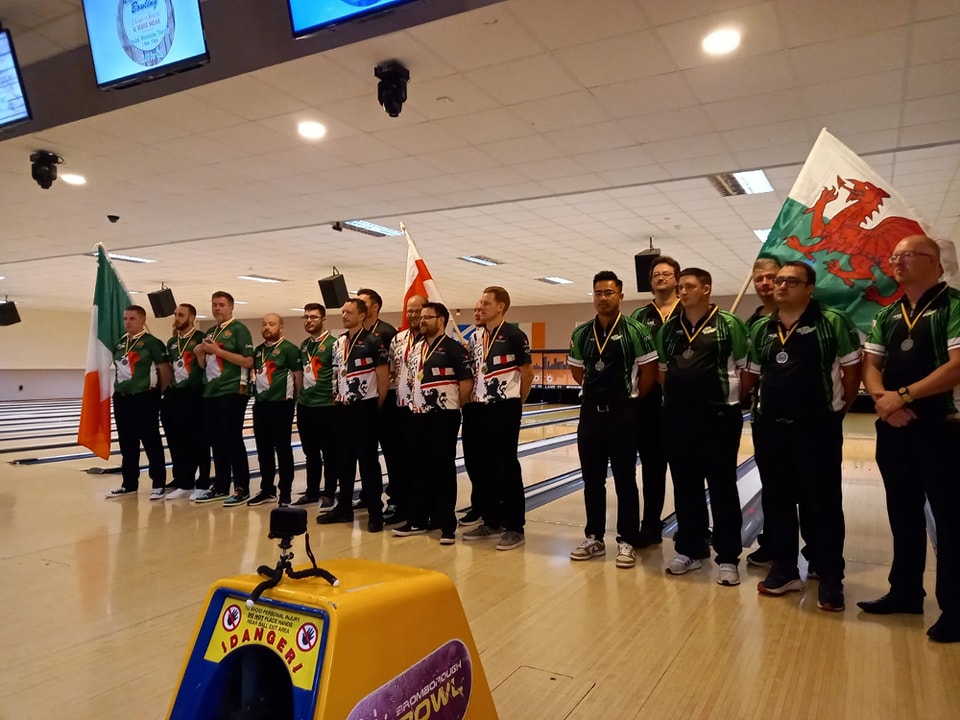 WOMENS TEAM
The England Women made it double team Gold for the country with 3127 and Vicki Harman the pick of the players with 702. Scotland took the Silver with 2931 and a high from Tania Yusaf with 669. Ireland grabbing the Bronze with 2751 and Donna Brady tops for the Irish with 588.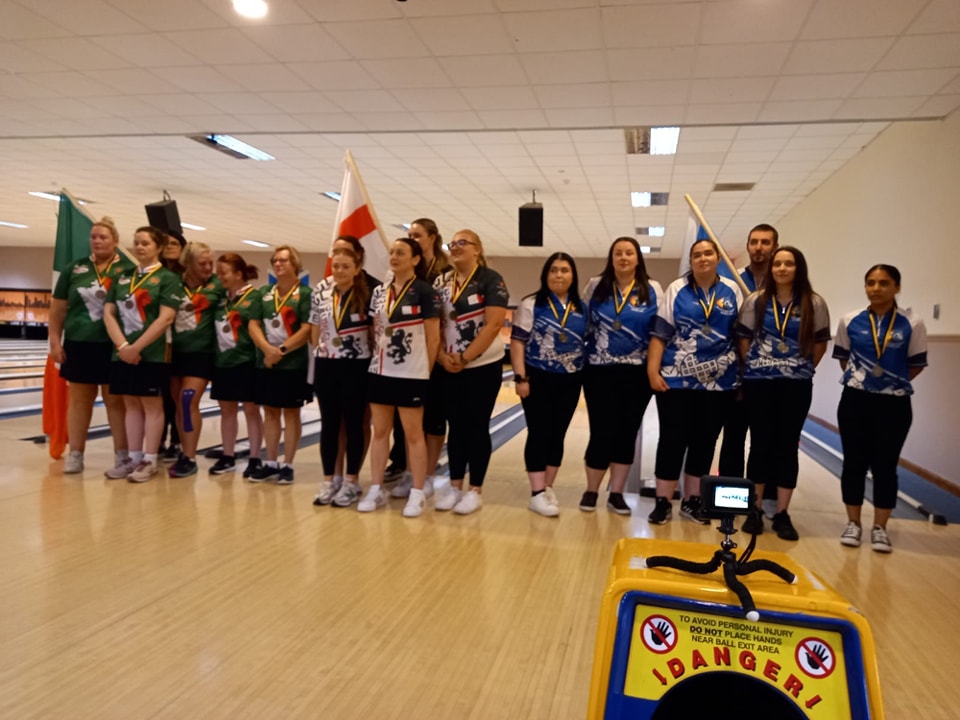 MENS ALL EVENTS
Adam Cairns won the mens all events with a 232 average 3489 ahead of Mark Patrick in Silver with 3426 and James Footner from Wales with 3407. Others into the top 8 Masters were Ireland's Sean Dempsey, Wales Glenn Robson and Robert Bruce, Scotland's Brian Gillespie and England's Adam Shrubb.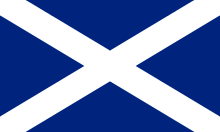 WOMENS ALL EVENTS
Gold for Scotland as Tania Yusaf was top woman in the all events with a 223 3349 with England's Vicki Harman in Silver with 3206 and Lorn Scott in Bronze with 3203. Others through to the masters were England's Natalie Boot and Elyse Giddens, Wales Kylie Bromley and Louise Roberts and England's Hannah Ailes.

MENS MASTERS
Gold at the very end for Ireland and a special one as Seam Dempsey started with 300 and finished with Gold on 1621 over the seven games taking silver was England's Adam Cairns with 1577 and Bronze to England's Mark Patrick with 1537.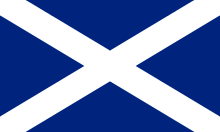 WOMENS MASTERS
Scotland's Tania Yusaf rounded out the weekend with Gold in the Masters with some fine scores including a 277 for a total of 1678. Taking Silver was ENgland's Lorna Scott with 1671 and Bronze to England's Vicki Harman with 1567.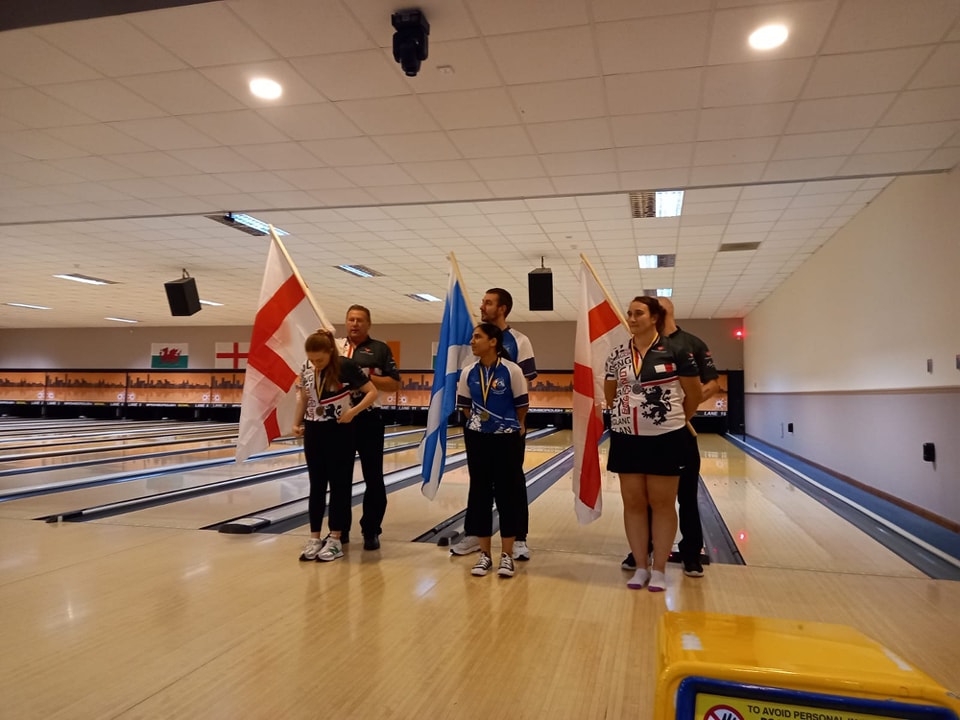 Results
Final Points
England win the Men's Womens and Overall points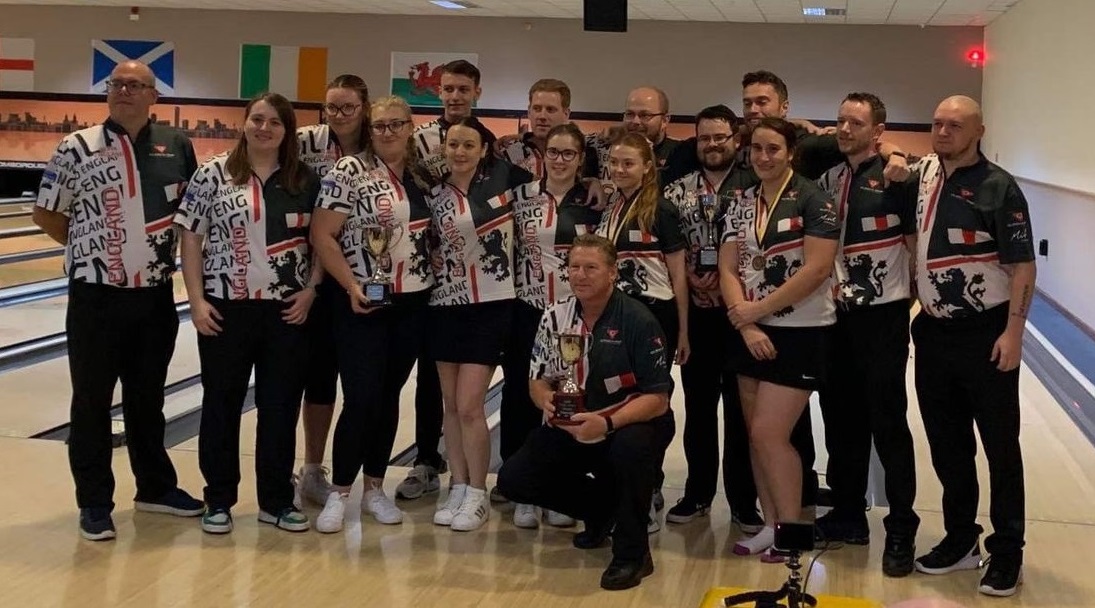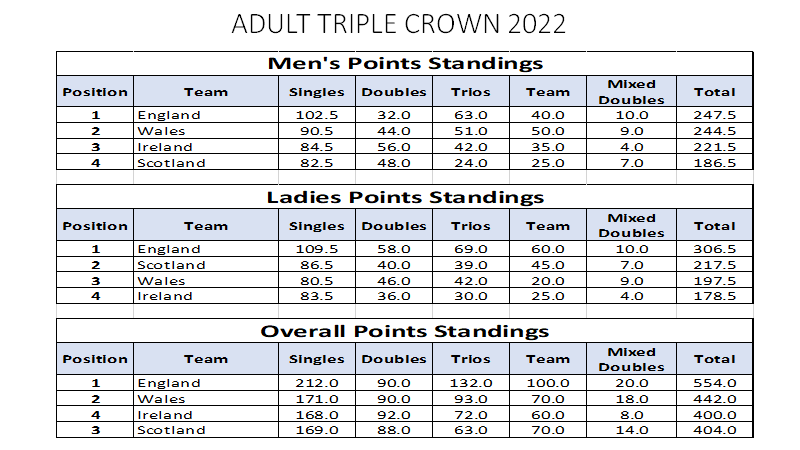 MASTERS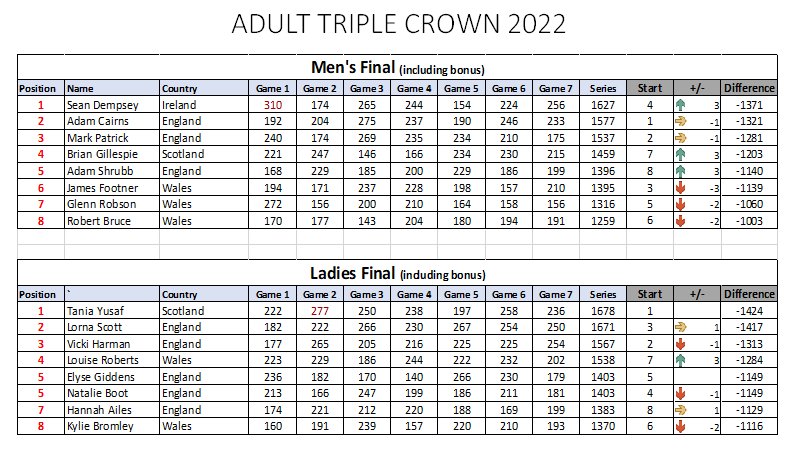 MENS TEAM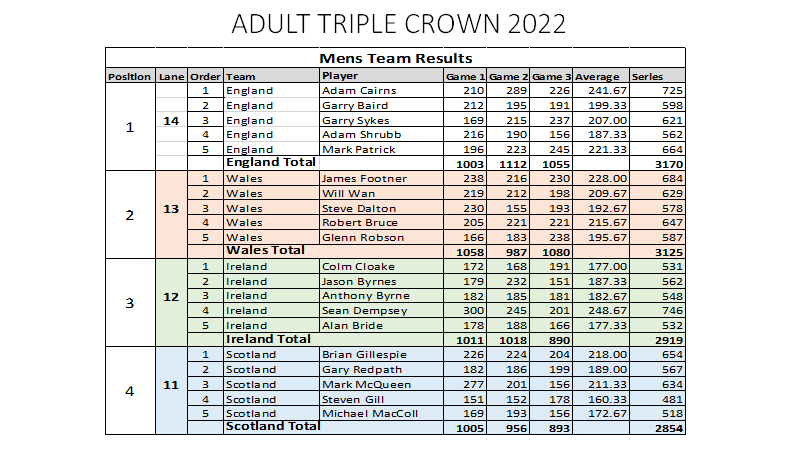 WOMENS TEAM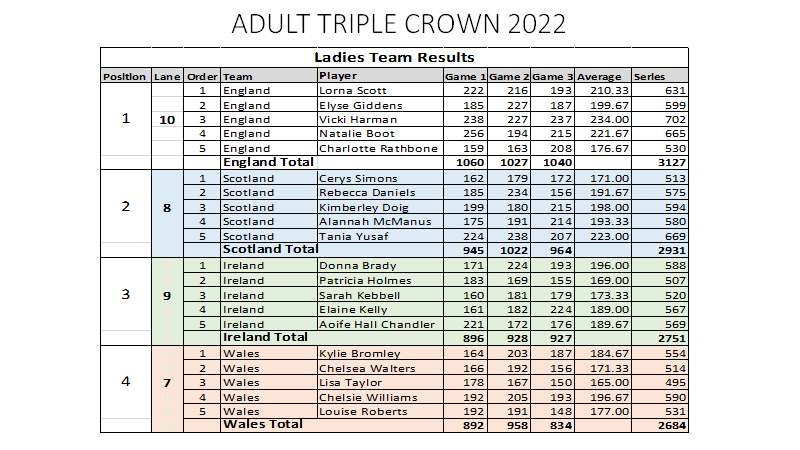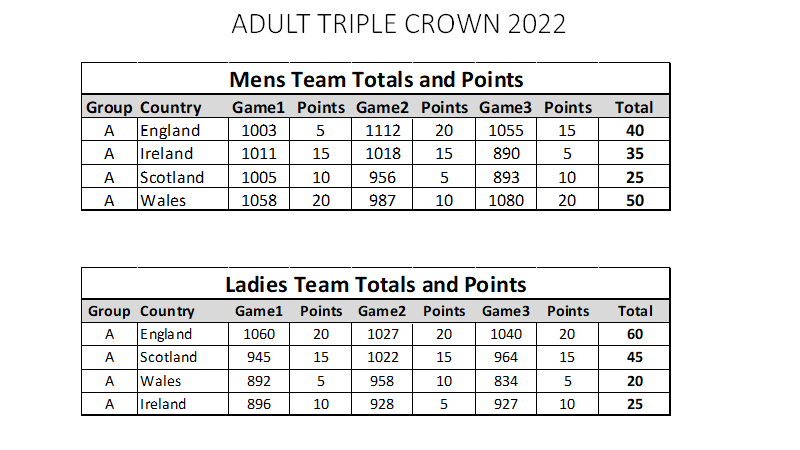 MENS TRIOS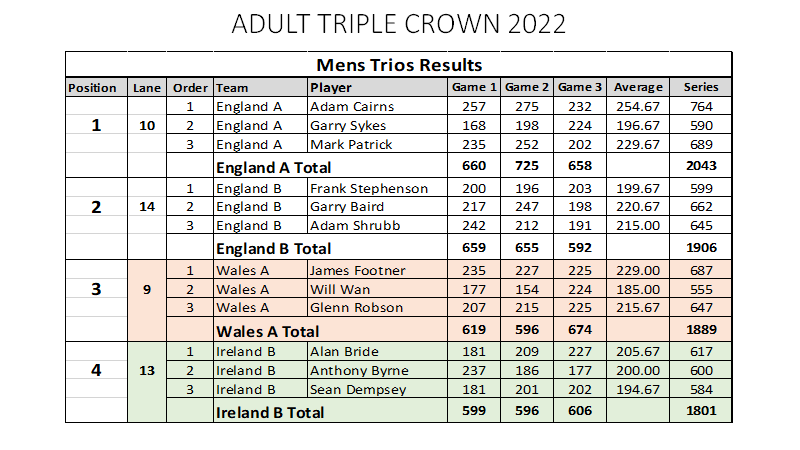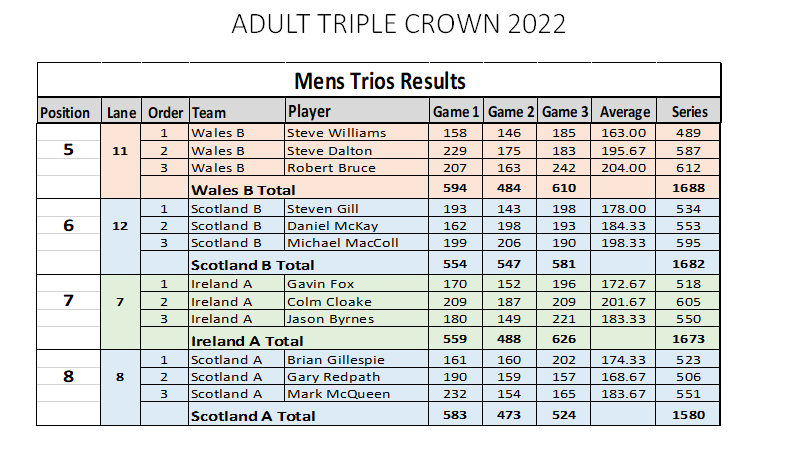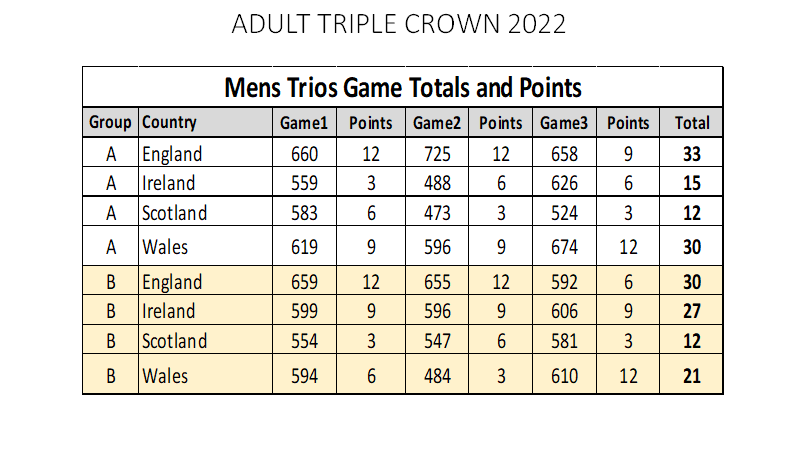 WOMENS TRIOS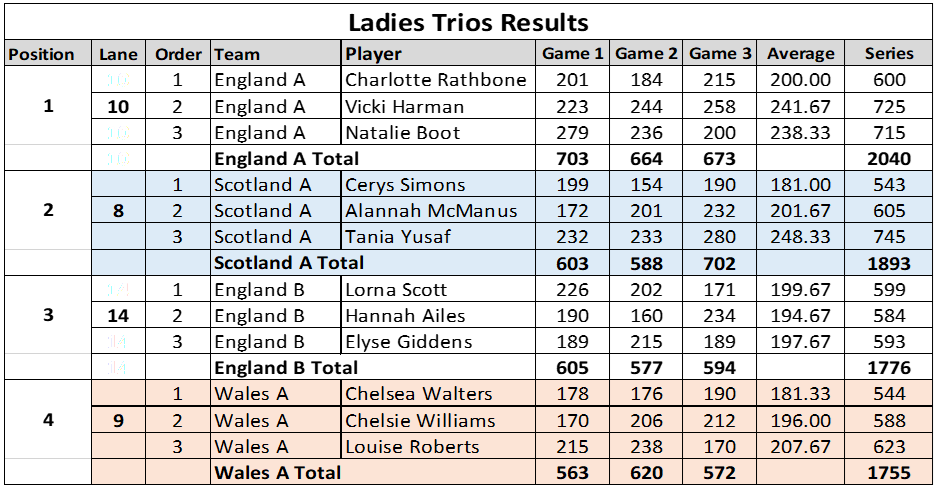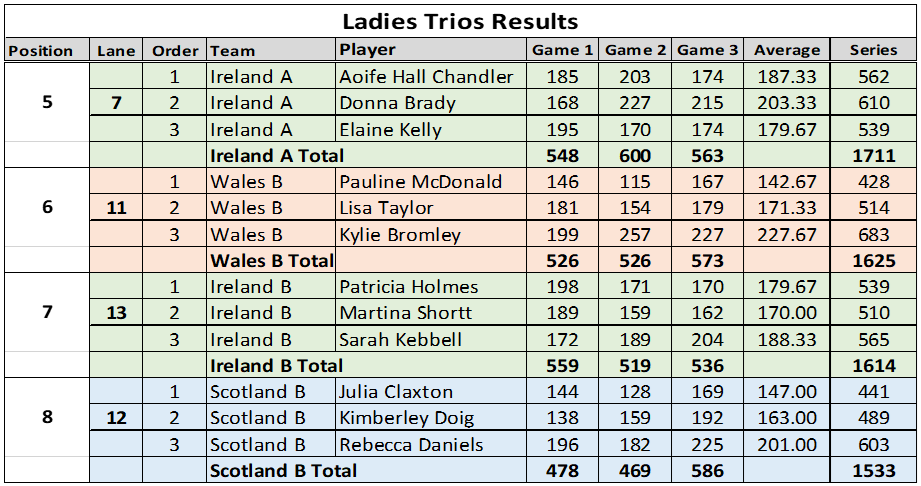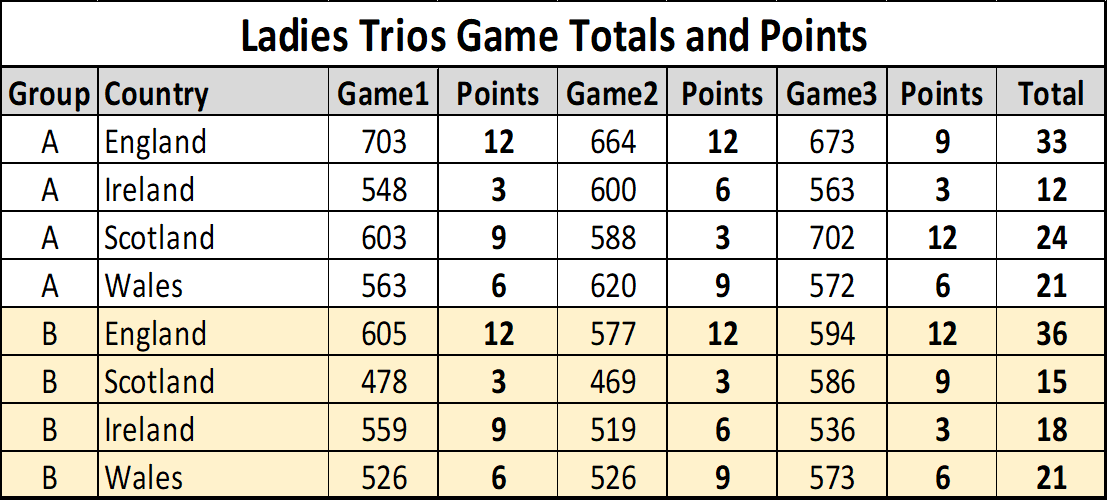 MIXED DOUBLES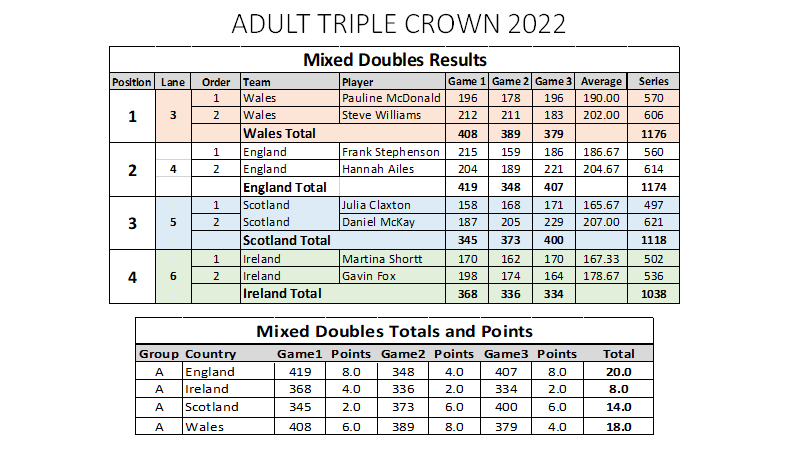 MENS DOUBLES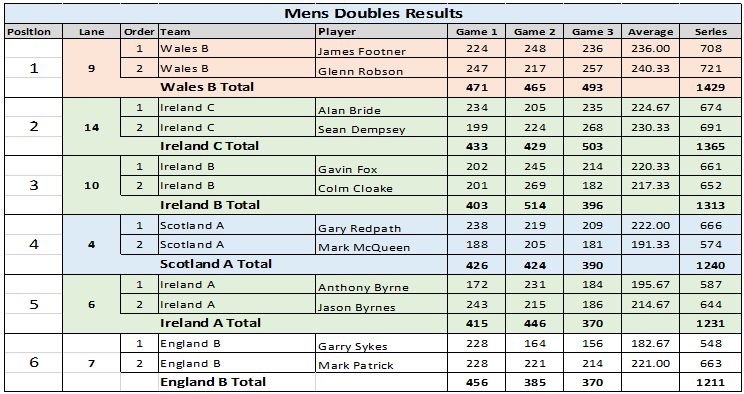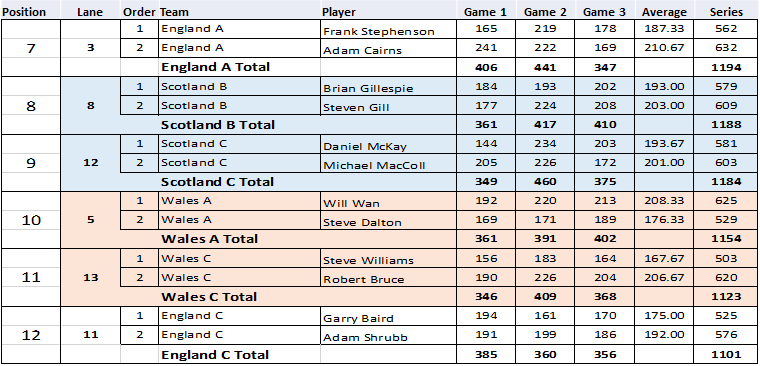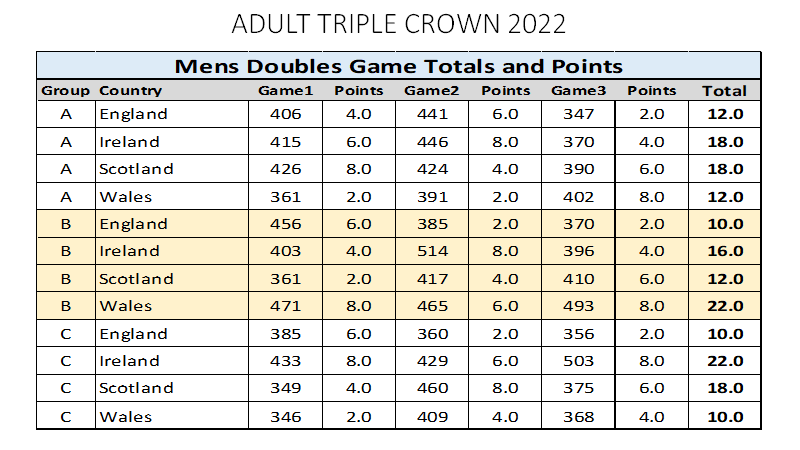 WOMENS DOUBLES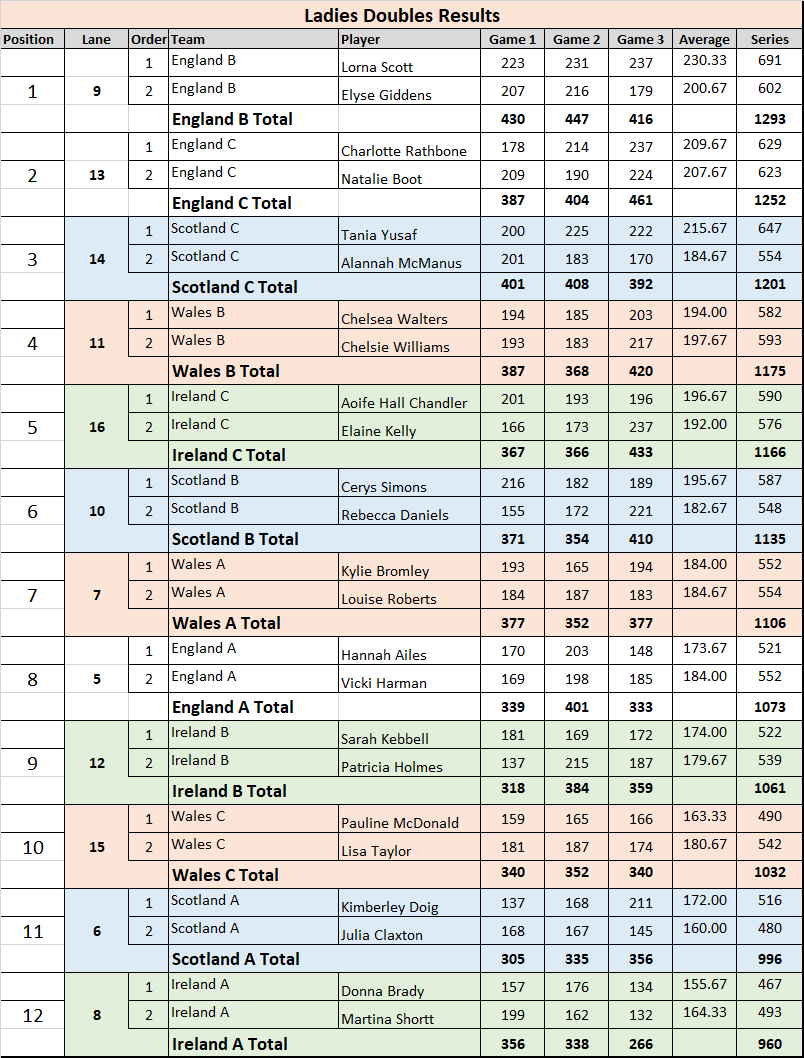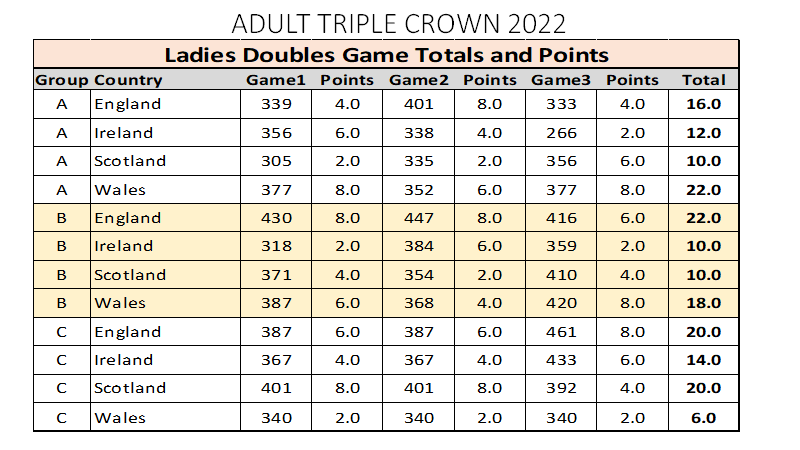 MENS SINGLES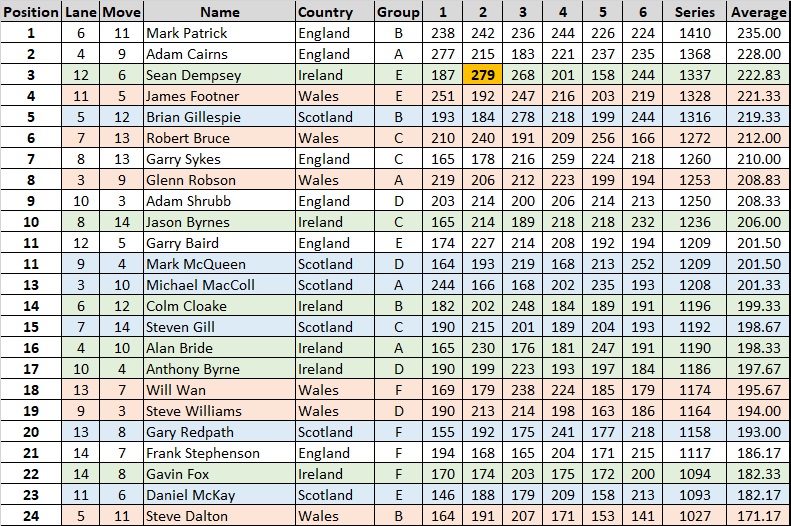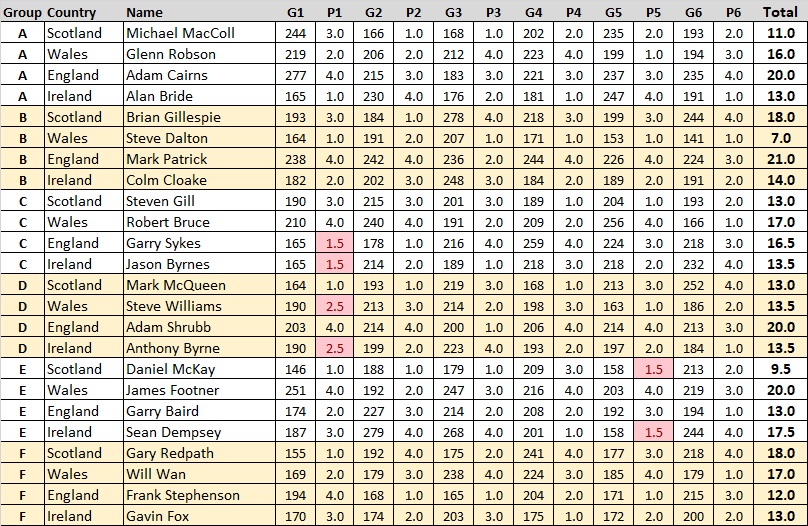 WOMENS SINGLES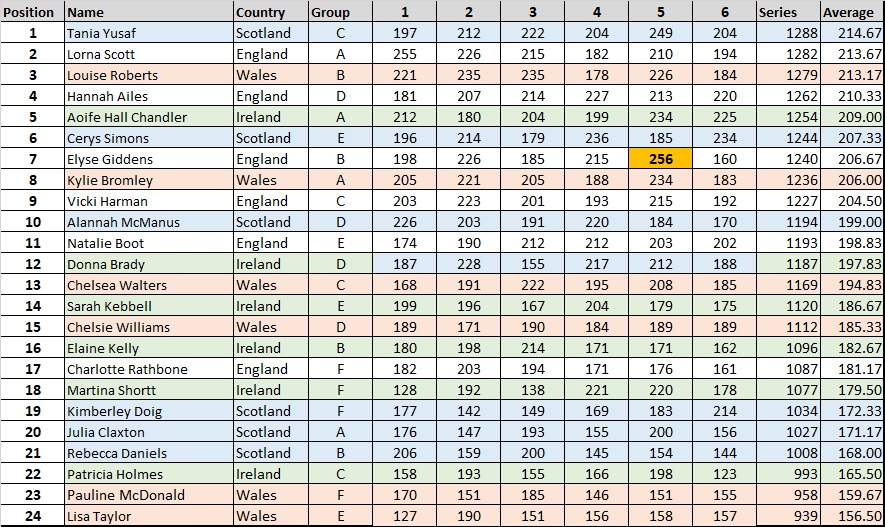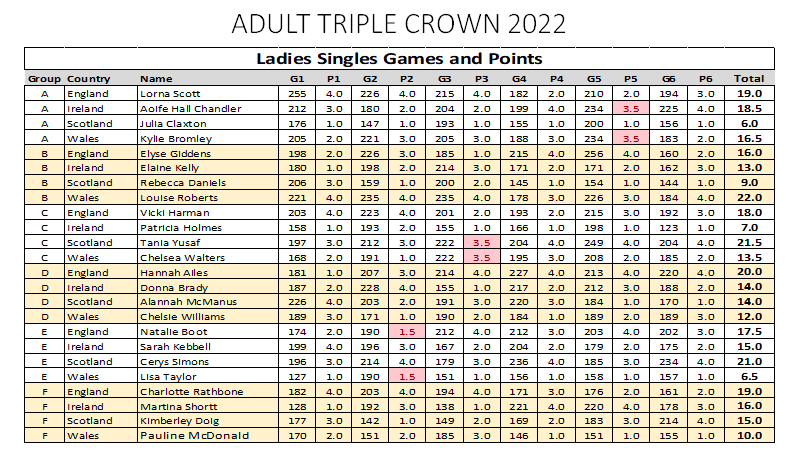 ALL EVENTS MEN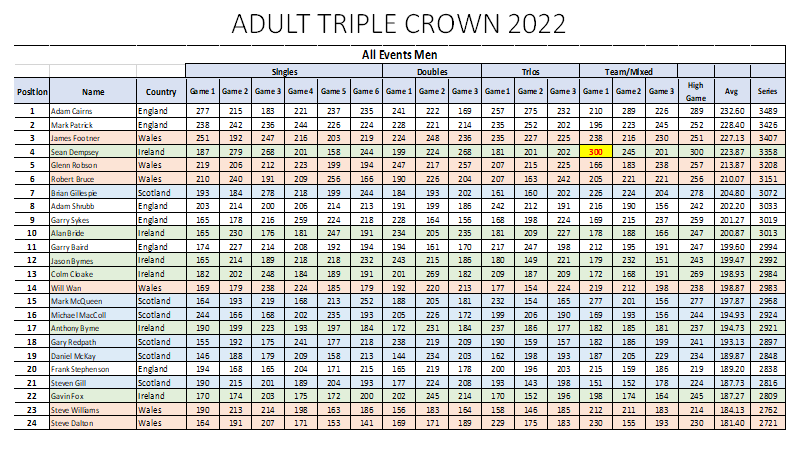 ALL EVENTS WOMEN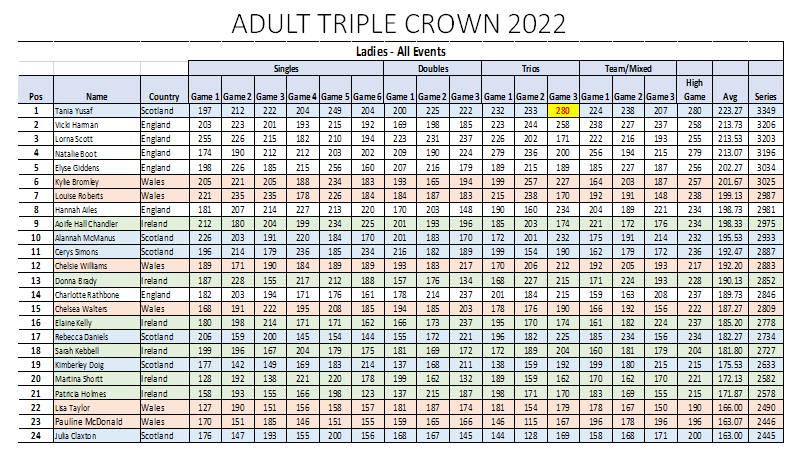 Schedule
A draft schedule follows, timings of which could be subject to alteration. (Associations will be advised of any changes).
Thursday 8th September
13.00 – 19.00 — Unofficial practice
20.00 – Managers Meeting (Bowling Centre)
Friday 9th September
08.30 — Opening Ceremony
09.00 — Ladies Singles (6 games)
11.45 — Lane Dress
12.15 — Mens Singles (6 games)
15.00 — Lane Dress
15.30 — Ladies Doubles (3 games)
Saturday 10th September
08.30 — Mens Doubles (3 games)
10.00 — Lane Dress and Singles Medal Presentation
10.45 — Ladies Trios (3 games)
13.00 — Lane Dress and Doubles Medal Presentation
13.45 — Mens Trios (3 games)
Sunday 11th September
09.00 — Team and Mixed Doubles (3 games)
12.30 — Lane Dress and Trios, Mixed Doubles and Team Medal Presentations
13.15 — Masters Round Robin
15.30 (Approx) — Masters and All Events medal and Triple Crown Winners Shields Presentations
Banquet
"To date, the Association has been unable to source a suitable banquet location. Principally due to unsuitable logistics, restricted menu options and/or unreasonable costing per capita. Therefore the TBAW Council has reluctantly taken the decision, NOT to put on a formal banquet."