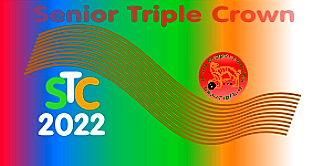 The Irish Tenpin Bowling Association host the 2022 Senior Triple Crown to take place in Leisureplex Blanchardstown between the 8th and 10th April 2022.
The Senior Triple Crown Tenpin Bowling Tournament is an annual 3 day event which takes place in April. The event sees representatives of Republic of Ireland, Northern Ireland, England, Scotland and Wales participate in Singles, Doubles, Trios & Team events.
Each participating country may have teams of 6 Men and 6 Ladies.
Reports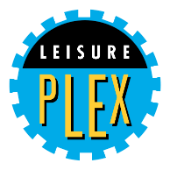 Here we go at last
What seems like an age since the last edition thanks to a pandemic is now forgotten as the Home nations of England, Scotland, Wales, Northern Ireland and host nation Ireland meet up in Leisureplex Blanchardstown for the 2022 Senior Triple Crown.

Lining up for the Senior Team England team are: Colin Grose, Steven Jeeves, Lol Ellis, Kim Johnson, Gary Baker, Paul Loberman, Lynn Squibb, Sandra Simmonds, Jan Hodge, Carole Orange, Angie Brown and Gaye McCully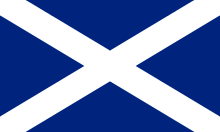 Scotland sending: Billy Gill, Andy Gillespie, Bernie Matthews, Noel Murphy, Jack Smith, Greme Vint, Gloria Carney, Joolz Claxton, Liz Gove, Mags Rae, Nan Shepherd and Joan Taylor.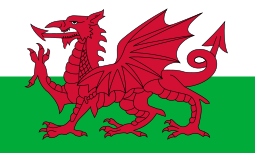 The Wales team includes: Robert Bruce, Trevor Green, Suren Johansson, Guy Lipscomb, Peter Moore, Steve Williams, Una Clark, Hillary Cooke, Jane King, Pauline McDonald, Kay Rogers and Lynne Walker.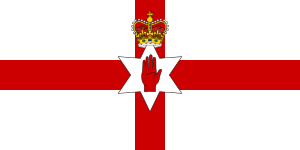 The Northern Irish have just a Mens team in the event this year with: Kenny Donnelly, Ken Harrison, Kev Horton, Paul McCauley, Sean Robinson and Alan Smith

And finally our host team Ireland's squad includes: Tom Byrne, Niall Cullen, Paddy Dunne, Nickey O'Malley, Haulie Storan, Phillip Watts, Lorraine Keane, Dymphna Kestell, Berni Moriarty, Martina Shortt, Anita Watts and Theresa Watts.

Ladies Singles – Home Gold for Ireland

Friday saw a start in the singles event for the Ladies at 9am for six games in the singles' Taking the Gold Medal with 1288 (214) was Ireland's Lorraine Keane. England's Angie Brown taking Silver with 1271 (211) and Ireland's Berni Moriarty taking Bronze with 1266 (211).
Elsewere for Team England, Carole Orange placed 4th with 1211, Gaye McCully joint 5th with 1202, Sandra Symmonds 8th with 1168, Jan Hodge 13th with 1131 and Lynne Squibb in 14th with 1099.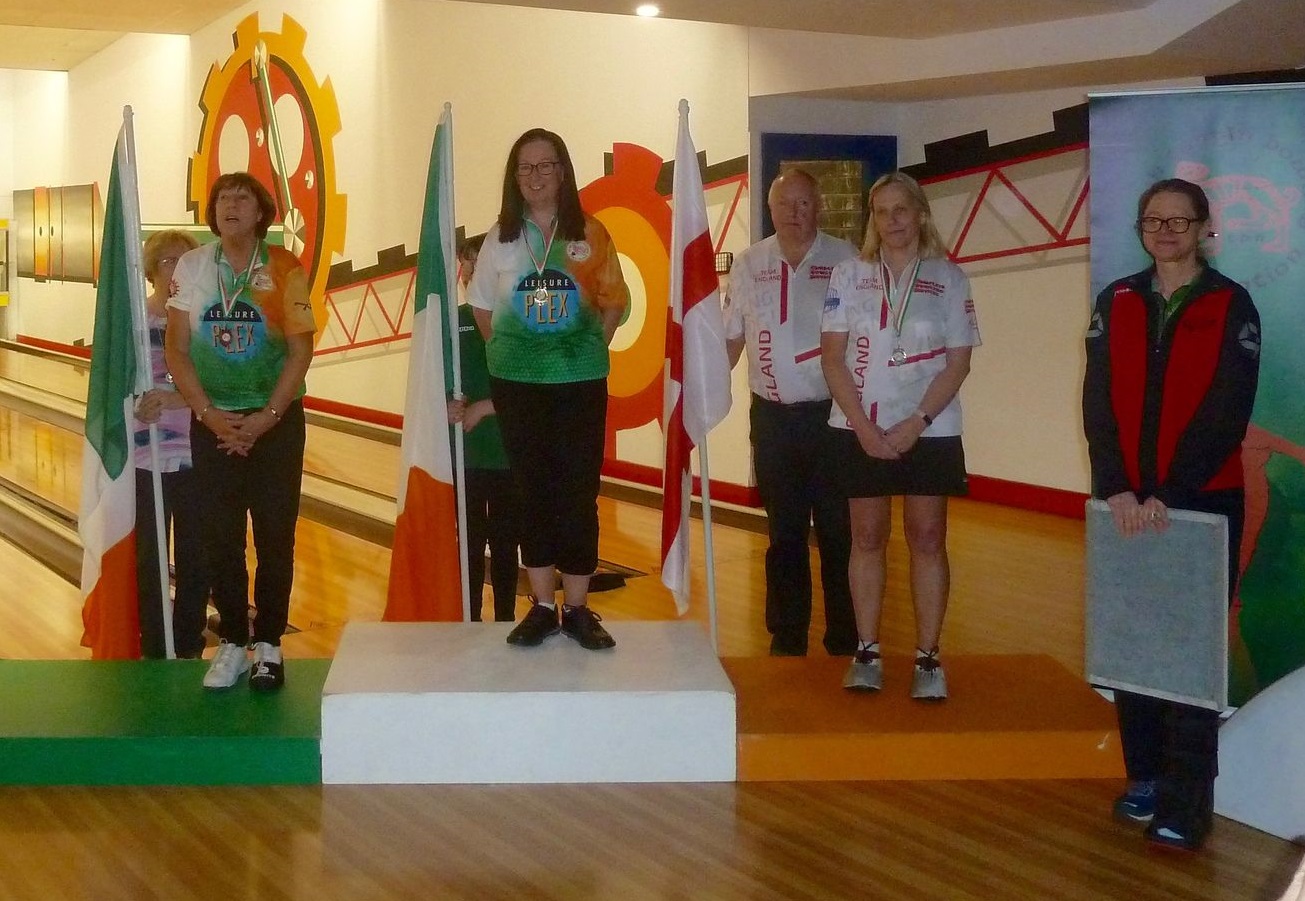 Men's Singles – Colin Grose fires 1500 for Team England to win Gold
The men were on the lanes in the afternoon and a stellar performance for former England YAC international Colin Grose as he smashed in 1516 to win the Gold medal. That is a 252 average. Taking Silver was Ireland's Haulie Storan with a fine 1439 (239) and Bronze also went to Ireland as Phillip Watts hot 1396.
Elsewhere for England, Gary Baker placed 5th with 1332, Steven Jeeves 7th with 1328, Kim Johnson 8th with 1322, Lol Ellis in 16th with 1241 and Paul Loberman in 21st with 1206.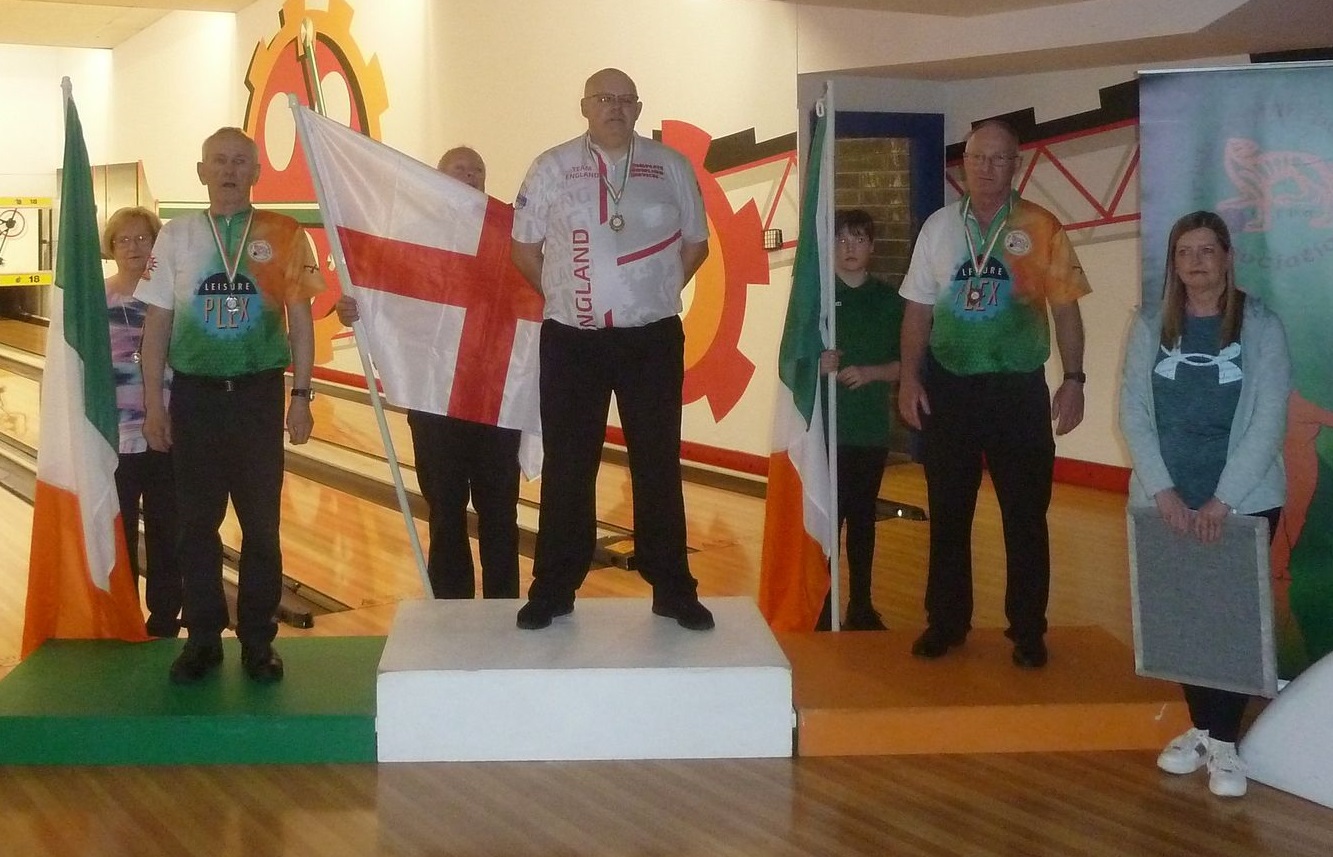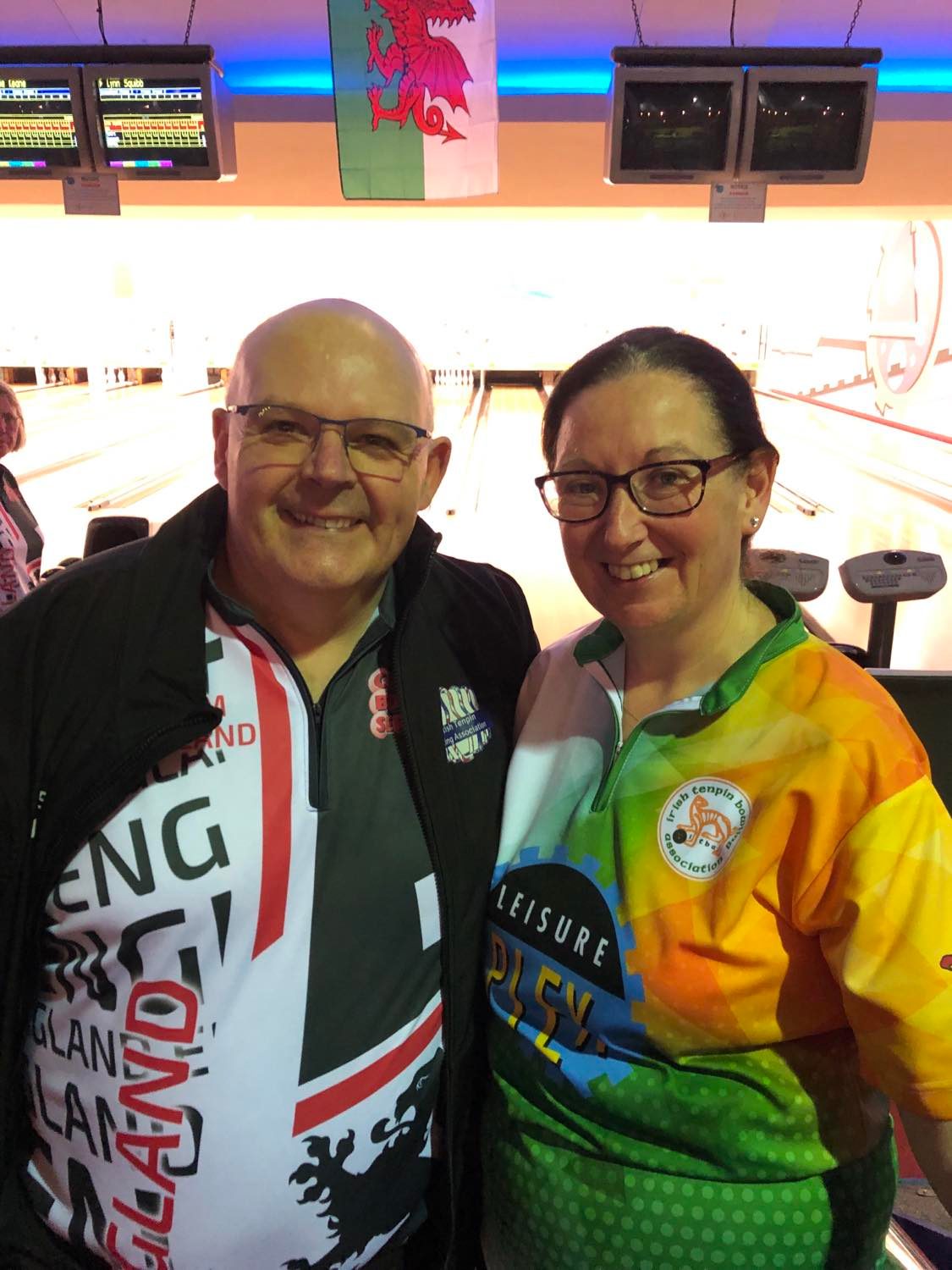 England's Colin Grose and Ireland's Lorraine Keane claim the Singles Gold Medals. Both played in the World Youth Championships in Monterrey, Mexico in 1994.

Ladies Doubles – Gold for England's Hodge and Brown

The ladies were back in the late afternoon for three games in doubles and a great day continued for Team England as Jan Hodge (634) and Angie Brown (649) took the Gold medal with 1283 as Ireland's Dymphna Kestell and Theresa Watts took Silver with 1253 and Bronze going to Ireland's Berni Moriarty and Martina Shott with 1193.
England's Carole Orange (549) and Gaye McCully (631) placed 4th with 1180 and Lynn Squibb (546) and Sandra Simmonds (527) in 8th with 1073.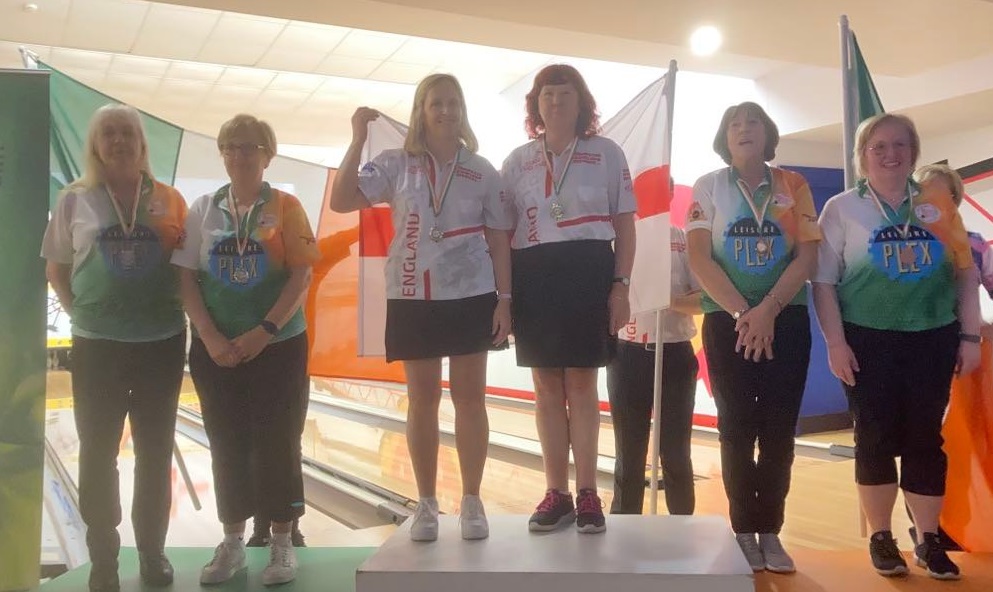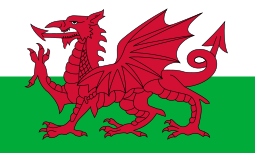 Men's Doubles – Gold for Wales
Doubles continued on Saturday morning with the men on the lanes for the three game block. Wales made their move taking both Gold and Bronze. Guy Lipscomb (726) and Trevor Green (624) taking the Gold with 1350 as Scotland's Jack Smith (671) and Andy Gillespie (669) took Silver on 1340 and Bronze to Wales' Steve WIlliams (665) and Robert Bruce (655) on 1320.
For England, some good bowling and a 5th place for Colin Grose (617) and Steven Jeeves with a fine 699 for 1316. Lol Ellis (579) and Paul Loberman (686) placed 7th with 1265 and Kim Johnson (612) and Gary Baker (616) in 11th with 1228.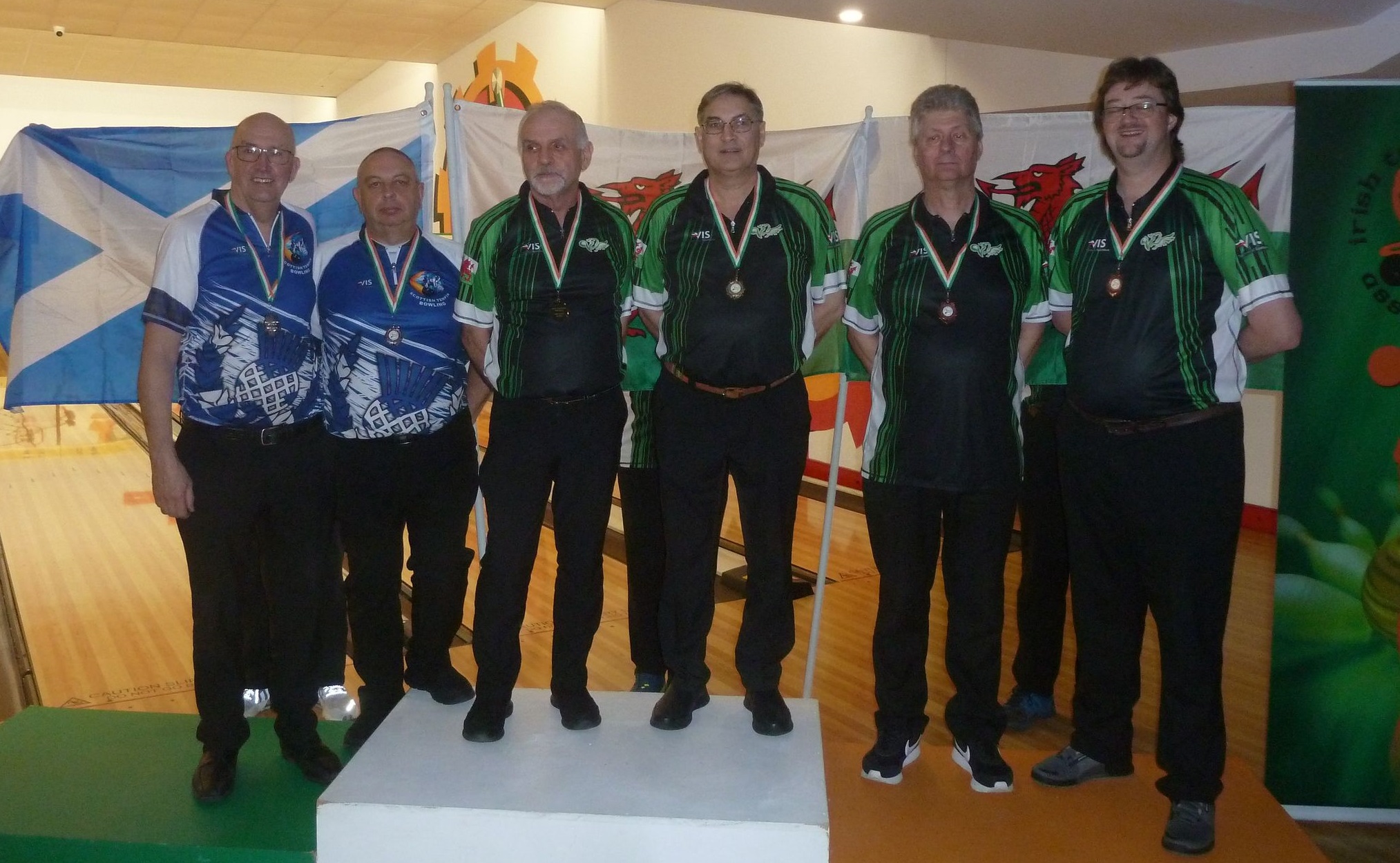 Ladies Trios – Gold and Bronze for Team England

The Ladies were first up in the trios and a fantastic day again for Angie Brown and Jan Hodge adding trios Gold to the earlier Doubles Gold joining with Gaye McCully and the other team taking the Bronze Medal
England's Brown/Hodge/McCully claiming Gold with 1872 Ireland's Morriarty/Kestell/Watts taking Silver with 1843 and England's Orange/Simmonds/Squibb bronze with 1803.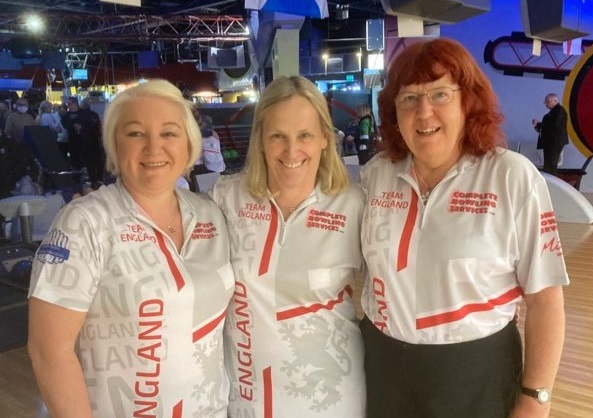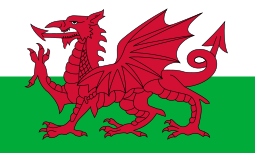 Men's Trios – 300 for Wales Guy Lipscomb, Gold and Silver for Wales

The first thing to report was the fantastic first perfect game of the championships by Guy Lipscomb from Wales. This certainly got the Welsh fired up as they chased down another Gold Medal this week after claiming Gold in the mens doubles.
Turned out to be a spectacular day for the Welsh in the end Steve Williams, Guy Lipscomb and Robert Bruce took Gold with 2060 and Suren Johansson, Peter Noore and Trevor Green taking Silver with 2004.  England Colin Grose, Paul Loberman and Steven Jeeves taking Bronze with 1970.
Guy Lipscomb rolls the first 300 of the Championship (Filmed by Paul Loberman)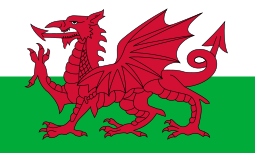 Mixed Doubles – Wales win
Another Gold for Wales and this time in Mixed doubles as Lynne Walker hit 554 and Peter Moore added 704 for 1258 as England's Lynn Squibb (539) and Lol Ellis (600) took Silver with 1139 and Ireland's Martina Shortt (537) and Niall Cullen (559) claimed Bronze with 1096.

Team – Double Gold for England

The big one, everyone wants a medal but winning a team Gold is pretty special and all countries were hot for this one. Wales were flyng at the start with 1128 ahead of England in second with 1056 and Ireland third with 1012. Game two saw England improve with 1072 but Wales slipping with 986 and an Improved Scotland with 1019.
It was to be Gold for England though in the end with England 3195 followed by Wales in Silver with 3187 and Ireland bronze with 3119.
In the Ladies, England were off to a good start with 1005 followed by Ireland just behind on 996 and Scotland back on 862 and a 957 kept the English in the lead after game two with Ireland still close by. It was going to go down to the last game for sure. It did and a four bagger from Angie Brown at the end sealed it for an England Gold with 2944 and Silver for Ireland with 2925.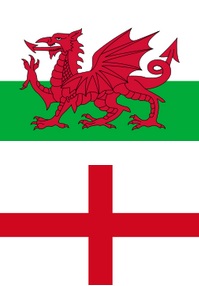 Masters – Gold for England's Gaye McCully and Wales Steve Williams
So onto the final event of these championships and the coverted Masters title. The last 8's included Paul McCauley (NI), Haulie Storan (Ire), Paul Loberman (Eng), Guy Lipscomb (WAL) Colin Grose (ENG), Robert Bruce (WAL), Steven Jeeves (ENG) and Steve Williams (WAL) for the men and Berni Moriarty (IRE), Jan Hodge (ENG), Theresa Watts (IRE), Gaye McCully (ENG), Dymphna Kestell (IRE), Angie Brown (ENG), Lorraine Keane (IRE) and Carole Orange (ENG).
Taking the Gold's were Gaye McCully for England with 1508 and Wales Steve Williams with 1776. Silvers to Ireland's Dymphna Kestell with 1503 and England's Steven Jeeves who also bowled a 300 game on the way to 1724. Bronze to England's Angie Brown with 1494 and England's Colin Grose with 1722.
Photos thanks to Paddy Gibbons, Tony Brown and Mike Bergquist.
Points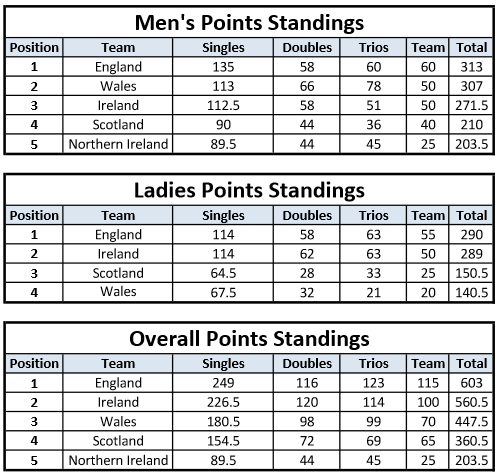 Results
Singles
Ladies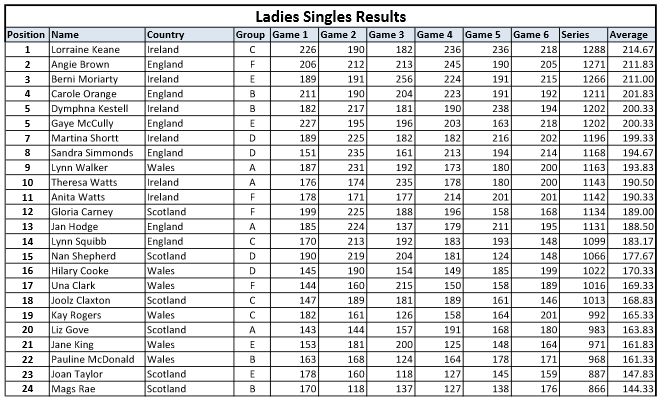 Men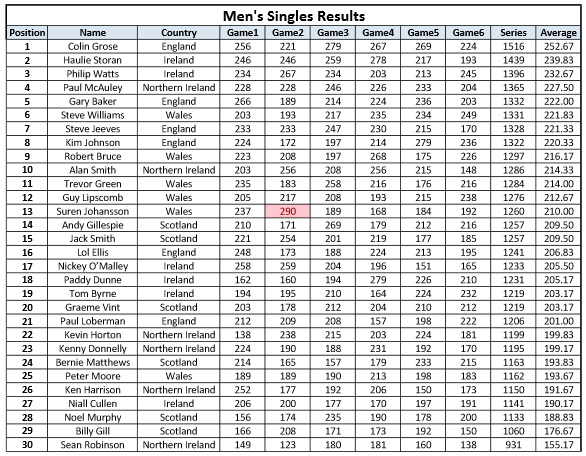 Doubles
Ladies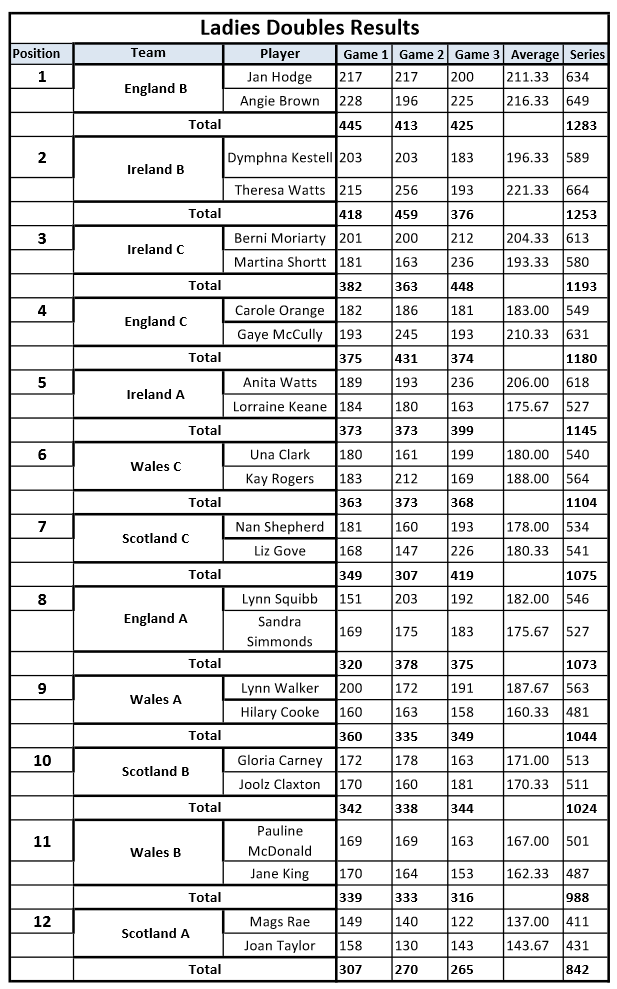 Men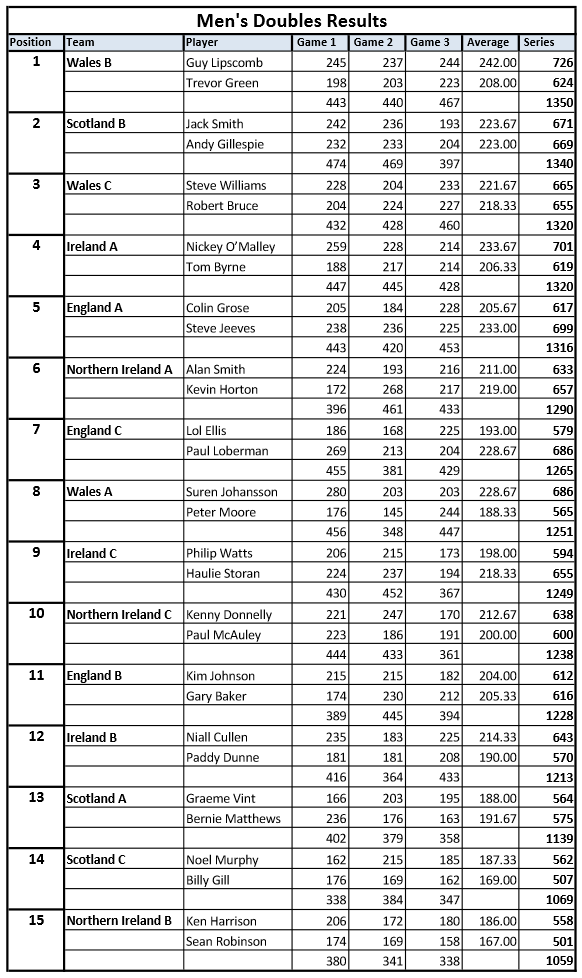 Trios
Ladies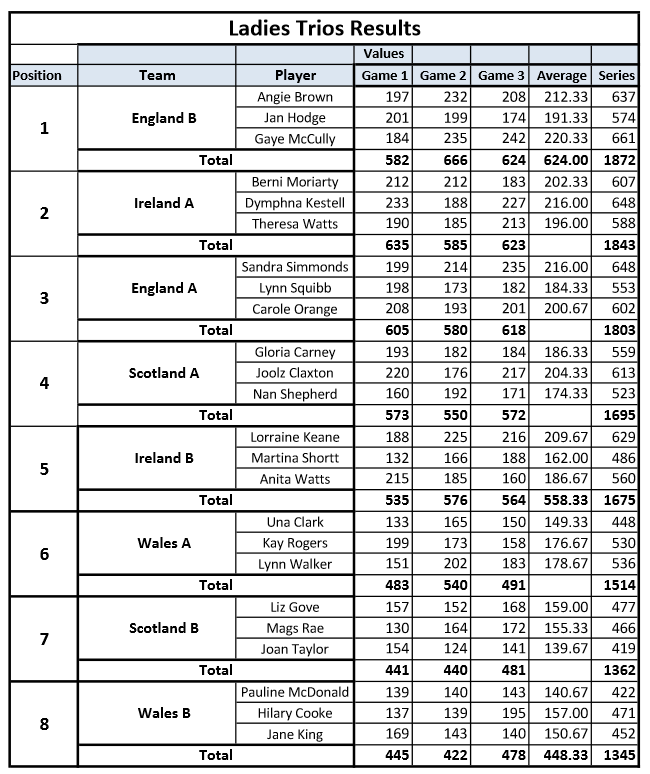 Men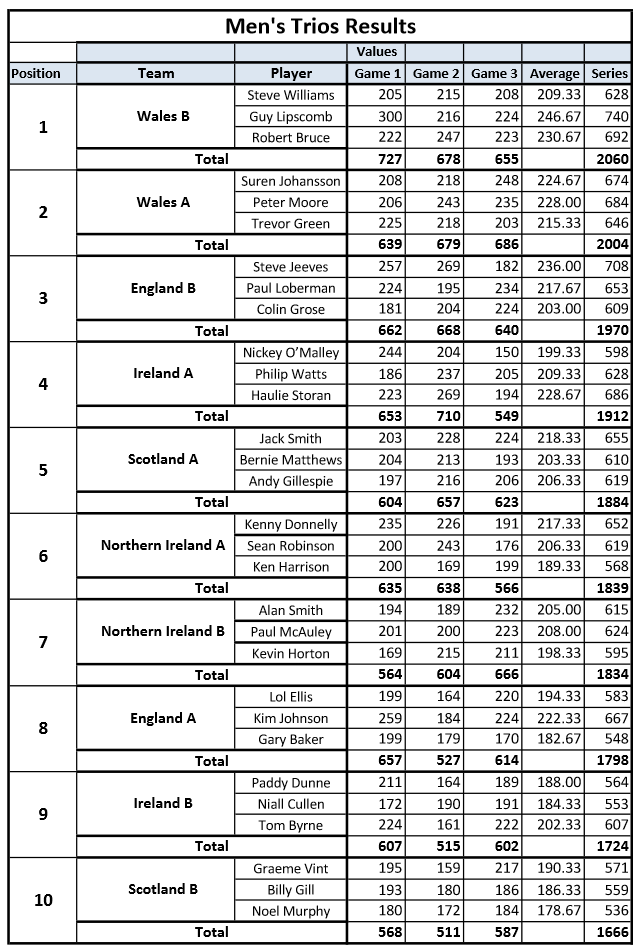 Mixed Doubles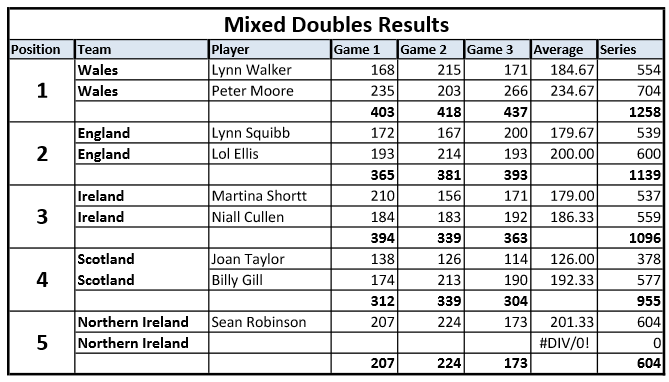 Team
Ladies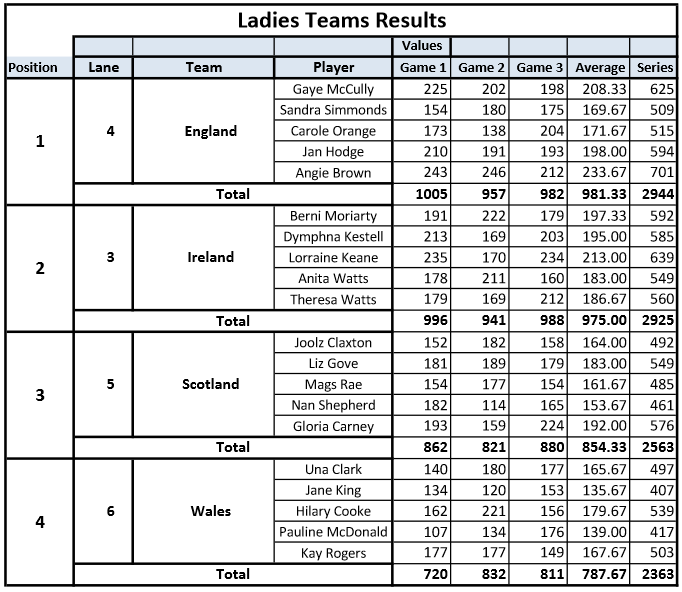 Men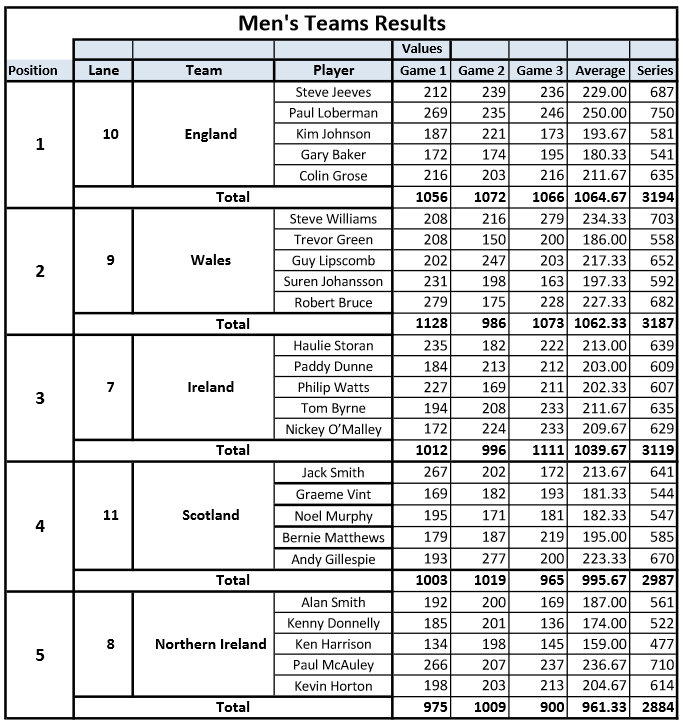 All Events
Ladies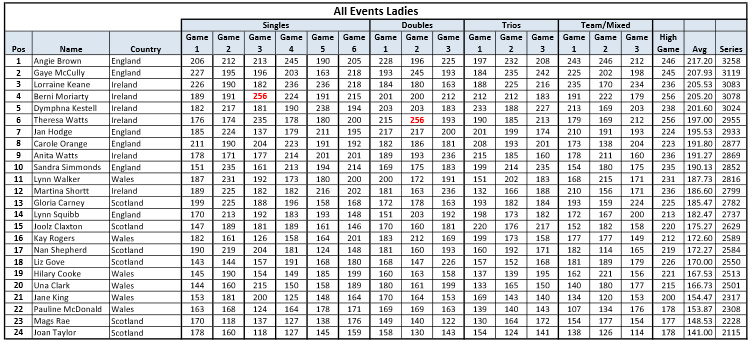 Men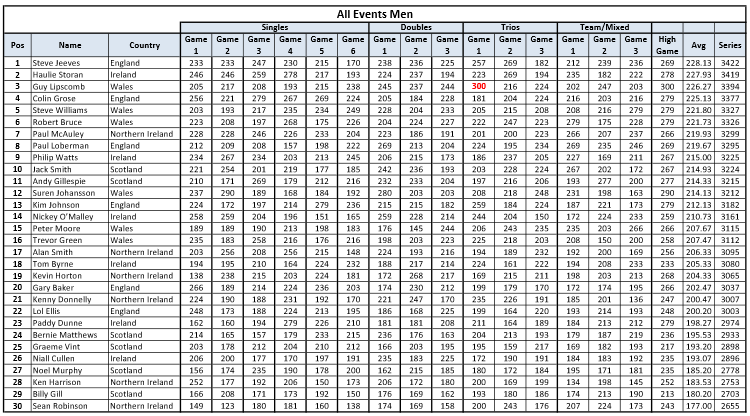 Masters
Ladies

Men