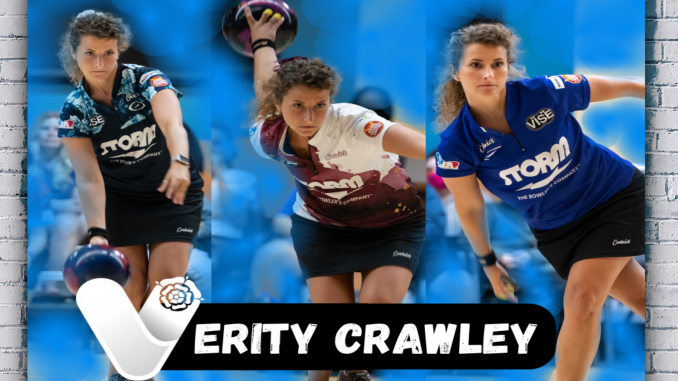 What a year for Verity Crawley in 2021, The highest of highs and the lowest of lows. A year many might want to forget due to the pandemic but not England's PWBA star. Back and stronger than ever, flying high in last years rankings and helping a many generations of bowlers to improve. We got a chance to catch up and continue our series of interviews with Verity as 2022 starts to take shape and hopefully a return to normal life.
2020 ended and a year of ultimate highs and lows. How did the year make you stronger?
It was a challenging year for everyone and I think it's important we all find the positive in what happened. For me, it allowed me to learn to love myself and learn more about the sport of bowling. Physically I got stronger and I learnt the importance of rest and recovery. I was very fortunate to be in Florida and have a lot of tournaments to bowl, not only at the weekend but also throughout the week. I spent a lot of time learning from John Janawicz and I believe that has been instrumental in my growth.
We see on your platforms the amazing people and places you meet and visit. An important part of a tournament visit is good food and nutrition. You and JJ John Janowicz as food and restaurant reviewers has to be a future series or podcast surely?
I have certainly put an importance this past year on visiting more places and enjoying life beyond the bowling. You never know if you will have those chances again and in 10-15 years there is no doubt I will look back on the memories and cherish them. For right now, no podcast on the cards. I did tell JJ he should set up his own Instagram account, however I don't see that happening anytime soon!
You got to wear the national shirt again last year and had a good run in the IBF Super World Championships in Dubai. How was the whole experience?
It was amazing. There's no better feeling than representing your country and to be able to do it at a world level is monumental. Personally I bowled really well and gave it my all. Sometimes things just don't fall your way and as hard as that can be, it will only make me better! It was a pleasure to compete along side Dom, Richie and Issy and I hope I get to do it again!
Year on year now, you have learned on the PWBA. You have worked hard and improved to a point now where you are a very dangerous player in any field.Is the goal for 2022 to add more titles and keep to a high level all year?
Of course the big goal is always to win, however I have learnt that I cannot put winning at the forefront. In the end, that is out of my control. For me, it's about enjoying every experience. Truly embracing the fact that I get to compete against the best in the world.
Some downtime now and back in the USA after spending time at home at Christmas. What will you be doing until the next PWBA event?
I will be bowling, of course! This is the perfect time to work really hard in practice and in the gym. I will compete at every opportunity I get.
Back in 2020, I set up an online coaching platform so I dedicate a lot of my time to helping people and sharing my knowledge. I will also be heading back to the UK for a few weeks in March.
Back in the UK in March, will that involve playing an event or two maybe?
I plan on bowling the Sofia Internationall in Bulgaria, so long as it goes ahead. I am trying to arrange a clinic whilst I am back too!
How is your coaching platform going?
Really good thank you. I have created such a special community that I really enjoy sharing my knowledge with.
I actually just received this message from one of my Patrons: "I'm a newbie to bowling, it is almost a year since I joined Verity's Patreon. I'm learning what certain bowling terms mean, which helps when I'm throwing the ball. Verity teaches me what to look at, on my approach. I'm learning about not putting so much pressure on yourself, which helps me to relax. My bowling has improved from a normal 130 bowler, to bowling at least a 174 game once a week at league. I'm also interested in her life behind the scenes, her own triumphs and struggles. We also have the opportunity to ask many questions. Thank you Verity!!"
It means the world, to know I am impacting people in so many different ways.
All your social media channels continue to grow and there are now a lot of top bowlers all engaging more with fans and helping grow the sport. What other messages have you had which made you realise just how important your success is to others?
I never realised how much of an impact I could make, just by sharing my journey. Messages like "I remember what you said and I realised I could do it" or "You helped me get stronger and pick up a bowling ball again." It is less about my success and more about showing the highs and the lows, being able to relate with people and motivate them. That in turns motivates me and reminds me why I do what I do.
Throughout bowling history, womens bowling has had amazing trailblazers in all era's. People who inspired others to try bowling or show that women could have a career in the sport. Which female bowlers inspired you to this point?
As a young girl, I was all about Zara Glover (Giles). She coached me for a few years and I wanted to be like her. The way she threw the ball, her bubbly personality, love for the sport and determination on the lanes. As I started to develop and follow bowling more, I started to really look up to Kelly Kulick. To this day, I still admire her and I am thankful to have the opportunity to learn from her. There are so many inspiring women that used to compete or still compete to this day and I think it is really motivating to watch some old PWBA shows.
The European triangle of Daria, Diana and yourself is as strong as ever and each of you doing great things stateside. Do you see a day soon when we will see you all team up against the USA in a Womens Trans-Atlantic tussle like the Men get to do each year?
I would love that and hopefully the rest of the bowling world would too! If we can get enough people behind the idea, then maybe it will be possible!
We are going to see Verity Crawley in bowling for a long time to come. Besides your on lane exploits, what things would you like to achieve in the sport?
To inspire more people to follow their dreams and learn that it's all about the process. If I can get one person to pick up a bowling ball, whether that's for the first time or getting back to the sport, that's a win for me!
As a young girl, I loved bowling, however I felt like year after year I just couldn't win anything. I was so caught up on not winning tournaments and it's taken me a while to truly learn about enjoying the journey. I want to be able to share this with people so they can learn to love the process also and not just give up when things seem hard.
String bowling is creeping in more and more as the years pass. How much training have you done on them and what are your thoughts on the differences? Can you see yourself playing on them for big titles in the future?
I have bowled a couple times on the Edge String pins. The way the pins 'fly' around is certainly different. Strikes hit a little different and there is a different sound to them. I have nothing against them, in the end, if I get to bowl, then I am happy!
I think they are very efficient in the way they run and I do see them saving bowling centres in years to come. I think the machines will allow more bowling centre to be built, giving bowlers a chance to bowl!
We have fantastic young UK bowlers continuing to follow you and others to the USA Collegiate circuit. We have mixed success in terms of those who went to the USA and continued to bowl after College. For some it was the studies that lead the career and others it was the sport. For those thinking about taking their studies and bowling hopes to the USA what are the things they should consider?
Studying in the USA is an amazing opportunity and one that I do not regret. There are a lot of scholarship opportunities, more than I knew when I was heading to the USA. I think it is important to really explore your options. I am a firm believer that education comes first and you have to go to a University that supports that endeavor. From there, you can then decide on a bowling program that aligns with your beliefs. For me, I was actually a little unsure on what I wanted to study and although I was happy once I started, I wish I knew the flexibility that there is in the US. You have the chance to change majors and also do a minor. So if you don't know exactly what you want to do, that is okay!
It's important to ask questions and if you can, visit different Universities. If anyone has any questions about studying/bowling in the US, please don't hesitate to reach out. You can message me on Instagram/Facebook or e-mail verity@veritycrawley.com
Finally and let's be honest VC, you are rightly becoming quite famous now, not just for what you do on the lanes but the person you are off the lanes. Coaching and inspiring others to become great.
Who is your choice to play you in your life story movie?
Emma Watson! I've had so many comparisons to her over the years, it must be the curly hair and British accent. She is an advocate for woman's rights, with one of my favourite quotes from her being: "Both men and women should feel free to be sensitive. Both men and women should feel free to be strong."