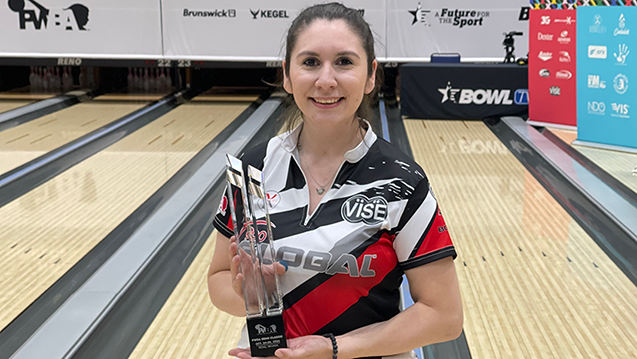 RENO, Nev. – Stephanie Zavala of Downey, California, won her third title of the 2021 Professional Women's Bowling Association Tour season Tuesday at the PWBA Reno Classic.
The front-runner for PWBA Rookie of the Year defeated Bryanna Coté of Tucson, Arizona, for the title at the National Bowling Stadium, 207-194, to become the first athlete to record three victories this season.
She earned $10,000 for the win, which was broadcast live on BowlTV.com.
The win also allowed the 25-year-old right-hander to become the first bowler since PWBA and United States Bowling Congress Hall of Famer Leanne Hulsenberg to win three titles as a rookie on a professional women's bowling tour.
Hulsenberg claimed three victories during her rookie campaign in 1987 and has won 27 career titles.
"This means the world to me," said Zavala, who also won the PWBA Greater Cleveland Open and PWBA BVL Open. "This is all I've dreamed about for so long. I'm out here proving myself day in and day out, and I deserve to be here as much as anybody."
In the title match, Zavala capitalized on a pair of crossover strikes in the third and seventh frames to put together five consecutive strikes to take the lead.
Zavala opened in the eighth frame after leaving a 2-4-8-10 split but bounced back with a strike in the ninth frame to maintain the opportunity to shut out Coté in the 10th.
"I had made a move (in the eighth), but it probably wasn't the right move," said Zavala, who defeated Coté in the title match to win the Greater Cleveland Open. "We were playing a little defense since I had tugged a few shots. In my mind, I was playing it safe and thinking I would get away with it if I tugged it again, but I ended up throwing it decent and the ball never recovered.
"I knew I needed to put some sort of pressure on her (in the ninth). All I could think about was to hit the pocket and pure the shot. Even if I got tapped, as long as I was in the pocket, she was going to be thinking about it."
Coté had recorded strikes in her seventh and eighth frames but was unable to keep the streak intact in the ninth, leaving a 2 pin. After converting the spare, Coté did not connect for a strike on her first delivery in the 10th, giving Zavala the chance to secure the win without a mark in her final frame.
Zavala toppled nine pins on her first shot in the 10th to hoist the Reno Classic trophy.
She entered the season-ending Fall Classic Series, which features the Reno Classic, PWBA Pepsi Classic and PWBA Tour Championship, with a 15,050-point lead in the race for PWBA Rookie of the Year over Breanna Clemmer of Clover, South Carolina.
With her victory Tuesday, Zavala now has expanded her lead to more than 26,300 points with two events remaining in the 2021 season. Clemmer finished the Reno Classic tied for 19th place.
"I'm going to take a minute tonight and enjoy it, but once my alarm clock goes off tomorrow it's right back to business," Zavala said. "What I did yesterday and today might not happen tomorrow. There's a different game plan and mindset, and I'm going to be right back at it."
Coté had earned the top seed for Tuesday's stepladder finals on the strength of an 8-3-1 record in match play earlier in the day at the NBS. She finished match play with a 5,645 total, including bonus pins.
She was in search of her second title of the season and third career PWBA Tour title.
Zavala advanced to the title match by defeating three-time titlist Stefanie Johnson of McKinney, Texas, in the semifinals, 233-194. Zavala started the game with strikes on six of her first seven deliveries to build the early advantage and advance.
Johnson kicked off the stepladder with a win over seven-time champion Kelly Kulick of Union, New Jersey, 205-189. Johnson stayed clean and held off a late rally from Kulick, who opened in two of her first four frames.
The Reno Classic featured 12 games of qualifying on a 37-foot oil pattern Monday to determine the top 12 players for round-robin match play Tuesday. Total pinfall, including bonus pins, for 24 games determined the four finalists for the stepladder.
Competition at the NBS will resume Wednesday at 11 a.m. Eastern for the Pepsi Classic. The Pepsi Classic will feature the same format, with the finals taking place on BowlTV on Thursday at 8 p.m. Eastern.
The combined qualifying totals for the Reno Classic and Pepsi Classic (24 games) will determine the 24 athletes advancing to the season-ending Tour Championship, the third major of the 2021 season.
Pinfall will drop at the beginning of the Tour Championship, with all advancers bowling three eight-game blocks of round-robin match play Friday and Saturday. The top five competitors, based on total pinfall and bonus pins, will advance to Sunday's stepladder finals.
The finals of the Tour Championship will be broadcast Sunday at 5 p.m. Eastern on CBS Sports Network, with the winner earning a $50,000 top prize.
The 2021 PWBA Player of the Year also will be determined during the Fall Classic Series this week.
England's Verity Crawley has taken over the top spot on the season-long points list, which determines the award winner. Crawley finished fifth at the Reno Classic and now has accumulated 113,100 points on the season.
Two-time reigning PWBA Player of the Year Shannon O'Keefe of Shiloh, Illinois, is second with 112,070 points, and Ukraine's Dasha Kovalova is third with 111,800.
Coté's runner-up finish moves her into fourth with 105,695 points, and three-time PWBA Player of the Year Liz Johnson of Niagara Falls, New York, is fifth with 103,810.
To learn more about the PWBA Tour, visit PWBA.com.
About the PWBA
The Professional Women's Bowling Association (PWBA) originally was formed in 1960. The PWBA Tour has events throughout the country, offering high-level competition and top prize money for women bowlers. The PWBA is supported by the Bowling Proprietors' Association of America (BPAA) and the United States Bowling Congress (USBC).
2021 PWBA Reno Classic
At National Bowling Stadium
Reno, Nev.
Tuesday's results
FINAL STANDINGS
1, Stephanie Zavala, Downey, Calif., 440 (two games), $10,000
2, Bryanna Coté, Tucson, Ariz., 194 (one game), $5,000
3, Stefanie Johnson, McKinney, Texas, 399 (two games), $3,500
4, Kelly Kulick, Union, N.J., 189 (one game), $2,700
STEPLADDER RESULTS
Match No. 1 – Johnson def. Kulick, 205-189
Semifinal – Zavala def. Johnson, 233-194
Championship – Zavala def. Coté, 207-194
MATCH PLAY
(24 games, 30 bonus pins for a win, 15 bonus pins for a tie)
1, Bryanna Coté, Tucson, Ariz., 8-3-1, 5,645. 2, Stephanie Zavala, Downey, Calif., 8-4-0, 5,573. 3, Kelly Kulick, Union, N.J., 9-3-0, 5,530. 4, Stefanie Johnson, McKinney, Texas, 7-5-0, 5,440.
DID NOT ADVANCE
5, Verity Crawley, England, 5-7-0, 5,368, $2,250. 6, Birgit Noreiks, Germany, 5-5-2, 5,339, $2,000. 7, Daria Pajak, Poland, 7-5-0, 5,170, $1,850. 8, Diana Zavjalova, Latvia, 4-8-0, 5,148, $1,750. 9, Sandra Gongora, Mexico, 5-7-0, 5,120, $1,650. 10(tie), Valerie Bercier, Muskegon, Mich., 4-8-0, and Ashly Galante, Palm Harbor, Fla., 4-7-1, 5,111, $1,575.
12, Misaki Mukotani, Japan, 4-8-0, 5,036, $1,500.