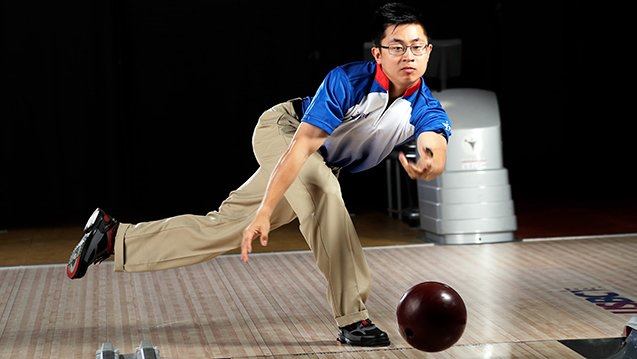 ARLINGTON, Texas – Former Team USA member Wesley Low Jr. of Palmdale, California, is familiar with being a record holder, and he claimed another special place in bowling history Sunday when he rolled three consecutive perfect games during tournament competition.
This record never can be beaten, however, and Low's name permanently will be etched into the United States Bowling Congress record book as the 36th bowler to roll a 900 series.
The 23-year-old left-hander, who uses a two-handed delivery, was competing in the 44th Annual Ponderosa Singles Classic at Glenfair Lanes in Glendale, Arizona. He started the 10-game event with 36 consecutive strikes across two pairs of lanes. All competitors bowled two games on each of the five pairs they visited. Low's fourth game was 249.
"I don't think I've ever bowled back-to-back 300s, so that was a cool way to start the day, but it didn't sink in until about the seventh frame of the last game that I had a chance at 900," Low said. "I really made an effort to stay calm and refocus. I still can't believe it happened. I always said I felt like I had a better chance at a hole-in-one in golf than 36 strikes in a row, and I'm not even that good at golf. To shoot 900, things really have to go your way. You need to make a lot of great shots, but you also need some breaks along the way."
Previously, Low earned recognition as the youngest bowler to win a Professional Bowlers Association regional event, which he did at 15 as a non-member. Not long after, he claimed the all-events gold medal at the 2014 World Bowling Youth Championships with a record 18-game total of 4,224, a 234.6 average.
His latest achievement is pending approval from USBC. It would be the first perfect series of the 2019-2020 season and 37th USBC-approved 900 overall.
The record run helped Low to a 10-game total of 2,453, which unofficially earned him a ninth-place finish in the handicap event.
One part of the experience that caught Low off guard was how quiet the 36-lane bowling center got as he approached perfection.
"After each of the first two 300s, people came down to congratulate me, but when I turned around and looked up after the third one, it seemed like the whole place was behind me, and everyone had their phones out to get a video," Low said. "I've never seen a place completely stop like that, but it was an awesome experience. After that, I knew I still needed to bowl really well to have a chance in the tournament, but even if things didn't keep going my way, I wanted to get the highest score possible."
Like most bowlers, Low's time on the lanes this year has been limited by the unprecedented COVID-19. The pandemic also brought his rookie campaign on the Professional Bowlers Association Tour to a halt after just a few months and a handful of events.
Even with some early success on the PBA Tour, Low felt like the break actually might have been for the best. He didn't feel like his career got off to the hottest start, but the few events he did compete in were a huge learning opportunity and gave him ideas about the things he'd need to work on.
Since the World Series of Bowling XI concluded in March, Low has made a few trips to Arizona to practice and train, though much of his time has been spent on schoolwork, as he closes in on earning his MBA (Master of Business Administration) from Wichita State University.
"My goal is to bowl well on tour and continue to have the chance to bowl for Team USA, and while my season wasn't the best overall, it did give me a lot to work on," Low said. "I learned what it took to be a better youth bowler and then a better amateur bowler and then a better collegiate bowler, and I'm ready for the next step. But, while we're not bowling as much, it's also the perfect time to finish my MBA, which is very important to me, too."
This week's visit to Arizona came on a whim, when the current state of COVID-19 slowed progress in California and forced the cancellation of the PBA regional Low was planning to attend.
His friends in Arizona convinced him to fly down to get sharp for an upcoming PBA regional in Las Vegas, and the Ponderosa event offered a last-minute competitive opportunity.
Prior to Sunday's trifecta, Low was the owner of 22 USBC-certified perfect games and 14 series of 800 or better, with a previous high of 833. Two of those 300s came at the USBC Team USA Trials in 2015 and 2018, respectively, while an additional one, not part of his USBC record, came at the 2014 World Youth Championships.
Low's list of accolades also includes a pair of wins at the Junior Gold Championships in 2013 and 2017, both in the 20-and-under category, five appearances on Junior Team USA and more than two dozen international medals, including five gold medals in three trips to the World Youth Championships.
In 2019, he earned a spot on the adult version of Team USA for the first time as the runner-up to longtime Team USA member John Janawicz at the Team USA Trials. Low then went on to defeat Janawicz for the men's title at the 2019 United States National Amateur Bowling Championships, which ran concurrently with the Team Trials.
Low's recent jump to the professional ranks was a long time coming, but certainly very calculated, as well.
He had success in PBA regional competition as a youth bowler and won four times as a non-member, and the fast success could have made anyone extra eager to experience the next level.
Low, however, was focused on finishing his youth career and moving on to bowl collegiately. He recently put the finishing touches on an All-America career at Wichita State, where he earned a bachelor's degree in management.
Now a full-time touring member of the PBA, Low is ready to resume his rookie campaign and globetrotting ways, and he knows he'll return to the lanes mentally and physically stronger. He'll also be more familiar with his bowling equipment, which was new to him in January when he switched to a new brand.
While he waits for the world to return to normal after COVID-19, school will be a priority, with an expected completion date in the fall of 2020 or spring of 2021.
The first USBC-approved 900 occurred Feb. 2, 1997, when Jeremy Sonnenfeld rolled three consecutive perfect games in Lincoln, Nebraska.
USBC-Approved 900 Series (37)
Jeremy Sonnenfeld (R), Lincoln, Neb., Feb. 2, 1997
Tony Roventini (L), Greenfield, Wis., Nov. 9, 1998
Vince Wood (R), Moreno Valley, Calif., Sept, 29, 1999
Robby Portalatin (L), Jackson, Mich., Dec. 28, 2000
James Hylton (R), Salem, Ore., May 2, 2001
Jeff Campbell II (R), New Castle, Pa., June 12, 2004
Darin Pomije (R), New Prague, Minn., Dec. 9, 2004
Robert Mushtare (R), Fort Drum, N.Y., Dec. 5, 2005 and Feb. 19, 2006
Lonnie Billiter Jr. (R), Fairfield, Ohio, Feb. 13, 2006
Mark Wukoman (R), Greenfield, Wis., April 22, 2006
P.J. Giesfeldt (R), Milwaukee, Dec. 23, 2006
Rich Jerome Jr. (R), Baltimore, Dec. 22, 2008
Chris Aker (L), Winnemucca, Nev., Oct. 30, 2009
Andrew Teall (R), Medford, N.J., Nov. 2, 2009
Andrew Mank (R), Belleville, Ill., March 18, 2010
William Howell III (L), Middletown, N.Y., Oct. 21, 2010
Matt Latarski (R), Medina, Ohio, Nov. 28, 2010
Bob Kammer Jr. (R), Crown Point, Ind., Jan. 8, 2011
John Martorella Sr. (R), Greece, N.Y., April 12, 2012
Jimmy Schmitzer (R), Riverside, Calif., April 20, 2012
James Williams (R), Pawcatuck, Conn., (bowled in Wakefield, R.I.), April 16, 2013
Joe Scarborough (R), Charlotte, N.C., (bowled in The Villages, Fla.), April 21, 2013
Todd James (R), East New Market, Md., (bowled in Laurel, Del.), March 18, 2014
Amos Gordon (R), Colorado Springs, Colo., April 11, 2014
Earon Vollmar (R), Toledo, Ohio, Jan. 19, 2015
Hakim Emmanuel (R), Stoughton, Mass., Feb. 19, 2015
David Sewesky (L), Dearborn, Mich., Jan. 10, 2016
Dale Gerhard (R), Mill Hall, Pa., Jan. 12, 2016
Sean Osbourn (R), Houston, Nov. 21, 2016
John Buchanan III (R), Evansville, Ind., Jan. 11, 2017
Sam Esposito (R), Homer Glen, Ill., Feb. 3, 2017
Brady Stearns (R), St. Cloud, Minn., March 28, 2017
Joe Novara (R), East Patchogue, N.Y., Oct. 16, 2017
Jonathan Wilbur (R), North Clarendon, Vt., Jan. 14, 2019
Jeremy Milito (L), Holbrook, N.Y., April 25, 2019
Wesley Low Jr. (L), Palmdale, Calif. (bowled in Glendale, Ariz.), July 19, 2020**
** Pending formal approval by the United States Bowling Congress.
For more information on any USBC records, visit BOWL.com/Records.
United States Bowling Congress
The United States Bowling Congress serves as the national governing body of bowling as recognized by the United States Olympic & Paralympic Committee (USOPC). USBC conducts championship events nationwide including the largest participation sporting events in the world – the USBC Open and Women's Championships – and professional events such as the USBC Masters and USBC Queens.
Founded in 1895, today USBC and its 1,638 state and local associations proudly serve more than a million members. USBC is headquartered in Arlington, Texas, working toward a future for the sport. The online home for USBC is BOWL.com.