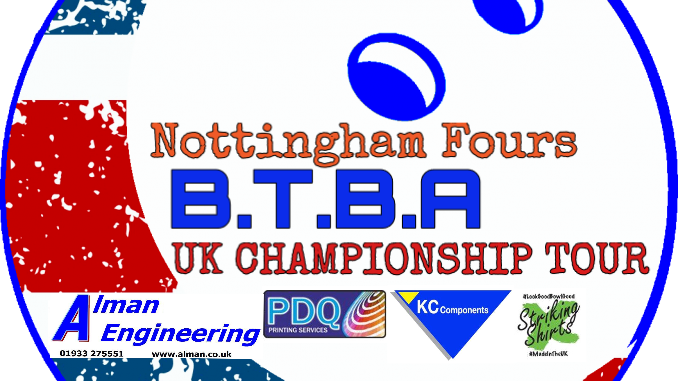 Powerplay Poole took the scratch with 5906 ahead of Ballistic Strikeline in second with 5843 and third going to Bashers third leg-end with 5799. Taking the HCP top were Bowlhouse on 6427 with PBW in second on 6403 and third were Merry Hill with 6354.
Individual top placings were Gavin Greaves way out in front with 1670 (238) in the men with Tom Langley second on 1573 (224). In the women it was Karina Johnson claiming first with 1456 (208) with Nicola Day in second with 1455 (207).
Many thanks to Dave Winter and the Nottinghamshire Local Association for running this event. Which attracted 120 bowlers !
Thanks to Nottingham Bowl… small Improvements from last year. New lane Machine, new monitors, better racks, fewer breakdowns, A LOT warmer. More improvements to the centre will happen through the year.
As always thanks to our Sponsors – PDQ Printing Services, Striking Shirts, KC Components, Alman Engineering
Results
Team Scratch
| | | | | | | | | |
| --- | --- | --- | --- | --- | --- | --- | --- | --- |
| POWERPLAY POOLE | 850 | 822 | 784 | 926 | 899 | 840 | 785 | 5906 |
| BALLISTIC STRIKELINE | 872 | 850 | 814 | 748 | 832 | 832 | 895 | 5843 |
| BASHERS THIRD LEG-END | 896 | 800 | 855 | 859 | 829 | 806 | 754 | 5799 |
| BOWLHOUSE | 868 | 772 | 757 | 790 | 825 | 929 | 821 | 5762 |
| AQUEO | 831 | 950 | 868 | 764 | 776 | 825 | 709 | 5723 |
| YORKSHIRE HARMONY | 915 | 781 | 702 | 819 | 830 | 820 | 843 | 5710 |
| P B W | 816 | 772 | 799 | 793 | 763 | 926 | 799 | 5668 |
| MERRY HILL | 820 | 753 | 796 | 833 | 874 | 827 | 758 | 5661 |
| WIGAN WARRIOR WANNABES | 776 | 887 | 821 | 803 | 776 | 744 | 820 | 5627 |
| BASHER FOR THE NEXT PM | 802 | 762 | 767 | 820 | 807 | 859 | 764 | 5581 |
| LIVING ON A SPARE | 834 | 685 | 861 | 747 | 783 | 806 | 852 | 5568 |
| PORKYS KETTERING | 858 | 766 | 771 | 813 | 848 | 777 | 704 | 5537 |
| YORKSHIRE LADIES | 771 | 878 | 664 | 836 | 763 | 830 | 766 | 5508 |
| SENIOR TEAM ENGLAND MEN | 821 | 790 | 890 | 743 | 813 | 744 | 686 | 5487 |
| COFFIN DODGERS + 1 | 798 | 721 | 745 | 838 | 832 | 743 | 770 | 5447 |
| CSGB | 748 | 738 | 781 | 770 | 808 | 831 | 766 | 5442 |
| ADRENALINE | 780 | 783 | 761 | 795 | 742 | 798 | 772 | 5431 |
| ZFG | 851 | 743 | 779 | 788 | 799 | 721 | 717 | 5398 |
| MARKS MINIONS | 810 | 677 | 838 | 730 | 811 | 700 | 703 | 5269 |
| GIDDENS + 1 | 708 | 722 | 830 | 775 | 753 | 826 | 653 | 5267 |
| NORFOLK + 1 | 836 | 751 | 706 | 777 | 740 | 786 | 665 | 5261 |
| STRIKE ZONE PRO SHOP | 768 | 738 | 735 | 692 | 799 | 793 | 724 | 5249 |
| SENIOR TEAM ENGLAND LADIES | 792 | 715 | 658 | 817 | 741 | 762 | 753 | 5238 |
| 2RB2T | 728 | 730 | 769 | 729 | 757 | 800 | 711 | 5224 |
| SAMMYS BITCHES | 745 | 683 | 845 | 812 | 683 | 719 | 700 | 5187 |
| HAPPY DAYS | 765 | 776 | 631 | 656 | 774 | 759 | 784 | 5145 |
| L.D.N.C. | 650 | 827 | 693 | 698 | 857 | 707 | 676 | 5108 |
| SPLIT HAPPENS | 787 | 671 | 747 | 604 | 748 | 733 | 702 | 4992 |
| WE ALL LOVE BASHER | 715 | 679 | 722 | 715 | 672 | 723 | 764 | 4990 |
| PORKYS REJECTS | 559 | 628 | 773 | 757 | 701 | 632 | 675 | 4725 |
Team HCP
| | | | | | | | | |
| --- | --- | --- | --- | --- | --- | --- | --- | --- |
| BOWLHOUSE | 963 | 867 | 852 | 885 | 920 | 1024 | 916 | 6427 |
| P B W | 921 | 877 | 904 | 898 | 868 | 1031 | 904 | 6403 |
| MERRY HILL | 919 | 852 | 895 | 932 | 973 | 926 | 857 | 6354 |
| AQUEO | 917 | 1036 | 954 | 850 | 862 | 911 | 795 | 6325 |
| BALLISTIC STRIKELINE | 940 | 918 | 882 | 816 | 900 | 900 | 963 | 6319 |
| SPLIT HAPPENS | 970 | 854 | 930 | 787 | 931 | 916 | 885 | 6273 |
| SAMMYS BITCHES | 895 | 833 | 995 | 962 | 833 | 869 | 850 | 6237 |
| NORFOLK + 1 | 975 | 890 | 845 | 916 | 879 | 925 | 804 | 6234 |
| ADRENALINE | 894 | 897 | 875 | 909 | 856 | 912 | 886 | 6229 |
| BASHERS THIRD LEG-END | 955 | 859 | 914 | 918 | 888 | 865 | 813 | 6212 |
| YORKSHIRE LADIES | 870 | 977 | 763 | 935 | 862 | 929 | 865 | 6201 |
| PORKYS REJECTS | 767 | 836 | 981 | 965 | 909 | 840 | 883 | 6181 |
| LIVING ON A SPARE | 921 | 772 | 948 | 834 | 870 | 893 | 939 | 6177 |
| BASHER FOR THE NEXT PM | 884 | 844 | 849 | 902 | 889 | 941 | 846 | 6155 |
| PORKYS KETTERING | 944 | 852 | 857 | 899 | 934 | 863 | 790 | 6139 |
| MARKS MINIONS | 933 | 800 | 961 | 853 | 934 | 823 | 826 | 6130 |
| SENIOR TEAM ENGLAND LADIES | 910 | 833 | 776 | 935 | 859 | 880 | 871 | 6064 |
| CSGB | 833 | 823 | 866 | 855 | 893 | 916 | 851 | 6037 |
| POWERPLAY POOLE | 867 | 839 | 801 | 943 | 916 | 857 | 802 | 6025 |
| 2RB2T | 836 | 838 | 877 | 837 | 865 | 908 | 819 | 5980 |
| HAPPY DAYS | 884 | 895 | 750 | 775 | 893 | 878 | 903 | 5978 |
| SENIOR TEAM ENGLAND MEN | 891 | 860 | 960 | 813 | 883 | 814 | 756 | 5977 |
| ZFG | 928 | 820 | 856 | 865 | 876 | 798 | 794 | 5937 |
| YORKSHIRE HARMONY | 940 | 806 | 727 | 844 | 855 | 845 | 868 | 5885 |
| COFFIN DODGERS + 1 | 855 | 778 | 802 | 895 | 889 | 800 | 827 | 5846 |
| GIDDENS + 1 | 785 | 799 | 907 | 852 | 830 | 903 | 730 | 5806 |
| L.D.N.C. | 743 | 920 | 786 | 791 | 950 | 800 | 769 | 5759 |
| WIGAN WARRIOR WANNABES | 807 | 918 | 852 | 803 | 776 | 744 | 851 | 5751 |
| STRIKE ZONE PRO SHOP | 818 | 788 | 785 | 742 | 849 | 843 | 774 | 5599 |
| WE ALL LOVE BASHER | 771 | 735 | 778 | 771 | 728 | 779 | 820 | 5382 |
Individual
| | | | | | | |
| --- | --- | --- | --- | --- | --- | --- |
| Men  | | | | Ladies | | |
| Gavin GREAVES | 1670 | 238.57 | | Karina JOHNSON | 1456 | 208.00 |
| Tom LANGLEY | 1573 | 224.71 | | Nicola DAY | 1455 | 207.86 |
| Chris OATES | 1573 | 224.71 | | Alison TAYLOR | 1448 | 206.86 |
| Gary SYKES | 1539 | 219.86 | | Susie WEBB | 1420 | 202.86 |
| Simon BARTRAM | 1524 | 217.71 | | Sarah HOOD | 1373 | 196.14 |
| Josh NEEN | 1509 | 215.57 | | Vicki HARMAN | 1355 | 193.57 |
| Gary CHRISTOPHER | 1505 | 215.00 | | Kimberley OAKLEY | 1335 | 190.71 |
| Rob THURLBY | 1505 | 215.00 | | Jessica SILLIS | 1328 | 189.71 |
| Sam ROSE | 1497 | 213.86 | | Nicky DONOWSKI | 1322 | 188.86 |
| Christopher BOSE | 1490 | 212.86 | | Ana MARR | 1318 | 188.29 |
| Steve THORNTON | 1490 | 212.86 | | Chelsey DOLAN | 1314 | 187.71 |
| Philip MANNING | 1489 | 212.71 | | Jan HODGE | 1312 | 187.43 |
| Joe CROOK | 1485 | 212.14 | | Evie GIDDINS | 1312 | 187.43 |
| Dan BIRCH | 1482 | 211.71 | | Gaye McCULLY | 1308 | 186.86 |
| Liam FITZPATRICK | 1481 | 211.57 | | Elyse GIDDENS | 1301 | 185.86 |
| Daniel WENNER | 1480 | 211.43 | | Louise PARKER | 1287 | 183.86 |
| Jack BLYTH | 1474 | 210.57 | | Angie BROWN | 1283 | 183.29 |
| Kieron PATEL | 1465 | 209.29 | | Izzy FLETCHER | 1261 | 180.14 |
| Craig ELLIS | 1461 | 208.71 | | Gemma TSAPPIS | 1257 | 179.57 |
| Luke SANDERS | 1461 | 208.71 | | Alison MOORE | 1238 | 176.86 |
| George JAGGER | 1458 | 208.29 | | Jenny SWIFT | 1211 | 173.00 |
| Michael GRIBBON | 1457 | 208.14 | | Eva REYNOLDS | 1209 | 172.71 |
| Jamie DOLAN | 1453 | 207.57 | | Clare TRACEY | 1203 | 171.86 |
| Alan MEADS | 1448 | 206.86 | | Fung-Ping CHEUNG | 1186 | 169.43 |
| Gareth GREAVES | 1447 | 206.71 | | Denise PARKER | 1178 | 168.29 |
| Kim JOHNSON | 1447 | 206.71 | | Theresa PORTMAN | 1005 | 143.57 |
| Darren MICHAEL | 1444 | 206.29 | | | | |
| Gordon HUMPHRIES | 1443 | 206.14 | | | | |
| Erick LEE | 1439 | 205.57 | | | | |
| Tom CHUTER | 1434 | 204.86 | | | | |
| Alex McCARTHY | 1433 | 204.71 | | | | |
| Richard LEWIS | 1433 | 204.71 | | | | |
| Peter MOORE | 1432 | 204.57 | | | | |
| John WOODHOUSE | 1425 | 203.57 | | | | |
| Cliff DEW | 1418 | 202.57 | | | | |
| Graham WHITTEN | 1414 | 202.00 | | | | |
| Steve GIDDENS | 1412 | 201.71 | | | | |
| Adam CAIRNS | 1406 | 200.86 | | | | |
| Mike SYKES | 1405 | 200.71 | | | | |
| David BIRCH | 1399 | 199.86 | | | | |
| Mark PATRICK | 1387 | 198.14 | | | | |
| Daniel HARDING | 1384 | 197.71 | | | | |
| Jack SANDERS | 1382 | 197.43 | | | | |
| Kevin PILLEY | 1377 | 196.71 | | | | |
| Allan PEARSON | 1373 | 196.14 | | | | |
| Jamie O'DWYER | 1370 | 195.71 | | | | |
| Aiden WRIGHT | 1370 | 195.71 | | | | |
| Ryan LAKEY | 1370 | 195.71 | | | | |
| Simon SMEWIN | 1362 | 194.57 | | | | |
| Geoff BROWN | 1361 | 194.43 | | | | |
| Stephen BOSE | 1354 | 193.43 | | | | |
| Keith HOOKER | 1351 | 193.00 | | | | |
| Mark WILLS | 1351 | 193.00 | | | | |
| Paul MORRIS | 1344 | 192.00 | | | | |
| David PASSMORE | 1343 | 191.86 | | | | |
| Alex CAUSER | 1343 | 191.86 | | | | |
| Gary FRASER | 1340 | 191.43 | | | | |
| Craig WILLMER | 1336 | 190.86 | | | | |
| Harry MEYERS | 1335 | 190.71 | | | | |
| Mike SOUTHWELL | 1331 | 190.14 | | | | |
| Dave NORTH | 1330 | 190.00 | | | | |
| Sukky Gill | 1330 | 190.00 | | | | |
| Luke WARREN | 1328 | 189.71 | | | | |
| Connall MAIR | 1326 | 189.43 | | | | |
| Mike STEPHENSON | 1320 | 188.57 | | | | |
| Ian ANTILL | 1320 | 188.57 | | | | |
| James FITZPATRICK | 1319 | 188.43 | | | | |
| Alex HAMILTON | 1316 | 188.00 | | | | |
| Bob OCKLEFORD | 1315 | 187.86 | | | | |
| Dylan MACIUK | 1311 | 187.29 | | | | |
| Mark ROBERTS | 1310 | 187.14 | | | | |
| Glen RELPH | 1309 | 187.00 | | | | |
| Craig PARKER | 1306 | 186.57 | | | | |
| Luke JOHNSTONE | 1306 | 186.57 | | | | |
| Brandon FIGG | 1304 | 186.29 | | | | |
| Carl BUCKLEY | 1304 | 186.29 | | | | |
| Gary R BAKER | 1302 | 186.00 | | | | |
| Richard BALAAM | 1300 | 185.71 | | | | |
| James WINTER | 1292 | 184.57 | | | | |
| Richard ANNABLE | 1280 | 182.86 | | | | |
| Casper MACLEOD | 1271 | 181.57 | | | | |
| Sammy ROBERTS | 1254 | 179.14 | | | | |
| Daniel DAVIDSON | 1250 | 178.57 | | | | |
| Lathen PALMER | 1242 | 177.43 | | | | |
| Jay ANONUEVO | 1232 | 176.00 | | | | |
| James McDONAGH | 1229 | 175.57 | | | | |
| Nathan BURROWS | 1204 | 172.00 | | | | |
| Dale SOLY | 1201 | 171.57 | | | | |
| Bradley ARMSTRONG | 1199 | 171.29 | | | | |
| Dan BALSOM | 1193 | 170.43 | | | | |
| Trevor REYNOLDS | 1176 | 168.00 | | | | |
| Alex DEVERILL | 1173 | 167.57 | | | | |
| Jacob CRAVEN | 1146 | 163.71 | | | | |
| Chris FIGG | 1116 | 159.43 | | | | |
Upcoming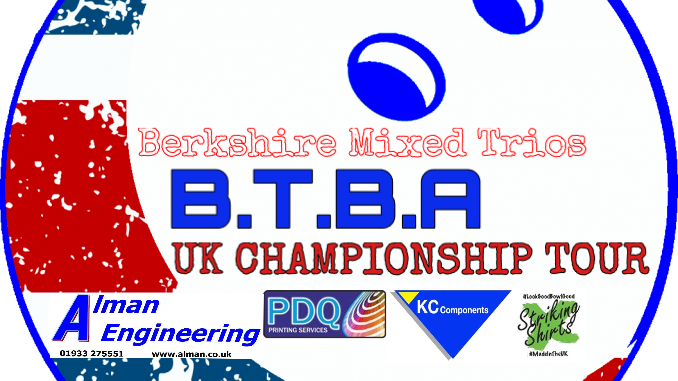 The BTBA Tour's next stop is Newbury for the Mixed Trios – entry form is here – https://form.jotform.com/193533737249366
Then it's the 59th BTBA National Championships, which is a MAJOR ranking event on the Tour
You can enter your team here https://btba.org.uk/nationals/