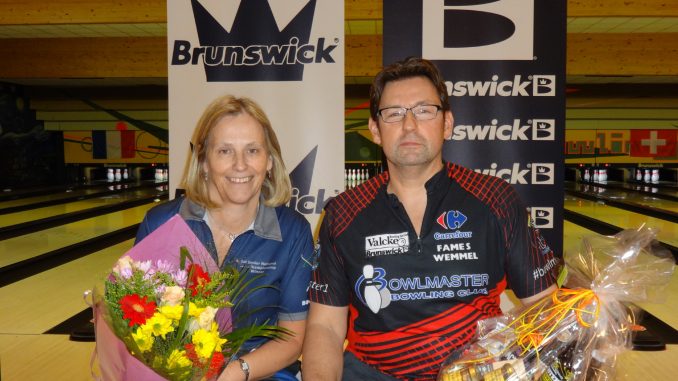 French Brunswick Senior Open 2019
ISBT Tour 2019 Stop 1
Bowling Van Gogh, Villeneuve-d'Ascq, France
23rd to 27th January 2019
Champions: Angie Brown and Marc Franceus
The 2019 ISBT started early this year and arrived at a new centre for the tour. Bowling Van Gogh in Villeneuve-d'Ascq, France was the host, and saw 76 men and 21 women travel to compete in the inaugural event.
The format for the tournament was a single 6 game qualifying block, with unlimited re-entries. For those not able to qualify this way, there were additional opportunities through Scratch scores, Turbo games and a Desperado squad. Age bonus started at age 51 (1 pin per game), then increased a pin for every additional year of age with no limit. As with all ISBT events, there was a separate division for ladies. The tournament was played on the Brunswick Crown Jewel lane pattern.
The tournament was due to start on Wednesday, but limited entries for the first day saw the squads cancelled.
Bowling started on Thursday evening, with two squads being held. Marc Franceus from Belgium led the way with 1511 including age bonus, well ahead of Jean Luc Chocraux from France with 1369. In the ladies' section, Belgians' led with Liliane Vintens shooting 1272, ahead of Véronique Perniaux's 1184.
There were three more squads on Friday, and the strong English contingent led in both sections. The men were headed by Frank Stander with 1465, ahead of Lol Ellis and Alan Jenkins. In the ladies' section, Angie Brown from England moved into the overall lead with a 1298 block, ahead of Danielle Guigon from France.
The final day had three more squads. The first was won by Steven Jeeves from England with 1471 to ensure his finals position, ahead of Georgio Desimio from Belgium. Nadia Goron from France was top lady with 1207, but this didn't improve her position, lying fourth overall and just holding on to a first round bye.
In the second squad, Mike Halliwell from England found a great line, and shot 1517, to leap into the overall lead. Klaus-Uwe Lischka from Germany also had a strong qualification block with 1468. Liliane Vintens had another good block with 1243 but didn't improve on her second place in the overall standings.
In the final squad, no-one could catch the top 4 men in the overall standings, Patrick Rolland from France came closest with 1421, ahead of Uwe Tscharke from Germany. Angie Brown took another squad win with 1242 but didn't improve on her previous score.
At the end of qualification, the men's qualification list was led by Mike Halliwell with 1517, ahead of Marc Franceus, Steven Jeeves and Klaus-Uwe Lischka. These four would go straight to the last finals round. The cut for qualification in 24th place was Jan Luc Chocraux from France with 1369. These 24 would be joined by three Scratch, three Turbo and two Desperado qualifiers.
In the ladies' section, Angie Brown was leader with 1298, ahead of Liliane Vintens, Danielle Guigon and Nadia Goron. These four would also go straight to the last final round. The cut for qualification at eighth place was 1157, scored by Frederique de Bandt from France. Two Turbo, one Scratch and one Desperado qualifier would make up the ladies' final.
The Desperado was contested by 13 men, Patrick Mouchon from France started with the first six strikes, and cruised to the win with a 256 game. The second and final qualification place was closely contested, with Steve Carnall from England finally squeezing home. No woman entered the Desperado, so the last place in the finals was left empty.
The finals started with the men bowling a four-game block, starting from scratch. Patrick Rolland from France led this block with 989. The top twelve would progress to the semi-final round, last place going to André Geelen from Belgium.
These twelve were joined by qualifiers 5 to 8 for a further four-game block. Alan Jenkins from England just edged out Patrick Rolland with a score of 1022, last qualifier for the grand final was Yvon Lassal from France with 877.
After three games of the final, Alan Jenkins had a 20 pin lead over Claude Escarguel from France, although only 11 pins separated places 2 to 5. In the last game, both Marc Franceus and Lol Ellis started striking early on, and towards the end of the game both were in contention. Both players struck off the sheet, with Marc Franceus' 279 scratch game being decisive, giving him a win by 17 pins over Lol Ellis, with Alan Jenkins in third position.
In the ladies' semi-final, Frederique de Bandt bowled consistently to have a comfortable win scoring 884, ahead of Kimberly Oakley from England and Pépita Jacques from France. Veronique Perniaux was the fourth and last player to progress to the grand final.
In the ladies' final, Nadia Goron started strongest, opening up a slight lead over the first two games, but after three games the lead was with Angie Brown by a single pin. The last game started terribly for Nadia Goron, having splits in four of the first five frames, allowing Angie Brown to pull away. A closed scratch game of 218 gave Angie Brown a comfortable win over Nadia Goron for her 18th ISBT title, with Frederique de Bandt in third place.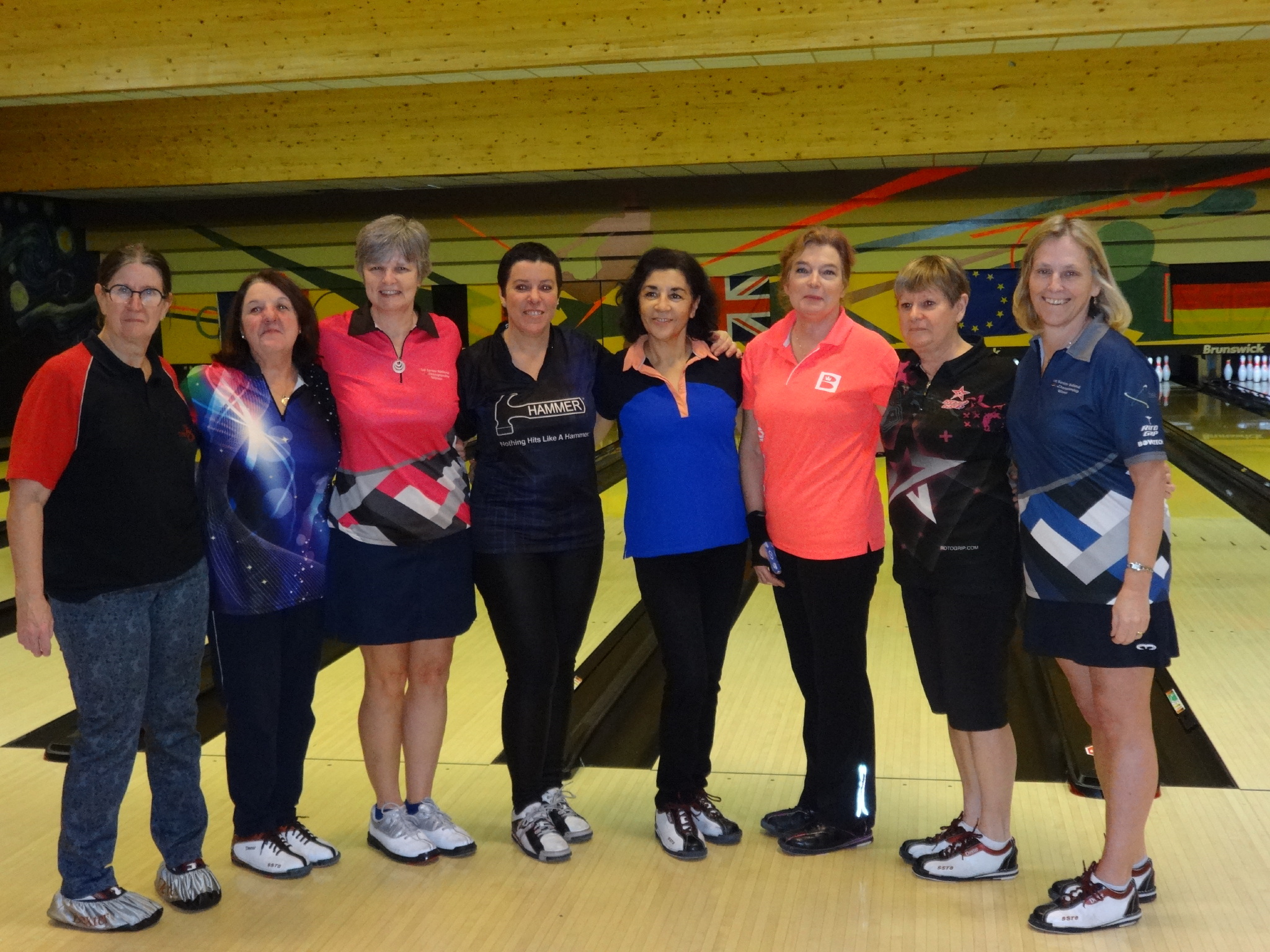 The next stop on the ISBT tour is Arthur's Senior Open, which takes place from the 3rd to 10th March at Vegas Bowling in Osnabruck, Germany. Full details are available at the ISBT web site, http://www.isbtbowlingtour.eu.
View Results here