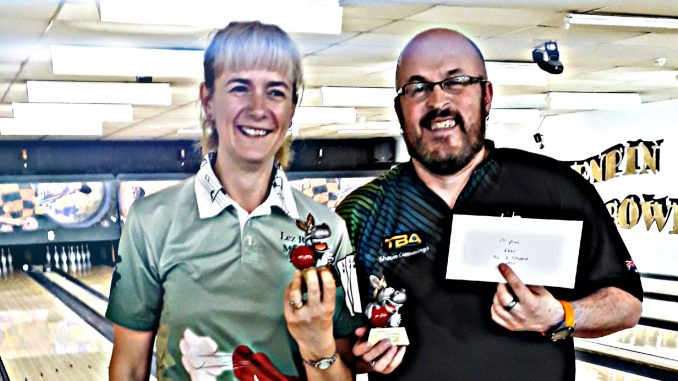 By Kay Rogers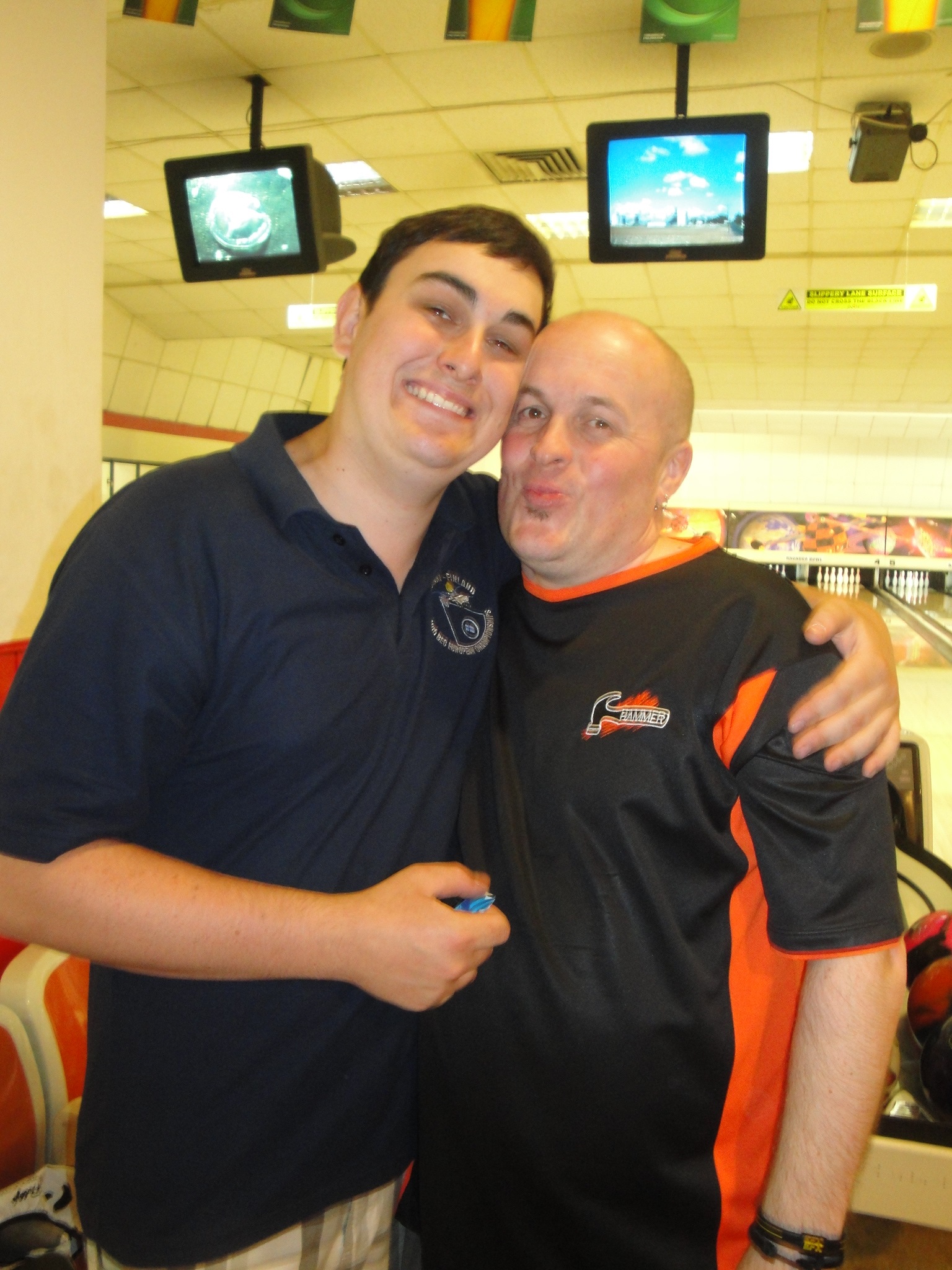 Now in it's 12th year the Lez Rogers Memorial Doubles took place at RAF Brize Norton over the weekend of the 13th – 15th of July. Lez was an Airforce Sergeant and Wales's top tenpin bowler at the time of his death, aged just 38 and about to represent Wales at the Commonwealth Championships in Melbourne, Australia when his life was cut short.
Last year was the first time the tournament had been staged at RAF Brize Norton and it was such a success it was decided to put this year's event there again too. It got off to a sad start due to the untimely death of our scorer and Tenpin Bowling Association of Wales web master Brian Burdett just the night before the event.
A quiet character who always worked tirelessly behind the scenes to keep the scores and statistics up to date, he will certainly be missed by all the bowlers. RAF Brize Norton is a 12 lane bowling alley and everyone attending needed a pass to get on to the base, these were duly organised by Bowl manager Steve Morgan.
Last year saw 88 entries but due to a clash with the Air Tattoo in Fairford meant that some were working, resulting in 81 teams. All teams play 6 games each and the highest scores plus handicaps are declared the winners.
The first squad started at 6pm on the Friday and saw some great scores from Dave Wellsteed which meant him and son Pip were leading with 2773. The tournament raises money for the British Heart Foundation from just entries alone and this total plus the money from two raffles over the weekend saw over £600 raised last year.
The Saturday morning squad saw the lead change to local bowlers Dave Chapman and Chris Smith shooting 2822. A fantastic display from top Welsh lady bowler Louise Roberts saw her narrowly missing the elusive 300 by hitting a 299 in the second squad of the day on lanes 1 and 2. However still other teams put in a good display with the ex RAF team of Vets Southerners featuring Kev Hunter and Paul Caddy shooting 2830 to rise above Dave and Chris. Still the good scores kept coming and Peter Bice, returning after a year lay off due to being knocked off his bicycle, shot 1109. Along with his partner Marilyn Codd they ended up leading on 2865.
These scores were short lived as Chris Lee shot a creditable 1300 and along with last year's winner Mike Williams shooting 1135 found themselves leading with 2897. Sunday was another hot day in the bowl and although bowlers tried they could not catch the leaders The Two Crappies (Chris and Mike). They had also previously won this event when it was staged in Rhondda Bowl in 2012.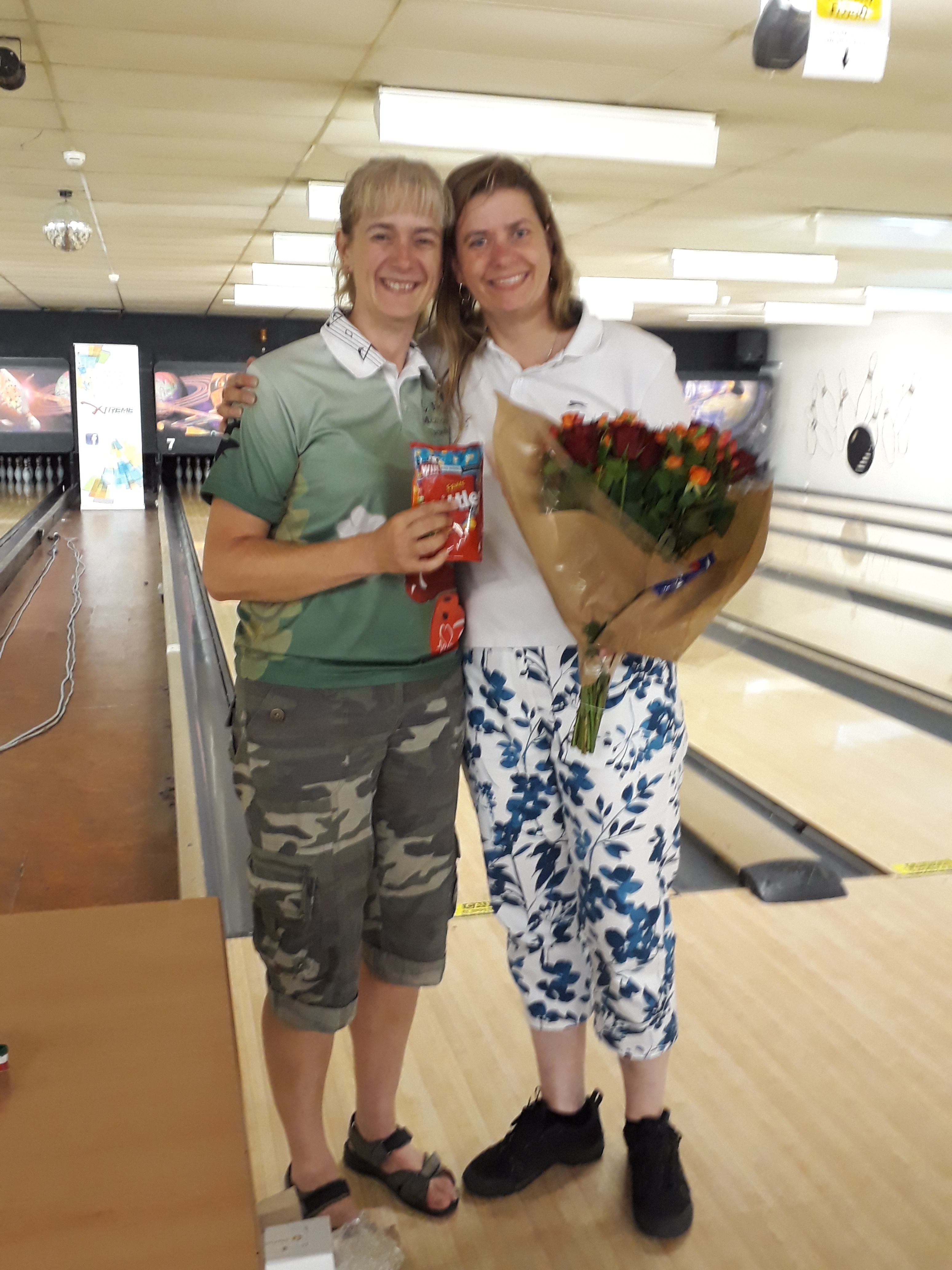 Mike Williams has won the event three times and Chris Lee has won it an impressive 4 times, as he won it in 2015 and 2016 along with his Father Tony Lee. Louise Roberts won the High Game Handicap with 325 and High Series Handicap with 814 and her winnings of £50 she has kindly donated back to the British Heart Foundation.
Kylie Bromley also sold some square for the Body Shop and donated a further £50 to the Charity. This brings the total raised to £687.60, almost matching last year's total.
I would like to say a huge thank you to my friend, Sarah MacPherson, who kindly stepped in at the last minute to keep the scoring up to speed, Brian would have been proud of you. Not only that but she was also escorting people both on and off base too. Lastly thank you to the bowl manager Steve Morgan and deputy Dave Kirby for the running of the bowl and machinery over the weekend and the Station Commander of RAF Brize Norton for agreeing to us running the vent there once again.
Results
Download or view results Here