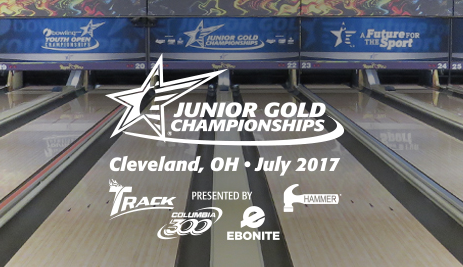 SPOILER ALERT: The following story contains information about the finals of all six 2017 Junior Gold Championships events
SIX TITLES DECIDED AT 2017 JUNIOR GOLD CHAMPIONSHIPS
SPOILER ALERT: The following story contains information about the finals of all six 2017 Junior Gold Championships events – the final matches of the U12, U15 and U20 divisions (boys and girls) that will air on CBS Sports Network in the coming weeks. Complete stories will be distributed after each final airs.
WICKLIFFE, Ohio – The 2017 Junior Gold Championships presented by the Brands of Ebonite International was contested at seven bowling centers in the Cleveland area from July 17-22, concluding with six titles being handed out over three CBS Sports Network broadcasts.
The finals for each of the event's three divisions – 12-and-under, 15-and-under and 20-and-under – were taped Saturday at Game of Wickliffe for broadcast on CBS Sports Network. Each crowned a girls and a boys champion.
The U12 finals will air July 25 at 8 p.m. Eastern, the U15 finals will air Aug. 1 at 8 p.m. Eastern and the U20 finals will air Aug. 8 at 8 p.m. Eastern.
The 20th edition of the Junior Gold Championships featured a record field of more than 3,500 participants and a record scholarship fund of more than $320,000. Participants also were vying for spots on Junior Team USA.
The tournament took place in seven centers across the greater Cleveland area – Freeway Lanes of Parma, Wickliffe Lanes, Yorktown Lanes, AMF Brookgate Lanes, Game of Mentor, Roseland Lanes and Game of Wickliffe.
On the lanes Saturday in Wickliffe, Wesley Low of Palmdale, California, became the first two-time U20 boys champion, and Allie Leiendecker of Wooster, Ohio, captured the girls title in her home state in her U20 debut.
Low, the 2013 champion, made his final Junior Gold appearance and defeated David Hooper of Greenville, South Carolina, 394-357. Leiendecker, a 16-year-old right-hander, averaged 230 for her two games against Caitlyn Johnson of Lumberton, Texas, on her way to a 460-379 victory.
The U20 division this year featured 1,418 boys and 840 girls.
In the U15 division, defending boys champion Solomon Salama of Beverly Hills, California, made history as he was able to successfully defend his title, and Jennifer Loredo of Fresno, California, rallied to victory in the girls division.
Salama, a 14-year-old two-hander, finished with a 299 game on his way to a 553-380 win over Anthony Neuer of Lewisburg, Pennsylvania, the 2014 U12 champion. Salama left a 7 pin on his final shot.
Loredo, a 14-year-old left-hander, erased a 30-pin deficit after the first game to secure the win against Sarah Sanes of Murfreesboro, Tennessee, 411-395.
The U15 division included 602 boys and 327 girls.
The U12 titles were won by Karina Capron of Fremont, Nebraska, and Brandon Bohn of Jackson, New Jersey.
Karina, an 11-year-old right-hander, defeated Lauren Hunter of Smithton, Illinois, 328-309, to earn the girls title, while Brandon, a 12-year-old southpaw and the son of United States Bowling Congress and Professional Bowlers Association Hall of Famer Parker Bohn III, cruised to a 412-299 victory over Rylan Breese of Wilmington, North Carolina, on the boys side.
The U12 division of the 2017 Junior Gold Championships featured 243 boys and 124 girls.
All rounds of qualifying and match play leading up to the televised finals were broadcast live on BowlTV.
Wearing the red, white and blue
Six boys and six girls automatically earned spots on Junior Team USA for 2018 through their performances at Junior Gold this week.
Jeffery Mann of West Lafayette, Indiana, Kristopher Yadao of Pearl City, Hawaii, Pete Vergos of Apopka, Florida, Ryan Winters of Livonia, Michigan, and Michael Martell of Brooklyn, New York, earned spots on the boys team through qualifying, while Hooper also made the team by advancing to the championship round.
Mann, the 2016 U20 Junior Gold champion, and Vergos, each are making their second appearances on the team, while Yadao, Winters, Martell and Hooper will represent Junior Team USA for the first time.
Two-time Junior Gold champion Breanna Clemmer of Clover, South Carolina, will represent Junior Team USA for the fifth consecutive year after earning her spot through qualifying.
Johnson, Alexis Neuer of Lewisburg, Pennsylvania, Crystal Elliott of Palm Bay, Florida, and Julie Huren of Westland, Michigan, also made the girls team through qualifying, while Leiendecker earned her spot by making her way to the title match.
Leiendecker was a part of the U15 Developmental Team in 2017, while Johnson, Neuer, Elliott and Huren will make their Junior Team USA debuts in 2018.
Salama and Loredo earned spots on the U15 Developmental Team in 2018 for their wins, and they are joined on the team by both U12 Junior Gold champions from the 2015 event, Spencer Robarge of Springfield, Missouri, and Amanda Naujokas of Ronkonkoma, New York.
For more information Junior Gold Championships or Junior Team USA, visit BOWL.com.
About International Bowling Campus
The International Bowling Campus (IBC) is the headquarters for the bowling industry and directly serves the more than 69 million bowlers in the United States. The IBC houses the resources of the United States Bowling Congress, the governing body and membership organization for the sport; the Bowling Proprietors' Association of America, representing the business interests of bowling centers; IBC Youth Development; Strike Ten Entertainment, the marketing arm for the industry; the International Bowling Museum and Hall of Fame; the International Bowling Pro Shop and Instructors Association; the International Bowling Media Association; the Bowling News Network; the Billiard and Bowling Institute of America; and the International Training and Research Center.