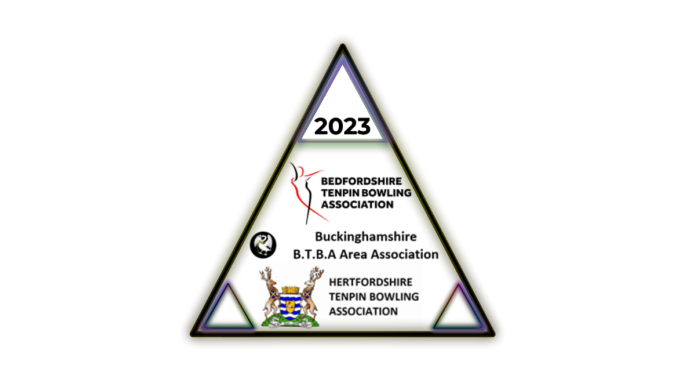 The 2023 County Roll offs for Hertfordshire, Bedfordshire and Buckinghamshire was held at Dunstable, Go Bowling. In 2022 the 3 counties decided to hold their rolloffs all at the same time, as it seemed pointless the 3 counties running them separately but all the same centre, as that meant asking the bowl for lanes on sperate dates and only handful of bowlers turning up – a lot of hassle for the area secretaries of each county and not a good look to the bowl when they give us lanes but the we don't fill them. We also hold the trials on days and times when the bowl is less busy. So we hold squads on a Sunday Late afternoon/evening and a Wednesday night – Which personally I think helps bowlers. Bowlers are busy with family stuff on Sunday's during the day, and literally no one has anything to do on Wednesday evenings other then go bowling.
As result of the 3 counties coming together the county roll-offs have increased in participation and become a fun, sociable event with a good atmosphere, rather then just 6 games bowlers have to get through. And I've also created a tournament within the tournament – the Tri-County Championships – which I make sure I always win !
So into the nitty gritty
Bedfordshire in the men's Brett Armer was top on 1377, with YBC bowler Cameron Fay in 2nd on 1318. We had 9 ladies bowl in our trials which is great considering some counties can't even get a team of 4 together. Winner of the ladies was Jackie Wyatt (Sexy Jackie) who shot 1257 with Jo Green back trying out for Beds and back from illness in 2nd on 1123. Special shout out to Hayden Hewitt who spared the 7-10.
Hertfordshire Jon Langridge shot a 772 for his first 3 games and finished up with 1398 a 233 average, with Paul Loberman in 2nd on 1312. Herts had a good turnout of seniors this year, meaning they can field a team and top Senior was Lobbers with Mark Secker "bag" 2nd on 1297 and completing the Harrow YBC reunion was Richard "revs" Lewis in 3rd on 1257.
Buckinghamshire
Lee Miller the pin killer – what a 6 game block the lad put in. 1494 a 249 average ! enough said… winner winner diabetes friendly dinner ! Bucks always have a decent senior team and top old boy was Alistair Big Mac Macpherson on 1360.
The tri county championships – this year is all about the TEAM ! (mainly because I didn't win the individual one) So there were 32 ADULTS across the 3 counties. Top scorer would get 33pts, 2nd 32pts, 3rd 31pts and so on and then we filter out their chosen counties and then up the counties points to determine who were the Tri County Team Champions ( I think you all know where this heading)
So in 3rd place on 145pts was BUCKINGHAMSHIRE
In 2nd place on 180pts was HERTFORDSHIRE
But winning the 1st ever Tri County Team Championships on 203pts were BEDFORDSHIRE !
And I bowl for Bedfordshire – so in a way I'm still the TRI COUNTY CHAMPION !!!
Well done to ME !
Thank you to the bowl, and staff and to Andy Penny of Ballmaster proshop who helped set the pattern up and gave up the club night lanes so we can run a 2nd squad.
And to all the bowlers who came bowled and hopefully had a bit of fun and banter along the way.
You can catch up on the action via the twitch channel – link is here, just go to video's https://www.twitch.tv/basherback2back
Results