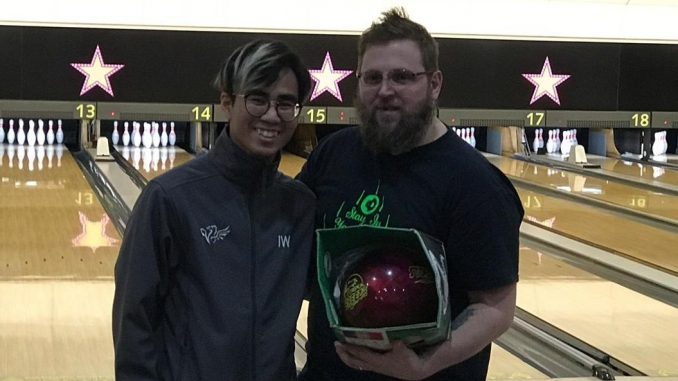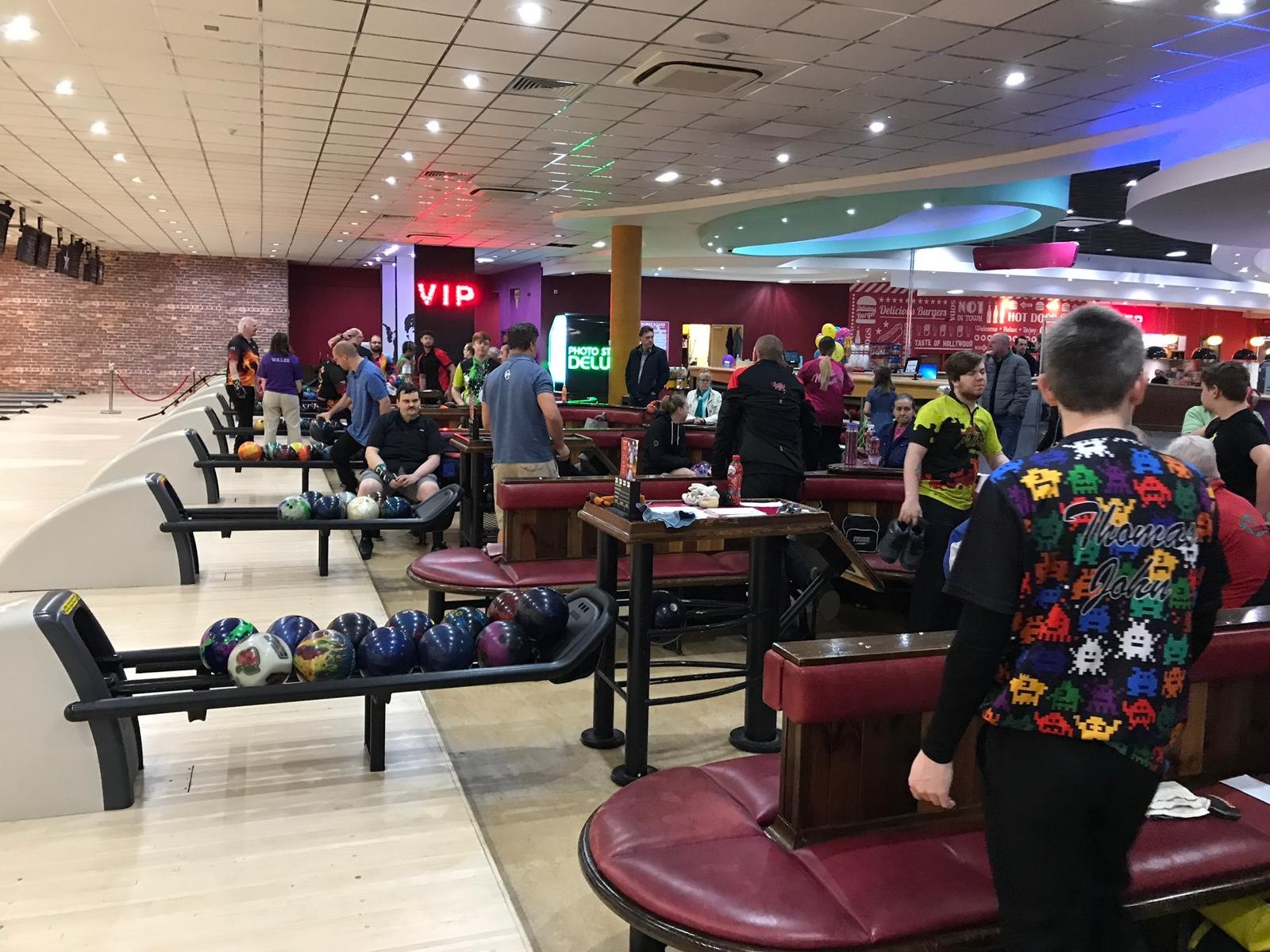 Today was a great day at the Southern Welsh County Trials. 33 players competed over 14 lanes at the Hollywood Bowl centre in Cardiff Bay.
Kids parties and all 26 lanes of the bowl in use wasn't enough to stop Lee Lawrence bagging himself the men's title. And Nichola Smith capped off a fine return from a few months out, winning the women's division in fine style. There was also an added handicap competition to increase participation, which Becky Knight took down. Bowling a massive 46 pins per game over her average.
A Special thanks goes to the t.b.a.w for helping with the scoring sheets. And Steve Dalton of Phoenix Bowl – Milford Haven, for dressing the lanes. In a new era for the South Wales Bowling community, the teams will be working hard to make it to the 2019 finals..
Results
| | | | | | | | | | | | | |
| --- | --- | --- | --- | --- | --- | --- | --- | --- | --- | --- | --- | --- |
| Player | Hcp | Div | G 1 | G 2 | G 3 | G 4 | G 5 | G6 | Ttl (S) | Ave (S) | Ttl (H) | Hcp Ttl |
| Nichola Smith | 29 | f | 203 | 202 | 236 | 177 | 202 | 212 | 1232 | 205.33 | 1406 | 174 |
| Mel Oates | 18 | f | 181 | 205 | 154 | 167 | 247 | 246 | 1200 | 200.00 | 1308 | 108 |
| Chelsea Walters | 31 | f | 161 | 201 | 167 | 216 | 217 | 177 | 1139 | 189.83 | 1325 | 186 |
| Lisa Taylor | 39 | f | 180 | 193 | 210 | 171 | 196 | 151 | 1101 | 183.50 | 1335 | 234 |
| Wendy Yau | 34 | f | 161 | 147 | 220 | 198 | 213 | 159 | 1098 | 183.00 | 1302 | 204 |
| Linh So | 34 | f | 168 | 202 | 135 | 204 | 178 | 171 | 1058 | 176.33 | 1262 | 204 |
| Becky Knight | 72 | f | 151 | 210 | 148 | 165 | 226 | 156 | 1056 | 176.00 | 1488 | 432 |
| Heather Turner | 62 | f | 163 | 146 | 125 | 191 | 200 | 174 | 999 | 166.50 | 1371 | 372 |
| Charlie Burton-Williams | 54 | f | 145 | 170 | 178 | 146 | 149 | 151 | 939 | 156.50 | 1263 | 324 |
| Caryl-Anne Evans | 72 | f | 165 | 159 | 132 | 148 | 160 | 170 | 934 | 155.67 | 1366 | 432 |
| Trina Wynne | 71 | f | 145 | 156 | 146 | 146 | 157 | 144 | 894 | 149.00 | 1320 | 426 |
| Total Pinfall | | | | | | | | | 11,650 | | | |
| Average game | | | | | | | | | 176.52 | | | |
| High game | | | | | | | | | 247 | | | |
| 200 plus games | | | | | | | | | 19 | | | |
| | | | | | | | | | | | | |
| | | | | | | | | | | | | |
| Lee Lawrence | 18 | m | 204 | 254 | 203 | 269 | 201 | 234 | 1365 | 227.50 | 1473 | 108 |
| Thomas John | 10 | m | 268 | 237 | 238 | 205 | 188 | 202 | 1338 | 223.00 | 1398 | 60 |
| Steve Dalton | 0 | m | 233 | 198 | 224 | 192 | 246 | 233 | 1326 | 221.00 | 1326 | 0 |
| Ivan Wan | 34 | m | 148 | 180 | 259 | 246 | 178 | 246 | 1257 | 209.50 | 1461 | 204 |
| William Wan | 5 | m | 169 | 238 | 227 | 199 | 203 | 218 | 1254 | 209.00 | 1284 | 30 |
| Chris Hignett | 8 | m | 167 | 175 | 231 | 222 | 212 | 233 | 1240 | 206.67 | 1288 | 48 |
| Steven Taylor | 34 | m | 186 | 198 | 213 | 222 | 192 | 204 | 1215 | 202.50 | 1419 | 204 |
| Shammil Floris | 31 | m | 171 | 237 | 179 | 188 | 192 | 237 | 1204 | 200.67 | 1390 | 186 |
| Steven Taylor Junior | 36 | m | 154 | 256 | 225 | 190 | 178 | 194 | 1197 | 199.50 | 1413 | 216 |
| Ashton Newton | 25 | m | 201 | 222 | 226 | 176 | 192 | 174 | 1191 | 198.50 | 1341 | 150 |
| Andy Griffin | 30 | m | 231 | 235 | 181 | 144 | 195 | 204 | 1190 | 198.33 | 1370 | 180 |
| Dai Winn | 27 | m | 173 | 191 | 179 | 257 | 207 | 157 | 1164 | 194.00 | 1326 | 162 |
| Dominic Hall | 30 | m | 169 | 204 | 160 | 231 | 212 | 182 | 1158 | 193.00 | 1338 | 180 |
| Tim Johnson | 36 | m | 181 | 215 | 181 | 189 | 172 | 159 | 1097 | 182.83 | 1313 | 216 |
| Calon Bailey | 49 | m | 170 | 175 | 130 | 148 | 244 | 190 | 1057 | 176.17 | 1351 | 294 |
| Alun Davies | 51 | m | 176 | 160 | 204 | 174 | 136 | 168 | 1018 | 169.67 | 1324 | 306 |
| Kevin Gibson | 21 | m | 165 | 180 | 145 | 144 | 173 | 211 | 1018 | 169.67 | 1144 | 126 |
| Gareth Knight | 30 | m | 167 | 126 | 195 | 179 | 184 | 159 | 1010 | 168.33 | 1190 | 180 |
| David Ruffell | 23 | m | 143 | 148 | 174 | 184 | 163 | 177 | 989 | 164.83 | 1127 | 138 |
| Alan Yau | 43 | m | 145 | 129 | 182 | 172 | 170 | 140 | 938 | 156.33 | 1196 | 258 |
| Philip Reader | 72 | m | 162 | 159 | 114 | 141 | 140 | 157 | 873 | 145.50 | 1305 | 432 |
| Ross | 72 | m | 159 | 102 | 155 | 179 | 128 | 129 | 852 | 142.00 | 1284 | 432 |
| Toal pinfall | | | | | | | | | 24,951 | | | |
| Average game | | | | | | | | | 189.02 | | | |
| High Game | | | | | | | | | 269 | | | |
| 200 plus games | | | | | | | | | 47 | | | |