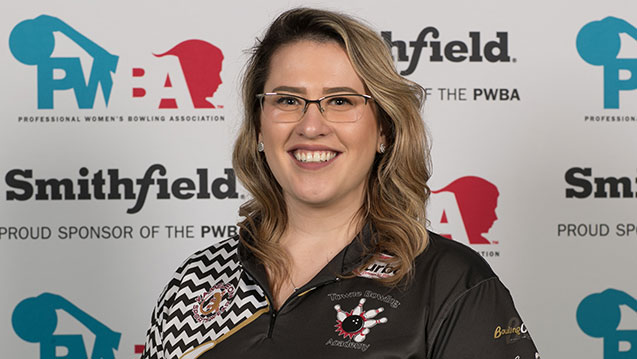 Kuhlkin leads opening round of 2017 U.S. Women's Open
PLANO, Texas – Professional Women's Bowling Association champion Liz Kuhlkin of Schenectady, New York, took advantage of a look she did not expect to have to lead the opening round of qualifying Tuesday at the 2017 U.S. Women's Open.
After Monday's practice session, the 23-year-old right-hander thought her block on the double-burn was going to give her trouble, but she was able to get out of the gates with games of 276 and 266 on her way to a 1,870 eight-game block at Plano Super Bowl, a 233.75 average.
All 114 players in this week's field will qualify on three phases of the 43-foot oil pattern being used for the 2017 event – fresh, burn and double-burn.
"I really thought I was going to struggle today," said Kuhlkin, the 2015 PWBA Topeka Open champion. "I was hoping to grind through it to put up a score and then concentrate on the rest of the week, but I really had a good look out there. I used the same ball the entire set and really carried well. When you have that, you need to take advantage of it."
The former Junior Team USA member and collegiate standout at Nebraska now will transition to the burn squad Wednesday. She'll look to continue the momentum but won't think too far ahead in hopes of a long week in Plano.
"I'm absolutely satisfied with today's performance, but I know there are a lot of games left," Kuhlkin said. "I need to concentrate on tomorrow, treat it as a new day and keep moving forward."
England's Verity Crawley sits in second place with 1,852, and Bryanna Coté of Red Rock, Arizona, is third with 1,836. Mexico's Sandra Gongora and Shannon O'Keefe of O'Fallon, Illinois, round out the top five with totals of 1,826 and 1,824, respectively.
United States Bowling Congress Hall of Famer Liz Johnson of Deerfield, Illinois, who is looking to capture her fourth consecutive, and sixth overall, U.S. Women's Open title, is in 17th place with a 1,775 total.
Two competitors connected for perfect games during Tuesday's opening round.
Former Junior Team USA member Jen Higgins of Westerville, Ohio, rolled 12 consecutive strikes during the day's first squad on her way to a 1,781 total, and Kristina Rosberg of Ord, Nebraska, kicked off the day's final squad with a 300. She finished with a 1,731 total.
All competitors at the 2017 U.S. Women's Open will bowl 24 games at Plano Super Bowl over three days, before the field is cut to the top 38 for eight additional games of qualifying. Wednesday's second round will begin at 9 a.m. Eastern.
After 32 games, total pinfall will decide the 24 bowlers who advance to round-robin match play, and 56-game totals, including 30 bonus pins for each win, will determine the five players who will battle for the $20,000 top prize and coveted green jacket on Sunday's live television finals, which will air on CBS Sports Network at noon Eastern.
The championship rounds of the 2017 PWBA Orlando Open, PWBA St. Petersburg-Clearwater Open and Nationwide PWBA Rochester Open also will be taped at Plano Super Bowl on Sunday for broadcast on CBS Sports Network on Aug. 15, Aug. 22 and Aug. 29, respectively.
All qualifying and match play rounds of the 2017 U.S. Women's Open can be watched live on Xtra Frame, the online bowling channel of the Professional Bowlers Association.
For more information on the U.S. Women's Open, visit BOWL.com/USWomensOpen.
About International Bowling Campus
The International Bowling Campus (IBC) is the headquarters for the bowling industry and directly serves the more than 69 million bowlers in the United States. The IBC houses the resources of the United States Bowling Congress, the governing body and membership organization for the sport; the Bowling Proprietors' Association of America, representing the business interests of bowling centers; IBC Youth Development; Strike Ten Entertainment, the marketing arm for the industry; the International Bowling Museum and Hall of Fame; the International Bowling Pro Shop and Instructors Association; the International Bowling Media Association; the Bowling News Network; the Billiard and Bowling Institute of America; and the International Training and Research Center.
2017 U.S. WOMEN'S OPEN
At Plano Super Bowl, Plano, Texas
Tuesday's Results
QUALIFYING – ROUND 1
(Eight games)
1, Liz Kuhlkin, Schenectady, N.Y., 1,870. 2, Verity Crawley, England, 1,852. 3, Bryanna Coté, Red Rock, Ariz., 1,836. 4, Sandra Gongora, Mexico, 1,826. 5, Shannon O'Keefe, O'Fallon, Ill., 1,824. 6, Ashly Galante, Palm Harbor, Fla., 1,817.
7, Danielle Van der Meer, Washington, Ill., 1,813. 8, Jodi Woessner, Oregon, Ohio, 1,804. 9, Nicole Bower (n), Camp Hill, Pa., 1,794. 10, Rocio Restrepo, Louisville, Ohio, 1,791. 11, Jenny Wegner, Sweden, 1,789. 12, Ingellimar Beasley, Clarksville, Tenn., 1,785.
13, Sandra Andersson, Sweden, 1,784. 14, Diandra Asbaty, Chicago, 1,783. 15, Jen Higgins, Westerville, Ohio, 1,781. 16, Daria Pajak, Poland, 1,779. 17, Liz Johnson, Deerfield, Ill., 1,775. 18, Brandi Branka, Fairview Heights, Ill., 1,774.
19(tie), Jennifer Russo (n), Monmouth Junction, N.J., and Stefanie Johnson, Grand Prairie, Texas, 1,773. 21, Jodi Gawlik, Schaumburg, Ill., 1,772. 22, Valerie Bercier (n), Derry, N.H., 1,770. 23(tie), Daria Kovalova, Ukraine, and Shannon Sellens (n), Copiague, N.Y., 1,765.
25, Robyn Renslow, Brentwood, Calif., 1,762. 26, Brittany Smith, Johnston, Iowa, 1,760. 27, Nicole Trudell, Bridgeport, Conn., 1,758. 28, Leanne Hulsenberg, Pleasant View, Utah, 1,757. 29, Brittany Himmelreich, Cressona, Pa., 1,755. 30, Erin McCarthy, Omaha, Neb., 1,754.
31, Laura Plazas (n), Bel Aire, Kan., 1,753. 32(tie), Kamilah Dammers-Naddall, Aruba, and Kristina Wendell, Kingston, N.Y., 1,750. 34(tie), Anita Arnett (n), Richmond, Texas, and Giselle Poss, Montgomery, Ill., 1,748. 36, Diana Zavjalova, Latvia, 1,747.
37, Josie Barnes, Nashville, Tenn., 1,743. 38, Shannon Pluhowsky, Dayton, Ohio, 1,736. 39, Birgit Poppler, Germany, 1,732. 40(tie), Sydney Brummett (n), Fort Wayne, Ind., and Kristina Rosberg, Ord, Neb., 1,731. 42, Elise Bolton, Merritt Island, Fla., 1,727.
43, Elysia Current, Ephrata, Pa., 1,724. 44, Nichele McConnell (n), Gwynn Oak, Md., 1,718. 45(tie), Ghislane Van der Tol (n), Netherlands, and Megan Kelly, Dayton, Ohio, 1,716. 47(tie), Summer Jasmin, Beckley, W.Va., and Caitlyn Johnson (n), Lumberton, Texas, and Cajsa Wegner, Sweden, 1,710.
50(tie), Isabelle Hultin (n), Sweden, and Maria Jose Rodriguez, Colombia, 1,707. 52, Danielle McEwan, Stony Point, N.Y., 1,705. 53, Julia Bond (n), Aurora, Ill., 1,696. 54, Robin Romeo (n), Newhall, Calif., 1,691.
55, Clara Guerrero, Colombia, 1,685. 56, Marcia Kloempken (n), Pleasant View, Utah, 1,684. 57(tie), Bree Macpherson, Australia, and Chenoa Rhoades (n), Wichita, Kan., 1,682. 59, Lynda Barnes, Double Oak, Texas, 1,678. 60(tie), Sierra Kanemoto (n), Riverside, Ohio, and Kelly Kulick, Union, N.J., 1,666.
62, Johanna Puentes (n), Colombia, 1,664. 63, Lindsay Boomershine, Perry, Utah, 1,660. 64, Stacey Dault (n), Chandler, Ariz., 1,659. 65, Isabella Correa (n), Austin, Texas, 1,657. 66, Kaidee Sutphin, Mount Dora, Fla., 1,648.
67, Brooke Bower, Camp Hill, Pa., 1,646. 68, Desiree Negron (n), San Juan, Puerto Rico, 1,641. 69, Juliana Franco, Colombia, 1,639. 70, Nina Flack, Sweden, 1,638. 71, Danielle Walker (n), Keller, Texas, 1,637. 72(tie), Tish Johnson, Colorado Springs, Colo., and Linda Walbaum, Brighton, Colo., 1,623.
74(tie), Anggie Ramirez Perea, Austin, Texas, and Melissa Carter (n), Fayetteville, Ark., 1,618. 76, Brandi Calderon, Tempe, Ariz., 1,614. 77(tie), Stacy Starry (n), McKinney, Texas, and Missy Parkin, Laguna Hills, Calif., and Samantha Kelly, Waukesha, Wis., 1,609.
80, Joline Planefors (n), Sweden, 1,605. 81, Kiyoko McDonald (n), McKinney, Texas, 1,597. 82, Alecia Henderson (n), Watauga, Texas, 1,592. 83, Sabrena Divis, Gillette, Wyo., 1,591. 84, Adel Wahner (n), Las Cruces, N.M., 1,585.
85, Erin Czuprynski (n), Tinley Park, Ill., 1,583. 86, Ashlyn Herzberg (n), Wichita, Kan., 1,580. 87, Karen Marcano, Venezuela, 1,577. 88, Debbie Ayers, La Mesa, Calif., 1,570. 89, Carolyn Dorin-Ballard, Keller, Texas, 1,567. 90, Amanda Fry, Antelope, Calif., 1,564.
91, Sarah Muench, Johnston, Iowa, 1,561. 92, Ashley Rucker, Bartlesville, Okla., 1,560. 93, Camille Sykos (n), El Paso, Texas, 1,552. 94, Madeleine McDuff (n), Katy, Texas, 1,551. 95, Diane Hasty (n), Arlington, Texas, 1,545. 96, Kayla Pashina, Minnetonka, Minn., 1,536.
97, Cyndee Sutherland, San Jose, Calif., 1,535. 98, Jackie Carbonetto, Clarksville, Tenn., 1,530. 99, Celina Broderick, Wallingford, Conn., 1,524. 100, Jessica Peters, Toms River, N.J., 1,522. 101, Kimi Davidson, Irving, Texas, 1,514. 102, Bethany Campbell (n), The Colony, Texas, 1,506.
103(tie), Kristina Szczerbinski, North Tonawanda, N.Y., and Ann Sperling, Byram Township, N.J., 1,496. 105, Jordan Newham (n), Aurora, Ill., 1,478. 106, Kalynn Carl, Albany, N.Y., 1,446. 107, Erica McPhail (n), Kempner, Texas, 1,433. 108, Chelsey Stephens (n), Frankfort, Ky., 1,401.
109, Stephanie Martins, Brazil, 1,375. 110, Gloria Wood (n), Corpus Christi, Texas, 1,361. 111, Grace Hall, Oklahoma City, 1,350. 112, Natalie Woodward-Hall (n), Richardson, Texas, 1,268. 113, April Hopkins (n), Waxahachie, Texas, 1,254. 114, Megan Simon (n), Dallas, 1,241.