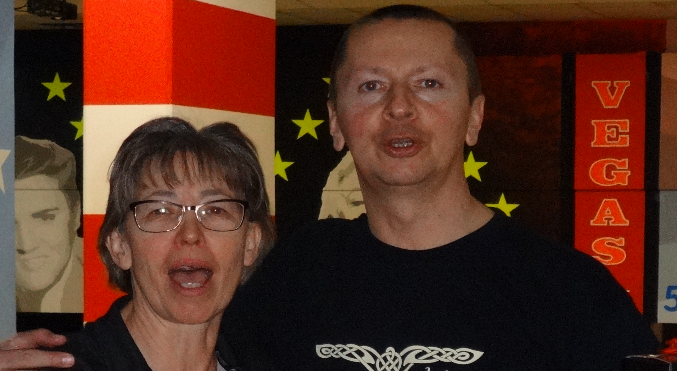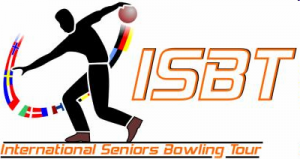 ISBT Masters Final 2016
Vegas Bowling, Osnabruck, Germany
13th March 2017
Champions: Carlo Greulich and Martina Beckel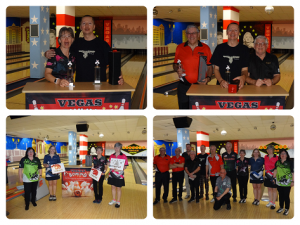 Every year, the top competitors from the ISBT series of tournaments are invited to participate in the Masters Final. There is no entry fee to participate, the prize fund of over €9000 is generated from the tournaments run during the year. For the 2016 year, the tournament was held immediately after the Arthurs Senior Open in Osnabruck, Germany, and the top 32 men and 12 women from the previous year's rankings were invited. The tournament was played on the Kegel Route 66 challenge pattern.
All 32 men played a 5 game qualification block. Top bowler was Lol Ellis (England) with 1168, ahead of Hermann Wimmer (Germany) and Ron Oldfield (England). The top 16 would progress to the next round, 16th place was Les Grant (England) with 1032.
The next round was a four game block, starting from scratch. Lol Ellis was again top with 962, ahead of Carlo Greulich (Germany) and Ron Oldfield. The top 8 would progress to the final, there was a tie for eighth between two Belgians, Dominique de Nolf and Robert Valons. The tie was decided by a ninth and tenth frame rolloff, both players managed to score only 28, so it was replayed. This time, Robert Valons was left needing 8 on his last ball, but managed to only score 6, so Dominique de Nolf progressed to the final.
The final round was a further three games, with pinfall carried forward. Carlo Greulich took an easy win, ahead of Lol Ellis and Roger Pieters (Belgium)
The women's section had a similar format to the men's, with 12 ladies bowling an initial five games. Kimberley Oakley bowled well to have a clear lead with 1100, ahead of Farida Pascoal-Blom (Netherlands), and Martina Beckel (Germany). The top eight progressed to the next round, where a further four games would be played, starting from scratch. Martina Beckel had a clear lead after this round with 840, ahead of Angie Brown (England) and Kimberley Oakley. Malou Carola was in fourth place, and was the final woman to make the last round.
The last three games were played on lanes previously used by the men, and the pattern had broken down badly. This was reflected in the low scoring pace. Angie Brown made up ground on Martina Beckel to just take the lead before the last game, but was unable to hold on with Martina Beckel taking the win, Kimberly Oakley finishing in third place.
Details of all ISBT tournaments can be found on the website at www.isbtbowlingtour.eu
Results
Men
Final
Pos
Name
Age Bonus
B/F
Game 1
Game 2
Game 3
Scratch
Total
Bonus
Total
Average
1
Carlo Greulich
DE
9
929
236
207
254
697
27
1653
232.3
2
Lol Ellis
UK
17
962
199
193
179
571
51
1584
190.3
3
Roger Pieters
BE
18
910
191
203
202
596
54
1560
198.7
4
Dominique De Nolf
BE
11
878
211
193
239
643
33
1554
214.3
5
Steven Jeeves
UK
4
895
246
212
185
643
12
1550
214.3
6
Ron Oldfield
UK
26
920
206
183
152
541
78
1539
180.3
7
Giorgio Desimio
IT
17
889
191
191
201
583
51
1523
194.3
8
Hermann Wimmer
DE
24
892
170
194
169
533
72
1497
177.7
Round 2
Pos
Name
Age Bonus
Game 1
Game 2
Game 3
Game 4
Scratch
Total
Bonus
Total
Average
1
Lol Ellis
UK
17
268
239
182
205
894
68
962
223.5
2
Carlo Greulich
DE
9
188
248
257
200
893
36
929
223.3
3
Ron Oldfield
UK
26
212
191
244
169
816
104
920
204.0
4
Roger Pieters
BE
18
227
238
171
202
838
72
910
209.5
5
Steven Jeeves
UK
4
206
227
220
226
879
16
895
219.8
6
Hermann Wimmer
DE
24
191
181
209
215
796
96
892
199.0
7
Giorgio Desimio
IT
17
225
194
190
212
821
68
889
205.3
8
Dominique De Nolf
BE
11
225
210
227
172
834
44
878
208.5
9
Robert Vallons
BE
11
199
188
226
221
834
44
878
208.5
10
Valentin Fatu
RO
5
193
190
188
255
826
20
846
206.5
11
Les Grant
UK
23
199
178
179
177
733
92
825
183.3
12
Ron Vd Bogaard
NL
5
205
194
182
206
787
20
807
196.8
13
Harald Punessen
DE
4
204
213
179
190
786
16
802
196.5
14
Mike Halliwell
UK
10
188
207
191
171
757
40
797
189.3
15
Steve Carnall
UK
11
179
183
188
202
752
44
796
188.0
16
Andre Geelen
BE
21
180
168
165
177
690
84
774
172.5
Round 1
Pos
Name
Age Bonus
Game 1
Game 2
Game 3
Game 4
Game 5
Scratch
Total
Bonus
Total
Average
1
Lol Ellis
UK
17
227
213
202
225
216
1083
85
1168
216.6
2
Hermann Wimmer
DE
24
234
211
200
197
174
1016
120
1136
203.2
3
Ron Oldfield
UK
26
216
170
200
216
194
996
130
1126
199.2
4
Steve Carnall
UK
11
223
217
192
205
218
1055
55
1110
211.0
5
Robert Vallons
BE
11
212
226
198
192
213
1041
55
1096
208.2
6
Steven Jeeves
UK
4
206
192
206
213
258
1075
20
1095
215.0
7
Giorgio Desimio
IT
17
212
186
177
244
179
998
85
1083
199.6
8
Valentin Fatu
RO
5
201
203
224
226
202
1056
25
1081
211.2
9
Harald Punessen
DE
4
224
220
172
205
237
1058
20
1078
211.6
10
Carlo Greulich
DE
9
237
169
186
188
236
1016
45
1061
203.2
11
Roger Pieters
BE
18
184
160
236
216
173
969
90
1059
193.8
12
Dominique De Nolf
BE
11
185
197
192
233
194
1001
55
1056
200.2
13
Ron Vd Bogaard
NL
5
223
199
215
172
215
1024
25
1049
204.8
14
Andre Geelen
BE
21
168
152
198
233
192
943
105
1048
188.6
15
Mike Halliwell
UK
10
217
160
154
195
258
984
50
1034
196.8
16
Les Grant
UK
23
201
188
173
165
190
917
115
1032
183.4
17
Alan Jenkins
UK
26
173
188
185
184
171
901
130
1031
180.2
18
Alan Keddie
UK
6
224
181
171
201
211
988
30
1018
197.6
19
Ian Buckland
UK
12
177
169
227
198
167
938
60
998
187.6
20
Klaus Uwe Lischka
DE
8
172
169
175
212
217
945
40
985
189.0
21
Helmut Ulber
DE
18
199
175
171
166
167
878
90
968
175.6
22
Auke Broekhuizen
NL
6
190
197
214
145
191
937
30
967
187.4
23
Pierre Prou
FR
18
179
185
147
195
170
876
90
966
175.2
24
Arthur Dähn
DE
16
162
196
159
201
167
885
80
965
177.0
25
Frank Lindsay
UK
17
181
148
154
194
203
880
85
965
176.0
26
Greg Jerome
UK
11
162
201
187
209
149
908
55
963
181.6
27
Werner Knoebl
DE
10
183
186
170
183
191
913
50
963
182.6
28
Mo Singleton
UK
23
144
161
182
179
166
832
115
947
166.4
29
Uwe Tscharke
DE
5
157
178
156
185
237
913
25
938
182.6
30
Berny Stöckl
DE
13
178
162
163
192
167
862
65
927
172.4
31
Yves Delafonteyne
BE
3
184
194
161
139
164
842
15
857
168.4
32
Rene Gooyers
NL
13
196
197
154
68
0
615
65
680
123.0
Women
Final
Pos
Name
Age Bonus
B/F
Game 1
Game 2
Game 3
Scratch
Total
Bonus
Total
Average
1
Martina Beckel
DE
8
840
176
175
190
541
24
1405
180.3
2
Angie Brown
UK
9
791
211
191
161
563
27
1381
187.7
3
Kimberley Oakley
UK
4
790
183
176
174
533
12
1335
177.7
4
Malou Carola
BE
6
776
158
147
161
466
18
1260
155.3
Round 2
Pos
Name
Age Bonus
Game 1
Game 2
Game 3
Game 4
Scratch
Total
Bonus
Total
Average
1
Martina Beckel
DE
8
225
193
214
176
808
32
840
202.0
2
Angie Brown
UK
9
175
170
173
237
755
36
791
188.8
3
Kimberley Oakley
UK
4
216
246
145
167
774
16
790
193.5
4
Malou Carola
BE
6
190
161
194
207
752
24
776
188.0
5
Liliane Vintens
BE
10
187
193
177
158
715
40
755
178.8
6
Gisela Insinger
DE
24
193
128
150
178
649
96
745
162.3
7
Farida Pascoal-Blom
NL
22
149
139
204
164
656
88
744
164.0
8
Ruth Stander
UK
33
172
154
114
163
603
132
735
150.8
Round 1
Pos
Name
Age Bonus
Game 1
Game 2
Game 3
Game 4
Game 5
Scratch
Total
Bonus
Total
Average
1
Kimberley Oakley
UK
4
196
224
248
189
223
1080
20
1100
216.0
2
Farida Pascoal-Blom
NL
22
195
178
188
198
161
920
110
1030
184.0
3
Martina Beckel
DE
8
194
147
185
232
211
969
40
1009
193.8
4
Liliane Vintens
BE
10
180
192
216
164
178
930
50
980
186.0
5
Angie Brown
UK
9
170
175
203
184
169
901
45
946
180.2
6
Gisela Insinger
DE
24
172
142
151
190
147
802
120
922
160.4
7
Ruth Stander
UK
33
178
134
151
135
155
753
165
918
150.6
8
Malou Carola
BE
6
206
172
161
182
147
868
30
898
173.6
9
Uschi Diekhoff
DE
16
167
138
161
174
156
796
80
876
159.2
10
Franziska Knoebl
DE
8
177
174
126
174
139
790
40
830
158.0
11
Sharon Le Louarn
JE
6
201
152
124
134
183
794
30
824
158.8
12
Henny Van Der Jagt
NL
22
152
141
150
124
118
685
110
795
137.0