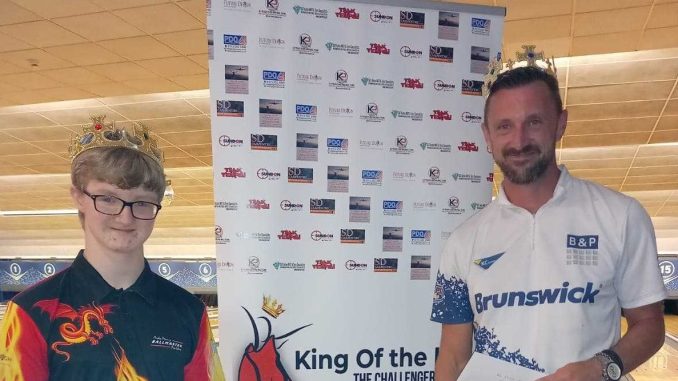 This is a new series of monthly events that I'm putting on through the summer at Gobowling Dunstable
A bit about these events – The idea is a friendly tournament that will give the bowlers a chance to bowl in an local event on a Kegel "challenge" pattern. I want to give bowlers a chance to bridge the gap between league/house pattern bowling and an elite "Sports Tournament". Thanks to our sponsors we are able to keep the price down so it will give you space to learn and grow as a Tournament bowler. I want bowlers to learn and test themselves but at the same time not feel too pressured by the bowling environment – And I hope this series of events will enable you to do that.
Scratch and handicap prize fund.
The pattern chosen for this event was the Kegel Challenge Mercury Pattern.
The top 3 scores Scratch were
Joe Caine 1304 a 217 average
Craig Barrett 1320 a 220 average
Rob Thurlby 1339 a 223 average
Thanks to the tournament manager securing some sponsorship for the event meant we threw in some extra prize money.
We had £10 high game for each of the high game
Game 1 – Matt Nash 244
Game 2 – Dan Bonfield 267
Game 3 – Craig Barrett / Rob Thurlby 253
Game 4 – Alan Keddie 258
Game 5 – Rob Thurlby 258
Game 6 – Rob Thurlby 255
The top 3 in handicap section were
Cameron Brown – 1335
Blake Smith – 1411
Josh Bland – 1513
So before we got into the finals we had a little fun thing … the MONEY shot … a bowler Randomly drawn (using google random number generator) had 1 ball to get a strike – if they got all 10 they won themselves £30
First up was Jake Ayers… he was deep in the pocket, I meant it was a flush as you like… and BOOM 8 pin (Jake's a lefty) – oh the pain.
Next up was Anna Yang… but no strike
Then Alex Pace had a go… again NO strike.
Then Luke Cropley's number came up and finally we got all 10 in the PIT and Luke won himself £30
Into Match 1
Handicap
Both bowlers scratching around, they would throw strikes then follow it up with an open. Down to the 10th frame and both Blake and Cameron had a chance… Cameron with a double and Blake with a strike, spare, which meant Cameron just needed a 6 count to win it… he wafted a wide one.. and just about got there for a 6 count to win 179-178
Scratch
Joe looked out of it as early as the end of frame 3, after 3 opens and Craig had gone spare, double… but two opens from Craig gave Joe a sniff… but a wash out for Joe in frame 7 really ended his chances and Craig progressed 198-151
Before the final we had the "final countdown" – again a bowler randomly selected would get 2 minutes to knock down as many skittle as they could… and them pins would be turned into £'s google selected Rob Yandell… and he went so slowly I actually thought rigor mortis had set in… hahaha. Rob knocked down 25 pins and he won himself £25
Title Matches
Handicap
A battle between the 2 dunstable dragons – Cameron Brown and Josh Bland – Josh had bowled amazing all day. Equalling his highest ever game and averaging 193 off a 141 entering average… his genuine YBC average ! – its literally the best he has ever bowled. Both Cameron and Josh are two handers and good friends in the YBC. Josh Josh continued his form from qualifying beating Cameron 247-210
Scratch
The shimmery tanned Rob Thurlby opened up with a 5 split but then settled into his groove with a 4 bagger. Craig just struggled in the final to winkle out the 10pin and Thurlbs won 214-172
Well done to our champs – honestly I can't thank the sponsors enough for supporting me and these events. If you think you can use the services of one our sponsors then give them a call and let's try and help each other out and keep it bowling.
Sponsors were
SD Carpentry Ltd – https://www.facebook.com/sdcarpentryltd
Travel with the Smiths – https://www.facebook.com/travelwiththesmiths
S&T Autos – http://sandtautos.net/
Sundon Model Shop – https://www.facebook.com/sundonmodelshop
KPeach Floor and Wall Tilling – https://www.facebook.com/kpeach.wallandfloortiling
Future Design and Engineering – http://www.future-design.co.uk/
The next event is on 24th July – entry will be open soon and the will posted in the event group page https://www.facebook.com/groups/1123770395141402
We also streamed the event and you can find the video on my twitch channel https://www.twitch.tv/basherback2back
Results