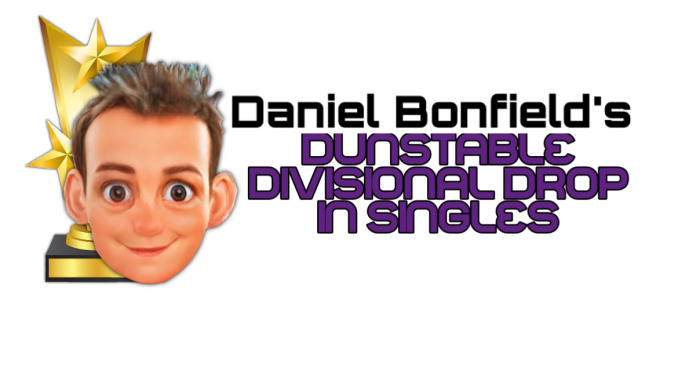 Another blooming bank holiday… it grinds my gears, I mean I love a bank holiday, but can't we space them out a bit ? – having 3 in a month is taking the proverbial if you know what I mean
Anyway – the old Sceptic Tanks across the pond also had a bank holiday, which meant those that usually bowl on the American Air base at Alconbury dropped in for a bowl.. so we welcomed Tony Imren, Louise Gray and Senior Team England Manager Mike Bergquist
Championship
Some good scoring going on… 4 bowlers shooting over 800. James Stone 818, Lee Bradley 825, Jamie Hayes 834 but winning with high series pot was Hayden Hewitt with a 840. High game pot went to James Stone with a 257
Overall
We're in week 6 now so after this week people can start dropping their lowest scoring week, and others start catching up from their missing weeks. Top at the moment is Peter Fyles on 251pts, in 2nd is James Stone on 244pts and in third is Rob Yandell on 196pts.
Premiership
After a few lean weeks Matt Trotter came flying back to form with a 952 set to take the high series pot. Jack Stone also shooting a 900+ with a 928 and Big Mac Macpherson also breaking 900 with a 904 with the help of a 278 last game which won him a pot.
Overall
Alan Keddie still in control despite not having a great night on the lanes by his standards but still notching up 43tpts. So Keddie is top on 285pts with a 220 average. Trotter moves up into 2nd on 252pts and in 3rd is Paul Loberman on 233 – but Lobbers has a week to catch up on the top two.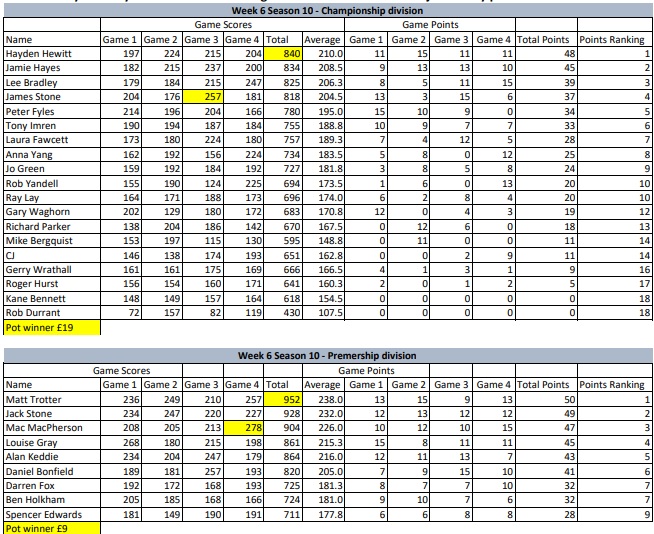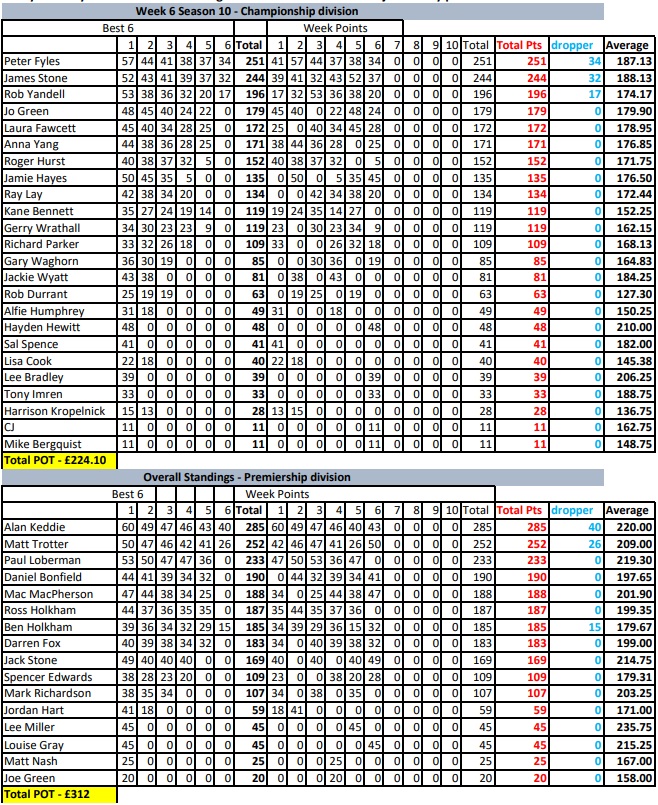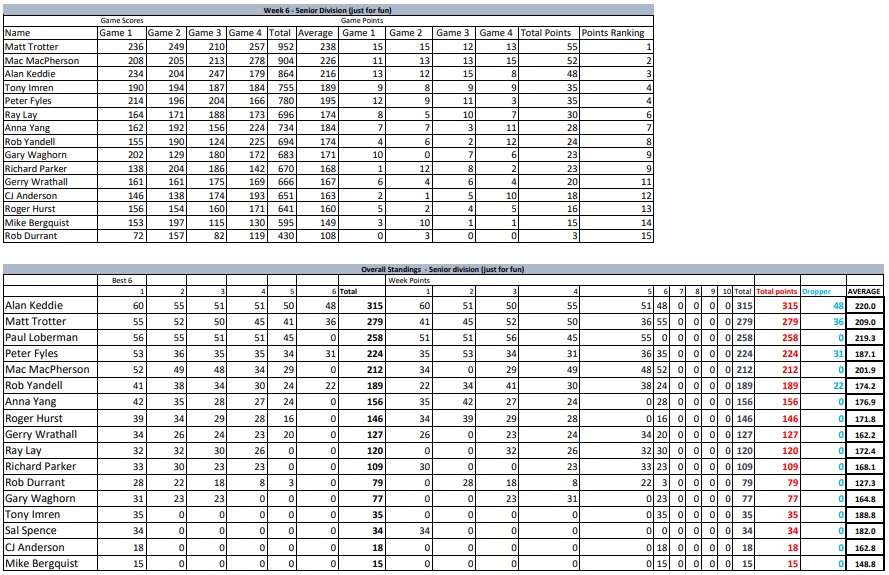 ---
Week 5 of season 10 – What a weekend it was for our league bowlers, Sukky, Lobbers, and Alan all winning medals for the countries in the Triple Crown. Massive congratulations to Rob Yandell for winning the tenpin tour event at Cliftonville, and finally to Alfie Humphrey who bowled in a junior team tournament and came 2nd
I'm going to say it shows that the competitive nature of this league, and perhaps the week before we played on a really tough pattern is making us sharper when it comes to competitions – well that's my theory !
It was nice to be back on the house pattern and the scoring went through the roof, especially in the premiership.
Championship
Yandell playing with confidence shot a 232, but was beaten to the high game pot by James Stone who shot a 233…. Yandell weren't happy, questioned my integrity and demanded to see the score sheet at the end. But all was legit James did actually shoot a 233… I don't know, he wins 1 tournament and starts going all prima donna. James completed the clean sweep by also winning the high series pot with a 818. Other worthy mentions – Jo Green put together a nice set with 763 and Laura Fawcett despite suffering from a knicker elastic disaster shot a 745 set.
Overall
League really beginning to take shape. Peter Fyles is top on 217pts with James Stone on 207 and then a gap to Rob Yandell down in 3rd on 176pts.
Premiership
A league average of 213 across all the bowlers… and that's even with a Ben who suffered with no "strap on" – he need's his strap on…
We need to applaud Darren fox – not only opening up with a 279 game by owning a polo shirt from 1996 from the YAC Masters, and that Polo Shirt still fitting. Lee Miller shot a 278 in game 1.  Then game 3 Big Mac Macpherson shot a 278, but Keddie went and shot a 279 to share the high game pot with Darren. High series was won by Lee Miller with a 943 series… just easing himself back in.
Overall
5 bowlers shot over 900 last night. Big Mac's 923 only getting joint 5th on the night. Keddie stays top of the league, but Lobbers closed the gap, which is now down to 9 points. Then like the championship there's a big gap to 3rd, which is taken by Matt Trotter on 202 points.
It was good to see Mark Richardson back this week… even though I had a lot of messages saying that the live stream kept lagging and buffering.. I had to explain that was just Mark in real time and it that makes it appear that way.
Some clips on the great action from last night.
https://clips.twitch.tv/KindRudeDonutKeepo-FBQozo5SjSBNDL81
https://clips.twitch.tv/GiantOutstandingThymePeteZarollTie-vuLr30lrij9IOPdr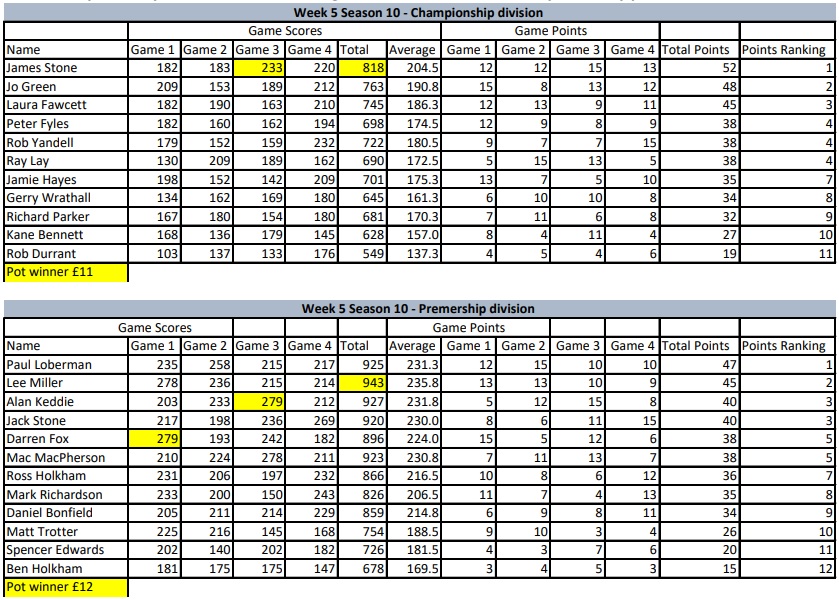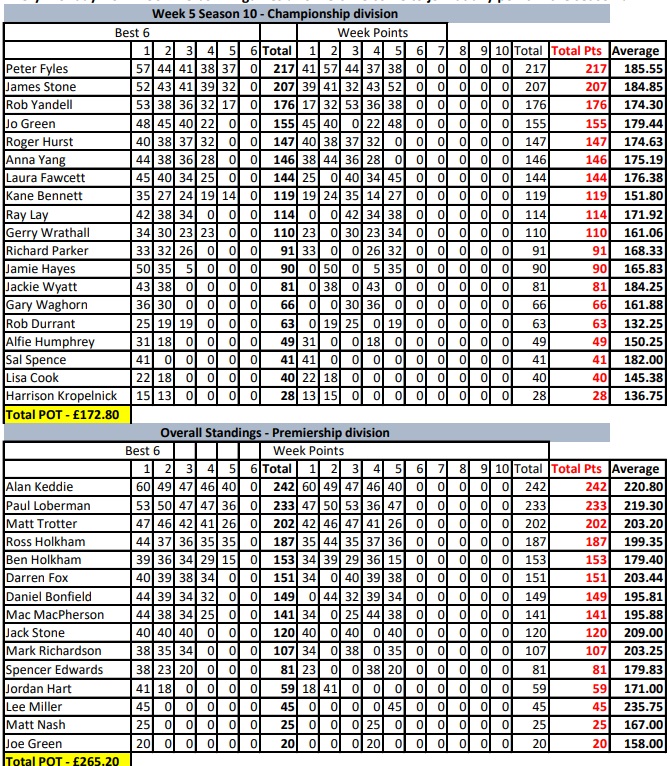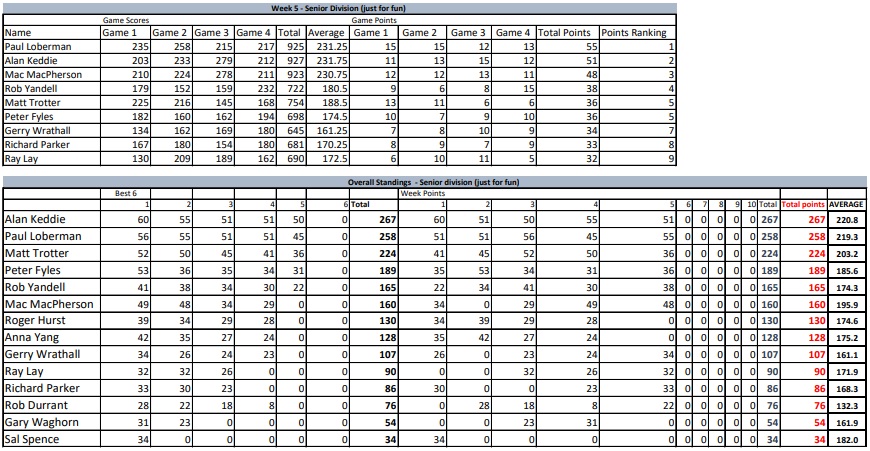 ---
Week 4 of the drop in singles league – and it was funky pattern week. On the 4th week and 8th week of the league we lay a harder pattern. We need to keep it real… bowling on "house" every week gets a bit boring, and funky pattern week drags the averages down keeping everyone in their right division, and it gives the premiership players a bit more a challenge.
The Pattern for this week was from the Kegel Landmark Series – Chichen Itza. What the hell is Chichen Itza… Its like a pyramid in Mexico, built over 1000 years when Gerry Wrathall was just a young man in his early 80s. Chichen means Mouth of the well… and Itza is the name of the place. If I'm honest it's not a place I'm going to put on my bucket list of places to visit before I die… for a bit context though… Sticky Vicky's in Benidorm is on the bucket list…
Championship
This pattern was tough right ? – Only 2 bowlers shot over a 700 – Laura Fawcett shot a 704 and had the high game in the division with a 215 winning a £16 pot, which her old man said he would double ! High series went to James Stone with a 708 series – just look at how unhappy he was though ! https://clips.twitch.tv/EnthusiasticIntelligentLEDChocolateRain-j18H0NIDmrww1N-V – arm in the air, expletives uttered… and for good measure came back and punched a chair !
Overall
League is taking shape now. Peter Fyles is top on 179pts with a 188 average. In 2nd is James Stone and in 3rd Roger Hurst
Premiership
A tougher pattern and the averages came tumbling down… except for mine ! where my average actually went up ! Only one bowler to break 800… and that was Alan Keddie who shot an 808 set to take the high series pot. High game pot went to Darren Fox with a 236. This is what a tougher pattern does it mixes it up and different people win the pots … when I say different… I just mean not Lobbers ! – which is a good thing right ?
I'm still unhappy about leaving a 9 pin then the next shot leaving a 8 pin… I mean what am I suppose to do with that carry.
Overall
Keddie cementing his lead at the top of the table now on 202pts with Lobbers in 2nd on 188 and Trotter in 176… the big 3 we shall call them from now on..
Don't forget the June king of the hill tournament on June 11th… entry form is here https://form.jotform.com/231242549866362
Now the tournament is full… and I'm compiling a "waiting list" if I get 10 names on that list (which I think I will) then I'll change the format so everyone on the waiting list will bowl.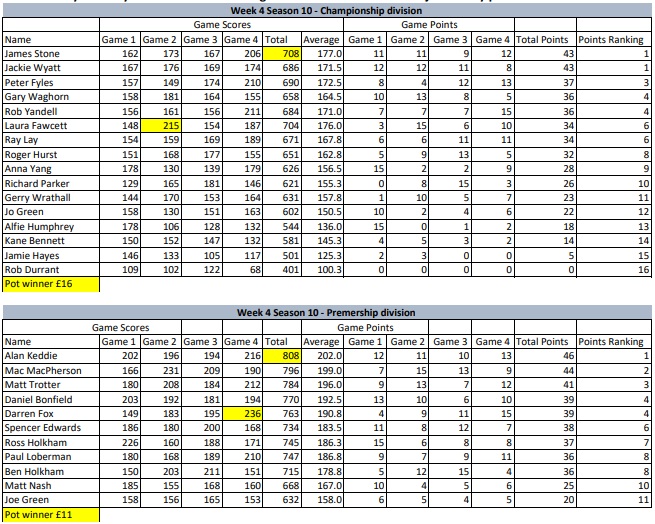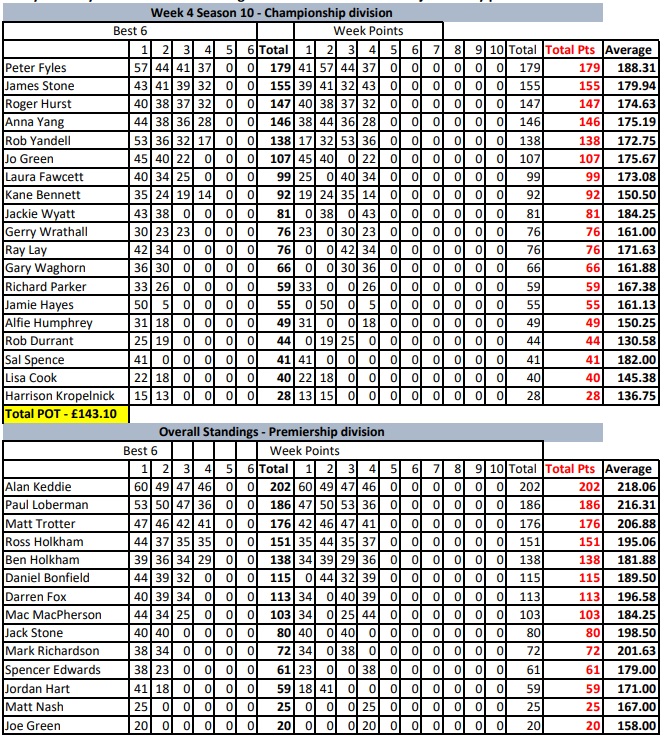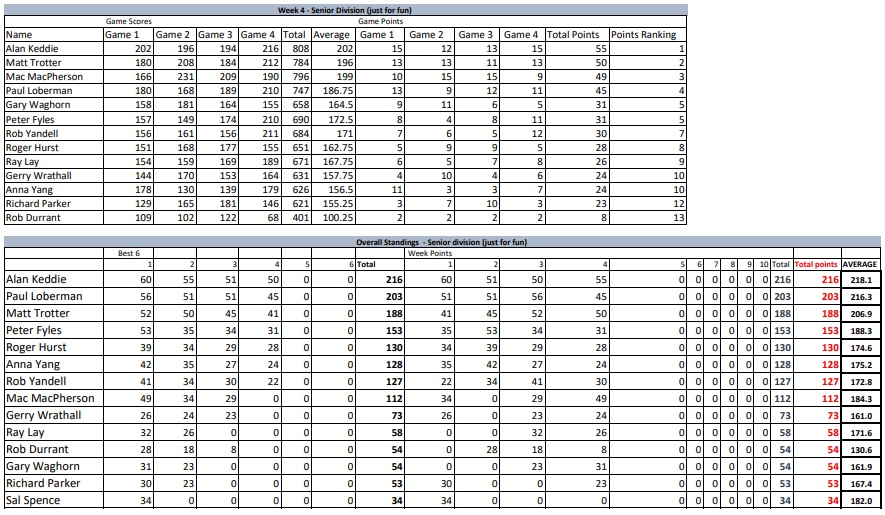 ---
Week 3 of season 10 – and another bank holiday !
Championship
A totally dominant performance from Rob Yandell,,, he's does have good weeks occasionally – haha. A high game of 225 and 796 set to take both pots ! Ps Rob I gave you £2 too much ! – due to admin error on Paul Lobermans part !
Overall
Peter Fyles sits comfortably top of the league 24 pts ahead of Anna Yang in 2nd – that's a big lead, even this early in the season.
Premiership
The night belonged to Paul Loberman, but we were all nearly saved a Lobber's clean sweep by Mark Richardson. Lobbers opened up with a 278 first game, and in Game 3 Mark could have stolen the high game pot off him with a 279. But Mark rushed his last shot.. he only took 7 minutes to throw the ball as opposed to the 15 it usually takes and he got a disappointing 8 count for a 277. Lobber's banged in a 960 set completing the Pot clean sweep.
Overall
Alan Keddie leads the league on 156pts, but Lobbers is reeling him in and is only 6pts behind… both bowlers averaging over 220. In third is Matt Trotter whose yet to really get going this season.
Next week is Pro's Choice – Funky Pattern week… I love funky pattern week !
He's a good clip from the stream last night… it sums up this league perfectly… Rob Yandell looking dazed and confused after throwing a nice shot.. and then Kane with a great spare
https://clips.twitch.tv/FlaccidRelatedCakeEleGiggle-JHWaiMzCexPg1kJ3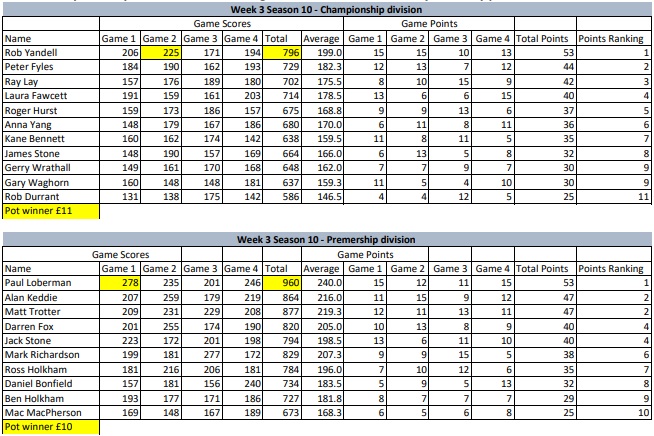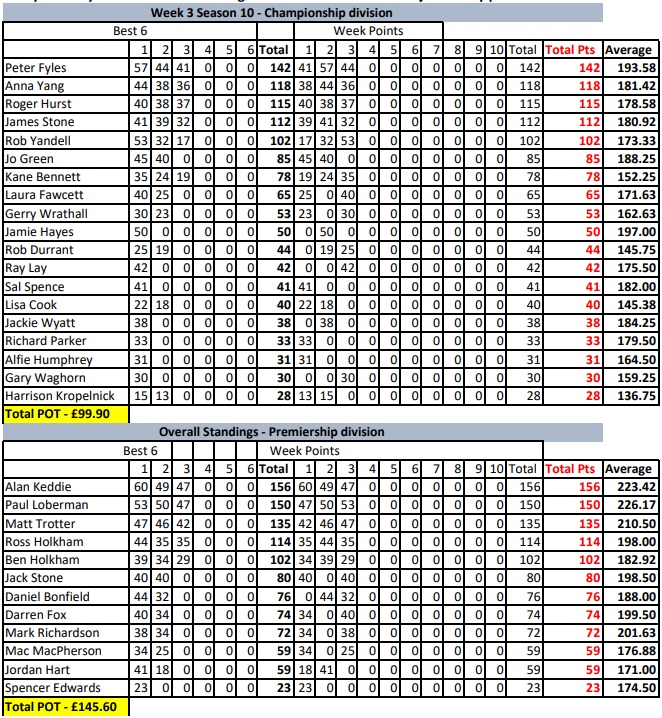 ---
Week 2 of season 10 – and we welcomed back Rob Durrant – who's been out with a injury to the old cilla black – he should go and see a sports massage type of guy.
Championship
Firstly I need highlight Jamie Hayes's amazing ability to turn a potential 300 into scraping a 200… 6 in a row, then 4 opens ! – It's all or nothing, big Jamie don't do no spares ! Secondly – the night belonged to Peter Fyles despite him claiming to be on the last step of the stairway to heaven and moaning that he can feel the grim reapers icey grip on his shoulder. Peter shot a 862 with a 243 last game to clean sweep both pots.
Overall
Early stages of the league and there are lot of bowlers averaging over 185. Current league leader is Peter, with Jo Green in 2nd and Anna Yang in 3rd.
Premiership
Basher suffering from repetitive stress injury in his wrist started off slowly … very slowly with a 149 first game, and he had produce a 10th frame trick shots just to hit that. But the ropey tendons finally stretched themselves out by the 3rd game for a 257 to take the high game pot.  High series pot was won this week by Paul Loberman with a 883
Handing pot money over to Lobbers is always a painful experience but especially after he had just won Andy Penny's mystery number bowling ball competition ! oh the pain…
We still have 4 spots for this weekends (7th May) KOTH event at Dunstable you can enter here – https://form.jotform.com/222003199961354
And I want to share this clip of a bit of spare shooting showboating by Jamie https://clips.twitch.tv/InterestingDrabSeahorseCoolCat-p7svHelPfmaDymQW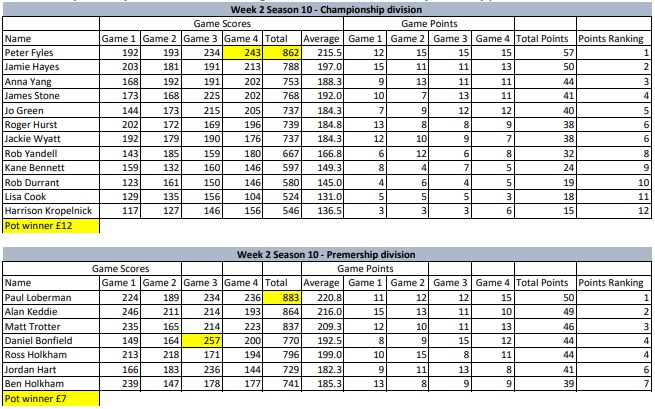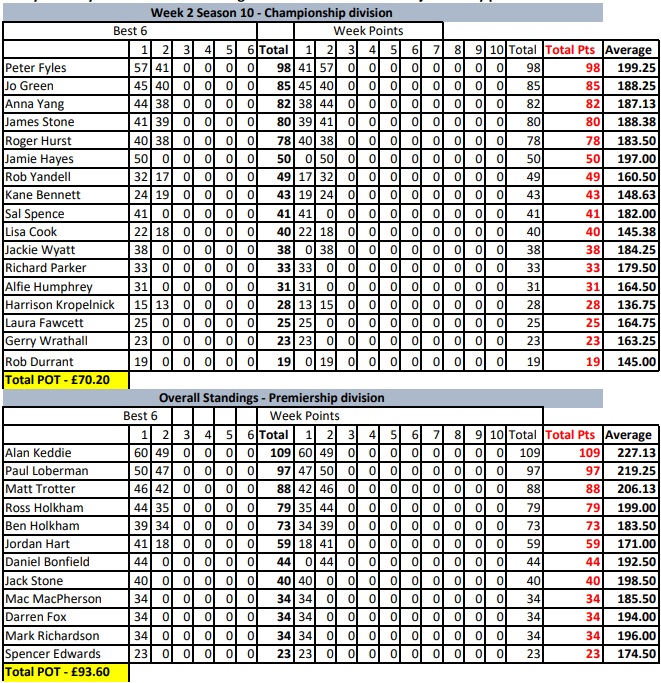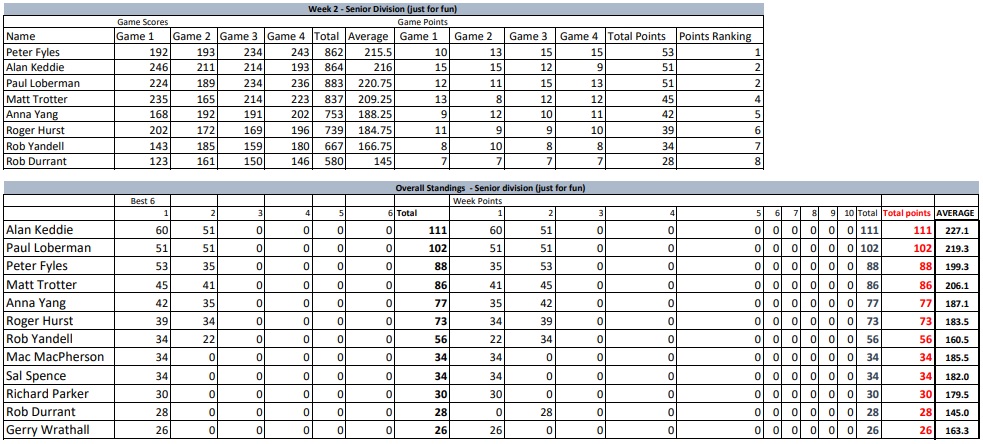 ---
Week 1 of a new season – season 10. No Newbies this week, but we had a returner Sal Spence who's getting ready for a tournament at the weekend.
Championship
James Stone was "back" after suffering a nasty bulge and he shot the high game, a 214 in game 2 to win himself £14. The high series pot went to Jo Green who put together a solid block for a score of 769 and she also takes an early lead in the league.
Premiership
Alan Keddie made sure that week 1 was going to be a counter come the end of the season – a 953 from the porridge eater winning the high series pot and high game pot with a 255 and also securing the maximum 60pts ! a perfect week.
Even in week 1 the top 3 looks familiar – with Ked's top, Lobbers 2nd and Matt Trotter 3rd.
This bit is not even for comedic affect…. It's a true story – – Disturbing scenes in the car park last night… Now I left a good 20 minutes after Mark Richardson and Jack Stone… I walk out to my car and notice the car next me had the engine running, the windows steamed. So naturally I'm thinking couple of doggers up to no good… being a perv I had a little look through the window… get this !!! It was Mark and Jack … honestly. They were both sat there scrolling through their phones looking at pictures of FISH !
Your probably thinking I'm making it up… I'm sadly not. I think they need to attend some sort therapy group… anglers anonymous or something. Hi my names Jack and I'm a carp-aholic !
Reminder – first king of the hill is 7th May and we have changed the format slightly because its been so popular I'm changing it to 5 games of trios. Which means I still have 4 spaces left.
If you want to enter then click on this link. https://form.jotform.com/222003199961354