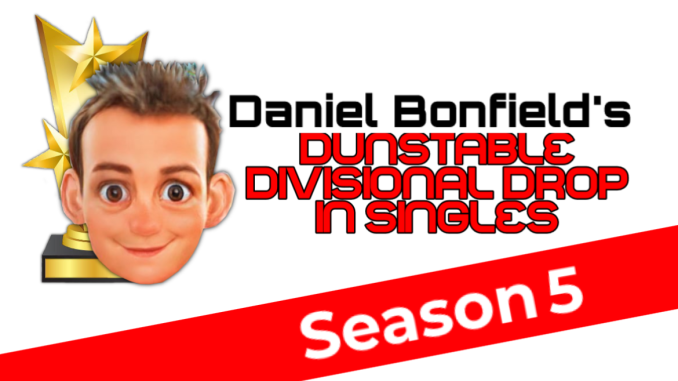 Week 4 of Season 5 of the drop in singles league at Dunstable – We saw the return of the Creamers, Kev and the boy Harry. Kev had been away for nearly 5 months… he put his back out when he tried to pick up his wallet and then he got a very serious dose of the 'rona. I know we now think of the 'rona as a minor inconvenience, but it's still dangerous and can really make some people quite ill, and unluckily for Kev he was one them. I considered putting Kev into the championship and then I watched his first ball, which he lashed down there smashing the pocket for 10 … and quickly re-rated him back the Prem.
 Also coming to have a bowl this week was Pete Fyles and Karen Parslow and Jon Langridge
Into the championship.
Karen Parslow started off really well with a 210 then a 217 in game 2, which won her the high game pot. But the doubles pace over 4 games is knackering and Kazza felt it and her scores fell away. Anna Yang a regular bowler in the league and the tournament scene is more used to the pace we bowl at and she put together a consistent 751 set and that won her the high series pot. Top point scorer on the night was the ever green Gerry Wrathall with 50 points. Gerry now leads the league by 1 point from Richard Parker in 2nd and Sal Spence in 3rd.
Premiership
High game went to Matt Trotter with a 268 in game 3 and he shoot a 914 series, but the star performer was Mark Secker Bag who shot a 942 set – he threw a LOT of strikes, and he had to, because he couldn't get close to a spare all evening. Secker shot games 212,246,246,238 which is some good shooting as he's not long back after a serious eye operation and he a hand covered in new skin.
In the overall league standings – Matt trotter leads with Alan Keddie in 2nd and Paul Loberman 3rd – but the race for the title in the prem this season is going to be really interesting there's a lot of good bowlers playing more regularly in the top division this time round.
If you want to catch up on all the action from last night, you can via my twitch channel https://www.twitch.tv/henryscat666 – you don't have to register to watch the stream. But you do register make sure you follow my channel.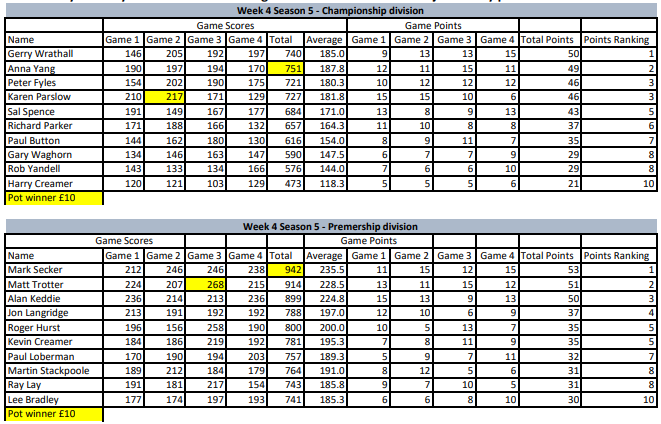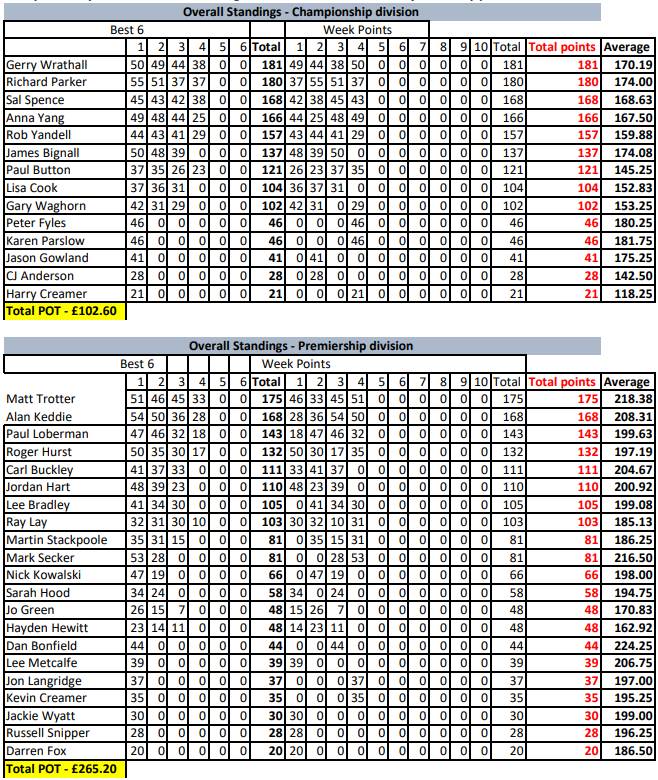 ---
Week 3 of the Drop in Singles league – and this week's report will come with added "Rob Yandell" who was very upset that he didn't get mentioned in last weeks report.
This week we played again on a similar pattern to the Senior Nationals, which Rob Yandell is bowling in.
Championship – a good first game by James Bignall 226 is usually good enough to win a pot, but Richard Parker shot a 235 in game 3 to take the high game pot. James did however win the high series pot – his first pot win ! James shot a 771 set over his 4 games. Rob Yandell didn't win any pots !
Overall – Richard Parker leads the league at this early stage on 143pts, with James in 2nd on 137pts – but what about Rob Yandell ? – Rob is currently in 4th place.
Premiership – This week saw the return of BASHER ! who led the way in the high game pot with a 278, but bloody Matt Trotter went and had a 279 last game to "steal" the money and the food from my children's mouths. And what made it worse was that last game also won Matt the high series pot with a 941 set. Elsewhere Alan Keddie shot a 909 and was top point scorer, and actually even though Matt shot the highest set he was only 3rd highest point scorer on the night, with Paul Loberman 2nd.
Overall – Matt Trotter leads the league, with Alan Keddie in 2nd and a tie for 3rd with Carl Buckley and Lobbers both on 111 points.  If you're wondering why I've not mentioned Rob Yandell its because he's not in the premiership !
Back to the house pattern next week… which most will be thankful for, coz as it stands there will be a mass exodus to the championship division next year.
Don't forget I streamed last nights action – You don't need to register to twitch to watch the video – but you if you could then follow me, that would be fantastic.
Here is the link to last nights action. https://www.twitch.tv/videos/1479476148 – you can watch ROB YANDELL !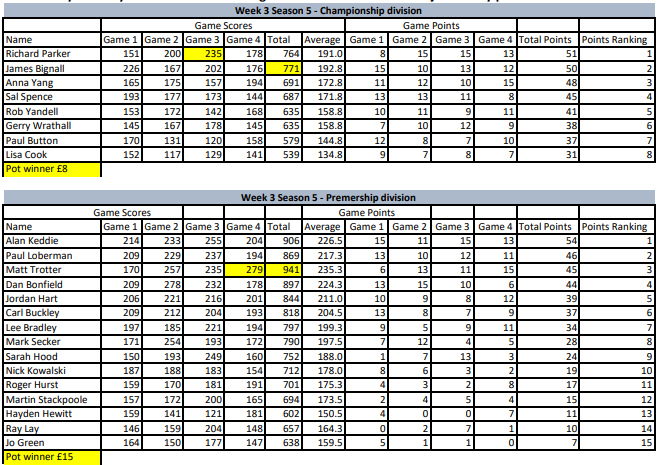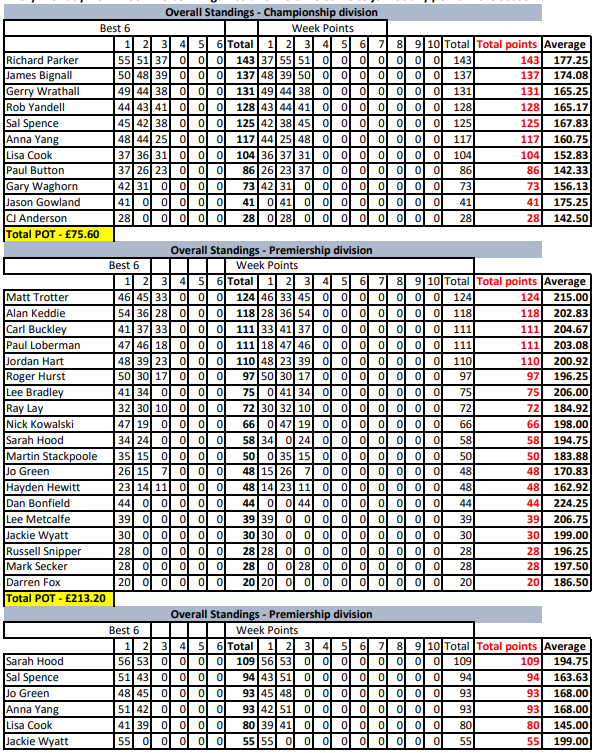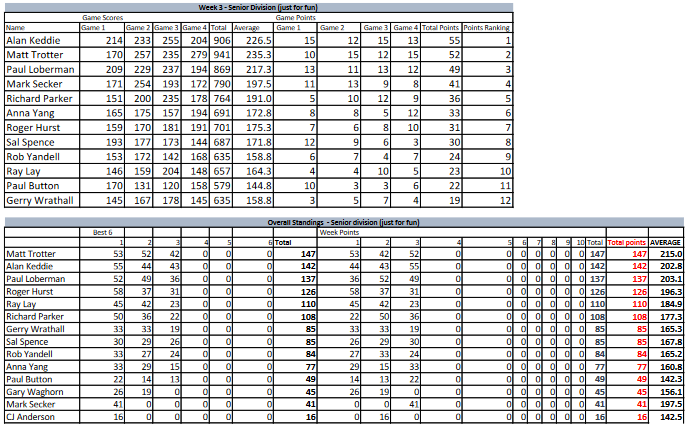 ---
Week 2 of Season 5 – this week we didn't play on the house pattern, instead we put down the Dunstable Version of the 42ft Crown Jewel pattern that's being used in the upcoming Senior Nationals.
Championship – Richard Parker had his best ever night in the league shooting games of 181,194,216,215 for an 806 set, and that won him the high game and high series pots.
Overall – the evergreen, ever young Gerry Wrathall leads the league at this early stage, with Richard in 2nd and James Bignall in 3rd.
Premiership – Matt Trotter opened up with a 257 game, but Nick Kowalski went and shot a 266 in game 2 and that looked good for the pot… but then it happened… the world stopped spinning… and Lee Bradley went and threw 12 strikes in a row for his first 300 and the leagues 2nd – after being on 45 in the 5th frame in game 1 you would have never thought Bradders had a 300 in him, but up he went in the 12th frame shaking like a sh**ting dog with a bead of sweat running down his slap. He was a tiny bit inside of his target but it hit pocket for a strike. The high series pot went to Nick Kowalski with a 872 and the top point scorer on the night was Paul Loberman.
Overall – Roger Hurst is still top of the league, with last years Matt Trotter in 2nd and Carl Buckley in 3rd.
This week because I'm out with a sore back I set up the stream and recorded some you bowling… including Lee's 300… you can watch the stream via Twitch, you don't have to register to watch the stream. https://www.twitch.tv/videos/1473260768  – – there is some TOP TOP commentary on here.
Next week we will be playing again on this Senior Nationals Pattern… then the week after we will revert to the house pattern for a few weeks.
** There is no ladies scores separated out for week 2 as we only had 4… next time we get 5 or more ladies bowling I will filter out the scores and that will be your week 2 results **
Anyone can come and bowl in the league, even if its just for a one off practice. Registration is from 7.30 and we start bowling at 8.00pm.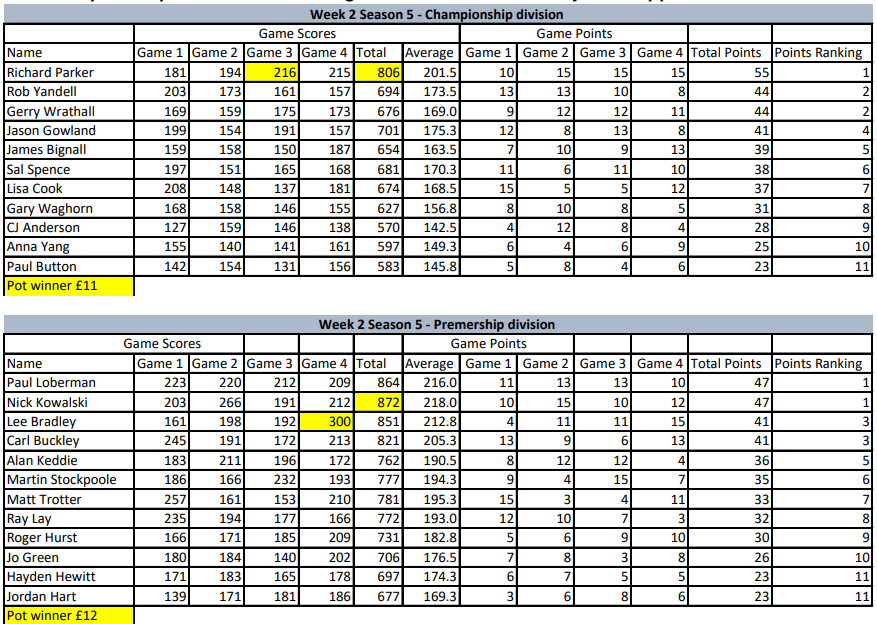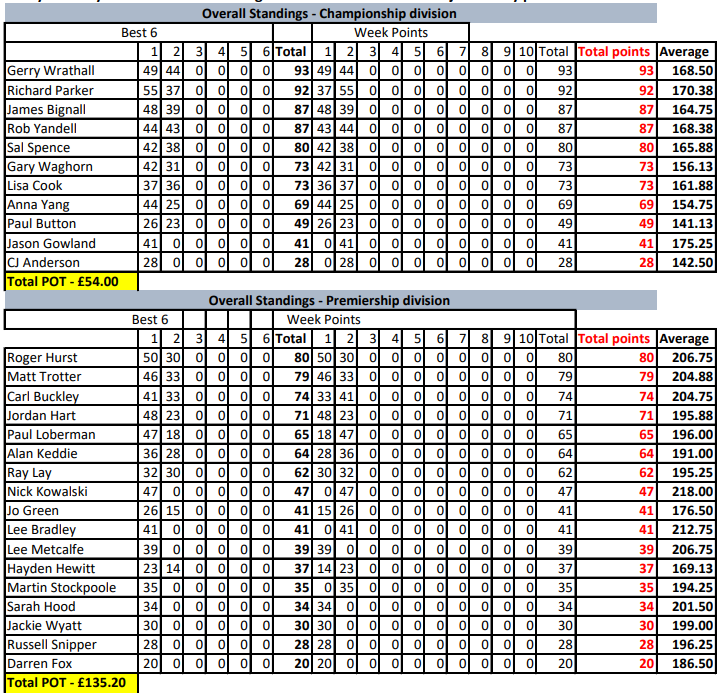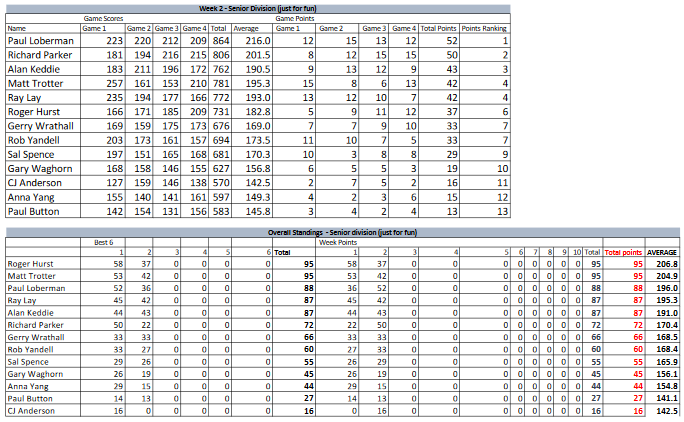 ---
Week 1 of a new season – season !
It seemed to be a tough week with the scoring down across both divisions – I did feed back to the Tech on duty that perhaps the machine might need looking at, making sure everything is working as it should.
Championships – The bowlers in this divisions seemed to struggle the most, with no bowler breaking a 700 series. Winning the high pot was Gerry Wrathall, whose had a few rough weeks on the lanes, but this week his 672 was good enough to win a pot. High game pot was just a 189 and that was shot by Sal Spence
Premiership – Its going to be a competitive league this year if we keep the numbers the same, because with 14 bowlers playing the prem this week points were hard earned. Again like the Championship the scoring was down , but down on the lanes 3 & 4 the bowlers weren't affected. Out of nowhere Roger Hurst put together his best ever 4 game block in the league with games of 246,235,198,244 for a 923 and 50points and the high series pot. High game pot went to newly promoted Jordan Hart who on the same pair as roger shot a 277 for a 890 set.
Hi this year, as long as get 5 or more ladies each week I'll do a separate ladies league.
New week is bank holiday Monday – but of course WE STILL BOWL… no let up we go again !
Lane Patterns for the next couple of weeks…
2nd May – SENIOR NATIONALS
9th May – SENIOR NATIONALS